When you envision a modern workplace what springs to mind? Game rooms? Nap pods? A fully-stocked kitchen with beer on tap? Or do you envision a co-working space with many different types of people and businesses working in a common area? Perhaps you thought of cubicles? Or did you instead envision an open-concept space with walled off meeting rooms?
While each of these examples can no doubt be found across different organizations, there are some clear workplace trends that have emerged that are defining the modern workplace. For example, no matter what you envisioned a moment ago, it was probably not even a consideration that the space would not be tech-ready. High-speed internet is a given. The workplace image that popped into your mind may not have even had landline phones, since that is not as common as it once was, but it surely had smartphones available to everyone.
Technology and tools to make work more efficient are just the tip of the iceberg when it comes to today's working environment. Modern workspaces need to showcase the culture and overall feel the organization wants to convey. This will be what attracts and retains employees. It reflects a modern design that meets employee needs, thus improving productivity.
What is the definition of a Modern Workplace?

A modern workplace is defined by set of technological, physical and psychological conditions aimed to achieve employee satisfaction while optimizing for productivity and efficiency of businesses. The specifics of a modern workplace are evolving over time, meeting the needs of current and future employees and businesses at set time.

What does a Modern workplace design look like?
Modern workspaces are likely to be designed around a concept known as activity-based working. This design incorporates more open spaces and combines that with spaces set aside for specific activities. The activity-based workplace model flips the traditional office model by making the open workstations the quiet space (as in a library) and the enclosed spaces become the places for conversation as well as privacy. Activity-based working is one of the latest innovations in workplace design.
An activity-based workplace is an ever-changing environment. Employees are free to choose the area or the place of work that best suits the activities or tasks they need to perform on a given day. It can also cater seamlessly to varied working styles among different employees.
This flexibility may mean that employees do not have an individual desk or workstation of their own. They may utilize a hot desk for work for a few hours on their laptop or other device, and then head to a sound-proofed booth to make phone calls. They may take meetings in designated, pre-booked meeting spaces set up with all the tech requirements for a seamless experience, and utilize things like white boards and other collaboration tools. They may move to a huddle room later where they can collaborate in a small group without interrupting the others working quietly at desks. The activity-based space is designed to maximize options and productivity, while eliminating most of the noise and other problems that were created when offices originally transitioned to open floor plans.
This type of workspace provides choice for employees; they decide how, when, and where to work, allowing them to be more effective and engaged throughout the day. It is flexible enough to let employees be fully productive. For inspiration to invest in a modern workplace design for your office, here are workplace examples from AskCody clients and partners.
An activity-based workspace also accommodates today's trend of on-demand culture, where there are changing needs to be met throughout the day. It allows more flexibility in the workspace, allowing it to meet the needs of different groups simultaneously.
The key to making it all work is to build the organizational culture around it—showing employees that their needs and ability to be productive are not afterthoughts.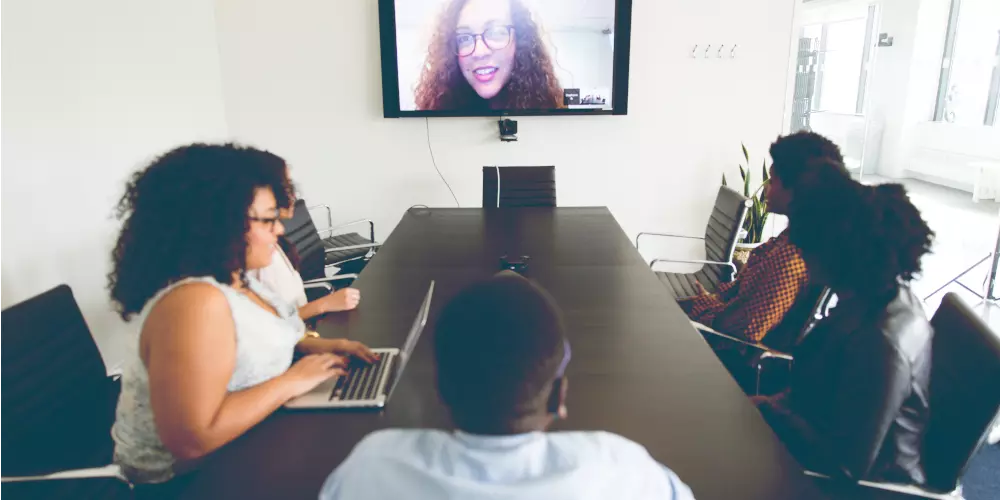 The role of Technological and Collaborative Components in the Modern Workplace
Today's workspace is likely to be designed with technology, productivity, and collaboration in mind. There will be meeting rooms set up for video conferencing. There will be high-speed internet available to everyone. There will likely be ways to access the space outside of normal working hours to accommodate the fact that more employees than ever are working some type of flexible schedule. And there will be a need for optimized office space.
In addition to project success, good collaboration and communication can help companies attract and retain the most productive employers. Ninety-nine percent of employees prefer a workplace where communication is a priority. Consequently, companies that build processes and employ tools to improve communication are 4.5 times more likely to retain top talent. In other words, when it comes to getting work done, communication and collaboration tools are more critical than ever.
Technology brings all of this together. Another workplace trend that is perfectly clear: today's life is more digital thanks to technology. We're able to be online and available if we choose 24/7. We have blurred lines between work life and home life. Communication moves faster than ever, and workplaces (and employees) are expected to keep up.
Technology solutions aid in collaboration. But, that said, there are dozens of tools on the market, all with a variety of bells and whistles. It can be difficult to determine which tools will work for a company's unique needs. Let's take a look at a few options for collaboration. Microsoft 365 and the Microsoft modern workplace is one example of a suite of productivity enhancing tools. Here are more examples:
SharePoint Online, which is a cloud-based storage and collaboration tool that helps organizations share and manage content and files with secure file sharing, document collaboration, metadata management, and advanced search features.
Outlook Groups, which is a feature within Microsoft 365 that allows you to create a group chat and collaboration space based on a discussion in email, SharePoint, Team, Planner, and others.
Yammer Groups, which integrates with Outlook and OneDrive and creates a feed where users can see the most popular posts, follow posts, and even leave comments. It was designed to foster open communication within large groups, and it works well in a changing workforce where many younger workers are familiar with social media.
Microsoft Teams, which is used for chat-based teamwork. It is similar to the popular online collaboration tool Slack with channels, commenting, and one-on-one messaging features.
To Do, which helps users track tasks, share lists, and break tasks down into manageable parts.
One Drive, which is Microsoft's cloud storage service with real-time co-authoring, share at will, offline access, and syncing across devices.
OneNote, which is a program designed to gather, organize, and share free-form information in a collaboration space.
Shifts, which is a Microsoft mobile app designed to help teams manage tasks and shifts across organizations or teams, view their schedule, and do other tasks like request time off.
Flow, which automates and streamlines workflows to increase productivity.
Skype for Business, which makes audio, video, and conference calls. In addition, users can set a status, send and receive text messages, personalize their contact card, and host meetings.
AskCody, which makes collaboration easier by streamlining labour-intensive tasks related to booking meetings through Outlook and Microsoft 365. Features include hot desk booking, meeting room booking, the ability to order catering, reduce double bookings, and even manage visitors.
Before implementing a particular tool or process, companies should first analyze the functionality that comes with it and decide if it will help their teams work together better. Test the new tool with a small group and evaluate the benefits before rolling out a tool to the entire team.
Finally, do not underestimate the power of training. While many tools may seem intuitive, training can ensure your team is able to leverage the full power of these collaboration tools.

The Influence of COVID -19 on the Modern Workplace
Early 2021, 4.7 million workers in the United States telecommuted. These workers need the ability to talk and collaborate in real-time with team members around the globe. Even teams who do work in-office need to be able to work with co-workers around the world. This is a turning point in showcasing how work from home can be accomplished, but not all of it is picture perfect.
"Informative and evaluative collaboration can easily happen via video. But generative collaboration is the most challenging in any condition and the most difficult to replicate online. In an all-virtual environment people struggle to have a normal flow of conversation and read body language" Source: Steelcase.com
Besides making collaboration tougher, people also simply miss working together. We are social beings. COVID taught us that more work can be done from home than we realized before, but it also highlighted how lonely it can be and what we are missing when we do not see our colleagues. For this reason, workplaces are looking to find ways to have the best of both worlds – allowing flexibility and yet encouraging in-person interactions and creative outlets for collaboration.
We have also learned there are other downsides to having a fully-remote workforce. It is tougher to get to know one another remotely. Employee development is harder. Innovation is harder. Growing leaders is harder. It is hampering the big-picture things that need to happen for the long-term success of the business. It can be argued that the main reason this COVID experiment in working from home worked as well as it did is because of the in-person bonds that were built before it happened. Over time, those fade and team members change, reducing the ease at which we worked remotely and highlighting the problems we just noted. In the future workspace, if you want employees to come back to a shared, in-person environment, it needs to be appealing and have clear benefits over working from home. Collaboration is one benefit, but only if the workplace is designed for it. People want to be social, but not at the expense of getting things done.
Overall, COVID let us see just exactly how easy it can be to work from home, but it also showed us why we probably will return to a more hybrid model in the future workspace. We need to plan accordingly.

The Modern Workplace Culture and Multi-Generational Needs
The whole design of today's workspace revolves around a shift in organizational culture. The new normal has to incorporate more trust of employees in order to function at optimal levels. The employer (and individual leaders within the organization) need to empower people to make the best decisions for their own work day. If the team is micromanaged or expected to utilize different functions of the workspace only in certain intervals, the efficiency will be capped and the space – and the employees – will not live up to their potential.
This may mean a cultural shift is required, especially in workplaces with several converging generational perspectives. This organizational culture shift has come about in recent times and can feel jarring to those accustomed to the more traditional cubicle and/or office-style work environment where everyone stays more or less in one assigned space except during meetings or breaks.
Making this cultural shift may take some effort for organizations who have had a more traditional working space and culture. It takes collaboration from the top down, including help from the IT team to make sure all of the tools are in place to make everything work seamlessly. It will take help from the leaders to model the expected behaviors, and training for all supervisors to ensure they're not judging people on past norms.
The younger generations are more likely to value flexibility. They are not just hoping for a better work-life balance, they are assuming it will exist. The possibility for remote work at least part of the time – once an uncommon perk – is now seen as normal.
Over the last decade (or two!) the gig economy has not only taken root, but it is also become as common as having a more traditional job used to be in the past. Gen X, Millennials, and Zoomers alike are all likely to have participated in it, either by using it for primary or secondary income sources or by partaking in it by utilizing things like ride sharing and food delivery. This shows that the idea of on-demand services has become the norm, and most organizations have to adapt to fit within that new cultural expectation. After all, even if their customers do not require it their employees probably do. Employees expect flexibility and the ability to be efficient and have on-the-go tools at their disposal. This is the backdrop for everything we've discussed here: changing generational expectations lead to changing workplace norms in the modern workplace.

7 Trends in the modern workplace
Microsoft published outcomes of a survey they did on ways of working, it revealed 7 trends and confirmed Hybrid as the way forward at modern workplaces. We will take a look at those trends;
Working flexible is not going anywhere
There is a disconnect between Leaders and employees which need attention
Seemingly high productivity is hiding a workforce at its limits
Zoomers need an energy boost
Shrinking networks are endangering innovation
Authenticity will amplifies productivity and wellbeing
Globalization of Talent in flexible and hybrid work environments
Read more about these trends and Hybrid work in Microsoft Work Trend Index
4 Best Practices for Modernizing Your Workplace
Now that we understand the cultural and technical realities of the modern workplace, here we highlight four tactics companies can implement to bring out the best in their employees.
1. Stimulate a Healthy Workplace environment.
Workers who feel valued as whole beings are also more likely to stay at a company longer. This offers long-term cost savings and reduces worker churn common in so many of today's industries.
Modern companies realize that in today's workplace employees and future employees are looking for an employer willing to invest in learning, training and development. Remember this will not only benefit employees satisfaction, but has an immense impact on motivation and therefore overall performance and it will improve your organizations productivity.
Millennials and Zoomers are extremely demotivated by the assumption that seniority equals competence. This blast from the past has no place in you modern workplace and requires renewed focus on actual performance as an indicator for possible promotions.
Emphasize Work-Life Balance, this is what so much of the modern workplace comes down to. Making it easy to take time for unexpected doctors' appointments, childcare needs, and family time will help employees feel happier, healthier, and significantly more productive.
2. Communicate and Collaborate
The modern office prioritizes setting aside time for team meetings—either virtual or in person—to build relationships, conduct organized brainstorming and results reporting, and encourage collaboration.
Planned meetings also have a two-fold benefit for different kinds of workers. They break independent workers out of their "headphone zones" and signal to those who might regularly "pop in" to others' offices that there is a more appropriate time and place for collaboration.
Avoid wasting the four hours that the average office worker spends prepping for meetings each week with meeting management software that enables users to quickly find meeting rooms and other spaces, book them directly from a smart device or digital display right outside the meeting space, handle guest registration, and even secure resources and catering!
3. Design your modern work environment to match the needed activities.
Employees and employers have ventilated their reasons for going to the office post covid-19 in a Price, Waterhouse, Coopers survey. Not surprisingly, collaboration was ranked 1st, but also meeting with clients or colleagues and training & career development.
Consider what this means for the design of your modern work environment, would you need more representable, professional looking meeting rooms? Can you stimulate collaboration by having huddle rooms? Maybe it is time to convert your coffee corner to a more café-style area? Or do you need a better indoor environment to improve employee efficiency?
4. Optimize your tech stack to spur hybrid work
Cloud or SAAS based technology offer you the opportunity to easily scale up or down, will allow remote access and amplify hybrid collaboration while improving the employee experience.
Now that you have a better grasp on how the workplace has changed substantially when it comes to technology and culture—go out there and create a competitive, modern workplace.

And while you are at it, download our free ebook to learn how to do so with more efficient meetings, better resource usage, and overall better business productivity.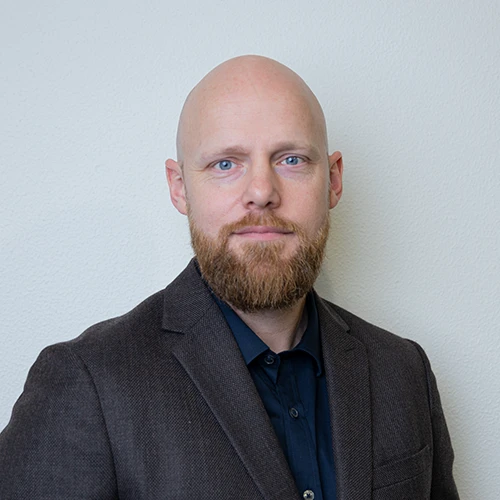 Bas van Wijk
Marketing Direktor, AskCody. Works with improving workplace experiences and limiting friction for meeting stakeholders.