A Microsoft-based solution
SECURE AND SCALABLE
TECHNOLOGY YOU CAN TRUST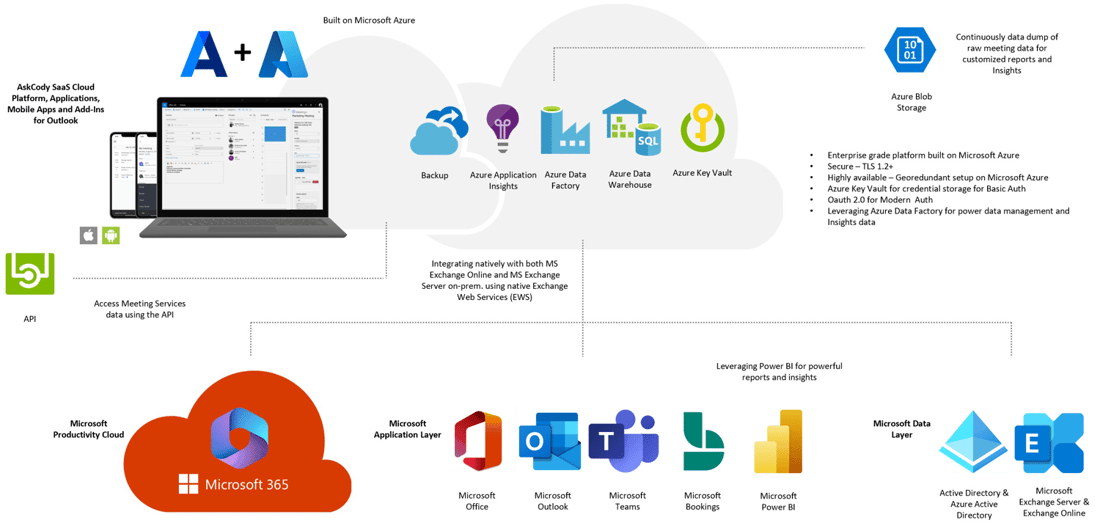 01.
Streamline meetings with Microsoft 365
Keep your team and workplace running smoothly, and maintain one, single source of truth.
With AskCody, implementing a meeting management solution is not a cumbersome IT project, where the IT team spend their resources creating SQL databases, integrating, and synchronizing databases with the organizations' existing IT infrastructure, or figuring out how to integrate meeting room scheduling with video conferencing applications such as Teams, Skype for Business, Webex, and Zoom.
Here you can read how AskCody and Microsoft can help manage meeting, connecting people, rooms, services, and hospitality.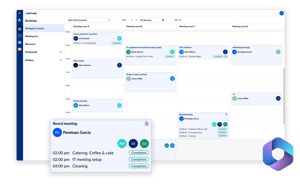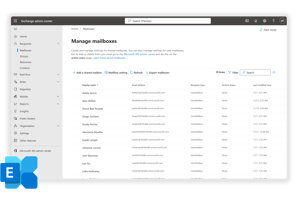 02.
Exchange – the single source of truth!
AskCody's cloud-based SaaS platform leverages the scalability of Microsoft Exchange or Exchange Online as the backbone for meeting room and workplace resources that's seamlessly integrated through AskCody.
With AskCody, we're not talking sync of data between your meeting management solution and Exchange; we're talking build with, for, and on Exchange. Making Exchange the only source of truth, enabling and empowering you to scale, manage, and control meeting rooms seamlessly, while integrating Exchange with hundreds of other business applications, leveraging the same data model.
03.
Entra ID – scalable user synchronization
The AskCody platform is easily deployed to all users or custom user groups in Microsoft Entra ID (former Azure Active Directory) through centralized deployment in seconds, and the end-users have the functionality available across PC and Mac and across the Outlook client and Office365 OWA at all time.
We are using the power and scale of Microsoft Entra ID to leverage efficient user management, from setting up user groups to assigning specific roles, rights, and permissions. while providing a secure login with Microsoft Single Sign-On.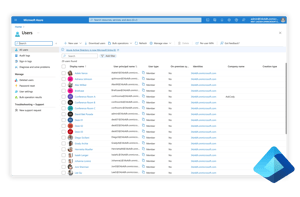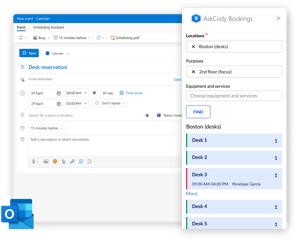 04.
Outlook – intelligent user friendly booking
Book all office resources from the familiar interface of Microsoft Outlook.
We make meeting management simple and easy without the need to leave Outlook or Microsoft 365. Booking meeting rooms, workstations, adding the right room equipment and facilities, pre-registering guests – all meeting related tasks can be handled smoothly inside Microsoft Outlook with AskCody.
With a meeting room booking system integrated with outlook, you are provided the most scalable infrastructure that automatically integrates with business applications and video conferencing systems without any custom integrations to deliver instant business value for the organization, that is build geo-redundantly with data centers across the globe, and with the highest security standards in place.
05.
One-click videoconference – Teams, Zoom, or Webex
Have one-click videoconferencing, so you can easily setup virtual meetings via Teams, Zoom, or Webex.
The AskCody Platform is an integrated part of your Microsoft Suite. The true value of the synergy between AskCody and the Microsoft 365 Platform, is that one connection allows the two platforms to work seamlessly together.
With a tight integration to Microsoft 365, it means Microsoft Teams, Zoom, or Webex working out-of-the-box, leveraging the data model in Microsoft 365 where all the videoconferencing tools leverage the same data as in Exchange and Outlook.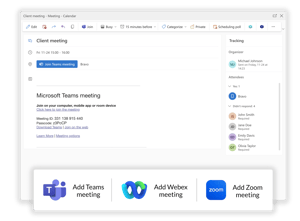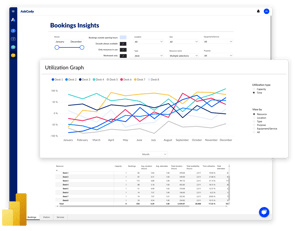 06.
Power BI – powerful workplace reporting
AskCody integrates with Microsoft Power BI making it easy to export and analyze usage of office resources.
Gather data and create reports on the utilization of all rooms, desks, and other bookable resources. Track the most or least used resources and optimize office behavior based on real-life usage.
All workplace data from Microsoft Power BI is gathered in
AskCody Insights
. Making it to gather office data and take data-driven decisions improving your workplace.
ISAE 3000 and GDPR compliant
SCALABLE, RELIABLE,
& SECURE
Together, everything adds up to AskCody being the most Outlook and Office 365 centric Modern Workplace Platform that accommodates all organizational aspects of meetings, reducing the organizational load by minimizing the number of hours spent per employee on organizing meetings while increasing operational efficiency. Not another tool used outside of the company-critical Microsoft environment. AskCody's Modern Platform enables organizations to address their modern workplace challenges to improve productivity dramatically.
When taking a comprehensive approach to solving meeting management and associated services management in the modern workplace, there is often a lot of moving parts, with internal existing workflows and processes, business rules and policies, and integrations into key systems like Outlook, Office 365, and Active Directory. AskCody helps organizations automate these cross-organizational processes and help streamline meeting booking and workplace management while optimizing the entire workplace.


Don't just take our word for it
How can we help you?
Why do I need Meeting Management software when I already have Outlook or Microsoft 365?
Meeting scheduling is a routine activity in the workplace. However, it is a complicated and time-consuming process for many organizations and meeting managers, assistants, facility managers and all involved in meeting planning.

Meeting planners can easily spend more time scheduling the meeting than the duration of the meeting itself. On average, a meeting can take 15 minutes to book. Moreover, this might not even include ordering associated services like catering, a table arrangement, AV equipment, or contacting facilities management to ensure that the right IT equipment is onsite and operating in the room. Now add the time spent on booking a desk, workstation, huddle room, focus room, or just some space for that project meeting next week your hosting.

Microsoft Outlook and Microsoft 365 operates along two dimensions when it comes to meetings:

1: Availability of attendees

2: Availability of rooms

However, meeting scheduling is so much more than attendees and the place to meet. It's a lot of to-do's, manual micro-processes and related tasks that are not supported natively by Outlook and involve many other vital parts of the organization like Facilities Management, the Canteen, the Reception, or IT.

With a meeting room booking system integrated with Outlook, you can accomplish everything you need to achieve with Exchange and Outlook in the first place.
Why should I use an integrated Meeting Management solution with Exchange and Active Directory instead of a 3rd Party tool with a separate database?
With the need for enhanced scheduling capabilities with Outlook or Microsoft 365, organizations end up spending significant time and money to set up an entirely separate system to hosts their bookings or reservations and provide the enhanced scheduling capabilities required by their end-users.

This process can take 6-18 months to complete only to result in synchronization challenges between Exchange and Outlook, your separate meeting management system, and your various providers (Facilities Management, Catering, etc.). Moreover, now IT has to manage and maintain a new system in their workplace technology stack that's not integrated into their Microsoft backbone or Active Directory.

With AskCody, your meeting room booking system integrated with outlook, customers no longer have to manage two or more separate systems. Having a meeting reservation exists only in one place (Exchange) eliminates the inconsistent synchronization challenges and frustration caused by having the same booking live in two areas (i.e., Outlook and a separate SQL-based solution). AskCody manages users in Active Directory or Azure AD for easy control of access, roles, and deployment.

And don't forget - it's all cloud based.
Does AskCody software integrate with both Outlook and Microsoft 365?
Yes, it indeed does. Natively.

We have a close collaboration with Microsoft, and our platform is 100% integrated with Microsoft Exchange, Microsoft 365, and Outlook. No need for manual processes or outdated third-party tools, unintegrated Sharepoint sites, or paper-based booking. Everything works within the familiar Outlook and Office interface. We have based the AskCody meeting room booking system on modern integrations into Exchange and built everything on Microsoft Azure.

Learn more about how we integrate to Exchange and Microsoft 365 on our knowledge base.
What happens to my catering or services order when meetings are cancelled​ or rescheduled?
Catering, services and additional resources follow your meeting. That's one of the best parts. We call it follow the meeting intelligence.

Meetings are canceled, rescheduled, postponed, or relocated all the time. That's why all the assigned resources such as catering, AV and telepresence, meeting room equipment, and table arrangements follow the meeting if it is rescheduled. If a meeting is canceled, the assigned resources will be released automatically. The kitchen or the AV provider will be notified immediately from the AskCody Management Portal.
How does vendors or service providers work with AskCody?
AskCody is not just Outlook add-ins or meeting room booking system features. It's a complete Platform with a backend designed to make the meeting experience more efficient and effective than ever for providers of meeting services, office managers, facilities managers and real estate owners.
Office Managers can use the AskCody room reservation system to manage additional resources, workflows, items, bookings of corporate kitchens and canteens, and accept or reject bookings. Kitchen and facility managers can view at a glance what they need and how many people need meeting services, as well as the location. Now they have an instant one-stop interface with an updated overview in real-time.
Can the data be exported? And what about cost center or tax management for external meetings?
With AskCody you get the data you need when you need it.

Your IT or Finance department will love the ease-of-use associated with the data export in AskCody. Data is simply exported to incorporate with accounting, databases, and ERP through simple CSV exports or by leveraging the AskCody API.
We would love to show you AskCody
Understand how we can help you in your organizational needs