Key features
WE PUT YOU IN CONTROL
When you are responsible for managing meetings, meeting services, and/or service teams, you will utilize AskCody daily to stay ahead and have certainty and confidence that everything is in order.
The AskCody Management Portal is a complete management tool for Office Managers, Receptionists, Catering Managers, Hospitality Teams, AV providers, or Facility Managers can:
Get an overview of what goes on, where, and when in your workplace
Manage Meetings and services, and make changes in real time
Connect with other Service teams and collaborate on requests
Automate manual and repetitive tasks
Master (printable) reports for service requests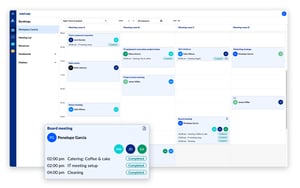 Have a full overview of meetings with requested catering, and additional services.
Click on a meeting card to see detailed information about meeting services and attendees.
01.
Get an overview
The management portal gathers everything around meetings, services, and visitors in one central place. So you can easily understand what goes on, where, and when.
All relevant meeting information can be viewed from a simple calendar-like overview in Workplace Central. Expand individual meetings to get a detailed view of the associated services or meeting notes.
Giving your service staff a single source of truth to ensure nothing falls through the cracks.
02.
Manage and make changes
You'll be a lot more prepared when you have an overview of every aspect of every meeting. And that is exactly what AskCody does for you. Manage each room reservation and service requests for a meeting, all in one place.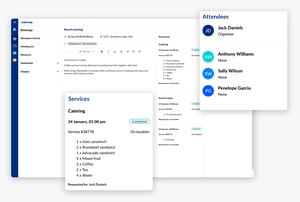 Get a detailed overview of rooms booked, service requests, and attendees added for the meeting.
With meeting notes, your service teams can stay ahead of every need for each meeting.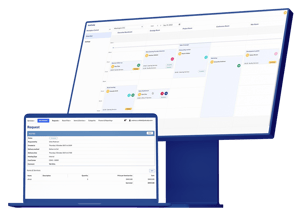 With meeting notes your service teams can stay ahead of the needs for each meeting
03.
Connect Service teams
We connect service teams like facility, IT, and booking coordinators to enable efficient collaboration. From our portal you have access to an overview of what will be delivered by who for a specific meeting, and what the status of the service order is.
This includes associated meeting planning services and shared meeting notes empowering.
04.
Automate manual and repetitive tasks
Set up cost centers or client matter numbers to help you assign costs, eliminating manual handling of paper invoices. Setting buffer time in between allows you to prepare, clean, or set up the meeting room for the next meeting.
You can choose to auto-accept certain service requests or require approval for others. By setting preparation time for specific services, you ensure you can deliver what you promised.
These are just a few settings you can control in the portal to support your way of working.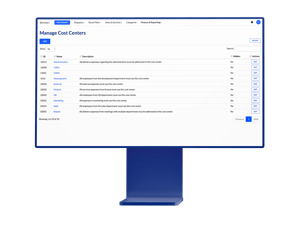 05.
Master reports for services requests
You can easily view and edit service requests within the AskCody Management Portal, but you also have extensive reporting capabilities to match your needs and the way you work. You can for example filter on current, today, tomorrow, incoming, pending, accepted, rejected, canceled, and completed requests.
All requests can be printed and exported in different views fitted to different needs, so you can use it in other systems, or simply print it and bring it with you while doing your delivery route.
Key benefits
ALL UNDER ONE ROOF
When you are responsible for managing meetings and/or services, there are a few things you will like about AskCody.
You will only have one place that gathers everything connected to meetings, giving you control, and a single place to communicate.
You can easily get an overview, manage and make changes, and automate repetitive tasks to provide you the certainty, control, and confidence you need to do your job.
Optimize and streamline meeting services requests
Insights for meeting services makes it easier to get an overview of how your meeting services are managed across locations. So you can optimize and streamline meeting services requests.
Combine Services insights with insights on Bookings & Visitors, and you will be able to streamline the entire meeting process.
Insights are based on Microsoft PowerBI and available in our portal. You can also export the data to your preferred reporting tools.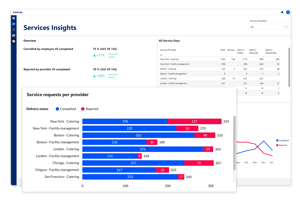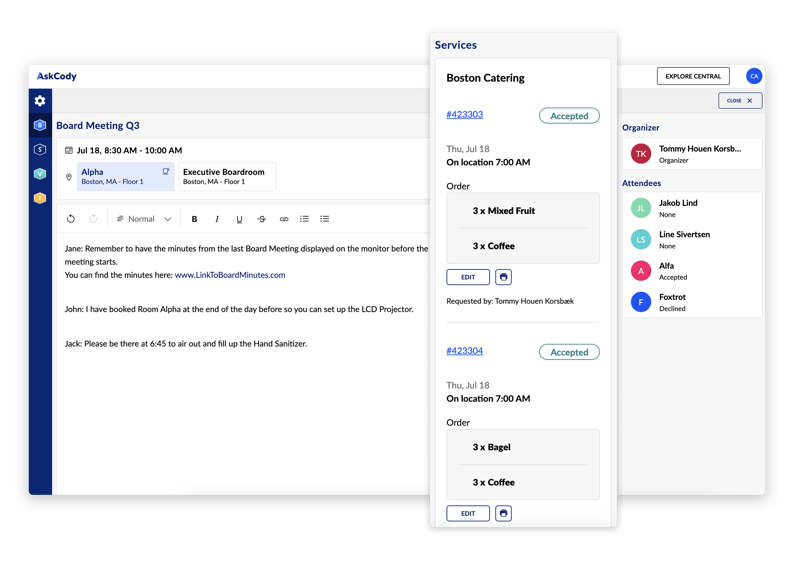 Rescheduling or cancelations will not ruin your day
Meetings get booked, canceled, or rescheduled all the time; 90% of meetings have at least one change after they are booked.
This is no worry for you. Changes are reflected immediately in your AskCody Management Portal, and you are instantly alerted with exactly what, when, and where so you can focus on doing what you do best; delivering the best service possible.
Custom properties and extension attributes to fit your organization
Even though AskCody is a Software-as-a-service solution, you can define mandatory and optional input fields when requesting and ordering service; think of Tax and Financial Information, Client Matter Numbers, User Information, Cost Center Management, or anything that will help you deliver the best service to the requesters.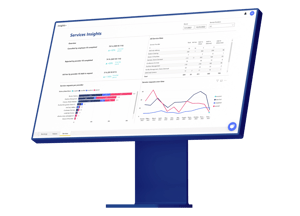 Made to empower you
Learn how Nabil, Susann & others benefit from using AskCody
How can we help you?
WHAT HAPPENS TO MY CATERING OR SERVICES ORDER WHEN MEETINGS ARE CANCELLED​ OR RESCHEDULED?
Catering, services, and additional resources follow your meeting. That's one of the best parts. We call it: Follow the meeting intelligence.
Meetings change all the time. They might be:
Canceled
Rescheduled
Postponed
Relocated
That's why all the assigned resources such as catering, AV and telepresence, meeting room equipment, and table arrangements follow the meeting if it is rescheduled. If a meeting is canceled, the assigned resources will be released automatically. The kitchen or the AV provider will be notified immediately from the AskCody Management Portal.
HOW DOES VENDORS OR SERVICE PROVIDERS WORK WITH ASKCODY?
AskCody is not just Outlook add-ins or meeting room booking system features. It's a complete platform with a backend designed to make the meeting experience more efficient and effective than ever for providers of meeting services, office managers, facilities managers, and real estate owners.
Office Managers can use the AskCody room reservation system to manage additional resources, workflows, items, bookings of corporate kitchens and canteens, and accept or reject bookings.
Kitchen and facility managers can view at a glance what they need to prepare for the day and how many people need meeting services, as well as the location. Now they have an all-in-one platform to handle all meetings and services with an interface updated in real-time.
What about reporting and DATA EXPORT?
With AskCody you get the data you need when you need it.
You can easily print out:
Service delivery lists

Preparation lists

Checklists

Items and Services lists

Room lists

Accounting reports

Cost center reports

Incoming, current, pending, accepted, rejected, readied, completed, and canceled requests



And much more! You can read more about reporting in our: Mastering reports.
Does AskCody support costcenter or TAX MANAGEMENT FOR EXTERNAL MEETINGS?
Yes, in AskCody you can simply export accounting data using CSV, Excel, or the AskCody meeting services API making it possible to automatically transfer service expenses to other systems such as your ERP solution.

Your IT or Finance department will love the ease of use associated with the data export in AskCody.
Can I book catering for a recurring meeting series?
Yes, you can manage services for recurring meetings.
Supporting recurring meetings and services for recurring meetings can be handled in multiple ways according to your needs and use cases. There are various ways to accommodate this requirement both from an end-user and admin perspective.
Can the visitors/services add-ins be authorized per specific group, i.e. services not for all available?
All AskCody add-ins are deployed to users or groups that you define yourselves inside Active Directory. So yes, it can be specified who should have it available.
DOES ASKCODY SOFTWARE INTEGRATE WITH BOTH OUTLOOK AND MICROSOFT 365?
Yes, it indeed does. Natively.
We have a close collaboration with Microsoft, and our platform is 100% integrated with Microsoft Exchange, Microsoft 365, and Outlook. No need for manual processes or outdated third-party tools, unintegrated Sharepoint sites, or paper-based booking. Everything works within the familiar Outlook and Office interface. We have based the AskCody meeting room booking system on modern integrations into Exchange and built everything on Microsoft Azure.
Learn more about how we integrate with Exchange and Microsoft 365 on our knowledge base.
We would love to show you AskCody
Understand how we can help you in your organizational needs