Office Visitor management
KEEP TRACK AND STAY AHEAD
Get off on the right foot, even before visitors arrive with pre-registration in Outlook or Microsoft 365. AskCody visitor management system will automatically send directions and information about the building. When guests arrive at the front door of your office, they check in with an elegant touch screen experience or by the receptionist.
The data from their Outlook contact record will autofill the necessary forms, eliminating the need to hand over a driver's license and negotiate correct spelling. You can automatically print guest badges, and WiFi access for visitors can be sent by email or SMS.
First impressions matter
VISITOR MANAGEMENT FOR THE MODERN FRONT DESK
Meet your guest's expectations and impress visitors with an easy-to-use check-in and visitor management system.
In your visitor check-in process, visitors can be added directly from Outlook and sent maps, directions, and the WIFI password in advance. Staff will be automatically notified of their arrival.
All check-ins are securely stored and archived in a GDPR compliant Management Portal. Security notification, name tag printing for
visitor signs
, and follow-up can all be automated, freeing up time to focus on your guests.
Efficient Visitor Check-In
IMPROVING FRONT DESK WORKFLOWS
The Visitor Management part of the AskCody Platform is an intuitive, modern, and professional visitor management solution that enhances the front desk processes and visitor experiences.
You have built-in automated check-in flows, badge printing, NDA-signing, and notification capabilities. All fully GDPR compliant.
The front desk visitor management system provides a full overview of all guests in the building at any given time, including unexpected guests. The visitor experience is made simple for all parties with AskCody's seamless integration to Outlook and Microsoft 365. You can also add Check-in Kiosk to reduce the workload from front desk personnel and create an improved experience for visitors and employees.
Go Paperless
REPLACE THE OLD VISITOR PAPER-LOG
This is the best solution for updating an existing paper-based visitor management process. AskCody automatically generates daily reports that can be printed and distributed to current stakeholders while leveling up the technology on the back end.
This enables you to support a current-gen workflow with next-gen visitor management automation and workplace analytics.
For example, when a visitor arrives they can check in on a tablet; they will be presented with any relevant forms to sign, like NDAs , and notifies the person they are visiting about the guest's arrival.
KEY FEATURES & BENEFITS
Completely Integrated in Outlook
ADD
Add visitors to the guest list from Outlook
PREPARE
Prepare for today's visitors using the front desk tool
PRINT
Prints guest badges and get access to the security report
SEND
Send instructions and reminders automatically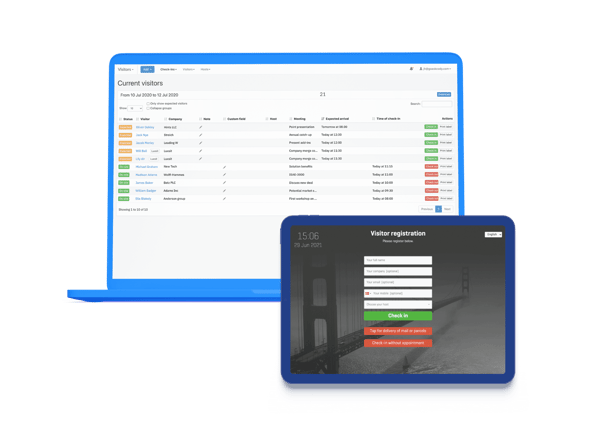 Learn more
Blogpost About Visitor Management