Office front desk solution
KEEP TRACK WITH VISITOR MANAGEMENT SYSTEM
Get off on the right foot, even before visitors arrive with pre-registration in Outlook or Microsoft 365. AskCody visitor management system will automatically send directions and information about the building. When guests arrive at the front door of your office, they check in with an elegant touch screen experience or by the receptionist.
The data from their Outlook contact record will autofill the necessary forms, eliminating the need to hand over a driver's license and negotiate correct spelling. You can automatically print guest badges, and WiFi access for visitors can be sent by email or SMS.
First impressions matter
VISITOR MANAGEMENT FOR THE MODERN FRONT DESK
Give your guests a great first impression with an easy-to-use check-in and visitor management system.
In your visitor check-in process, guests' information can be added directly from Outlook. The visitors will receive automated and tailormade notifications with maps, directions, WIFI passwords, and general knowledge about the visit in advance. Upon check-in, automated host notifications will be sent to inform the meeting host about the arrival.
All check-ins are securely stored and archived in a GDPR-compliant Management Portal. Security notification, name tag printing for
visitor signs
, and follow-up can all be automated, freeing up time to focus on your guests.
Efficient Visitor Check-In
IMPROVING FRONT DESK WORKFLOWS
The Visitor Management portal in AskCody offers intuitive, modern, and professional access control systems that enhance the front desk processes and visitor experiences.

You have access to automated check-in flows, badge printing, NDA-signing, and notification capabilities. The visitor management system integrates seamlessly with Microsoft using their unmatched security standards. We are also ISAE 3000 certified to ensure complete GDPR compliance.

Using digital visitor management software gives you a full and real-time overview of all guests in the building at any given time, including unexpected guests. The visitor experience is made simple for all parties with AskCody's seamless integration to Outlook and Microsoft 365. You can also add Check-in Kiosk to reduce the workload from front desk personnel and create an improved experience for visitors and employees.
Go Paperless
REPLACE THE OLD VISITOR PAPER-LOG
AskCody is a great replacement for your existing paper-based visitor management process. Enjoy the benefits of automatically generates daily reports that can be printed and distributed to current stakeholders while leveling up the technology on the back end.
This enables you to support a current-gen workflow with next-gen visitor management automation and workplace analytics.
For example, when a visitor arrives they can check in on a tablet; they will be presented with any relevant forms to sign, like NDAs , and notifies the person they are visiting about the guest's arrival.
KEY FEATURES & BENEFITS
Completely Integrated in Outlook
Add visitors to the guest list from Outlook
Prepare for today's visitors using the front desk tool
Prints guest badges and get access to the security report
Send instructions and reminders automatically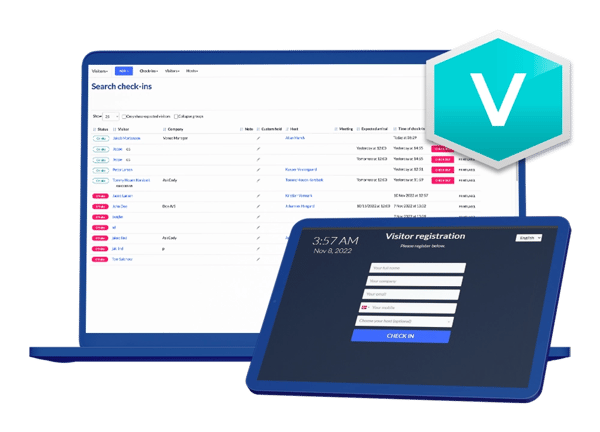 FAQ
What is visitor management, and why do I need it at my front desk?
Visitor management refers to the process of managing visitors to a facility, typically through a software system that streamlines the check-in and check-out process. Visitor management is important for front desk personnel because it helps to increase efficiency, improve security, and enhance the visitor experience.
With AskCody visitor management organizations can pre-register guests in Outlook, thereby preparing the reception for upcoming guests while sending visitors important notifications about parking, Wi-Fi, regulations etc.
How does AskCody's visitor management solution work?
AskCody's visitor management solution is a cloud-based software platform that allows front desk personnel to manage visitor check-ins and check-outs from a management portal.
With AskCody Outlook add-ins meeting bookers can pre-register guests before they arrive. By registering guests in Outlook, they can receive customized notifications on mail or phone with information your organization deems essential.
Upon arrival visitors can check in through their phone, using a self-service check-in kiosk/tablet, or manually in the reception.
The system can also print visitor badges and send automatic notifications to hosts when their visitors arrive.
Can AskCody Visitor Management integrate with other software systems?
Yes, AskCody's visitor management integrates with a variety of other software systems. Most notable is the native integration with your Microsoft 365 environment which is the backbone for all data. AskCody is a 100% native Microsoft-based software.
CAN YOU REGISTER VISITORS ON BEHALF OF SOMEONE ELSE?
Yes, with delegated access or shared access to calendars as configured in Microsoft Outlook.
Delegated Access gives access to the entire account, including calendars and email.
Shared Access gives access to calendars (i.e. can't send emails on behalf of other people).
Which languages does AskCody support?
The AskCody Platform is available in a major language of your choice.
English

German

French

Spanish

Dutch

Norwegian

Swedish

Danish

Finnish

Italian
Japanese
Learn more
Blogpost About Visitor Management
We would love to show you AskCody
Understand how we can help you in your organizational needs