Work is no longer a place you go - it is something you do. From wherever you are. How will that impact the future? In this blog, we will discuss the top six trends and predictions for the future of work and meeting management. We will also highlight how we believe technology will impact the operating model of the workplace based on what we have learned so far going through a global pandemic that radically changed work as we know it.
The pandemic took the world by surprise and forced countries, markets, and industries to adapt quickly to its impact. Everyone was sent home. Today, however, AskCody's stats, reports, and analytics clearly show that most people have returned to the office, as the number of meeting- and desk bookings are peaking at the same level as before Covid-19. Across all industries, organizations are now learning to operate alongside the Coronavirus, while finding creative ways to deal with its repercussions.
The pandemic showed employers and employees that work no longer requires a centralized location, a designated desk, or a 2-hour commute to get things done - work can be done anywhere. Companies have learned that they must think 'Remote-work-first' or 'Work-from-home-first' in everything they do. Resulting in a future of hybrid working and meeting management, where office spaces will be less focused on housing the entire business and more on providing a hub for collaboration. Thus, we foresee a more people-centric, people-first approach to designing the future workplace.
At the same time, new needs for workplace management technology are constantly surfacing and a ton of other disruptions are affecting the way we envision the workplace. From the ongoing shifts caused by the pandemic, the switch in the corporate real estate model towards Space as a Service, the impacts caused by automation and AI, to other changes to the status quo. Hence, many wonder what the future holds in terms of employment and going to work. For example, a report by the McKinsey Global Institute estimated that automation alone will eliminate 73 million jobs by 2030.
Although it is hard to predict the near or distant future of meeting management, but we believe that the fundamental office and workplace already has changed and will change even further. Right now, the workplace is dominated by a spirit of getting back together again, that will impact and drive innovation. But what is the future going to look like once the dust and the 'new normal' has settled, and new measures and standards regarding Covid-19 control become more established and successful? And what have we learned during Covid-19, that we can use to design an even better workplace? Only time will tell, but we predict that the following trends are somehow going to set the standard for the future workplace.
Top Six Trends

in Future of Work
1. Working from home means downscaling real estate footprint and heavily investing in workplace experience.
2. The open office is dead. It is time to redesign the office and equip it with the right digital tools and technology.
3. Hot Desking is not so hot anymore. Organizations are switching to Desk Hoteling.
4. Without data, you will be just another guy with an opinion: Workplace analytics are crucial to understanding what goes on, where, and when.
5. A new model has risen: Space as a Service.
6. The digital transformation continues. The IT organization and IT strategy will be key to success.
1. Working from home means downscaling real estate footprint and heavily investing in workplace experience.
The pandemic showed employers that work no longer requires a centralized location, as it can be done anywhere a WI-FI connection is available. The future of meeting management is therefore not office-first, it is people-first. So, the desk at home or remotely will be the second office – both offices equally important.
In fact, many organizations are following the 'work form home' trend and downscaling their real estate footprint. Computerworld highlighted that the US has shed 138.4 million square feet (MSF) of office space since March 2020. For example, we see organizations like e.g. Facebook and Yelp emptying office space and driving down overhead of vacant rooms and desks by focusing less on housing the entire business and more about providing a hub for that 'We Work' feeling, not mandated attendance.
In the future, organizations will want to provide an even better workplace experience for when people are getting to the office, in order to foster team spirit, belongingness, and culture. We believe that the office will become the hub and center for collaboration, innovation, and social engagement, and that this trend will lead to heavy investments in better hospitality, and a higher service level in general when people are at the office. At AskCody we also notice the need for providing that 'something extra' to the meeting experience at the office, since we see service requests for meetings booming after the pandemic.
The office experience will also be essential for new hires. On one hand, the whole recruiting experience will make it easier to attract new hires when thinking 'work from home, because it allows employers to remove hiring barriers, since recruitment is no longer limited to regional talent pools or people willing to work fully remote. On the other hand, as more companies follow this trend the competition for skilled labor force will become even more intense.
As we continue to navigate a world of uncertainties within meeting management, new roles dedicated to workplace experience will also be increasingly common. Leaders from HR, IT, and Facilities will work together more closely since they hold the key to driving the experience of the workplace. These three groups will all work towards the same goal, delivering a successful workplace experience that connects the right people, technology, and places to support their employees.
2. The open office is dead - It is time to redesign the office and equip it with the right digital tools and technology.
In a recent study by
Microsoft
they asked employees how often they plan to work from home versus in the office once a full return to in-person work becomes possible. They also asked them why. Topping the list of reasons to work in the office was collaboration with coworkers (70 percent) and social interaction (61 percent). The preferred reasons to work from home were skipping the commute (61 percent) and maintaining a healthier work-life balance (59 percent). These numbers demonstrate the Hybrid Paradox in action: We've missed one another and what we can accomplish together in person. At the same time, we want to hold on to the perceived wellbeing benefits of working from home.
Hence, many learned during Covid-19, that working from home is not always fulfilling, satisfying nor enough to stay engaged and connected, or to share and have access to the tacit information in the workplace. So, employees are still in the workplace (not always working remote) and having both strong professional and social environments make people want to stay at work. Therefore, many employees are happily coming to work every day since it is at the workplace knowledge is created and shared.
However, Covid-19 has changed how employees work when at the office. Many learned that the open office space can be too stressful and that it is hard to stay concentrated. Especially with everyone on a Teams or Zoom call simultaneous. Therefore, these organizations are transforming the design and layout of the workplace to fit the new needs. More space for focus and concentration. More, but smaller, meeting rooms or phone booths for video conferencing. Concentration and quiet areas are designed as a library. More space between each desk; also, to accommodate social distancing. The open office and large conference rooms are being redesigned to smaller hubs or communities, and the large conference rooms are transformed into sound-proofed phone booths.
The smallest bookable room we have at AskCody is named Call. Named after its purpose.
We see that organizations further invest heavily in better AV equipment to meet the needs for better virtual meetings. With people working from various locations, employers and organizations will increasingly adopt digital tools that work as well in person as they work remotely. Implementing digital solutions, procedures, and processes are essential as the larger part of the workforce is digital natives. Thus, the digital tools are key for their productivity, and simply for everyone, if organizations want to foster a 'work-from-home' approach. Additionally, as employers bring new people into the organization, they can efficiently get them plugged into the existing technology, culture, and communication tools quickly if they have thoroughly considered their toolbox. Organizations who do this well will see happier and more connected employees, leading to better business results.
3. Hot desking is not so hot anymore - organizations are switching to desk hoteling.
With work-from-home, people no longer need a workstation to call home - their designated desk. Instead, they need to book a desk, when at the workplace. This allows for space optimization and more flexibility. Hot Desking and Activity Based Work has been around for a decade. But a new concept, Desk Hoteling, is now trending within meeting management. Why?
Hoteling, and not hot desking, involves pre-booking and checking into a concierge to access a space, much like at an actual hotel. Even in a room full of empty desks and unoccupied workstations, a person must check in with central booking to access their spot. It may be a person, or it could be by self-directed software. What matters is that the process is the same for everyone and that there is a standardized record of the desk assignment.
Let us make a scenario: Jim wants a workspace with a view on Friday. There are two coworking spaces within walking distance from his apartment, both with great views. Jim checks Friday availability for both and sees that Workspace A is booked, while Workspace B has an open workstation from 8 a.m. to 2 p.m. He books Workspace B, arrives on time, and enjoys his workspace.
In this scenario, there is no frantic search for a space with a view or finding out last minute there are not any spaces available. Jim knows exactly what he is getting and for how long. All he needs to do is check-in to his workspace and get to work. The process for desk booking is straightforward and chaos-free.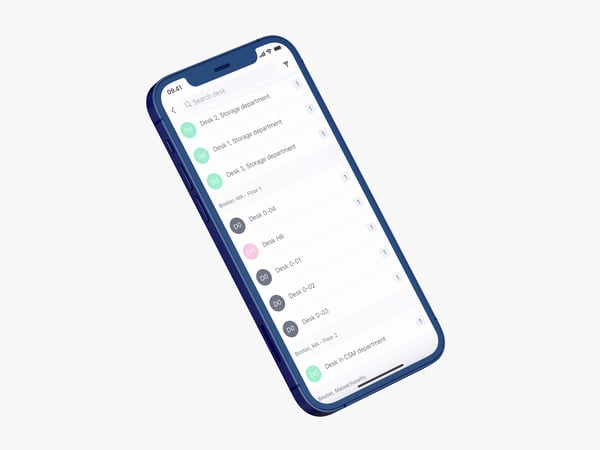 You can book your desk from you device at any time with the AskCody App
The benefits of office hoteling come from its marriage to both order and freedom. Just like you are free to pick the room that is right for you at the hotel over defined dates, desk hoteling works much the same way. There is freedom of choice dictated by standardization.
4. Without data, you will be just another guy with an opinion: Workplace analytics are crucial to understanding what goes on, where, and when.
The workplace is changing from a place of work to a center of collaboration and innovation. This means that it is no longer about cost and utilization, but about how effective a workplace is at supporting its employee's work and how that impacts overall business goals.
At the end, that is the only thing that matters to a great workplace and meeting management strategy. To do this, employers will need to track metrics that measure how employees use the space, in order to see data on office and meeting rooms availability and utilization.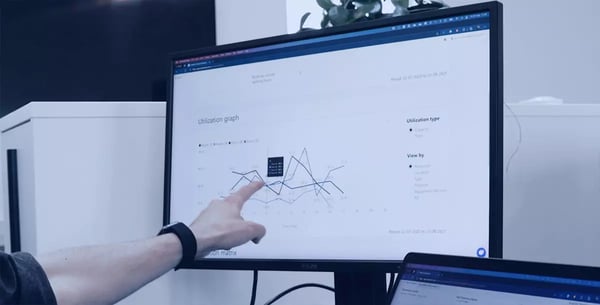 Insights and Analytics for the modern workplace
This knowledge can help optimize available spaces across the entire organization. Additionally, information regarding why people come into the office, and whether they feel supported when they do, also makes it easier to understand needs and make decisions based on that data. Hence, employee surveys and guidelines may be redesigned to help identify and guide behavior and to continuously adjust based on that behavior.
5. A new model has risen: Space as a Service.
Typically, organizations construct new or update space for their employees as a capital investment. While intended to serve the purpose long-term. The reality is; as organizations evolve, the space remains stagnant. Then a decade or more later, funds are used again to completely redesign the space. As a result, the space does not serve the corporation effectively. It is time to break the norm, implement strategies, and design spaces that live and breathe in sync with the organization — spaces that are upgradable and adaptable to match the ever-changing organization.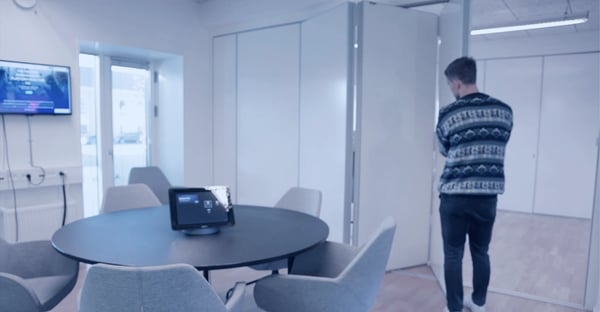 Connecting rooms that can be utilized for multiple purposes at the AskCody office
This business model is also referred to as SPace-as-a-service (SPaaS) and is defined as the change in the real estate model from asset ownership to monetization of access and services that include physical space. Yet, SPaaS is more than just about real estate. It is a model that facilitates a change in management's beliefs about the design and use of real estate to one that proactively enhances productivity and experiences within a company's real estate portfolio. In its essence, SPaaS is the catalyst that's driving down costs and reducing resources, while optimizing meeting management and utilization.
Thereby, SPaaS becomes a paradigm shift in the way in which the commercial real estate industry has provided products and services to tenants, as their role has changed from rent collectors to service providers. So how does real estate create higher profitability by providing more service, experience, and access, instead of focusing on a product packaged for ownership? The answer is; by changing the service model so it focuses on more personal, flexible, and tech-centric solutions. In fact, SPaaS often includes technology disruptions to an existing market. Technology is paving the path for fundamental changes in how businesses operate, how people work and live, and where they do it. Primary examples include; Amazon in the bookstore/retail space, Airbnb in the hotel space, and WeWork in the temporary/flexible office space.
The increased speed of business, propelled by ever-changing advancements in technology and compounded by expectations from Wall Street, dramatically impacts the workplace. Technology includes smaller and more powerful personal devices, cloud computing, the Internet of Things, sensors, smart buildings, and artificial intelligence. The cost center capital model of changing a workspace once a decade based on market benchmarking, past experiences, typical rules relating to ratios and relationships, organizational programming, and design formulations is outdated. Organizations that want to thrive in this environment must consider internal cultural aspects, as well as external factors related to the company such as the corporate real estate strategy, labor markets, and human preferences even before employees, realize that they need these changes. When changing an organization's mindset and strategies to incorporate spatial solutions in a SPaaS model it will support constant evolution and progress. We foresee a future, where more and more organizations, both due to changes based on the learnings from Covid-19 and the rise of SPaaS will lead to a change in the corporate real estate environment.
6. The digital transformation continues - the IT organization and IT strategy will be key to success.
Digital is now mainstream, but the digital transformation of everything will continue; it's in every business and across every sector. There's no longer business strategy and technology strategy. There's just strategy – driven by technology. That is the real IT strategy of the future.
To innovate and pivot with the business to achieve success for the entire organization, IT will evolve its operating model, changing how it provides technology services, responds to issues, and manages expectations while delivering fast value, safety, and scale to the organization, no matter if people are working from the office or from home.
To meet and accommodate the continuing digital transformation, organizations must break down silos between functions and employees, creating new standards for collaboration, trust, and experimentation, all while dynamically assembling enhanced technical capabilities. In doing so, organizations gain a flexible, scalable, connected, and decidedly human IT function.
In a hyper-connected world, the future of IT plays a critical role in delivering the promise of the connected enterprise. Today, many IT functions are poised and willing to take the leap but may lack the holistic business approach to get there. This will change in the future where buying power is increasingly controlled by the business and less by the IT team.
To ride the future wave of digital transformation, the (IT) Strategy of the future therefore:
Has a cloud first, people first, holistic, human-centric approach to solve all challenges for the workforce

Focus on user experience and ease of everything. Everything is commoditized, so the differentiator and key is experience

Based on integrations and Ecosystems: The modern organization want's integrations. Stand alone has gone. Long live the integrated Platform and Ecosystem

Focus on trust, certainty, and security. Compliance and governance are superior

Focus' on what a Platform can do, but goes with 'best of breed' solutions to solve specific challenges

Wants a proven ROI and value creation. Day in and day out

Wants consumption-based subscription models; only wants to pay for what is used

Knows that technology is the driver and enabler for recruiting top talents




To sum it up. There is no 'One-size-fits-all'. Different people, different styles, different needs.
What is the ideal work style then? How to succeed with meeting management in a future full of changes? You simply accept that there is no 'one-size-fits-all' just as Microsoft confirmed when sharing one of the largest research studies on the topic: "What is the ideal work style"? Microsoft's findings on that topic are confirming that there's no single answer. Different people have different styles and different needs. The organizations that succeed will find ways to accommodate different work styles as the path to helping everyone do their best work.
We believe, that to succeed, you must build a culture of trust and flexibility and embrace uncertainty. When work is not a place you go, but something you do, words such as 'workplace' and 'work time' simply disappear since they are no longer relevant. So how to succeed? Trust is key.
The best you can do is simply to; be aware, stay reflected, dare to test and iterate, fail-fast, and accept that it is a challenging and complex world we are living in. In an ever-changing world, the only constant is change. In the world of the workplace, that has never been more accurate than it is today.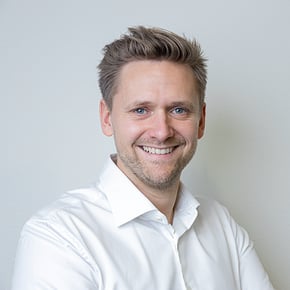 Allan Mørch
CEO & Founder, AskCody. Empowers organizations worldwide in creating better workplace experiences using AskCody.