Why should you choose a modern workplace design for your office? The most important thing to consider is that the new office design must work to benefit employees and their work environment. Workplace design describes the process of organizing and rearranging a workplace to increase performance, boost employee productivity, and provide safety.
Nowadays, employers concentrate their efforts on providing work environments that improve employee wellness and comfort and cater for their needs. Numerous modern designs aim at enhancing employee engagement and efficiency by optimizing synergy, focus, and capability based on the individual necessities. Understanding how to leverage a modern workplace design to encourage collaboration and engage employees is crucial for keeping up with the advancing trends in the work environment.
Many businesses invest in upgrading their office areas, because the beneficial outcomes are substantial. Modern offices are becoming more flexible, commutable, and future-oriented. There is an abundance of activity-based areas and hybrid spaces. All spaces are designed to be appealing to employees and to support integrated technology.
In this article we will present some modern workplace design examples from businesses that have adopted the hybrid work model and have upgraded their office areas to accommodate employees' needs. Examples include current AskCody clients and partners, among others.
1. Modern Workplace Example: IKEA
IKEA is known internationally for its approach to design with a brand objective "to create a better everyday life for the many people." Similarly to their brand vision, IKEA's goal when re-designing their headquarters is to improve the day-to-day work experience for their employees. The finalized HUBHULT office headquarters is assumed to be the most ecologically and environmentally friendly building accomplished by IKEA worldwide.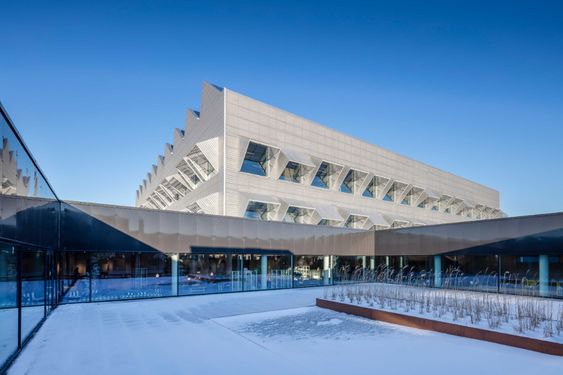 "Aside from being an unconventional office space - we call it a meeting space - the building has the pleasure of being the most environmentally friendly office building in all of Scandinavia!"
The project's objective is to design and build the lowest energy consumption and the most environmentally friendly workplace solution. To meet the needs of the employees and provide diverse and open office plan, the building has three large rotating light wells and a massive staircase inside that connects all floors allowing employees to engage freely.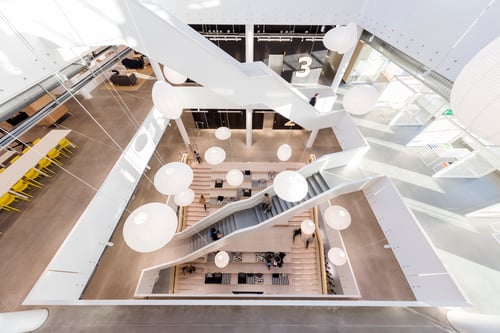 The conference center is located on the first floor of the office building, as well as the foyer, cafe, and open collaboration area. The upper space is designed as an open split-level space, so that employees can collaborate easily.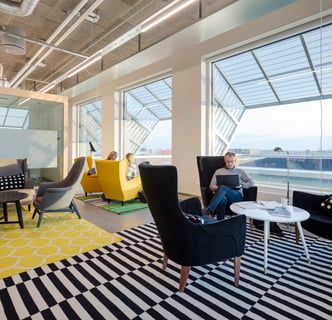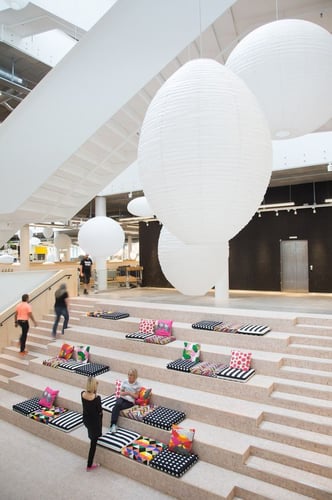 Each floor of the office building is designed to be flexible and open - with views between the floors, that are meant to guarantee that the employees have genuine contact and interaction. "The overall spatial concept is to create a feeling of transparency and togetherness", says architect Dorte Mandrup in a publication in 2018.
2. Modern Workplace Example: Microsoft
Along with workspace modernization projects around the globe, AskCody's partner, Microsoft, have renovated their headquarters and expanded to 18 buildings to provide a work environment that empowers employees to collaborate and create.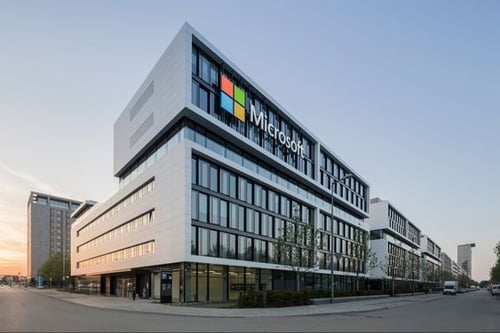 "We are building the kind of space we need for the future."
- Michael Ford, General manager of Global Real Estate and Facilities
With culture and mentality rapidly changing, so does the way people want to work, create, and collaborate. Microsoft's HQ is a workplace design example putting different work-styles in focus by including soundproof phone booths for focus and privacy, soft couches for team touchdowns and spontaneous conversations, all styles facilitated by different community neighborhoods, which can lead to innovation; enhanced efficiency and more agile development. By connecting employees and helping them collaborate, modern workspaces can make employees' work experience simpler and better.
Microsoft is a global powerhouse in computer technology and a household name for everything from computing to gaming to cloud services. Microsoft's success not only due to its products, but to the inspired team behind the creation of new-age innovations. The company's HQ in the Netherlands represents this idea. It is an activity-based workplace that creates team collaboration and fosters cooperation across all segments of business. The workplace design is intended to make work itself more pleasant. Designed by Veldhoen + Company, the 117,200-square-foot space accommodates 1,000 employees in an open-concept environment. The workplace design strategy is aimed at promoting work-life balance, while increasing socialization and self-organization. There are no assigned desks, and every area represents transparency, connection, and comfort.
"Remodeling the buildings, much like designing software, means finding a balance between preserving the legacy while also adapting and evolving for the changing way in which people work."
- Martha Clarkson, Experience designer for Microsoft Real Estate and Facilities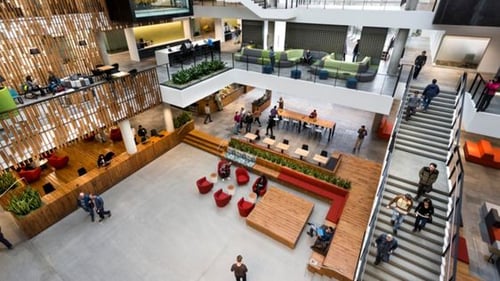 3. Modern Workplace Example: Olympus
Olympus, another one of AskCody's clients, have also successfully redesigned their EMEA headquarters, and have built new, modern state-of-the-art office complex in Hamburg. The Olympus Campus offers an inspiring working environment for more than 1,200 employees. The modernized work space facilitates incorporates the implementation of hybrid and agile work and sets the course for further expanding their teams.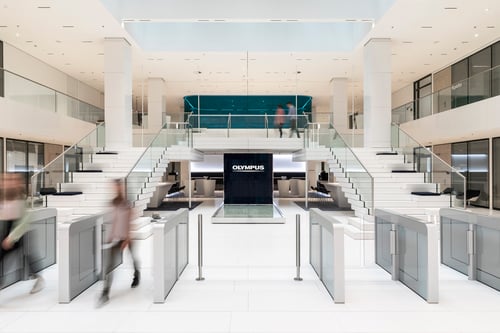 This workplace design example is sustainably constructed and is designed for activity-based working and flexible collaboration. Constantin Zangemeister, the Executive Managing Director for the EMEA Region, expresses his delight with the conclusion of the Olympus Campus, which is one of the most modern office buildings in Hamburg. "With the new building, we have realized our vision of a future- oriented working environment (…) Our new office environment not only encourages exchange and promotes creative, customer-oriented collaboration for those working on-site, but also with colleagues working from home or at other global locations" he says in a press release from March 2021. The Olympus Campus is also on the cutting edge of technology for increased hybrid collaboration, and it can offer flexible working opportunities for its employees.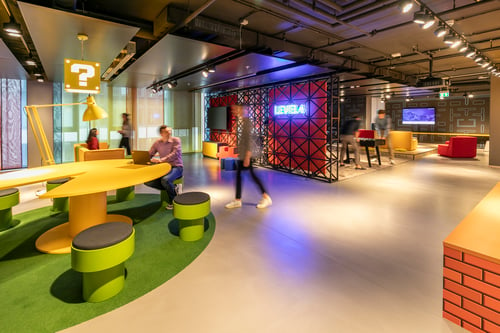 "It was a fascinating challenge to understand the brand and translate these findings into three-dimensional space. To achieve this, we discussed our ideas along with the needs and functions of the building in close cooperation with the employees and created an environment with our interior design concept that is, at the same time, interesting, useful, and exciting for employees, customers, and guests..."
- Sabrina Voecks, Creative Director and Partner at JOI-Design Innenarchitekten
4. Modern Workplace Example: CEBRA
CEBRA is a Danish architecture office that designs substantial spaces that inspire and motivate people, stimulate the senses, unite with nature, and promote positive change. CEBRA encompasses all architectural areas and offers services which focus on the future growth of the learning and working environment. CEBRA remodels work areas, schools, etc. and upgrades them to match the modern workplace design trends and, most importantly, improve user experience. Furthermore, CEBRA has developed a R&D program - WISE. It examines the position of architecture in the search of constant enlightenment. The objective of WISE is to connect the continuous and speedy change in the workplace and education sectors, to develop the design of buildings that inspire learning and creativity.
A workplace design example from CEBRA is their remodeling of the Danish Crown Headquarters in Randers. The building and landscape design encourage a network- and activity-based work environment that endorses the physical and mental well-being as well as the social and professional satisfaction of the employees. The spread wings improve daylight quality for both work areas and common spaces. The dynamic structure enables great views over the open landscape throughout the building for a healthy indoor atmosphere and more comfort. Additionally, the activity-based work conditions and landscape design generate diverse functional, social, and activity zones.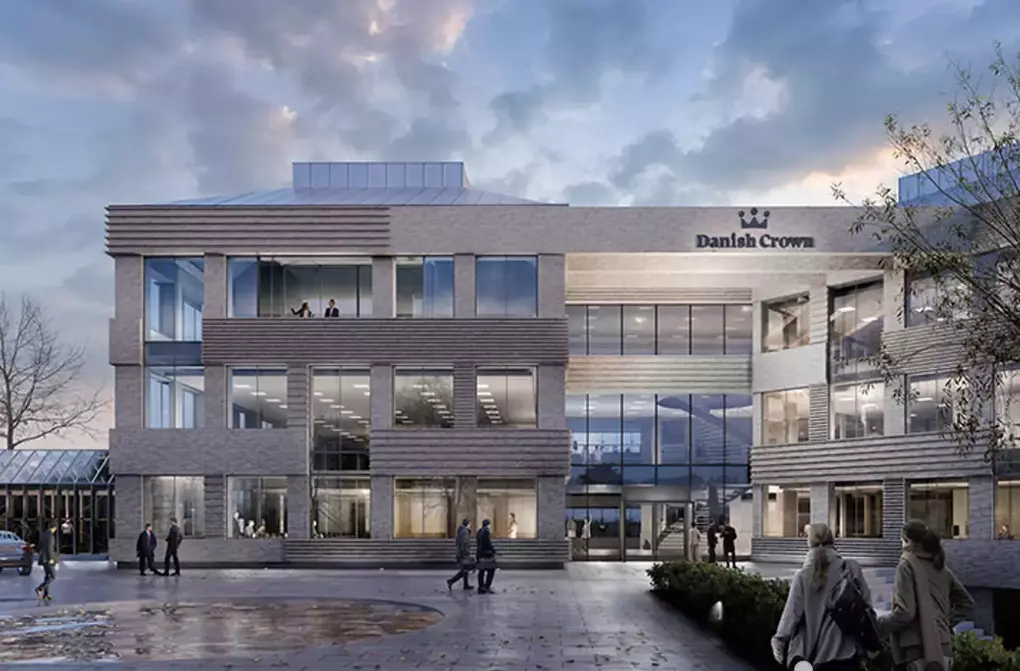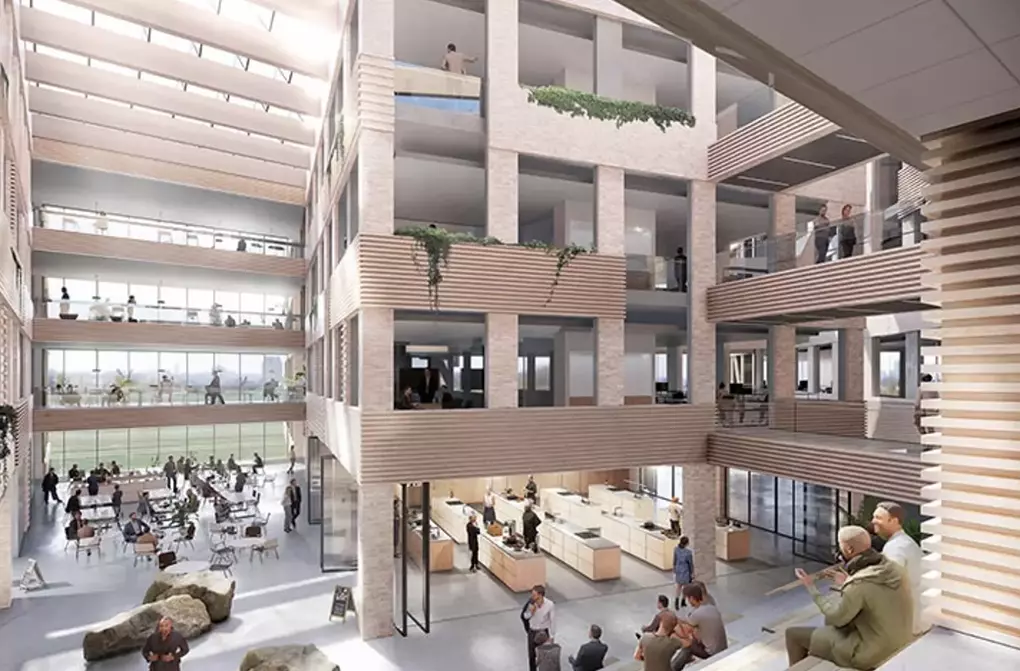 Being aware of how modern office design boosts partnership and teamwork, and enables employees to be productive. This is essential for ensuring wellbeing and safety in a modern workplace environment. With the advance of hybrid and agile work conditions, businesses start to adopt new workplace design strategies to follow the new office space trends. Space will be modified to cater to the needs of the hybrid work environment. The daily work experience will become more digital, thus, facilitating the process of booking rooms and workspaces. Businesses are researching new workplace models and recovering their company values after the pandemic. This boosts the need for a work area that can amplify, compress, and develop with the new company appearance.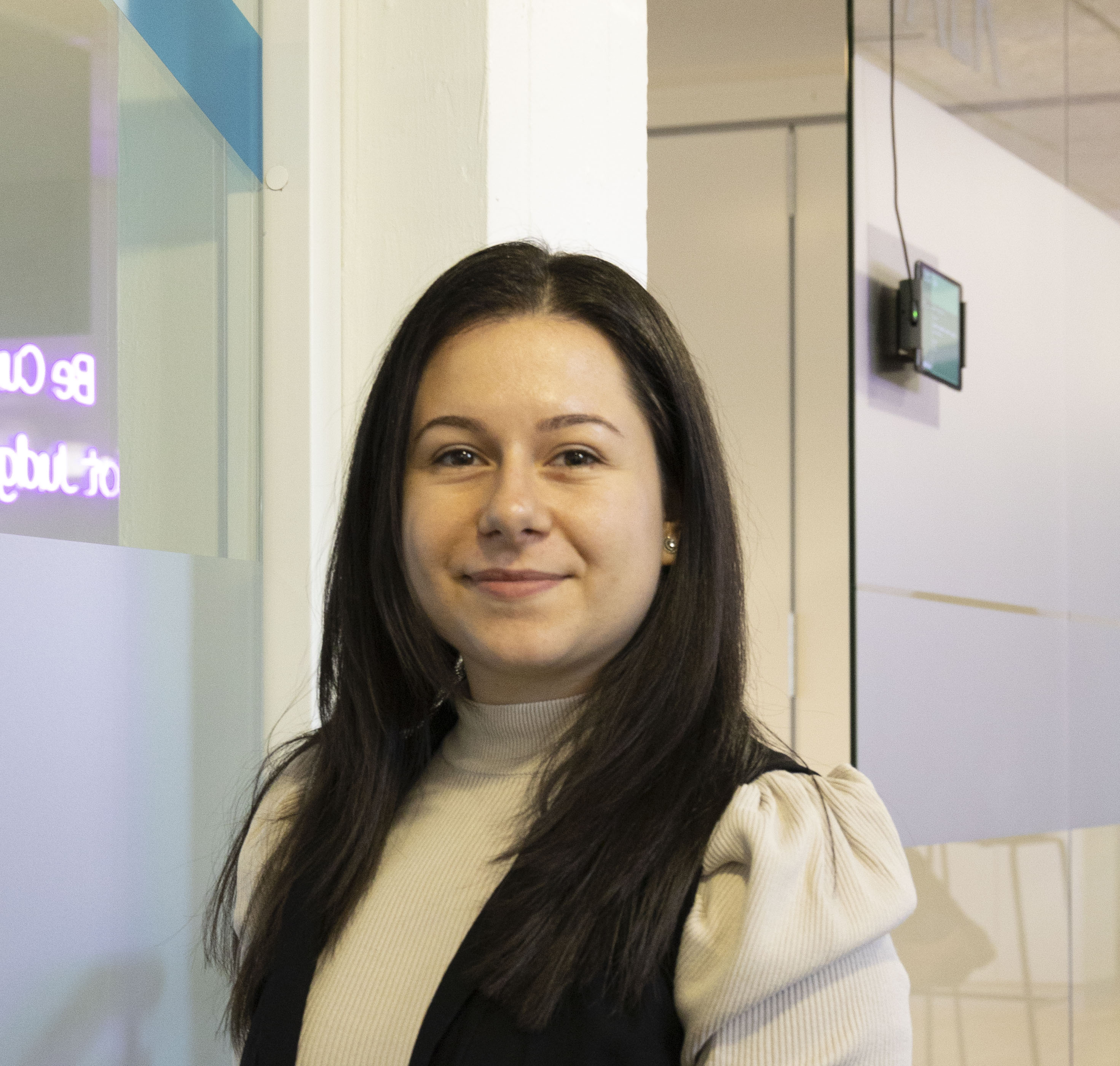 Ralitsa Aleksandrova
Digital Marketing Assistant, AskCody. Ralitsa writes content that inspires businesses to effectively manage their meetings. This includes writing about the latest trends and behavior, deep diving into meeting management, or highlighting valuable processes.