Desk booking system built into Microsoft
DESK BOOKING, MADE EASY
Whether you are looking to promote a safe and efficient return to the office (RTO), optimizing workspace utilization, or just wanting to accommodate employee needs and preferences, we´re here to help.
AskCody is making it easy for staff to book a workspace that meets their needs all inside Outlook, Microsoft 365, or with the AskCody Mobile App. We help you implement and manage desk sharing and activity-based working.
01.
Find & book in Outlook
Smart search makes it easy to find available desks that meet specific criteria, such as location, floor plan, neighborhood, proximity to colleagues, or the presence of certain hardware.
The system remembers your latest preferences making your next desk booking even more frictionless. Your desk reservations stay in your Outlook calendar for easy overview and control.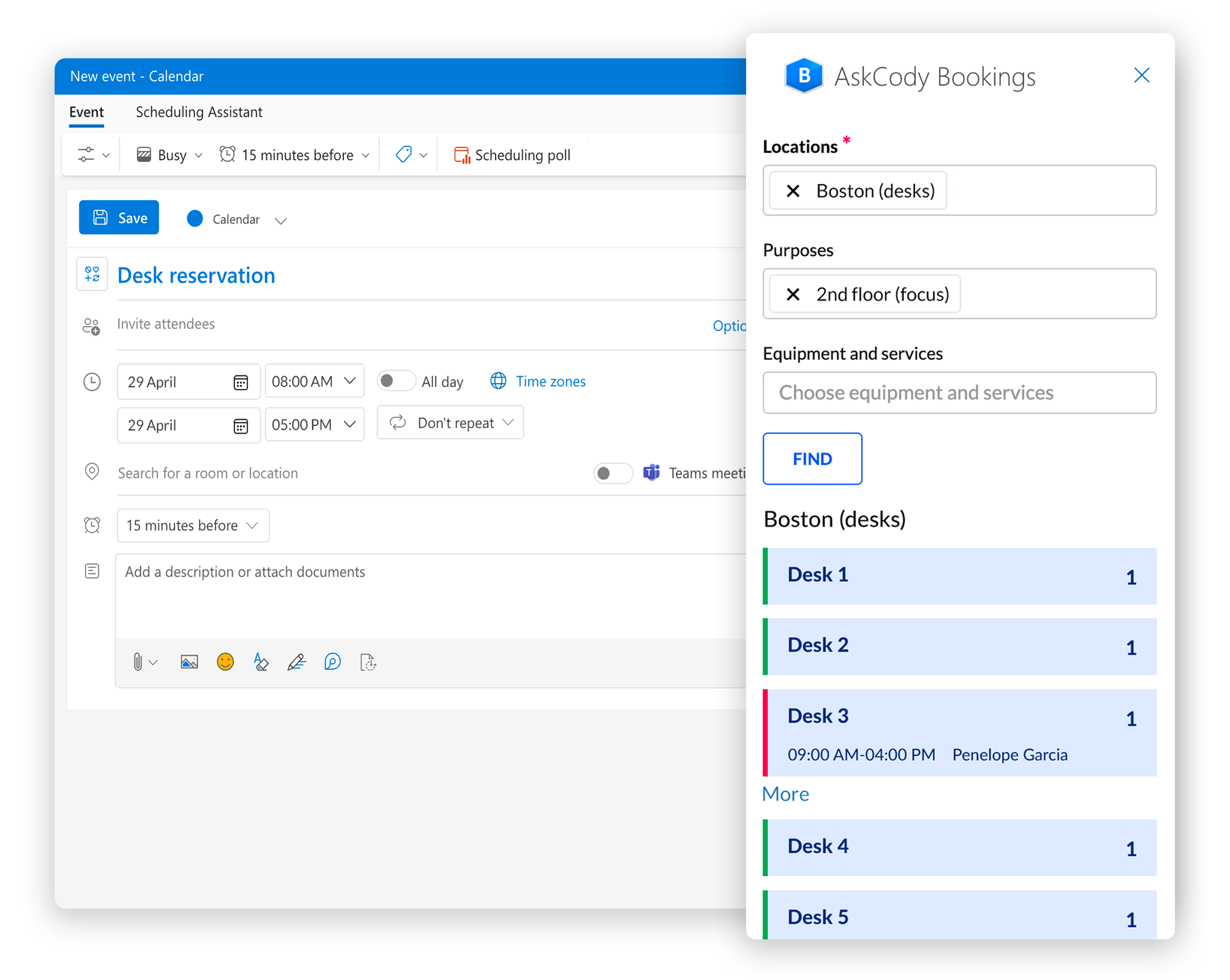 Use AskCody to reserve desks from the familiar interface of Outlook.
Use filtering option to quickly find a suitable desk.
Find desks close to the people you want to collaborate with.
Press the "More" button to show where the desk is located.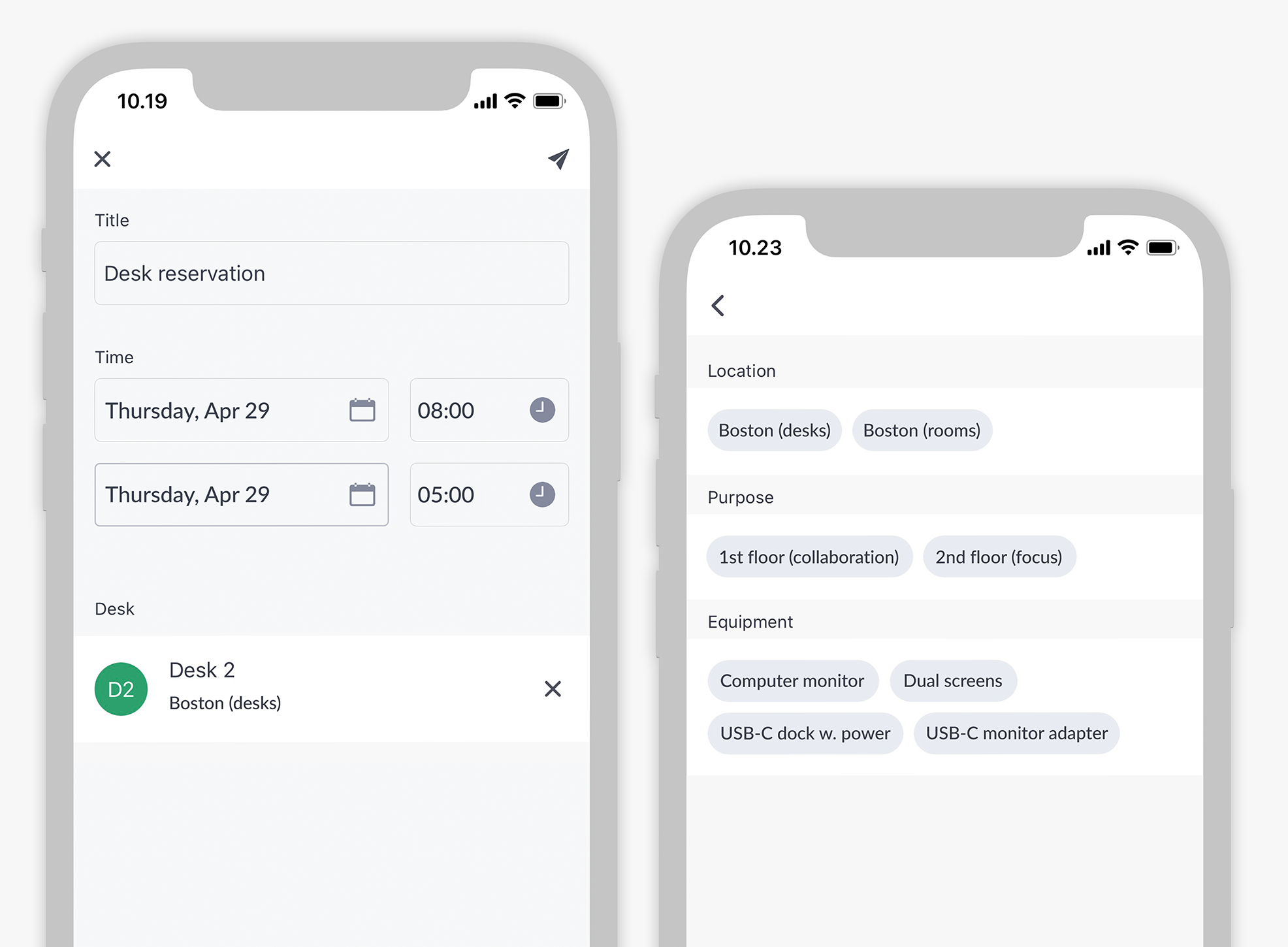 Insert your booking information and choose a desk.
Take advantage of filtering options to find a suitable desk.
02.
Find & book on mobile
With our Mobile App, desk bookings are always available and easy to book, no matter where you are, on the fly or just arriving at the Office.
Whether you're in the office or working remotely in a hybrid workplace, the desk booking app allows you to easily find and reserve a desk and access all the necessary details right from your smartphone.
Working from home anyways? With just a few taps, users can easily modify or cancel their desk reservation, freeing up the workspace for someone else. You have full control from your fingertips.
03.
Booking Dashboards for a quick overview
While walking through your workplace, Booking Dashboards provide an airport-screen-like overview visualizing meeting activity and desk bookings in real time, by always letting you know:

• Where you need to go
• Which desks are available
• Where you can find your colleagues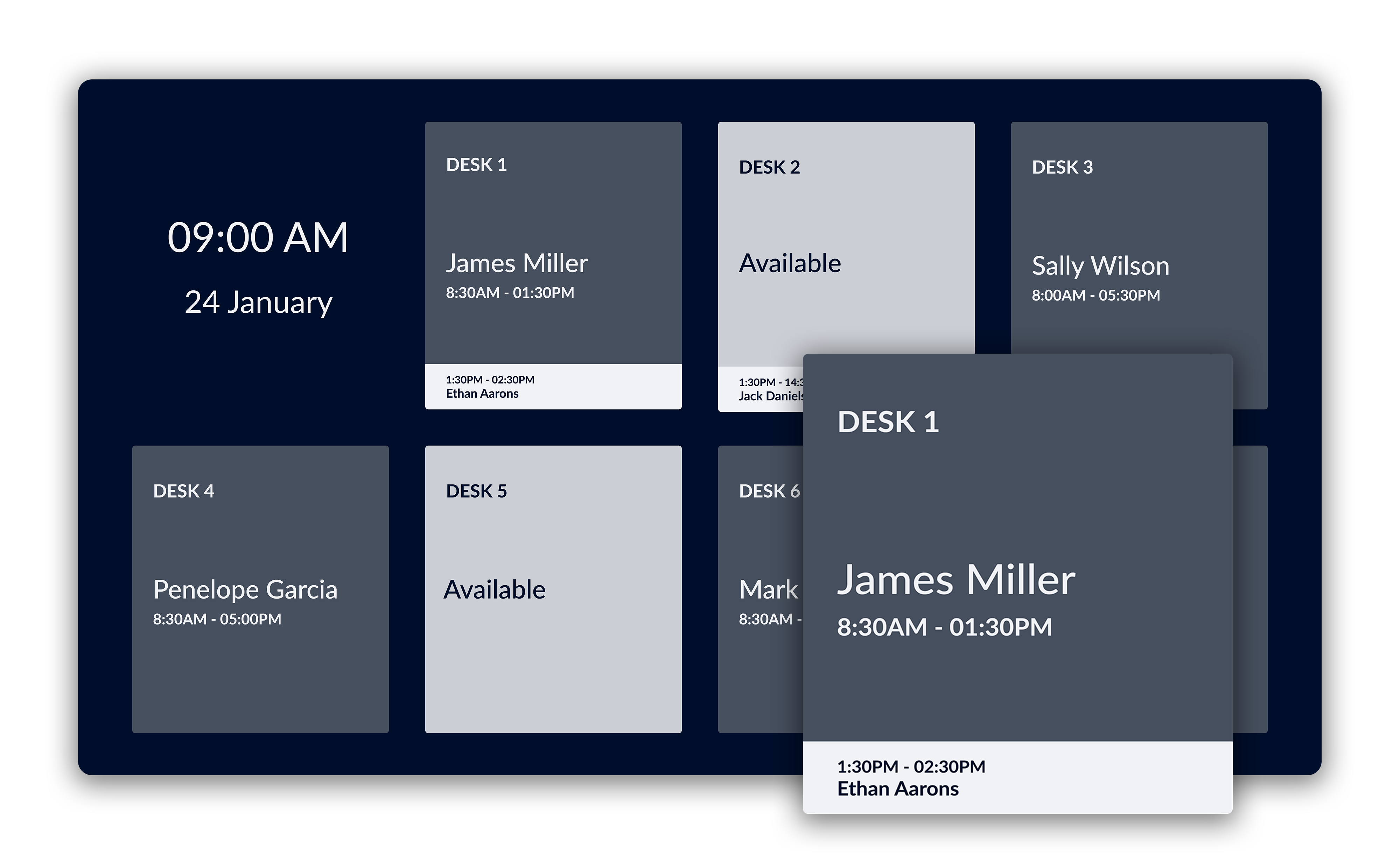 See where your colleagues are sitting and for how long they'll be in the office.
Find available desk in a quick glance.
04.
Fast implementation,
easy maintenance
We're an integrated element of your Microsoft Suite, expanding your existing IT infrastructure and Office productivity platform, Microsoft 365. Therefore, you're up and running in just a few steps.

We've had customers up and running in a matter of hours, depending on the time and resources available.

Are you adding or removing desks? That is done quickly in our management portal. It doesn't require IT skills, so you decide who handles maintenance.
See how your new desk booking solution integrates with your existing tech stack.
05.
Track desk utilization and learn about trends and booking patterns
Insights for desk bookings show how your desks and meeting rooms are being booked and utilized. Surfacing popular desks or areas that help you make informed decisions based on data rather than gut feeling.
Combine desk bookings with insights on meeting rooms and other resources to streamline your entire workplace and optimize the use of office space.
Insights are built with Microsoft PowerBI and available in our AskCody Portal. You can also export the data to your preferred reporting tools or customize data with Excel.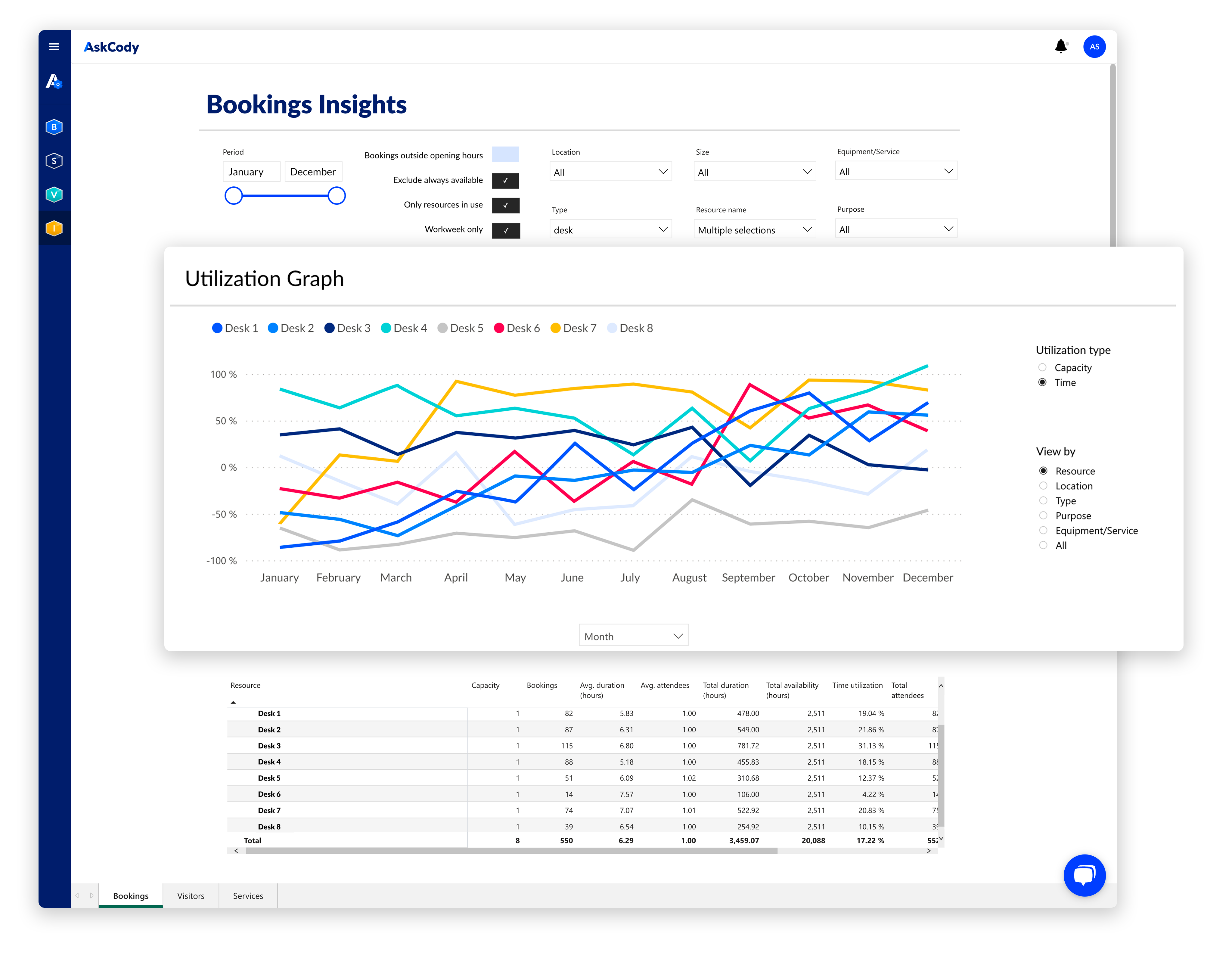 Adjust your period or location to compare data and create utilization reports.
Visualize analytics in the platform or export the data to Excel/CSV.
Powerful alone - Better together
ALL YOU NEED
UNDER ONE ROOF
Combine your desk booking solution with our Platform to book meetings, manage meeting services and welcome visitors, and you´ve got everything under one roof.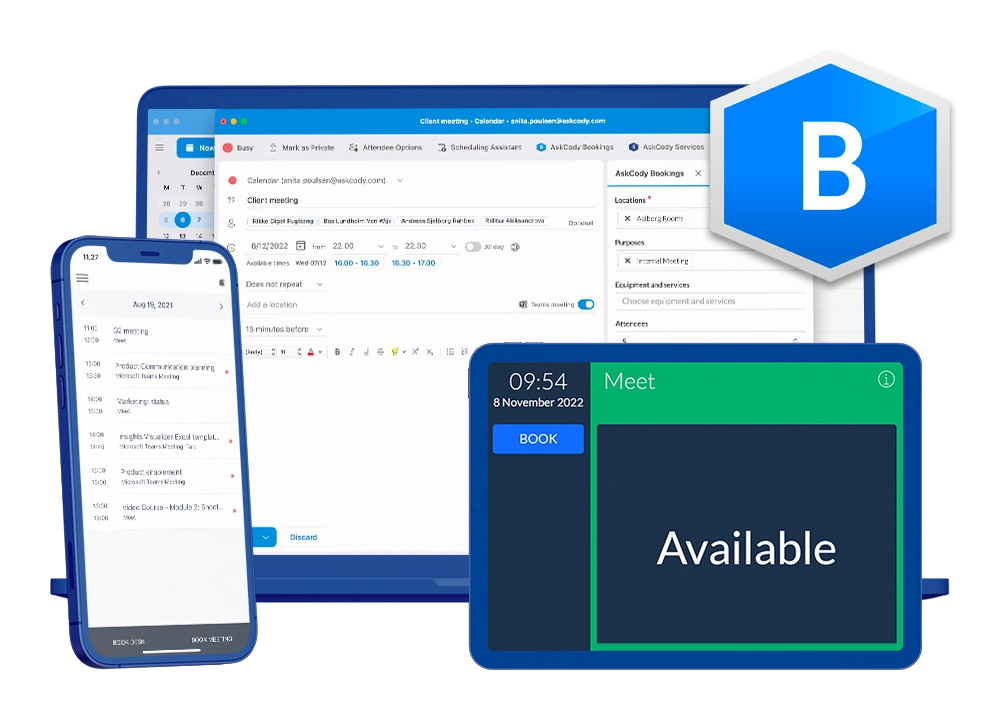 Book meetings
Find the best place to meet, order meeting services, and invite visitors directly from your familiar interface in Outlook with less manual work and less interactions.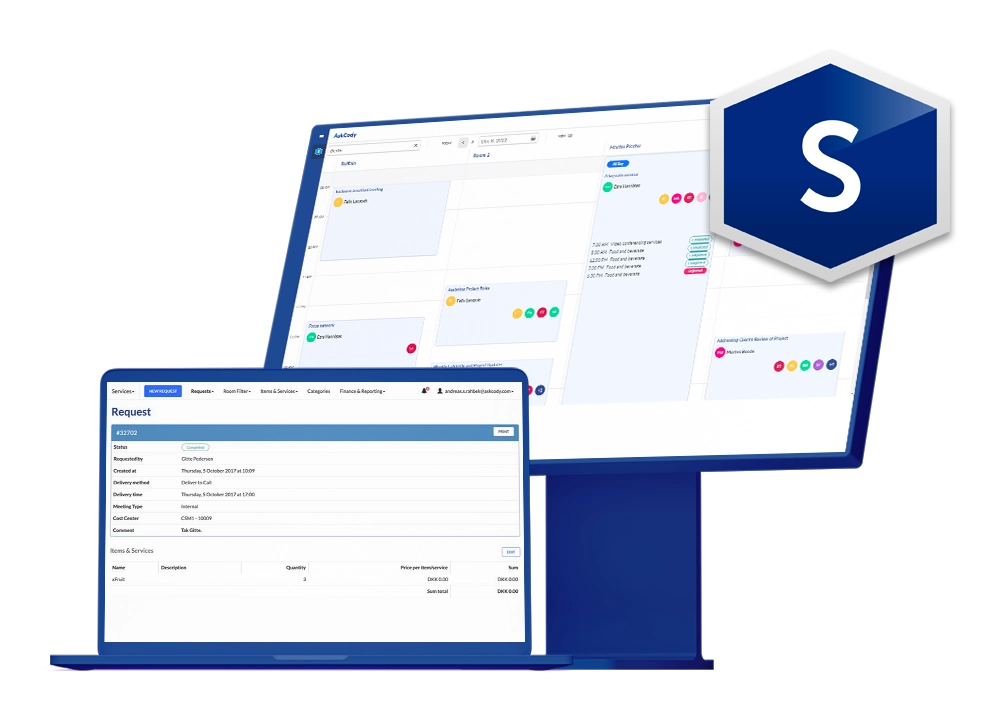 Manage meetings & services
Get an overview, manage and make changes, and automate repetitive tasks, will give you the certainty, control, and confidence you need to deliver next level business support.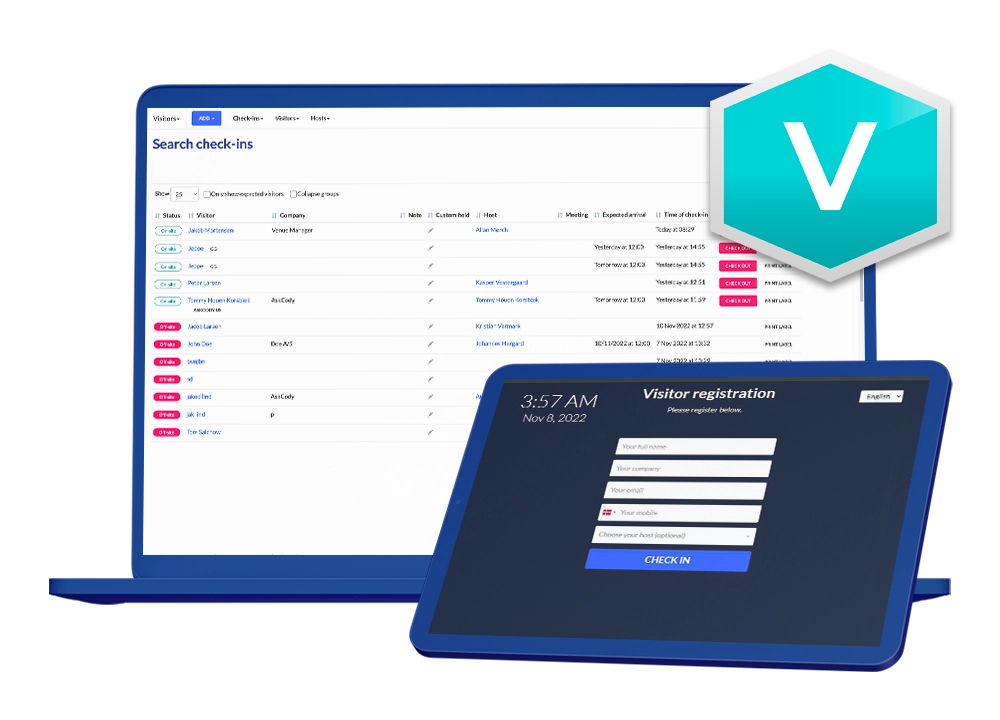 Welcome visitors
Stay in control with an overview and automation of recurring and tedious tasks, which allows you to focus on providing your guests the best possible experience.
Learn more about desk booking here
How does AskCody Desk Booking work?
AskCody is a meeting and resource management Platform integrated natively with Microsoft 365 and Outlook.
With AskCody you can book desks, workspaces, and meeting rooms efficiently from the familiar interface of Outlook.
We created a user-friendly interface for employees to book desks, while also allowing administrators to manage desk availability, social distancing, cleaning schedules, and create utilization reports.
What does the desk booking solution cost?
Should you choose to purchase AskCody then you can choose between two bundles. An essential and advanced package.
The essential package contains all the basic needs for handling meetings and desks including modern add-ins in Outlook, Exchange integration, Mobile app, secure SSO access, access to the AskCody admin center, and much more.
The advanced package contains everything from the essential package while adding important upgrades to handle complex meeting scenarios. This includes service requests in Outlook, cost center management, customized reporting, API integrations, and access to the service portal connecting all your service providers.
The price of desks is based on your choice of solution.
Check our pricing page to get an updated list of prices.
Is it possible to Allow Single Sign On?
Yes.
You can choose to use Microsoft Azure Single Sign On (SSO) for convenient and safe login to the AskCody Portal.
There are only a few requirements to setup SSO for your organization. You can read about them here Microsoft Azure Single Sign On.
I haven´t seen an interactive floorplan, why is that?
AskCody does not support interactive floorplans. And there is a good reason why.
While interactive floor maps allow employees to locate workspaces, meeting rooms, and other amenities with ease, leading to improved visibility and a better user experience. They also require a significant investment of time and resources to plan, gather accurate data, implement, create a user-friendly interface, update, and maintain.
From speaking with customers, we realized that the time and resources invested to create and maintain an interactive floorplan (especially in a time of uncertainty with people getting back to the office) did not justify the benefits of this solution.
There are also a few issues companies face in terms of data privacy and security by implementing an interactive floorplan. You can read more about this in our blog: interactive floorplans for your workplace, dream or nightmare?
What about privacy and GDPR?
We take data protection and privacy seriously. This is why we get certified bi-yearly through the ISAE 3000 report in data protection to extend the regulations from GDPR.
In terms of privacy, we are using the Microsoft environment as our backbone for all we do. This means that organizations can choose different privacy settings, if you for instance would want to anonymize workers. This is primarily used for meetings with external attendees.
Does this require hardware on the desk?
You don't need any special equipment to use AskCody's desk booking solution. You can manage all bookings using your email or through the AskCody mobile app, which allows you to book desks quickly.
However, we recommend that you label each workspace with a tag like "desk 1, 2, 3," etc. so that employees know which desk they should sit at. This will help ensure that everyone sits in their assigned seat.
We would love to show you desk booking
Understand how we help users to easily reserve a desk or workspace