Helping you manage meetings smarter
BUILT FOR CENTRALIZED MEETING PLANNING
Workplace Central makes Meeting Organizers, Office Admins, Hospitality Teams, and Conference Service Managers shine by quickly and effectively solving meetings challenges before they turn into major issues and last-minute meeting conflicts.
With a complete workplace overview of meetings, rooms, services, and attendees from a single grid-view and familiar calendar-like interface, Workplace Centrals is empowering you stay on top of your workplace, turning Conference Service Managers into Superheroes.
01.
Full overview of meetings across all rooms and locations
Workplace Central is your new hub for meeting administration. It is your overview for meetings, associated services, and attendees empowering your Service, Facility, and Hospitality Team to control what goes on, where, and when.
Services like catering, room layout and audio-visual equipment can be integrated into every booking. AskCody is making delivering the right services, on time, every time easy and straight forward.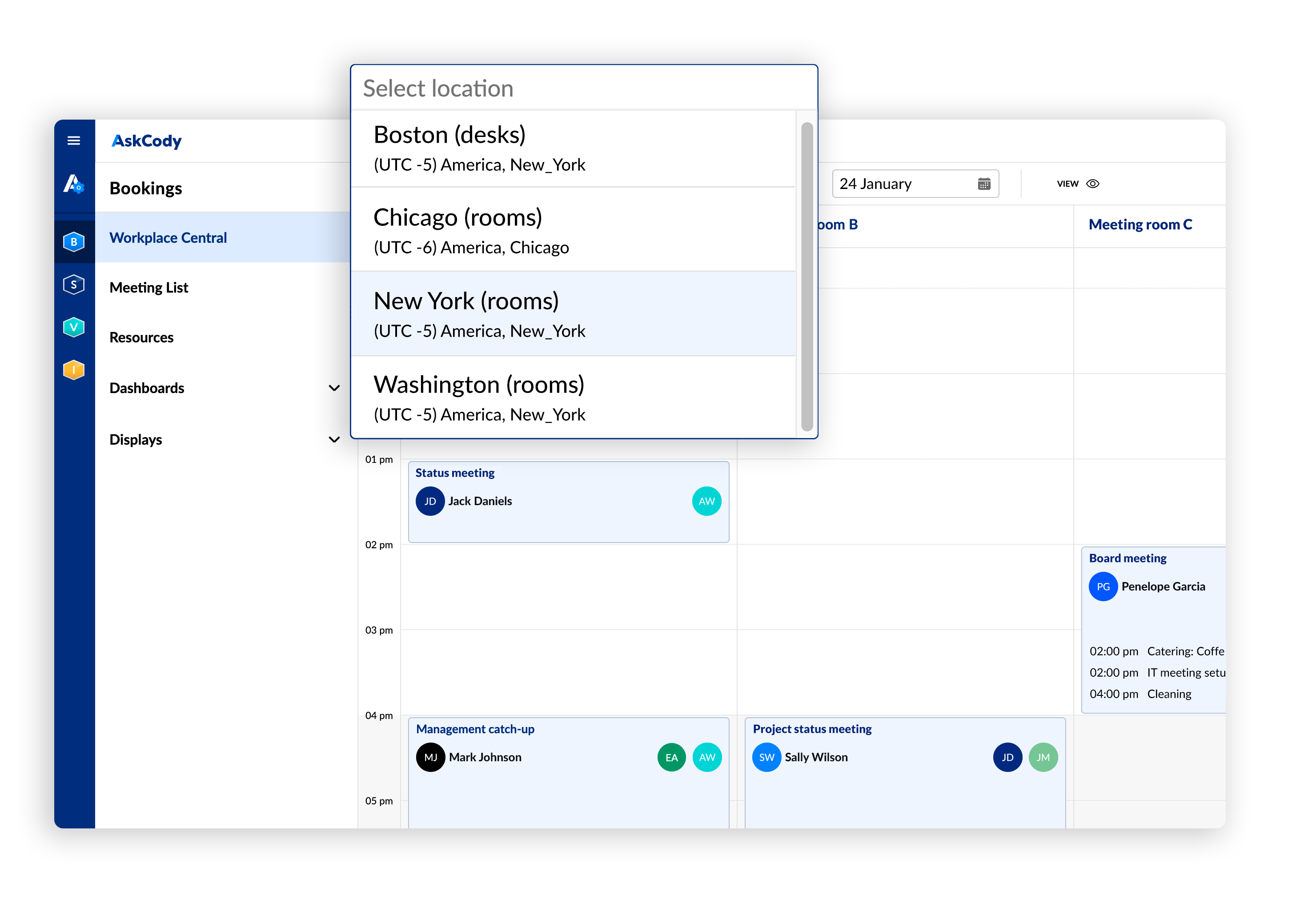 Select an office location and get a clean overview.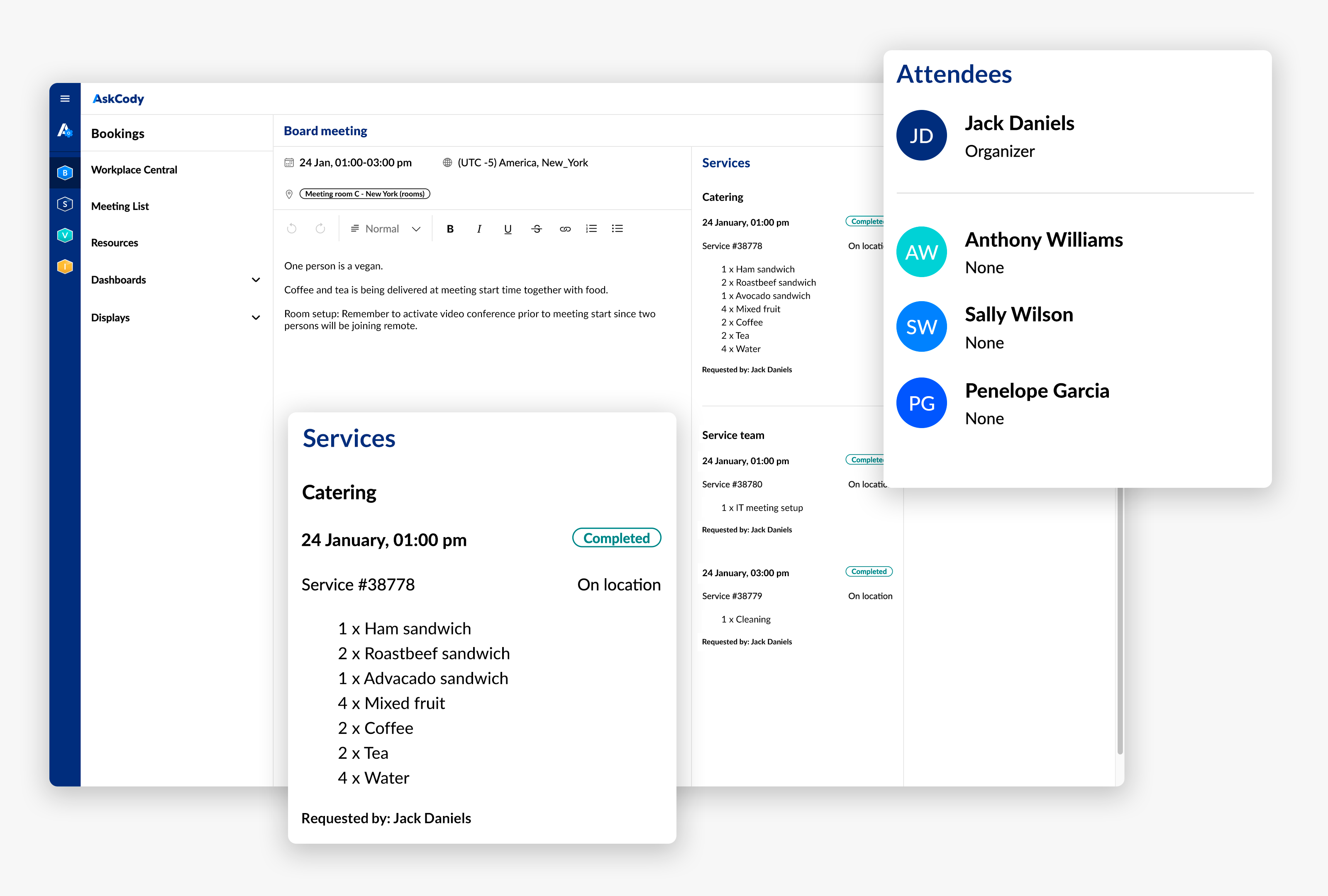 Have a complete list of all service orders for your meeting.
See all attendees for your meeting.
02.
Meeting services overview with your meetings in one booking grid
With Workplace Central you get meetings and service requests presented directly in the grid view ensuring full calendar overview with information, not just about the meeting, but about delivery time, service provider, and real-time order status.
Expand individual meetings to get a detailed view of the associated services or meeting notes.
Giving your service staff a single source of truth to ensure nothing falls through the cracks.
03.
Shared meeting notes for meeting organizers helping you stay calm when things get busy
Handling incoming booking requests, walk-up bookings, last minute changes and visitors checking-in, while also ensuring that meetings and service deliveries are running smoothly, requires a solution that helps stay on top allowing you to keep calm.
With shared meeting notes there's no more need for post-it notes and back-and-forth communication between Facilities Teams and meeting organizers. Workplace Central provides shared meeting notes for quick information, links, and context around the meeting. This gives peace of mind to help ensure that nothing falls through the cracks - and all changes are automatically saved.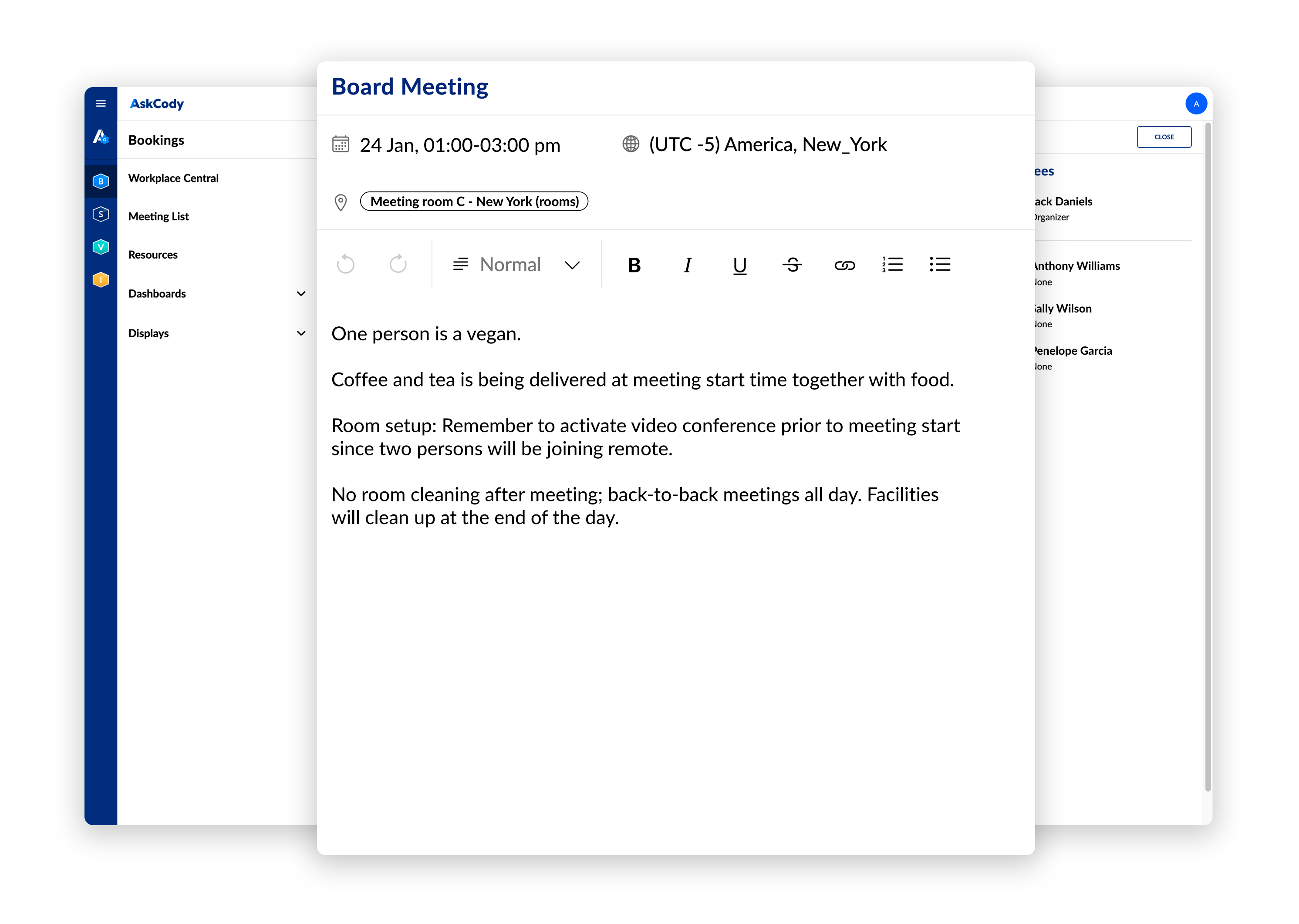 Write notes for each meeting to make sure, nothing falls through the cracks.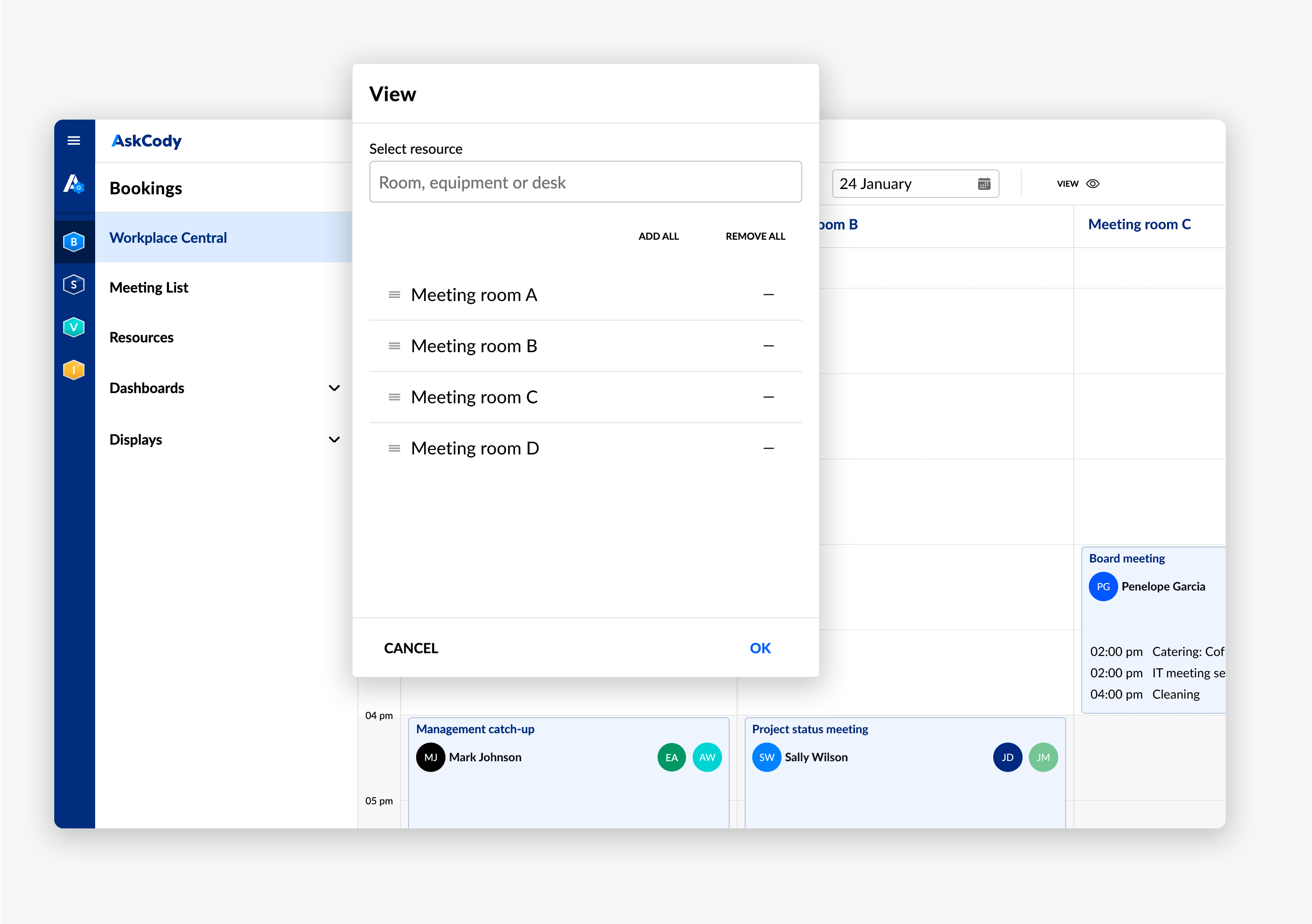 Select "view" setting to highlight the meeting rooms or desks relevant for you.
Add, remove, and structure your rooms or desks how you want.
04.
Customize your own view and settings that's right for you
In Workplace Central you can customize your view to show specific meeting rooms or desks. Simply add or remove resources as you see fit. Drag and drop rooms for your own custom sorting to highlight the most relevant rooms.
We designed Workplace Central to be quick, customizable, and responsive to your needs.
05.
Built for the future on Microsoft Graph
Workplace Central is built on Graph technology being the new standard for accessing Microsoft 365. This allows us to leverage the intelligence and insights from the Microsoft Cloud, including data from Office 365, Windows 11, and Enterprise Mobility + Security.
Built securely with Microsoft Azure Single Sign-On as default.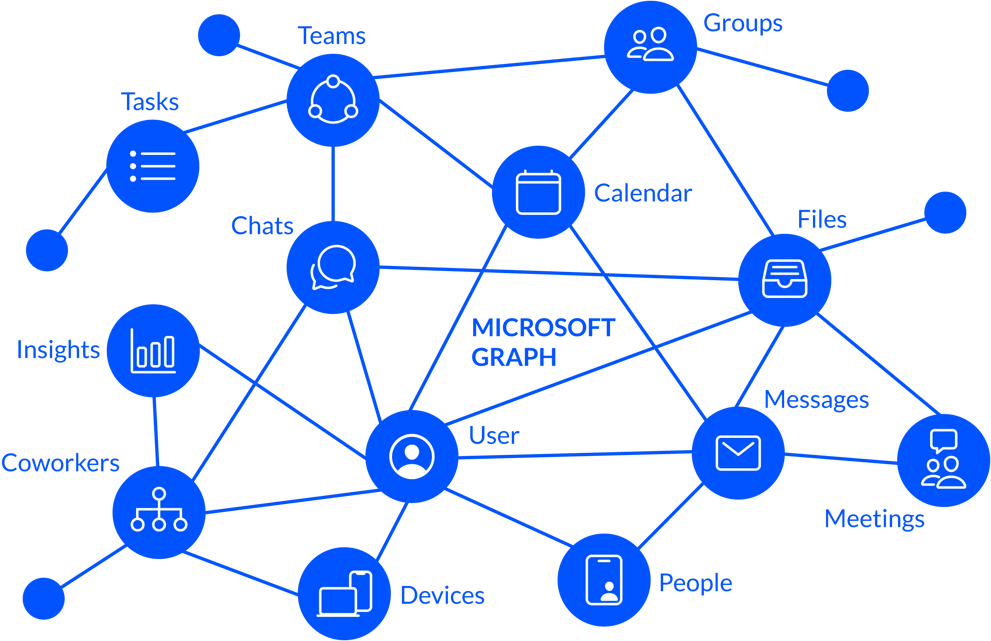 MANAGE YOUR MEETINGS SMARTER NOW!
Workplace Central is now available for early access. Please contact your Customer Experience Manager or setup a demo with our sales representatives.
Requirements before you start
Workplace Central is a Microsoft Graph based application, which means there are a few requirements to enable and use it, as part of the AskCody Platform:
Your Microsoft Exchange room resources must be on Exchange Online (Workplace Central is not compatible with Exchange Server)
You must use Azure AD for user and identity management
You must enable Microsoft Single Sign-On for AskCody
Solving real-life issues
"I use AskCody every single day. I mean one of the first things I do in the morning is pull up Central and look at what is going on that day and the following for each of the offices that I manage. So that I know where we stand with meetings and visitors; how many people are arriving and departing. Because that all plays a role with my reception team."
Dale Pollock
Conference Service Manager at Eversheds Sutherland
(2 min 45 sec in)
Learn more about Workplace Central here
What Is Workplace Central?
Workplace Central is a workplace management and meeting scheduling tool created by AskCody that provides a centralized hub for managing meeting room and desk bookings, visitors, associated services, and workplace events in real-time from one booking grid or a calendar-like interface. It's a combination of your Outlook, Microsoft 365, and Exchange meeting rooms, desks, and other resources, combined with data on bookings, meeting services, visitors, room amenities, and requests, all combined in one single interface, providing you everything you need for management meetings at hand.
Why do organizations need Workplace Central?
Many organizations struggle with managing meeting room and desk bookings across a variety of locations, maintaining a multitude of different tools in the process. This often creates administrative overheads, costs, questions of ownership and a fragmented user experience costing a ton of wasted time. Creating a unified view of what goes on, where, and when in the workspace is often a major challenge that is required for our key customers to solve in providing a great workplace experience.
Who is Workplace Central for?
Workplace Central is designed for the Hospitality and Service Team of an organization, including Office Managers, Booking Coordinators, Hospitality Teams, and Personal Assistants, who need to stay ahead and be successful in their workday supporting the rest of the organization to perform and have the workplace running smoothly.
What are the benefits of using Workplace Central?
Workplace Central provides consistency, visibility, and insights, allowing Service and Hospitality Teams to stay on top of everything related to meetings and service across the workplace, ensuring that everything is happening accordingly to the plan. It empowers Meeting Managers to take control of meeting rooms and workspaces and giving them the super powers to understand how the workspace and meeting rooms are actually used right now, allowing them to make decisions based on data, not gut feeling.
How does Workplace Central help front-of-house and Service Teams?
The new Workplace Central empower the Service Team, Hospitality Team, and The Office Manager to stay ahead of the workday and provides them information about what goes on, where, and when in the workplace, helping these teams remove friction in the workplace and in meeting bookings, overseeing and managing the workplace smoothly and efficiently. It ensures that nothing related to meetings falls between the cracks ever again.
Built on, for, and with Microsoft
Workplace Central is built on Microsoft, for Microsoft, with Microsoft. It aggregates the most important meeting data from Outlook, Exchange, and Office 365 and combines it with data from AskCody Services, Visitor Management, and Insights in one screen and one simple overview.
We would love to show you AskCody
Understand how we can help you in your organizational needs