ASKCODY IS THE PERFECT FIT FOR LAW FIRMS
AskCody empowers legal assistants and attorneys to streamline conference room scheduling, catering, AV equipment, and room setup. With AskCody, you gain centralized control through our Outlook and Microsoft 365-centric solution, making it easier to manage your modern workplace. We ensure that your billable hours are maximized, simplifying the process for you.
Follow the top AM Law 100 companies and equip your smart office with a modern workplace solution that empowers meeting organizers to manage all of those crucial meeting details centrally. From visitor management and conference room design to reserving AV equipment and ordering catering, your legal services team deserves the best strategic meeting management software.
AskCody exhibits at ILTACON 2023, so stop by our booth to discuss meeting management if you are able to join the event.
Our CEO will be on stage this year talking about the most important collaboration tools for meetings, and we are sharing exciting new product updates.
20-24 August, 2023
Orlando, USA, booth 1914
ILTA product briefing webinar
Webinar: Meeting management for Law Firms in Microsoft 365
6th of September at 11:00 am eastern time we hosted an ILTA product briefing webinar about meeting management for law firms.
With our Co-founders Steffen and Luke Schnoebelen from Shook, Hardy, & Bacon we shared meeting trends in the legal space and take-aways from ILTACON.
You can watch the entire recording here and get a glimpse into our product development eg. how we help add services for recurring meetings in Outlook, and how legal service teams are using Workplace Central to get a complete overview of their workplace.
See more information about the webinar here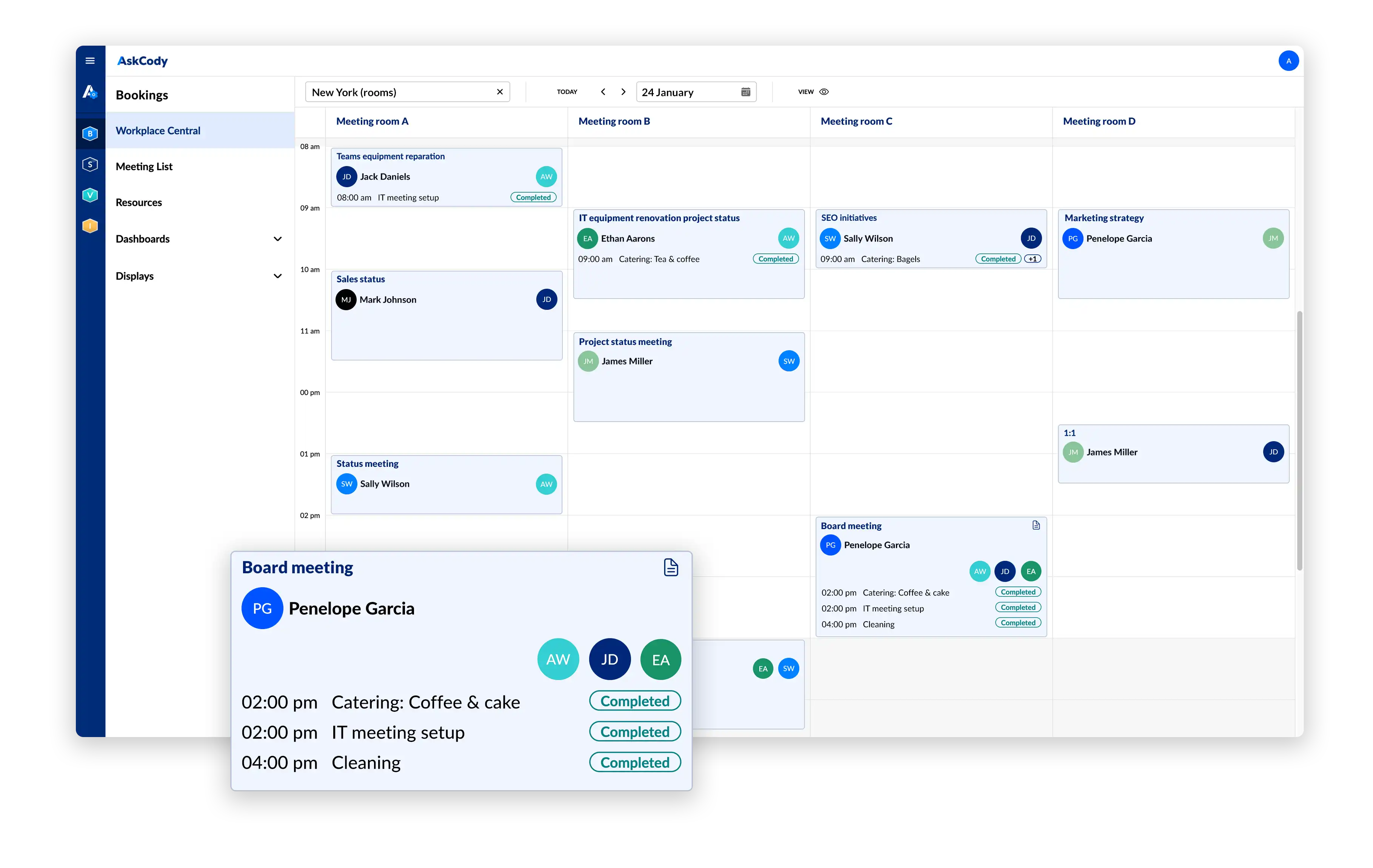 Improve staff collaboration
We give office admins a workplace overview
Workplace Central makes it easy to manage room bookings, resource allocation, and service requests, all from one centralized platform.
Workplace Central is your calendar overview to handle all workspace requests ensuring smooth collaboration among your service staff.
This helps you effectively manage room setup, AV equipment, catering, and visitors.
Automating catering cost
Track service requests back to client matter number
With AskCody, you can seamlessly track costs back to a client/matter or general ledger number.
This makes it easy for firms to include catering in their meetings because all costs are automatically added to the correct account.
In general, the Meeting Services portion makes AskCody a great fit for law firms, because we make it easy to book, edit, and keep track of service requests.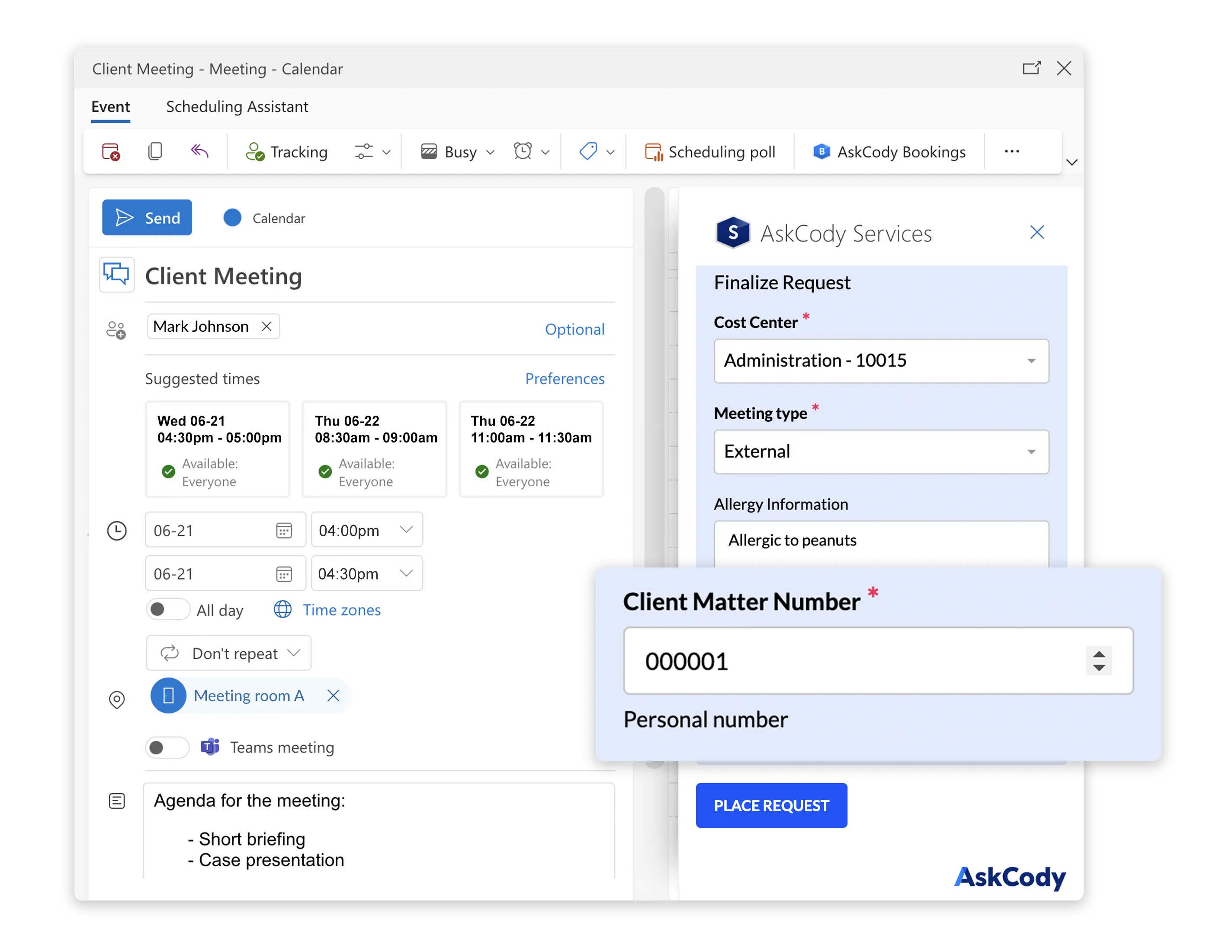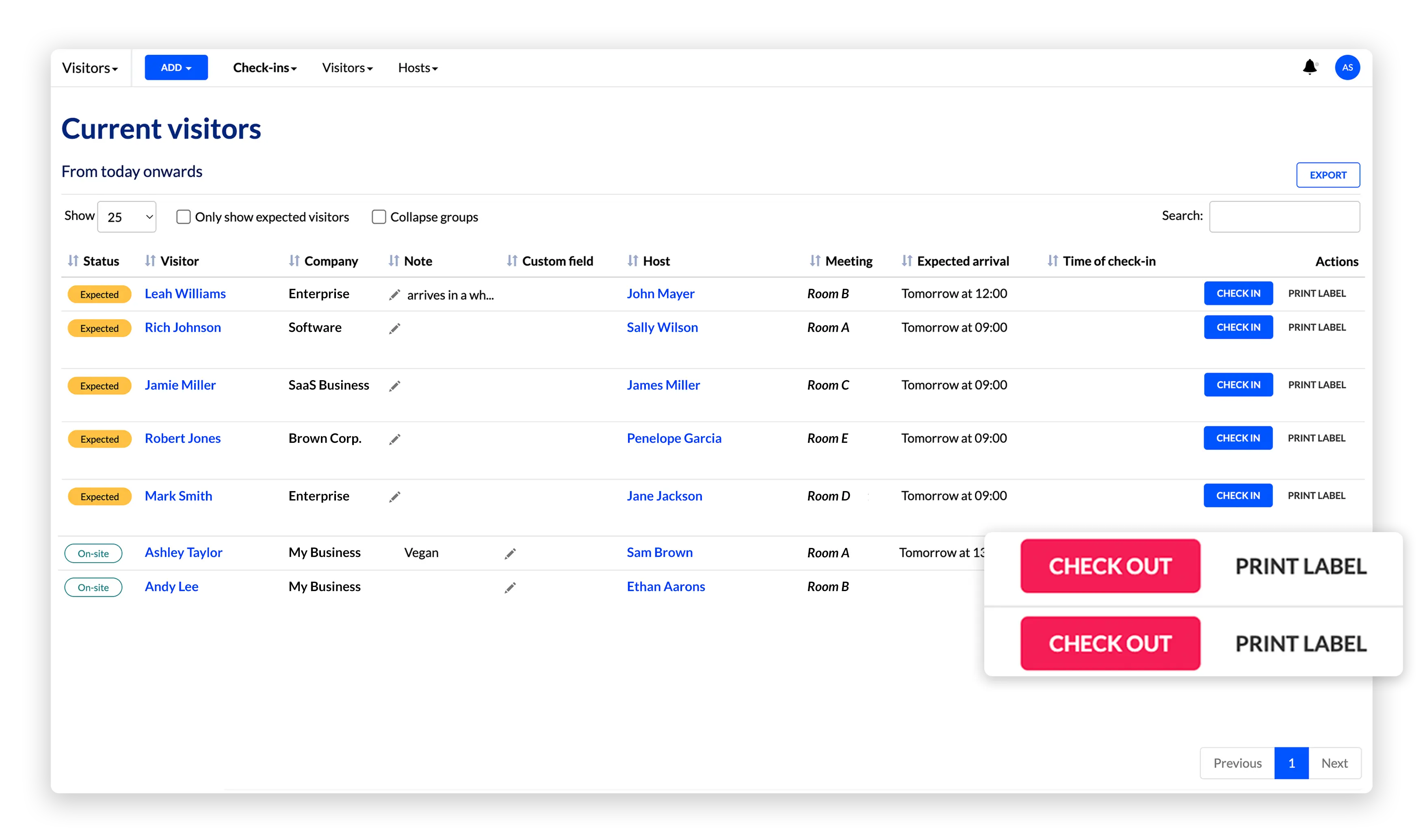 A great first impression
We offer out-of-the-box Visitor Management
Visitor Management gives incoming guests a professional, white-glove experience when visiting your location.
Having a tool to welcome guests helps the reception be prepared for arriving and departing visitors, print badges, sign NDA's and sent notifications to meeting hosts.
For law firm Eversheds Sutherland the AskCody Visitor Management solution has helped them get ISO certified because they can ensure guests' data is documented and tracked in accordance with the ISO standards.
A great fit for Law firms
WHY LEGAL CHOOSE US?
Scalable solution in Microsoft
One-click Teams setup
Getting ISO certified
No synch issues or double bookings
Streamline meetings
We help client businesses implement
a scalable solution in Microsoft 365
Law firms appreciate that AskCody is not just another tool in their tech stack, but an integrated part of their Microsoft suite and existing IT infrastructure. We are built native to Exchange and Azure. Providing insights and analytics gathered with Power BI. Delivered with Modern Add-ins for Outlook. Our aim is to be the best Microsoft solution on the market.
The American Law Firm Shook, Hardy, and Bacon LLP became an AskCody customer in 2019 as their business had grown to a size where they needed to standardize their meeting processes and wanted a solution integrated natively with Microsoft 365 and Outlook.
"We shouldn't have to go to a different solution than Outlook to book a conference room, and the two systems never talked to each other. So that was kind of one of the drivers for us saying: Let us find a new tool!"
- Luke Schnoebelen, Director of Professional Development.
Read the full Shook, Hardy, and Bacon LLP case study
We offer streamlined video conference setup
with one-click Teams integration
AskCody is natively integrated with Microsoft 365. This means you can use the Teams or Skype app in Outlook to quickly add video conference to your meeting along with other services. For modern law firms having easy and efficient access to video conferencing rooms and the ability to efficiently add AV equipment and setup is vital to the success of the business.
This was also the case with Eversheds Sutherland, who added 200+ different rooms (and desks) with video conferencing equipment in portion of those. Another law firm that enjoyed the easy setup has been Shook, Hardy, and Bacon as they became a customer just before Covid in 2019. The flexibility of the Platform during an uncertain time was very important in our continued partnership.
We help law firms and legal services
get ISO certified
ISO (International Standards Organization) is a globally recognized certification that demonstrates a company's commitment in maintaining high-quality standards. Some of the AM Law 100, Global 200, and NLJ 500 companies who choose to collaborate with AskCody - have done so because it helps them achieve an ISO certification. This certification helps boost the firms' credibility which can give a significant competitive advantage especially for international collaboration.
One of the largest law firms Eversheds Sutherland LLP specifically chose the AskCody Platform because the Visitor Management solution helped them improve security, confidentiality, and access control when managing visitors. Visitor management is an out-of-the-box solution giving the guests a great first impression while documenting, tracking, and reporting in accordance with the ISO standards.
We help reduce mistakes giving law & legal
a solution they can trust
Unfortunately, one of the reasons law and legal choose AskCody is because they have had negative experiences with unstable or non-integrated workplace management software.
The reason companies experience synchronization issues and double bookings is because of how most platforms are built. Most products on the market are created as SQL-based solutions. In short this means the company created a database outside the Microsoft environment making server calls for every action between the database and Exchange. Because the database is located outside of the Microsoft environment it makes it more vulnerable to issues, if there is an outage on either Microsoft or the database.
Because AskCody is built on Azure and Exchange we leverage the data in Microsoft. This means we can significantly reduce the risk of synchronization issues or double bookings creating software law and legal can trust.
We help law firms & legal services streamline and standardize meetings
One frequent issue we hear from client businesses is the lack of a standard way to book workspaces. The issue with having multiple ways to reserve meeting rooms or desks, order services and manage visitors is, that you might lack control when managing important meetings.
This was a massive issue for the Chicago-based law firm Burke, Warran, Mackay, & Serritella and it became one of the main drivers for them to get a workplace management solution.
"10 different people booking a meeting, resulted in 10 different ways of creating a meeting, and everything that goes with it. Meeting management can be a convoluted process, so we really needed a standardized system that was easy for our people to use and that could automate the current processes in place. With AskCody employees can now book rooms and request services themselves, and it gives them a kind of self-service aspect where they can take control of their own meetings."
- Anthony Moore, IT Director at Burke, Warran, Mackay, & Serritella.
Read the full case study with Burke, Warran, Mackay, & Serritella.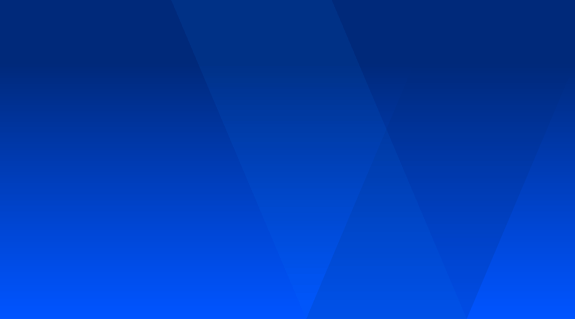 "A Wonderful Upgrade to our Room Reservation System!"
I LOVE that AskCody is integrated with Outlook. It makes reserving, editing and canceling reservations so quick and easy. The interface is very easy to use and is so customizable to our needs. I love that we can make it our own and customize our rooms, vendors, and services from the Admin side"
"
Quality room management system with quality people supporting it"
I give AskCody 10/10. It is a phenomenal solution. Easy to implement. It's easy to train on, and it is easy to use. We use AskCody to allow our population to easily and confidently book rooms across all our offices, giving them the ability to do it themselves. Kind of removing the middle person"
"An Outlook-based system makes training painless"
"With AskCody we have a system based on Outlook which everyone is already familiar with, so training of the end user is painless. The system can be explained in a clear, logical, and relevant way".
"A massive productivity boost for our secretaries!"
"Our secretaries managed two or three attorneys and partners before. Now they're managing maybe five or six. It's only possible to manage that increased workload, because they can handle everything in one spot with AskCody. "
"We handle all reservations and requests for a room under one roof"
"Admins can manage each reservation for a room and each request that is needed for that event or meeting all under one roof, really helped a lot with organizing and it's much better for our attorneys as well. Everyone gets it"
Solving challenges for law & legal
SOLVING MEETING ISSUES
FOR LAW & LEGAL
Meeting management is an intricate dance of details, coordination, and execution, particularly in the legal sector where precision and punctuality are paramount. For office administrators in law firms, the weight of ensuring seamless meetings can often translate into countless hours, potentially diverting attention away from more strategic tasks.
Introducing AskCody: Tailored for the distinct needs of law firms.
Understanding the nuanced demands of legal professionals, AskCody offers automated solutions for labor-intensive meeting tasks. Whether it's aligning attorney schedules, coordinating client consultations, or managing intricate work requests, we're here to streamline the process. With our platform, your service staff can deliver an unparalleled, white-glove experience ensuring that your firm's reputation remains impeccable and maximizes billable hours.
Global law firms are embracing the digital revolution in meeting management, and AskCody is at the forefront. We ensure a smooth transition by integrating flawlessly with your existing IT infrastructure. What's more, we've ensured compatibility with legacy systems that many law firms rely upon, such as Microsoft 365, Exchange, and Outlook.
But our vision doesn't stop at merely solving today's challenges; we're dedicated to helping you shape the modern workplace of the future.
Here's a snapshot of the meeting dilemmas we've tackled for law firms:
Double-Booking Prevention: Ensure that meeting rooms and attorney schedules never conflict.

Client Confidentiality: Enhanced security features that prioritize your client's privacy.

Resource Management: Track and allocate resources like presentation equipment or special meeting rooms with ease.

Seamless Integration: Synchronize with your existing calendar systems for effortless coordination.

Virtual Meeting Support: Integrate and manage virtual consultations in our current hybrid-working world.

Automated Notifications: Ensure attendees, both internal and external, are informed and reminded of upcoming meetings.

Meeting Analytics: Gain insights into meeting patterns to optimize room usage and resource allocation.
Common questions from law & legal?
Can you setup privacy and confidentiality settings for meetings and visitors?
Yes, you have multiple settings to ensure privacy and confidentiality.

You can setup private meetings to ensure information is kept confidential.
There are also many options in the Visitor Management solution to ensure privacy and confidentiality.
CAN YOU HAVE LEGAL ASSISTANTS BOOK RESOURCES ON BEHALF OF SOMEONE ELSE?
Yes, with delegated access or shared access to calendars as configured in Microsoft Outlook.
Delegated Access gives access to the entire account, including calendars and email.
Shared Access gives access to calendars (i.e. can't send emails on behalf of other people).
WHAT HAPPENS TO CATERING OR SERVICES ORDERS WHEN MEETINGS ARE CANCELLED​ OR RESCHEDULED?
Catering, services and additional resources follow your meeting. That's one of the best parts. We call it follow the meeting intelligence.
Meetings are canceled, rescheduled, postponed, or relocated all the time. That's why all the assigned resources such as catering, AV and telepresence, meeting room equipment, and table arrangements follow the meeting if it is rescheduled. If a meeting is canceled, the assigned resources will be released automatically. The kitchen or the AV provider will be notified immediately from the AskCody Management Portal.
HOW DOES VENDORS OR SERVICE PROVIDERS WORK WITH ASKCODY?
AskCody is not just Outlook add-ins or meeting room booking system features. It's a complete Platform with a backend designed to make the meeting experience more efficient and effective than ever for providers of meeting services, office managers, facilities managers and real estate owners.
Office Managers can use the AskCody room reservation system to manage additional resources, workflows, items, bookings of corporate kitchens and canteens, and accept or reject bookings. Kitchen and facility managers can view at a glance what they need and how many people need meeting services, as well as the location. Now they have an instant one-stop interface with an updated overview in real-time.
CAN DATA BE EXPORTED? AND WHAT ABOUT COST CENTER MANAGEMENT OR TAX MANAGEMENT FOR EXTERNAL MEETINGS?
With AskCody you get the data you need when you need it.
Your IT or Finance department will love the ease-of-use associated with the data export in AskCody. Data is simply exported to incorporate with accounting, databases, and ERP through simple CSV exports or by leveraging the AskCody API.
CAN I CONTROL WHO IS ABLE TO BOOK SPECIFIC ROOMS?
Yes, you can support a decentralized room booking process with AskCody. Some users can request rooms with others empowered to approve their requests.
Learn more in this support article, user roles and membership hierarchy.
We would love to show you AskCody
Understand how we can help you in your organizational needs