Quality insights today for a better business tomorrow.
Instantly enhance productivity and room utilization by employing strategic meeting management software. AskCody Insights delivers workplace analytics tools to ease facilities management's work and optimize resources and utilization of meeting space using real-time data.
Key features

The full picture of how each room, hot desk, or other workspace is utilized

Daily reports of key metrics about meetings, attendees, occupancy
Quantifiable data based on valuable meeting room metrics
User-friendly dashboards

Based on original data from Exchange Server and Exchange Online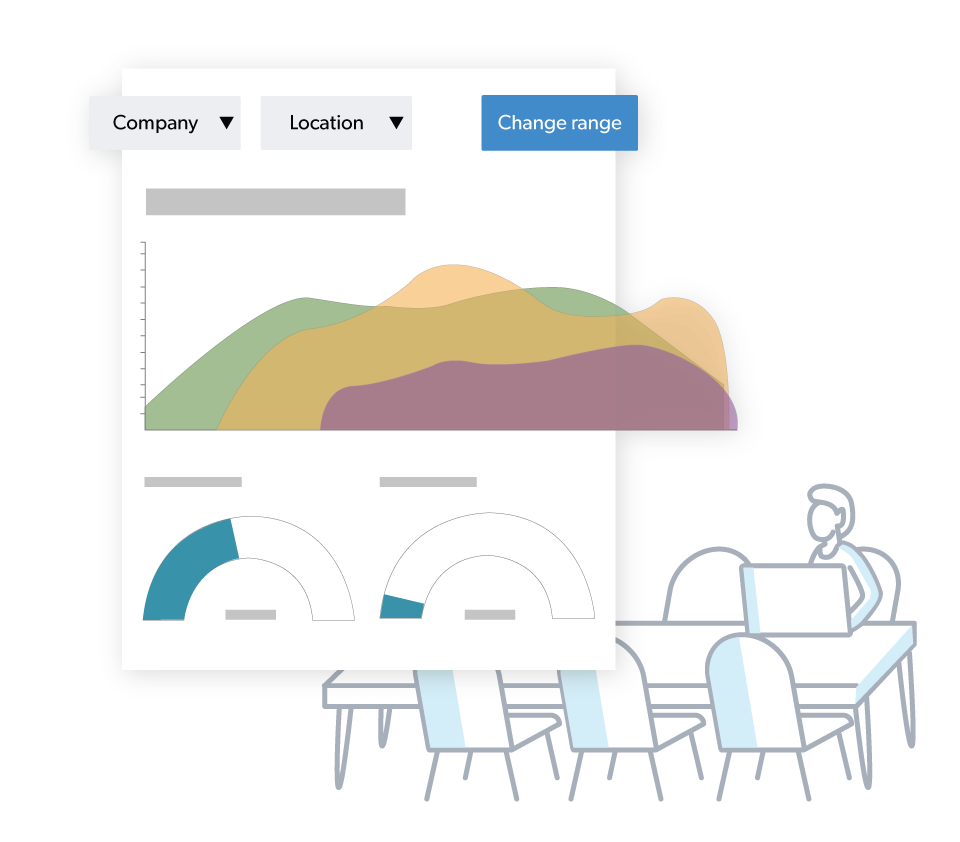 Understand how your workplace is performing with workplace analytics
Insights offers quantifiable data that shows how your workspace performs when it comes to meetings and meeting rooms. See your office and meeting rooms in full context with all available data about utilization so you can optimize available spaces across the entire organization. Dig deeper into meeting analytics and conference room activity with daily reporting of key metrics such as meetings and occupancy, no-shows and ghost meetings, meeting duration, and attendees.
Insights let you go deeper into conference room activity with daily reporting of key metrics such as meetings and occupancy, no-shows and ghost meetings, meeting duration, and attendees.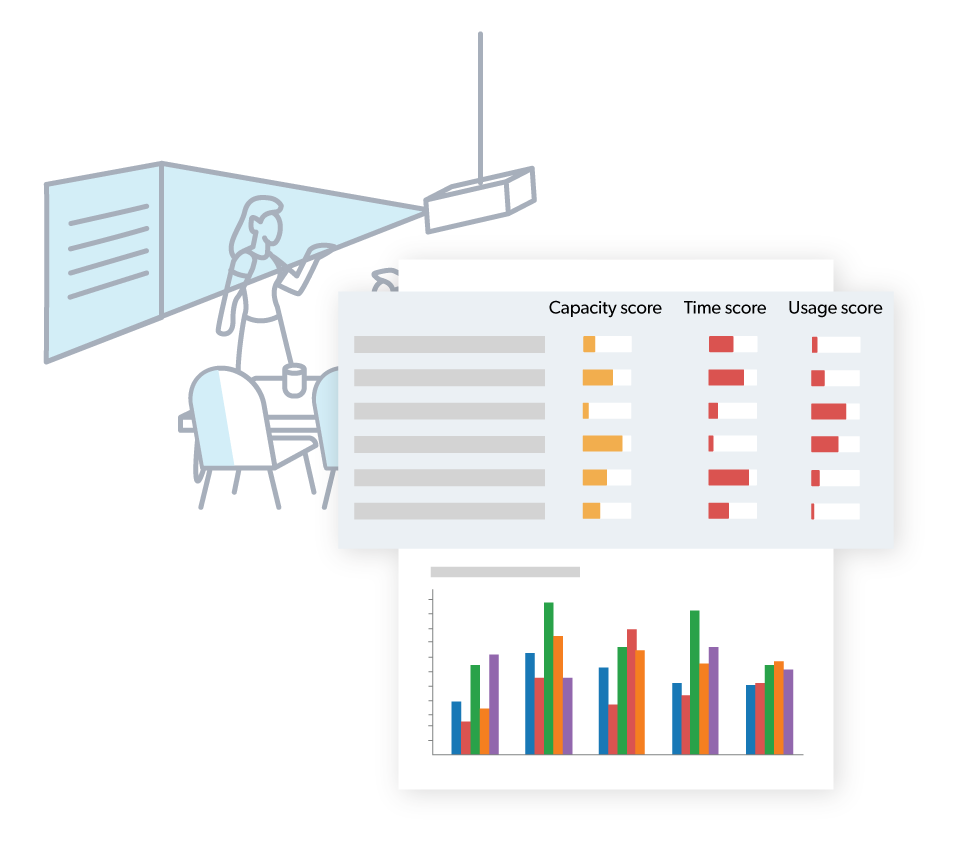 Become data-driven and enhance room utilization now
Make decisions based on data, not your gut feelings. Control or regulate meeting room booking behavior, optimize resources and capacity, and improve room utilization. This is a better way to manage your meeting spaces and bookable resources, like workstations or hot desk.
AskCody Insights lets you understand what your employees are looking for and arms you with data to understand how your office space and meeting rooms are actually used.
More about Insights and Analytics
Get the full picture of how each room, hot desk, or other workspace is being utilized
+
–
With Room Statistics, it's easy to learn how meeting rooms perform and how you can better optimize the overall workplace regarding supporting the needs for places to meet and collaborate. Leading indicators and trends show you how meeting behavior change over time, and let you adapt and improve to changing times.
Learn the specific needs of each company division or location
+
–
One department might need a conference set up for board meetings while another might require a Skype Room setup. Some rooms need a speakerphone and some need video conference. Some need flip overs, some whiteboards, and others the ability to change table arrangements.
Knowing your employee's needs will increase the overall efficiency of your entire office space.
Get to know which rooms and equipment are the most popular, and when to consolidate or expand them
+
–
Discover which of your organization's rooms are under- or over-utilized. Knowing which rooms are most used, which are always free, and which of the technologies you have available are most used by meeting organizers helps companies improve their overall workspaces.
Insights let you understand what your employees are looking for an arm you with data to know how your office space and meeting rooms are used. It offers you clarity, delivering precise metrics on what's happening in your meeting rooms. From the front desk to facilities management, facility service, to meeting room users, everyone wins with Insights.
AskCody Insights integrate with the Exchange Server
+
–
Like the rest of the AskCody Meeting Room Management Suite, Insights leverages data from your Microsoft Exchange, Outlook, or Office 365. We can even go back in time to see how utilization was before AskCody.
When your employees use Outlook, Office 365 to book meetings, it generates data.
Data is extracted from your Microsoft Exchange resources, and reports are built automatically. You don't have to extract or export Outlook meetings into Excel spreadsheets to understand meeting room utilization anymore. After all, up to 40% of an organization's knowledge workers time is spent in meetings, based on Microsoft statistics.
It's in everyone's best interest to review the meeting analytics to ensure that time is well spent and in balance with your Corporate Real Estate and Workplace Strategy.
Use Meeting+ for Cost Center Management
+
–
Meeting+ lets you define mandatory and optional input fields when ordering service, in terms of Tax Information, User Information, and Cost Center Management. This makes you IT and Finance Department fell in love with Meeting+ immediately.
IT and Finance will love the ease-of-use associated with the data export in the AskCody Meeting+ Manager. Data is simply exported to incorporate with accounting, databases, and ERP, either by simply CSV exports or with our JSON API.
User Information is managed by Active Directory to save clicks and ensure correct user data every time. Hereby time-consuming and manual processes are automated to help IT and Finance save a huge amount of time every day.
Which languages does AskCody support?
+
–
The AskCody Workplace Platform is available in major languages of your choice.
English

German

French

Spanish

Norwegian

Swedish

Danish

Finnish
There are all types of meetings taking place throughout your office every day. Wouldn't it be great if you had workplace analytics insights, whenever and wherever you needed it?
Understand your Workplace utilization
With this free eBook, you can take control of your meeting rooms today with a meeting room analytics tool.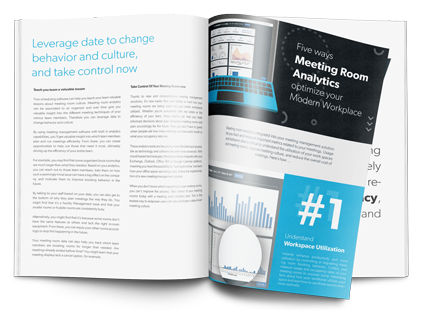 "I

mportant thing for us was auditing from the management console that you can see what is happening and where it's happening." Hundreds of satisfied AskCody customers, including: