Your workspace data delivered by AskCody & Microsoft
WORKPLACE ANALYTICS BUILT FOR MICROSOFT
Insights offer quantifiable data that shows how your workspace performs when it comes to meeting, meeting rooms, desks, services, and visitors. Use workplace analytics to see your office and meeting rooms in full context with all available data about utilization so you can optimize available spaces across the entire organization.
Dig deeper into workplace analytics with weekly reporting of key metrics to e.g. identify meeting rooms that are rarely used or often not occupied to full capacity. Make data-driven decision to enhance your office spaces.
01.
Optimize your office using real data
Insights is a simple and efficient tool that arms you with complex data to make smart business decisions. Let the workspace analytics lead you to optimization of your office space and facilities services.
It helps you learn and compare to understand the specific needs for room types and equipment across each company division or location.
With detailed filtering and data export, you can create customized reports on your specific rooms, facilities, locations, equipment and purposes, and export data to Excel to easily combine Insights data and workplace analytics with other datasets.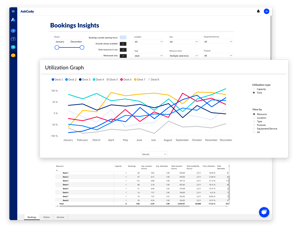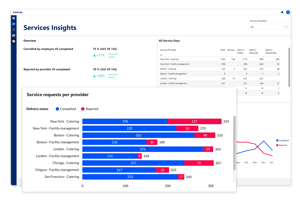 02.
Insights to optimize your services for meetings
With Insights on Services, Office Admins and catering managers can now access valuable data to streamline the service request management and meeting booking process.
Gain insights on the amount of service requests being made, delivered, or rejected. Compare data between different offices or periods to improve collaboration and predict busy periods with your service providers.
03.
Get an overview of your reception performance
With Insights on Visitors, front-desk teams now have access to in-depth data regarding guest traffic and behavior. This information is invaluable for understanding the flow of visitors.
By harnessing this data, administrators can enhance guest experiences, streamline the check-in process, and ensure that every visitor's journey within the office is seamless and pleasant.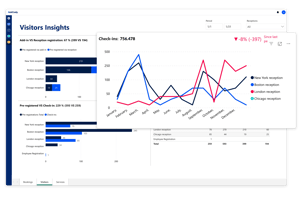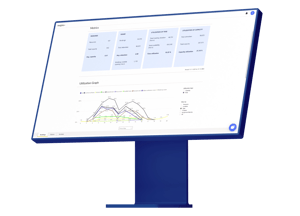 04.
Quality insights today for a better business tomorrow
Instantly enhance productivity and room utilization by AskCody Insights. With Microsoft, Workplace Insights delivers analytics, data and reports to ease facilities management's work and optimize resources (rooms/desks/workstations) in your entire workplace.
Make decisions based on data, not your gut feelings. Control or regulate meeting room booking behavior, optimize resources and capacity, and improve room utilization. This is a better way to manage your meeting spaces and bookable resources, like workstations or hot desk.
AskCody Insights lets you understand what your employees are looking for and arms you with actionable insights to understand how your office space and meeting rooms are actually used.
05.
Built with Power BI and Microsoft 365
AskCody Insights is built for enterprises of all sizes using the power and scale of Microsoft Power BI. We can ensure the functionality will scale with you.

How can we help you?
Why would companies want utilization data and workplace analytics?
Utilization data and workplace analytics can help you make wise business decisions based on more than just a gut feeling.
Discover which of your organization's rooms are under- or over-utilized. Knowing which rooms are most used, which are always free, and which of the technologies you have available are most used by meeting organizers helps companies improve their overall workspaces.
Insights let you understand what your employees are looking for and arm you with data to know how your office space and meeting rooms are used. It offers you clarity, delivering precise metrics on what's happening in your meeting rooms. From the front desk to facilities management, facility service, to meeting room users, everyone wins with Insights.
How can I measure the utilization of my rooms and desks?
With Insights, it's easy to learn how meeting rooms perform and how you can better optimize the overall workplace regarding supporting the needs for places to meet and collaborate. Leading indicators and trends show you how meeting behavior change over time, and let you adapt and improve to changing times.
Which sort of reports can I access or export?
In AskCody Insights, you can create multiple reports to compare performance across different locations. Reports could include:
Utilization reports.
Room list.
Cost center reports.
Service reports.
Accounting reports.
Visitor reports.
The benefit is that you can compare all data across offices to discover emerging needs. One department might need a conference set up for board meetings while another might require a VC room setup. Some rooms need a speakerphone. Some need flip overs, some whiteboards, and others the ability to change table arrangements.
Knowing your employee's needs will increase the overall efficiency of your entire office space.
How far back can you track data?
Data is extracted from your Microsoft Exchange resources, and reports are built automatically. You don't have to extract or export Outlook meetings into Excel spreadsheets to understand meeting room utilization anymore. After all, up to 40% of an organization's knowledge workers time is spent in meetings, based on Microsoft statistics.
In AskCody insights you can track data back 1 year, however you are also able to go 3 years back using the power of Azure Blob Storage.
It's in everyone's best interest to review the meeting analytics to ensure that time is well spent and in balance with your Corporate Real Estate and Workplace Strategy.
Which data do AskCody Insights utilize?
Like the rest of the AskCody Meeting Room Management Suite, Insights leverages data from your Microsoft Exchange, Outlook, or Microsoft 365. We can even go back in time to see how utilization was before AskCody.

When your employees use Outlook, Microsoft 365 to book meetings, it generates data.
Don't just take our word for it
We would love to show you AskCody
Understand how we can help you in your organizational needs