Smart technologies are changing the modern office landscape. Many see a great office environment as one that is open, letting in a lot of sunlight, modern furniture, and a high-tech coffee machine. Albeit being great, do these things really make employees productive and less stressed? With smart sensors, facility managers have hitherto unseen possibilities to make the most of their resources.
What are Smart Office Sensors?
According to Future Of Work, the use of technology is changing the way we all work, and sensors in the workplace are already more common than you might think. Many companies already use sensors to increase efficiency through monitoring temperature, air quality, and lighting, but they can be used for so much more.
For example, Danish company UbiqiSense is increasing employee efficiency through wall-mounted sensors that can measure footfall, occupancy, and utilization of desks and conference rooms. Many workplaces have lounge areas that no-one really uses, desks that are empty most of the time, and large conference rooms whose capacity are not used optimally. UbiqiSense's sensors provide granular data that provide property managers with insights that enable them to optimize the utilization of space, as well as increasing employee productivity without intruding on the décor of the office.
According to FM Link, real estate rent constitutes the second-largest cost for companies, which makes it paramount for companies to utilize their offices properly. Sensors can help them rent out redundant spaces or move to a smaller office, which is especially important in the open-office landscapes that are becoming increasingly widespread. You can already get sensors that can monitor just about everything that happens in your office. However, to still maintain employees' privacy, UbiqiSense technology is 100% GDPR compliant, so employees can feel at ease going to the office without being watched.

What Is the Future of the Workplace and Space Utilization?
With sensors on the rise, many offices will be looking to incorporate technology such sensors and meeting room booking tools as to efficiently utilize their space and resources. This will result in many companies saving a lot on their real estate cost while being able to ensure productive employees. The modern office landscape is also tending towards this, with co-working, or shared office spaces, becoming ever more prevalent.
According to JLL, the market is expected to grow to 30% (of all workspaces) by 2030, meaning that many companies are already aware of the issues of improperly used office space. This development could be expedited by using occupancy sensors and workplace analytics which can aid decision-makers in creating the best possible working conditions for employees. And these tools could be used in a plethora of places: Universities, which often have half-empty lecture halls and group work rooms, stores that want to improve their design, and even on the streets to monitor traffic. And the list goes on. There are almost endless possible applications for people counting software and sensors, and we will see them just about everywhere in the near future.
Currently, according to Raziel Bareket, Chief Commercial Officer at UbiqiSense, the technology is rapidly being adopted globally as it benefits Facility Managers, CFO´s and Human Resources:
"With the growing demand of enabling people productivity, focus on employee well-being while making buildings and spaces more intelligent and sustainable, sensor solutions and property tech can help all decision-makers, and not only those who are concerned with the technological aspects."

Lower Real Estate Costs and Increased Employee Productivity
In more ways than one, you can improve your finances by making your workplace smarter. It was mentioned earlier that real estate costs constitute the second-largest cost for companies. Guess what the largest cost is? You guessed right: employees.
Companies invest so much in their employees, and by this we are not only talking about their salaries. But what if you could improve the bottom line – basically what your employees pay you back with – by making your employees more productive? Working in a less stressful environment - with the right temperature, air pressure, booking of workstations and conference rooms, and space utilization - has the potential to make employees happier, less stressed, and, ultimately, more productive. Furthermore, in a report by the United Nations Environment Program, it is estimated that buildings use 40% of global energy, 25% of global water, 40% of global resources, and they constitute approximately a third of the world's C02 emissions, so using the right technology can become a huge factor in making the world more environmentally friendly.
Finally, by using accurate data on occupancy, employees can safely return to the office, seeing their colleagues again while still abiding by the restrictions. Pertaining to the COVID-19 pandemic, sensors can ensure that workers keep a safe distance, and that workspaces do not become too crowded, and, combining the technology with booking software, facility managers can keep track of the flow of employees in different areas of the office and parking lots.
The Future Office Is Already Here
The modern office is often open plan, with dynamic seating and movement around the premises. It caters to what property managers believe creates the best working atmosphere for employees. But making an office smart rather than just modern has the potential to change the workflow and improve the conditions for employees, with the optimal space utilization, productive employees, and real estate and energy costs cut down to a minimum. The smart office is the future. And the best thing? It's already here.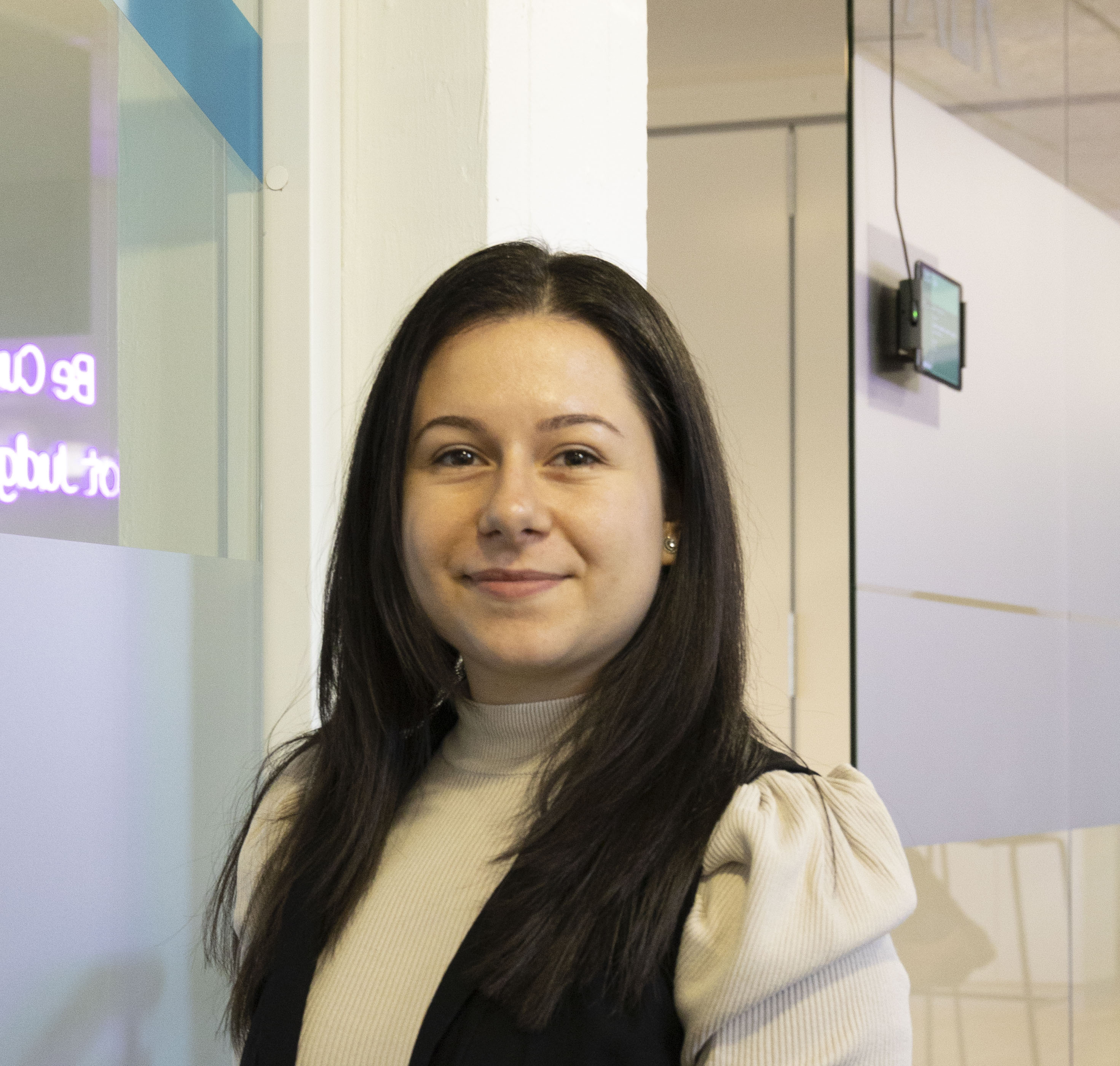 Ralitsa Aleksandrova
Digital Marketing Assistant, AskCody. Ralitsa writes content that inspires businesses to effectively manage their meetings. This includes writing about the latest trends and behavior, deep diving into meeting management, or highlighting valuable processes.