Given the mobility and flexibility of today's office workers, a new challenge has emerged for the modern workplace: the optimization of office space. Hot desks, office hoteling, and collaborative workstations have taken the place of the traditional office. As a result, companies must evolve their thinking of what an office even looks like. To do so accurately and effectively, they are turning to office sensors.
Recent research shows that the average office occupancy is just 39 percent. 39 percent! Even on the best of days, office occupancy taps out at 42 percent. That means not even half of your spaces are being used optimally or at all. That fluttering is the sound of the stacks of dollar bills flying right out of your fancy office windows.
Companies are finding new ways to increase optimization with contemporary new designs, but a modern office design that works well for one company might be a spatial flop at another. The modern office is not one-size-fits-all. One man's open office nirvana is another's frenzied inferno. Moreover, that wasted real estate is a huge suck of company resources. That's why more and more companies are turning to the data gathered by office sensors to figure it all out.
What is an office sensor?
Offices sensors are indoor motion-detecting devices that use infrared, ultrasonic, microwave, or a similar technology to detect occupancy.
The sensors collect data and communicate with other platforms to analyze and provide insight on office usage, making them an integral component of an office's Internet of Things (IoT) technology strategy.
The three most common office sensors are
motion sensors
desk sensors
high volume count sensors


Motion sensors
Motion sensors, or PIR sensors, use passive infrared technology to detect heat and movement. These devices are usually mounted to the ceiling or high enough on a wall that the sensor has a full range of vision within the room. Motion sensors have a high accuracy rate of 90 to 95 percent, making them a vital piece of security, automated lighting control, and energy efficiency efforts.
It should be noted that accuracy is reduced when people sit for long periods, such as in a meeting or typing away at a desk. These office sensors are also not sophisticated enough to detect how many people are utilizing a given space.
Desk sensors
Desk sensors are occupancy sensors that utilize the same PIR technology as motion sensors to more precisely detect the presence of a person in a particular spot, such as a desk or conference table. Like all PIR technology, desk sensors can capture data inaccurately when individuals sit still for a long time, which is why desk sensors are actually more useful for capturing vacancy data.
High volume count sensors
This type of highly accurate office sensor is ideal for capturing the number of individuals entering and exiting a particular room. High volume count sensors are mounted above the doors of rooms. Knowing precise occupancy data helps companies analyze usage versus capacity. This information helps improve office design by measuring how many people utilize a given space, identifying where bodies are congregating, and providing data to help adjust and improve wasted space.
What do companies hope to learn from occupancy sensors?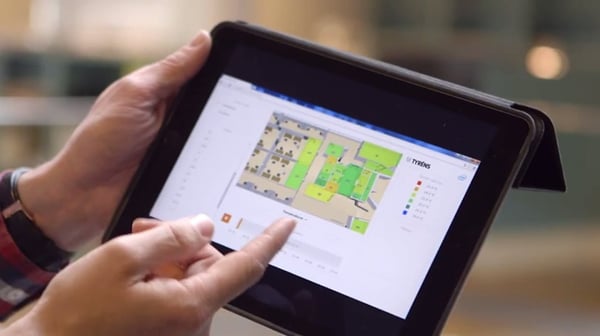 Office sensors reveal data that provides two major benefits to companies: optimizing existing office space and supporting the productivity of employees.
Optimize office space
Office sensors help companies improve the overall efficiency of spaces and processes by capturing and measuring usage and occupancy data such as the number of people in a given room, how much time workers spend at their desks, and how frequently employees pass through spaces. With the right information at hand, companies can re-engineer under-utilized spaces to be more accommodating to the demands of employees.
Let's say your office has three large conference rooms designed for 10 people with a large table and single projector. But those spaces are constantly booked by smaller groups of two to four people, and teams are regularly struggling to reserve time. Office sensors let you know how many people are in a room at any given time and for how long. You can then use that information to determine that perhaps six smaller meeting rooms designed for up to four employees, all outfitted with AV equipment, is the solution.
Office sensors also help companies lower their carbon footprint and save cash. Commercial office buildings account for up to 40 percent of the world's energy consumption. Intelligent sensors can reduce the use of utilities such as lighting and HVAC systems. These systems are triggered when workers enter a room or floor, reducing wasted energy by heating, cooling, and lighting empty rooms.
An optimized office can reduce energy costs by as much as 30 to 50 percent. Companies can also save money by more intelligently scheduling services such as room cleaning based on the usage information of a particular space. There's no need to clean rooms that are hardly used. Sensors can even alert office staff when a trash can needs to be emptied or a paper tray is low.
Improve employee efficiency
Office sensors help companies understand how desks, meeting rooms, and collaborative spaces are used in greater detail than any other body measuring technique. Sensors update information in real-time to provide up-to-the-minute information on utilization. This helps companies support employee productivity by ensuring the right spaces and tools are more often available to meet employee demand. Additionally, AV equipment maintenance can be proactively scheduled based on the usage data of rooms. This prevents equipment downtime and keeps employee productivity high.
When you understand the various work patterns of your employees, you are able to respond quickly to changing needs and anticipate future needs. Employees in need of a room for some ad-hoc collaboration or those planning a big meeting can view which rooms are occupied or reserved in advance and book their rooms right on the spot with meeting management software that is synced with sensors.
This saves time and frustration from those regularly on the hunt for a collaborative space or private area away from their desks. Workers can spend their time innovating instead of searching, waiting, or logging maintenance requests.
Microsoft and the market believe in modern workplace sensors
The benefits speak for themselves, and office sensors have become synonymous with intelligent office design. This massive growth in the adoption of office sensors across industries has fired up the entire IoT market. If you ever wonder about the future of tech, just follow the dollar signs. Right now, billions are being invested in spatial technologies. Yanzi, a Swedish IoT solutions and sensor provider, has emerged as a major player, recently receiving a $100 million capital investment.
Of course, Microsoft is a considerable force in the growing IoT market. Earlier this spring, Microsoft announced a $5 billion investment into IoT technologies such as office sensors over the next four years. Yes, BILLION. As part of that move, Microsoft's Azure now has a host of new IoT spatial intelligence capabilities, including direct integration with Yanzi. Yanzi's wireless IoT sensors are part of their IoT network stack with a complete cloud platform that runs on Azure.
In addition to IoT solution and sensor provider partnerships, Microsoft is bringing Azure's cloud, IoT, and Artificial Intelligence (AI) capabilities to partners across industries, including workplace design firms, large global ISVs, and companies focused on tenant experience, facilities management, building infrastructure, and construction.
The ability to analyze how the physical world is utilized extends well beyond the office walls. One doesn't have to reach far to consider how sensors will continue to transform the world around us, including public transportation, traffic, public safety, public spaces, and energy use.
Modern workplace sensors
Designing more intelligent, interactive workplaces is the core of what we do at AskCody. Our meeting management platform now integrates directly with the Yanzi stack and Microsoft Azure. These powerful partnerships mean companies can get the market-leading scalability and security of the Yanzi and Azure back end combined with the user-friendly workplace optimization front-end tools of AskCody.
Sensor integration can make finding and booking meeting rooms and analyzing and understanding workplace usage faster, easier, and more comprehensive than ever. Users will not only have insight into whether a room is booked, but can view how many people actually showed up, how long they stayed, and what equipment was used.
This granular view delivers deep insight into precisely how employees interact with their spaces. With this information, companies can create and adapt workplaces to make them more useful, inclusive, and available. This saves time and money and boosts productivity.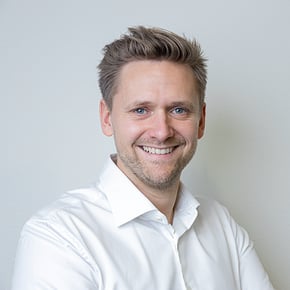 Allan Mørch
CEO & Founder, AskCody. Empowers organizations worldwide in creating better workplace experiences using AskCody.