Key Features
ROOM BOOKING SOFTWARE IN OUTLOOK
100% integrated with Outlook and Microsoft 365 using Exchange and Azure Active Directory.
Search for meeting rooms, desks, equipment, or workstations across multiple locations and time zones
Set room

criteria and filters, like

whiteboard, video conferencing, screen sharing, or other in-room equipment etc.
ADD MEETING SERVICES AND CATERING
Booking of catering, equipment, and other supplies directly from one booking flow inside Outlook while booking your room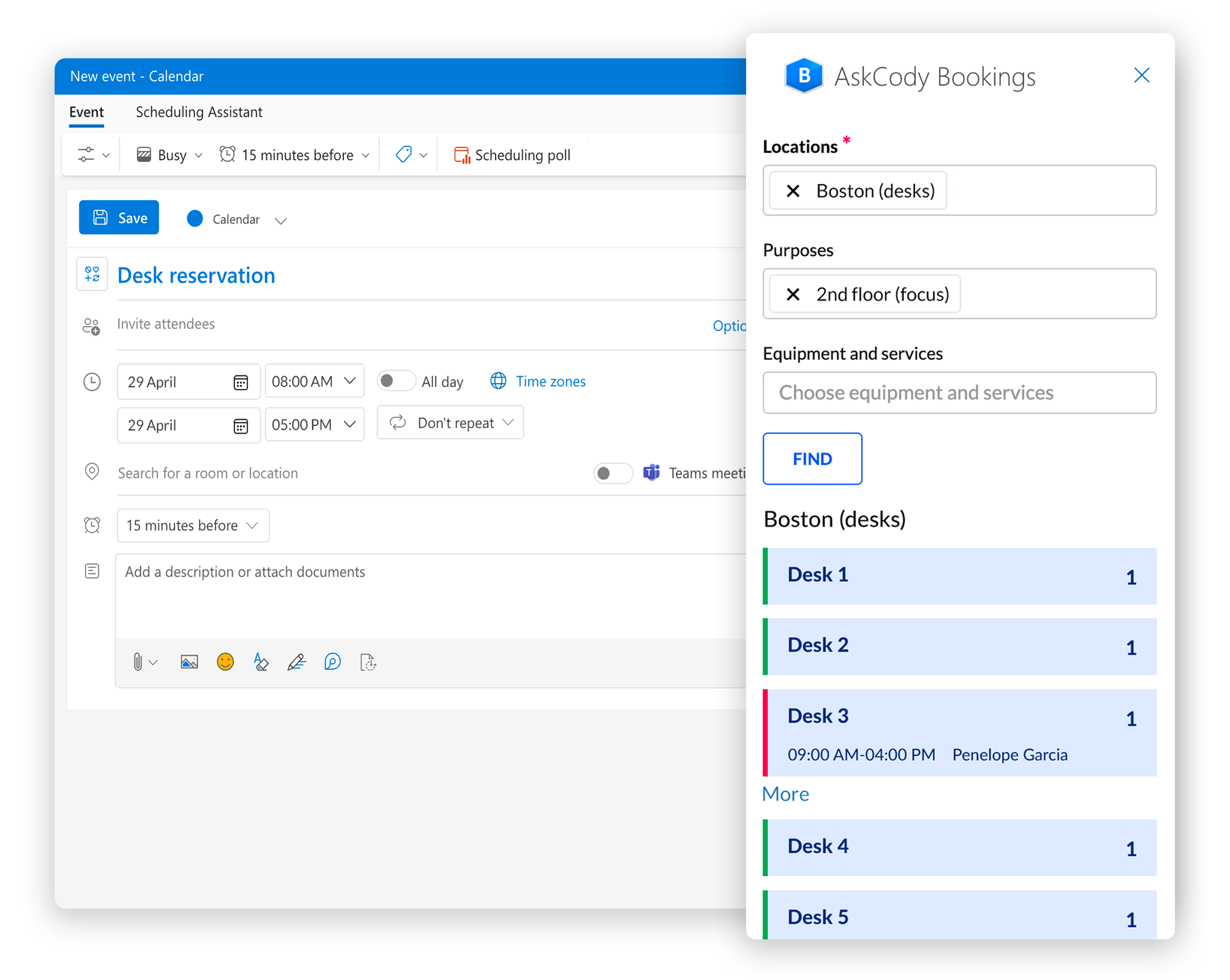 1.
Book rooms or desks effectively in Outlook
Search for all meeting rooms or hot desks across multiple locations and time zones. Instantly know the availability of the room before you try booking it. See who has booked the room if it's occupied, and when the room will be released.
2.
Search for rooms that meet your criterias
Users can search and sort by the purpose of a meeting (e.g. external meeting or video conference), specific features (room with a whiteboard or projector), and guaranteed attendee capacity.
Finding the right room has never been easier.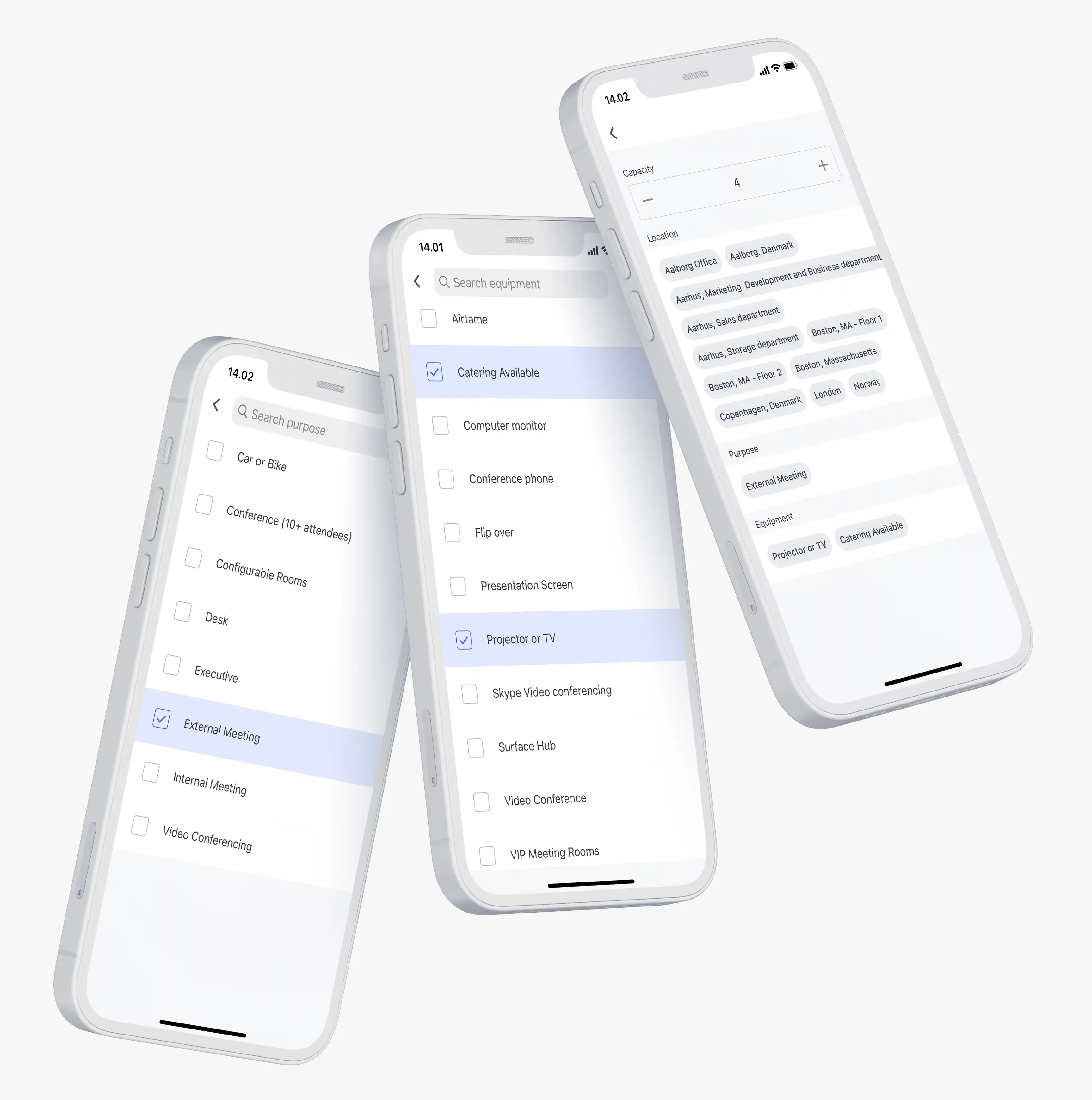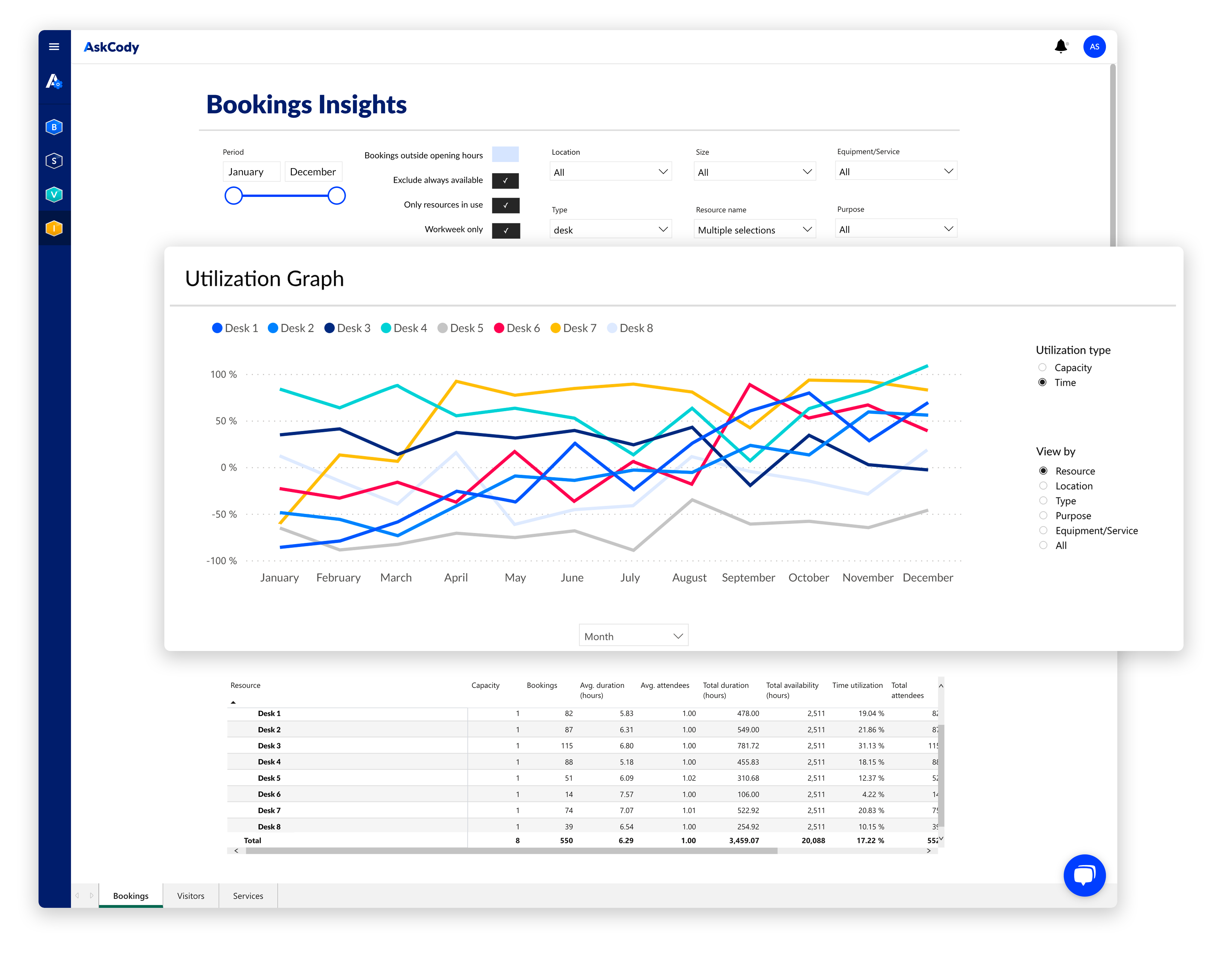 3.
Use add-ins together with AskCody Insights
With Insights you will see your office and meeting rooms in full context with all available data about utilization. You can easily experience how your office space and meeting rooms are actually being used and make the most out of your workspace.
With Workplace and Insights, you can go deeper into conference room activity, with daily reporting for key metrics like meetings and occupancy, no-shows and ghost meetings, duration and attendees and get the insights and trends displayed in a beautiful dashboard.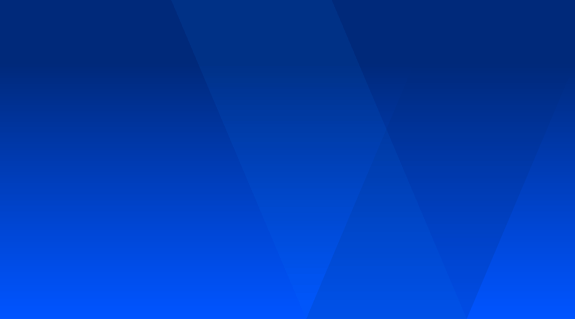 "A Wonderful Upgrade to our Room Reservation System!"
I LOVE that AskCody is integrated with Outlook. It makes reserving, editing and canceling reservations so quick and easy. The interface is very easy to use and is so customizable to our needs. I love that we can make it our own and customize our rooms, vendors, and services from the Admin side"
"
Quality room management system with quality people supporting it"
I give AskCody 10/10. It is a phenomenal solution. Easy to implement. It's easy to train on, and it is easy to use. We use AskCody to allow our population to easily and confidently book rooms across all our offices, giving them the ability to do it themselves. Kind of removing the middle person"
"
We needed a standardized system that was easy for people to use
and that could automate the current processes. With AskCody, employees can now book rooms and request services themselves, and it gives them a kind of self-service aspect where they can take control of their own meetings."
"Our goal was to find a partner,
who can hear our concerns, understand our requirements, support us in our project, and then provide a solution that best fits Olympus. With AskCody (...) it is not only a business arrangement it is a partnership."
4.
Book rooms, order services, and add visitors in Outlook
AskCody meeting room booking software is 100% integrated with Outlook and Microsoft 365. No need for outdated third-party tools, unintegrated Sharepoint sites, 3rd party webpages, or paper-based bookings. They come as Modern Add-in for Outlook and Microsoft 365.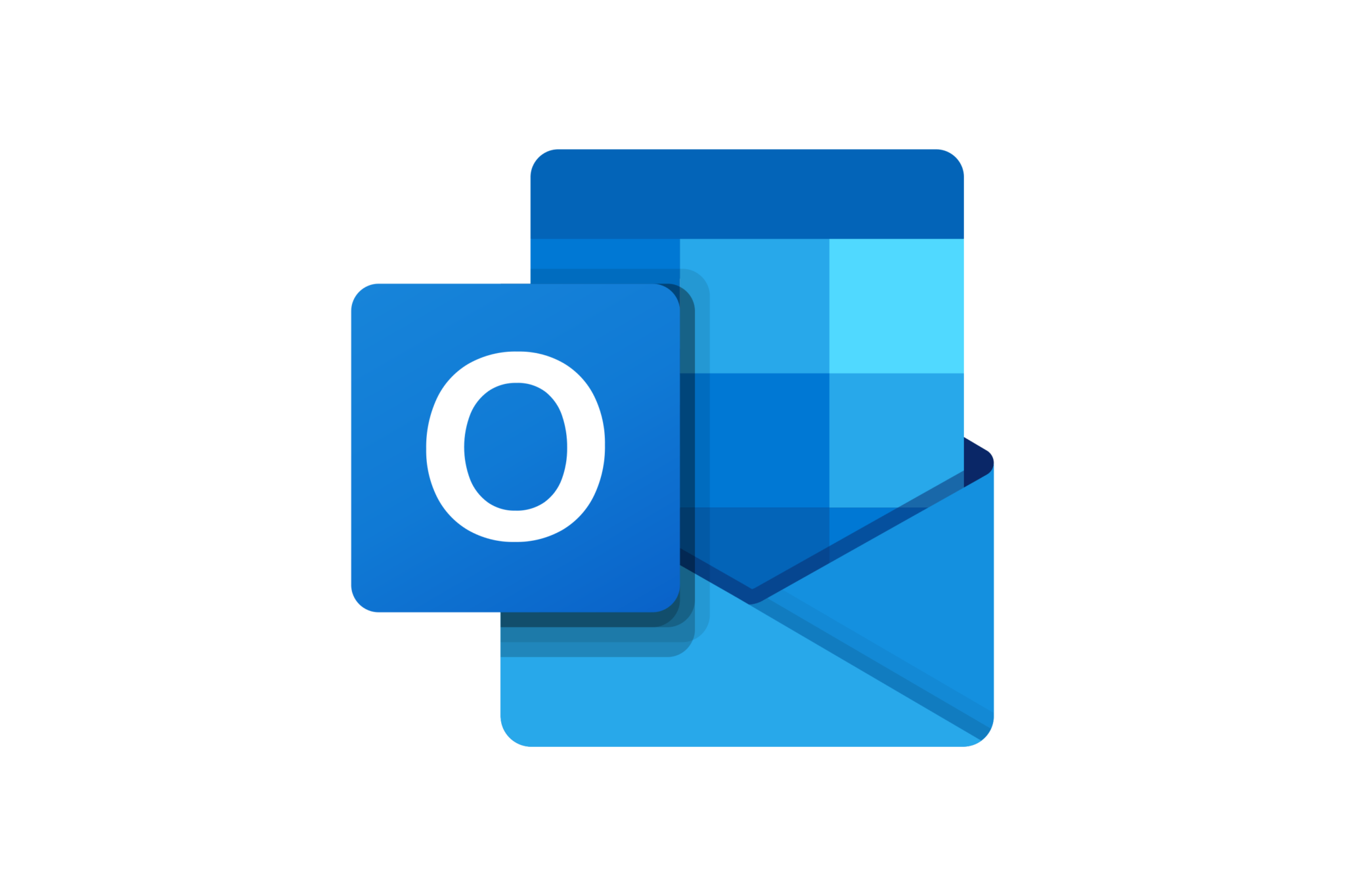 5.
Seamless integration with Microsoft Teams
Book your meeting room with AskCody and enable audio or visual functionality with Microsoft Teams or Skype. When "Video Conferencing" is chosen, simply press the "Add Teams Meeting" or "Add Skype Meeting" and it's added to the invite, while automatically activating Teams/Skype Room System equipment inside the meeting room to quickly join the meeting.
It's simple to join from a meeting room with a Teams, from a laptop or a mobile device; the meeting invitation will allow you to click to join from wherever you want.
Check how AskCody integrates with Microsoft Teams
How can users search for rooms resources?
AskCody Booking helps you search for all types of resources like rooms, workstations, desks or other. Users can choose from many search criteria:
By location

Purpose of a meeting, e.g. video conference, sales, board meeting or external visitor

Equipment, e.g. a whiteboard, projector, Cisco conference phone, presentation screen, or built-in speakers

Services, e.g. catering available, chair setups, AV services, or recording


Capacity
Learn more about adding equipment and services to AskCody Booking in our support center.
Can I control who is able to book rooms?
Yes, you can support a decentralized room booking process with AskCody. Some users can request rooms with others empowered to approve their requests.
Learn more in this support article, user roles and membership hierarchy.
Can I search just in my location, country or floor?
Yes, AskCody Meeting room booking software supports custom groups, including grouping rooms by floor, amenity, preference, or internal business logic.
What about hot desking and office hoteling?
AskCody Meeting room booking software also offers full support for finding and booking hot desks, workstations, and other resource types. All rooms, desks, workstations etc. are loaded into our system as resources calendars from Microsoft Exchange.
Can you book resources on behalf of someone else?
Yes, with delegated access or shared access to calendars as configured in Microsoft Outlook.
Delegated Access gives access to the entire account, including calendars and email.
Shared Access gives access to calendars (i.e. can't send emails on behalf of other people).
Which languages does AskCody support?
The AskCody Platform is available in major languages of your choice.
English

German

French

Spanish

Dutch

Norwegian

Swedish

Danish

Finnish

Italian
Japanese
We would love to show you AskCody
Understand how we can help you in your organizational needs