An Activity-based workplace is an ever-changing environment. New and alternate approaches to workplaces are continually emerging. The latest growing trend is called Activity Based Working (ABW).
Activity Based Working aims to boost collaboration, productivity, and flexibility while reducing costs. It's a workplace strategy that provides people with a choice of settings for a variety of workplace activities. Rather than forcing individuals to undertake all their work at one setting, ABW allows people to physically locate themselves where it is most suitable for them to complete their job.
Spaces are designed to create opportunities for intense, focused work to impromptu and informal meeting space, to formal meeting rooms depending on the work an individual is undertaking.
To support ABW, the workspace and facilities can be divided into different zones and clusters.
Hot desks – can be reserved in advance (for private work)
Focus rooms - no need to book in advance (for private phone conversations, one on one discussions, conference calls and creative activities requiring privacy.
Huddle rooms, available for small groups (3-4) - no need to reserve in advance (to meet in an exchange of ideas, meetings, video conferencing, team grant writing, etc.)
Small and large conference rooms – must be reserved in advance (to meet in bigger meetings, often with clients and external visitors)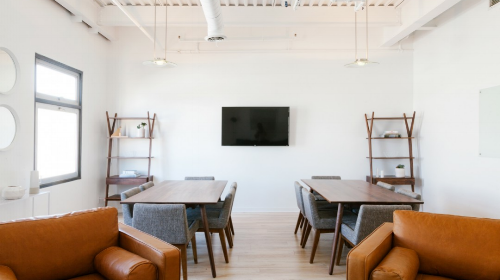 The Activity Based Workplace model flips the traditional office model by making the open workstations the quiet space (as in a library) and the enclosed spaces become the places for conversation as well as privacy.
It allows not only flexibility in working style but affords the Corporate Real Estate Executive flexibility in their real estate strategy with a workplace that allows for contraction and expansion in demand and headcount over time.
What is an Activity Based Workplace?
Activity Based Working is one of the latest innovations in workplace design and is an opportunity for many organizations to take their accommodation one step further than a typical open plan office environment.
Activity Based Workplaces provide a more flexible arrangement of the open plan workspace where employees are free to choose the area of the place of work that best suits the activities or tasks they need to perform on a given day. This can often mean that employees do not have an individual desk or workstation of their own.
Advantages
By providing a range of different settings and technologies to support various tasks, activities, and modes of work, Activity Based Working arrangements have the potential to:
Increase productivity.
Increase autonomy and entrepreneurship within an organization.
Strengthen corporate image and workplace culture.
Increase collaborative communication and knowledge sharing within and between teams. Increase employee enjoyment, well-being, and satisfaction.
Increase opportunities for team-oriented work.
Support specific tasks through environments that are appropriate to needs.
Improve the spatial economy of the workplace with more efficient use of facilities, floor and desk spaces.
How to reveal the power of Activity Based Working
Activity Based Working is an incentive and motivation for organizations to consider the way they work aligned to their cultural and strategic objectives.  It provides freedom of choice in how, when, and where people work,  helping them to be more effective and engaged.
People perform different activities and need a variety of work settings, the right technology, and a trusting and collaborative culture to be best supported.
An Activity-based workplace is an ever-changing environment that requires the right tools!
Visitors arrive unexpectedly. Meetings and activities change and move to other rooms. Meeting attendees need directions, but there's no one in the reception to show the way. All meeting and huddle rooms seem fully booked, but rooms are still empty. Employees change desks and are hard to find. Meetings get interrupted. What appeared to be an excellent methodology to enhance productivity and boost collaboration is now a potential mess.
To reveal the power of Activity Based Working you have to think about how you can support your employees to achieve these wins. Which tools do your colleagues need? How can different software solutions help you keep ahead of today's activities, find your way to available meeting rooms, know if a huddle room is free or occupied, and make sure that guests and visitors can find their way to where you and your staff members are located for the day.
An Activity Based Workplace is an ever-changing environment which requires a dynamic and intelligent workspace management solution to take care of the hassle of finding the available rooms, optimize room utilization and makes it easy for guests and meeting attendees to find the right location for the next activity. It will create a more relaxed and efficient workplace environment.
The key is to present the right information at the right time and place, thus making it easy for the users to find their way without any clutter taking the focus away from finding their way or finding that available room.