Introducing AskCody
AskCody is an integrated Meeting Management and Resource Scheduling Platform that is driving meeting efficiency through advanced room booking (like locations, rooms, desks, and equipment), meeting services (like catering and facilities), visitor management (like pre-registration and modern front desk), and workplace insights analytics.
You find us where you already are because AskCody is uniquely integrated into Office, Exchange, and Azure. We are the workplace platform built for Microsoft. As a Microsoft Partner, our integrated workplace platform can provide you with a unified solution that simplifies your daily operations. With a solution like AskCody, users will be able to search for and book rooms based on availability, the number of people, the purpose of the meeting, and in-room equipment right inside the tools they already use most at work. The benefit of a Microsoft-integrated workplace platform is that it only takes a few clicks to book rooms and order associated catering from inside Office 365 or Outlook's familiar interface. You can provide the flexibility your employees need to stay productive and effectively and efficiently manage their time and activities in the modern workplace. If you come from alternatives like Robin, Condecco, Envoy, Teem, or EMS you will notice that if you have a Microsoft IT strategy then AskCody is probably built for you. You can use G2 to compare features between the providers.
So why pick AskCody? The benefits of having the AskCody add-in are firstly efficient scheduling. Businesses can schedule and plan all the aspects of a meeting in a single system effectively. Moreover, it provides productivity insights since the AskCody platform also serves as a dedicated tool for tracking how often and how long spaces and equipment are used. This gives businesses utilization data to leverage when making decisions regarding office organization and optimization. Companies would not have a way to collect this type of data without a dedicated system that can monitor metrics like resource utilization, no-show meetings, and late starts. With the right choice of hardware, AskCody can also provide visual connections to your workspace, like providing meeting room displays and productivity analytics. AskCody can thereby achieve better meeting management in Outlook.
Where to Find AskCody
Right there in your Outlook calendar where you normally go to schedule a meeting!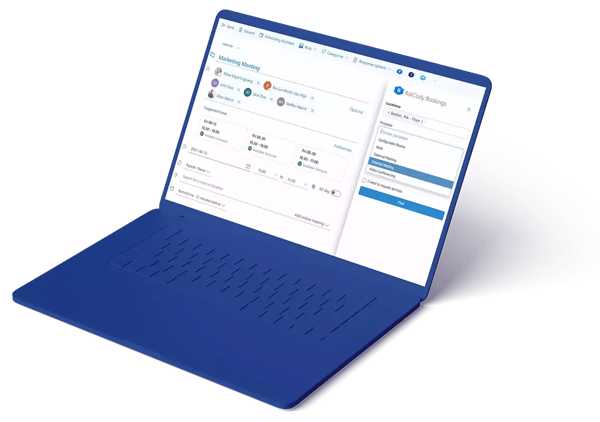 Or more precisely, the AskCody headquarter is found in Denmark located in the northern part of the city of Aalborg. AskCody also has a subsidiary located in Boston, US. We serve customers all around the world and support different timezone and languages. You can read more about which languages we support in the help center.
AskCody Costumers are Microsoft Customers
You will find that AskCody can be made essential in
industries such as;
The AskCody Platform will help organizations optimize operational efficiency and productivity transforming the way Office Managers, Facilities Managers, Concierge Services, Receptionists, Secretaries, Kitchen Staff, Service Providers, IT, and Finance work, and support back-office users and staff work smarter, supporting every meeting in the organization.
To get to know our customers better you can always check out our case stories where we have provided a user perspective on the AskCody journey
to provide inspiration from how others have worked with AskCody. You will also hear their voices in the big, big AskCody review where we have highlighted customer reviews from G2. Similar for all of them however is that they picked AskCody due to the fact that AskCody is a 100% Microsoft-integrated platform.
What You Need to Know If You Consider Buying
In AskCody we are very transparent about the prices that are available for you on the pricing website. With AskCody we offer two different pricing plans which consist of a specific set of features. Besides the pricing plans, we offer add-ons, which are additional features that can be added to your pricing plan.
You can always scale and expand to a new Plan or add one of our Add-ons.
The AskCody Platform is subscription-based, which means that no matter which Plan or Add-on you are looking into, this Plan or Add-on is priced per room, per month (or per lobby, per month for visitor management), and billed yearly.
Our features are complementary which means that a full package is where you get the most value, but we provide different plans that focus on solving specific business challenges, and the features that complement each other the most, are bundled together to give you as much value as possible if you only pick one bundle.
With AskCody you can further choose between the Essentials or Advanced Plan for your entire organization. The chosen plan will apply to your entire AskCody Platform and set up for your organization. While our Add-ons will further help you create a custom solution that matches your organization's needs. The add-ons can be added on top of the desired Plan. This flexibility means we can work together on a solution that both meets your needs and fits your budget. Read about the details in this pricing overview.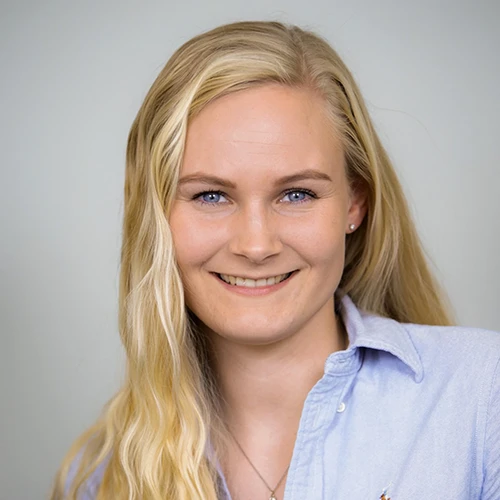 Rikke Diget Fuglsang
Content and Communications Lead, AskCody. Rikke creates content that informs organizations about the latest workplace trends and behavior.