Think back, if you will, to a decade ago. How much of your work was done on paper (or even digital spreadsheets) versus the cloud?
Back in 2010, 1.7 billion people had access to the internet — which was an astounding number.
Today? Well, as of January 2020, nearly 4.5 billion people had access to the internet.
(For a bit of perspective — 4.5 billion miles would get you to the moon and back 9,433 times.)
It's changed the way we eat, watch television, communicate, and, yes, even how we work.
The days of pencil and paper are all but gone. Yet, many companies are still reliant on manual practices to track visitors, send notifications, and manage meeting rooms.
It doesn't have to be that way.
If you are looking to break free of manual processes, you may be considering a visitor management and meeting management tool. But which one is right for your company?
How to choose the right meeting and visitor management system
The right visitor management system can reduce manual tasks, increase security and safety, and even improve visitor's perception of your company. However, with so many different solutions on the market, it can be challenging to select the right solution for your office.
In the next section, we will review the top solutions, including the pros and cons of each system. But first, here are a few factors you should keep in mind when choosing the right visitor management system.
Main Features: What features do you need to streamline the sign-in process, and does the system meet your needs? For example, does it print visitor badges or notify the person they are meeting of their arrival? Do you need visitors to sign an NDA or safety agreement?
Security: Is the solution designed to protect your physical and digital data? Will it integrate with your current security solutions? Is it GDPR compliant if you need it to be? Is information encrypted?
Reports and Analysis: Visitor and meeting room reports and analytics can help you better understand how your office is used and how you can improve the sign-in experience for both employees and visitors. Does the solution offer the in-depth reporting you need to make smarter business decisions?
Dashboard: Is the dashboard easy to use for both visitors and reception? Does it lead visitors through the process in an easy to understand way? Can the dashboard be branded?
Integrations: Does it work the tools you already use, such as your meeting software, email, and chat software?
IT Requirements: Is the system a hassle for IT to set up? Will your current IT framework support the new system? Does it work with your current OS, such as Windows, Mac, or Linux?


The best meeting and visitor management solutions (and how they compare)
Not sure which meeting and visitor management solution offers the features you need? Below, we dig into the top eight solutions, warts and all, to help you make the right decision for your office.

Envoy
Envoy is an app-based visitor management solution designed to simplify guest registration. It integrates with many popular apps, including Dropbox, Slack, Zapier, and Office. Other features include the ability to manage multiple locations, badge printing, document signing, and pre-registration for visitors.
Pros
Easy to use
Online and phone support
Supports multiple locations


Cons
No desktop support
Limited security integrations (though they are working to improve these)
Reviewers report issues with Android app; works best on iPad



EasyLobby
EasyLobby makes it easier than ever to check-in and verify visitor information. Features to note include visitor photo capture, visitor cross-checking, and watch list verification, package tracking, conference room management, and employee management.
Higher packages include additional security features, such as national sex offender database screening, felony database scan, and biometrics support.
Pros
Several packages to choose from — so you don't pay for features you won't use
Supports both app and desktop devices
Ideal for large enterprises


Cons
Too complex for most small to medium-sized businesses
No live support
Reviews reported issues with the host email notification system


Proxyclick
Proxyclick is designed to replace a physical logbook with a smart, easy to use solution. It offers incredibly affordable plans, with full-feature plans starting at just $60 a month. They even offer a limited free plan, though it does not print visitor badges.
Features of note include badge printing, automated host notifications when visitors arrive, and detailed reporting and analytics tools. Enterprise-level plans include facial recognition and can compare visitors to watch lists to improve security.
Pros
Seamless integration with other tools, including meeting room management solutions
Multi-lingual support
Adaptable check-in experience (for example, ask if they drove a car and then ask for the license plate for parking purposes)


Cons
Lacks features such as meeting management
Only supported on iOS and Web; no support for Android
Limited data security options



SwipedOn
Designed for companies of all sizes, SwipedOn is a professional-looking visitor management solution with plenty to offer.
Features include badge printing, a totally customizable login screen, support for multiple entry/exit points, document signing, evacuation management tools, and employee management. SwipedOn also integrates with Microsoft's Active Directory.
In addition to their core features, they also offer several add on packages for catering, package management, and SMS.
Pros
Very affordable
Allows for branding and customization
Easy set-up in under 10 minutes
Supports document signing at check-in, such as non-disclosure or safety agreements


Cons
No Android support
Lacks features of other full-service solutions such as meeting room management
Limited reporting tools

piLOBI
piLOBI is an advanced digital visitor management tool created to streamline the entire visitor experience. It was built especially with large offices, towers, and large commercial buildings in mind.
Features include host notifications, badge printing, pre-visit registration, and even facial capture. Additional features vary by plan, which starts at just $9.99 a month for up to 1,000 visitors.
What other features do they offer? Well, depending on the plan you select, you gain access to multiple location support, employee management, Microsoft 365 integrations, and online appointments.
Pros
A range of plans, so you only pay for features you need
Supports Windows, Linux, Android, iPhone, iPad, and Mac
Support available in 12 languages


Cons
Lacks meeting management tools
Limited reporting tools
Does not integrate with security systems



CoReceptionist
Looking for a way to ditch the physical login process and beef up security? CoReceptionist is designed to streamline and automate the visitor registration process so your receptionist can concentrate on more crucial tasks.
Features include visitor registration, image capture, badge generation, access control, host notification, and emergency protocol support.
Pros
Automatic host notification via email, SMS, or Slack
Encrypted data storage
24/7 tech support
Full API integration


Cons
Lacks advanced features, such as document signing and meeting room management
Limited reporting/analytics
Support is only available in English



Teem
Teem is an all-in-one visitor management and meeting room scheduling tool. This means it does more than just handle your visitor login, it also helps visitors find their meeting room and keeps meeting room scheduling organized to prevent issues like double-booking.
Features include room booking, visitor management, host notification, document signing, visitor badge generation, and workplace analytics.
Pros
Advanced meeting room data so you can make better use of available resources
Branded interface
In-person training is available
Cons
Focuses more on meeting room management; visitor management tools are a bit limited
Many features are add-ons, which can add up quickly. Visitor management alone is $1,000 per year, per device
AskCody Visitor Management
Visitor Management is part of the AskCody Microsoft integrated workplace platform. A software solutions designed to make the workplace more efficient, more welcoming, and easier to navigate for employees and visitors alike.
Features include badge generation, automated visitor login, host notifications, document signing, visitor tracking, and multi-language support. Get the AskCody overview here.
While many solutions tend to focus on either visitor management or meeting room management, AskCody does both incredibly well. In addition to Visitor Management, users can also gain access to meeting room management, and meeting room displays.
Pros
Deep analytics to make it easier to understand how visitor traffic impacts your business
Simple pricing structure
Compliant with GDPR and ISO 27002 on Information Security
Integrates with Microsoft 365 and Outlook


Cons
Find the solution that works for today— and tomorrow
In today's digital world, a visitor management solution is no longer a luxury — it is a necessary tool to keep your office secure and improve the visitor experience. However, there are a ton of features to consider.
When comparing visitor management and meeting room solutions, consider your business's future needs as well as the features you need today. The right solution will help your company work more efficiently today and for the years to come.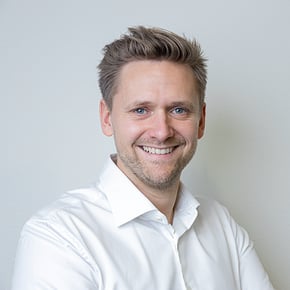 Allan Mørch
CEO & Founder, AskCody. Empowers organizations worldwide in creating better workplace experiences using AskCody.