Events are a great way to bring potential customers or partners into your space and gain wider name recognition in your industry and community, but a poorly planned and executed event can easily end in disaster if you are not careful. There are multiple things that can go wrong along the way when organizing the more complex and long meetings.
Being a good event host can be easier than you thought
Fortunately, with some thoughtful planning, a few basic guidelines, and with a room management software you can easily ensure a successful gathering and prevent most major catastrophes. Whether it is a meetup, a board meeting or something else, we have got the six most important things to keep in mind when hosting your next big meeting in-house and connected it to how you can save time arranging the whole thing with a meeting room management software.
1. Get the room, food & drinks right
Figuring out the right location is easy with a room management software which will tell you exactly which room you need for the number of attendees you are planning to invite or the purpose of your event. Next, you need to combine your room management software with your service order.
If your catering service is in-house you can make sure to connect your service order to your room booking, meaning that in your room management software you book your room and at the same time order your catering which your kitchen has set up. It becomes even easier as the kitchen staff has full access to that booking you just made and can quickly accept (or reject) your order. Do not forget to plan and write in your service order when meals and drinks should be delivered.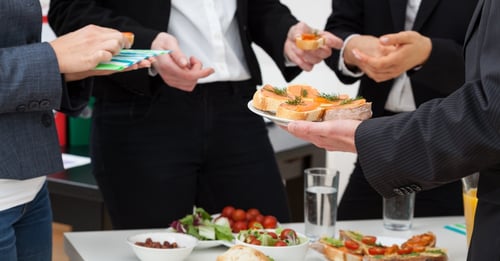 2. Manage your attendees
When it comes to managing RSVPs and attendance, size does matter. For a small event like a meetup or networking, tracking attendance can be largely informal and culled from both web RSVPs and door registration.
However, for larger events requiring more planning and resources, you will want an accurate head count. If you are expecting more than 30 people, require guests to RSVP in advance in order to attend, and consider having them check-in in at the reception when they arrive, so you are always aware of who is in the building.
To make it even easier for the reception consider investing in a visitor management software so the room booking in your room management software is connected to the guests attending. If your reception has implemented visitor management, they can easily pre-register or check-in all visitors quickly and then a 30 people event is a piece of cake to invite in. The visitor experience will become smoother because receptionists are a lot more prepared when visitors are pre-registered. They know ahead of time who will arrive, have already automatically alerted security, and can have everything ready for them, so there are fewer guests having to stand around and wait.
3. Communication with service providers
Nothing sets an event careening off on the wrong track quite like a lack of communication between organizers and service providers. Since hosting an event often involves many stakeholders, a lot of things can go wrong if changes in time, location, set-up, and so on are not communicated. Managing the event schedule, nailing down the details, and communicating them to stakeholders involved as early as possible, is your best defense against the unexpected. Make sure your facilitators know how the room set-up should be, and make sure they are notified well in advance so they know when to set up.
By connecting your room management software with Services you can ensure all of that happens in the same place and that everyone is notified when changes happens.
4. Get a jump on tech and AV
The projector will not turn on, you are missing an important connector cable, the internet is down - even the simplest AV fail can bring an otherwise great event to a grinding halt. For that reason, we stress getting a handle on tech and AV needs well in advance. Make sure to specify with any speakers what they will need, and also be clear about what options you have available. Test your tech early and often, and make sure your facilitators are notified about the event well in advance.
By connecting your room management software with your IT Services you make sure they are always on top of where their services are needed and when.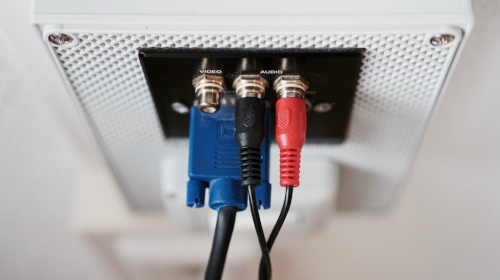 5. Review guest experience from start to finish
From the moment your guests enter the building, they should feel comfortable, welcome, and able to find what they are looking for. Clear instructions at registration and a smiling face at the front desk can go a long way here, but the possibilities for improving your guests' experience are endless and many of them simple.
Here are some of the most important things to get right:
Sending out an event reminder and arrival instructions beforehand via email

or SMS

An easy, accurate, and efficient sign-in process

Auto-generated name tags waiting for guests

Ample food and drink

Music, appropriate lighting, and a room set-up with good flow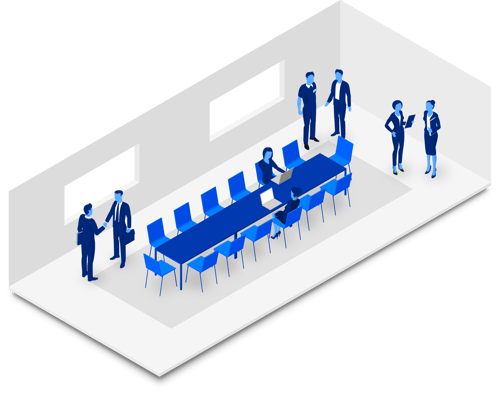 It is also good to prepare for early guests (someone will inevitably arrive while you are still setting up chairs), and think about a strategy for politely and efficiently getting everyone out of the space in case your event is too good.
6. Follow up
Last but not least, follow up!
Hosting events is a great way to get involved and make acquaintances face-to-face. Remember to ask for feedback about guests' experience at your location, and of course, thank them for coming.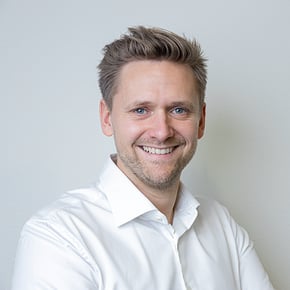 Allan Mørch
CEO & Founder, AskCody. Empowers organizations worldwide in creating better workplace experiences using AskCody.