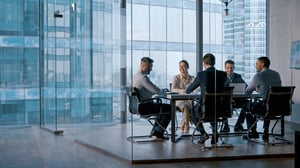 A Good Alternative to Teem by eptura
LOOKING FOR AN ALTERNATIVE TO TEEM?
Then AskCody might be your answer.
With AskCody's Meeting Management Platform and advanced Outlook- and Exchange-focused advantages, you can create a highly efficient meeting experience across your entire organization.
AskCody is an all-in-one meeting management platform that helps companies increase meeting efficiency by removing excess friction as an integrated workplace platform built for Microsoft.
We believe that businesses are making a shift from tedious manual processes and disjoint point solutions. They are moving to integrated platforms that help transform cross-organizational processes, productivity, and drive operational efficiency. This happens to optimize the way the workplace is managed and how people meet, work, and collaborate.
Keep reading to learn why major brands and companies are switching to AskCody (and why you should, too).
THE ASKCODY BENEFITS
A great booking experience directly inside Microsoft Outlook and Microsoft Exchange

A platform focused on process automation to remove routine manual tasks for the support staff and back office

An

enterprise-grade platform,

ensuring scalability, reliability, and the highest level of compliance and security

Scheduling Intelligence

that gives you insights that help you make strategic business decisions about the workplace, that help you to be smarter about your office, drive down operational costs, while optimizing real estate utilization
Advanced scheduling within Outlook
PLAN AND ACCESS MEETINGS WITHIN ONE APPLICATION
AskCody offers a brilliant alternative compared to Teem for companies seeking to manage all their meetings from Microsoft Outlook and 365. AskCody leverages the infrastructure, rules, and permissions already established within your Microsoft 365, providing a seamless experience.
With AskCody, you can manage all your meeting-related tasks from the comfort of your familiar Microsoft Outlook and 365 interface, which includes:
Booking meeting rooms and workstations
Adding room equipment, ordering services, and facilities
Pre-registering guests
This streamlines your meeting management processes, eliminating the need to switch between different platforms for booking meetings, ordering services, and handling visitor management.
Discover more about AskCody's Microsoft Outlook Integration.
Real-time scheduling
REAL TIME SCHEDULING WITH MICROSOFT EXCHANGE
AskCody operates as a smart component within your Microsoft environment, capable of seamlessly sharing information with all the elements of your Office 365 Suite, including Teams, Outlook, Azure, Exchange, and Power-Bi.
Unlike Teem, AskCody is integrated directly into Exchange Web Services, leveraging the robustness and reliability of Microsoft Exchange. This results in enhanced user administration through Azure AD and offers single sign-on (SSO) setup options.
The close integration between AskCody and Microsoft 365 results in a smooth and streamlined meeting management process, making for an effortless and cohesive work experience.
Effortless navigation
EASY NAVIGATION WITH SIMPLE OVERVIEW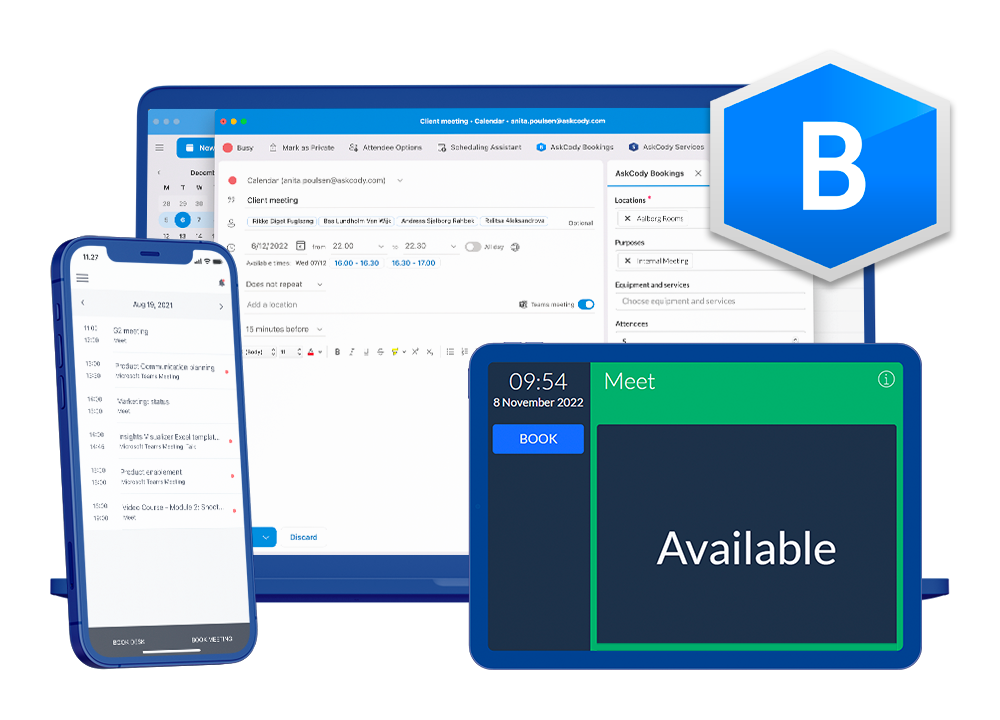 AskCody helps the meeting planners to find the right room, add services, and invite visitors within a few minutes. This makes it a user-friendly alternative to Teem.
Rooms can be booked through the AskCody add-ins, our mobile app for iOS or Android or even when you are in-house directly from the meeting room displays.
The AskCody Platform has been designed with a user-friendly interface ensuring that even if you are new to meeting management software you can navigate yourself through it without efforts.
Safe data managing and processing
YOUR DATA, OUR RESPONSIBILITY
AskCody's achievement of the ISAE 3000 certification (International Standard on Assurance Engagements) showcases our commitment to upholding the highest data security and privacy standards. This certification provides an independent evaluation of our internal control processes and systems relating to information security and data protection. Discover 8 further reasons on what benefit a provider with this certificate guarantees here.
By obtaining this certification, our customers can be assured that their sensitive data is secure and that we follow established best practices for information security management. The ISAE 3000 certificate serves as a testament to our ongoing efforts to prioritize the data security and privacy of our customers.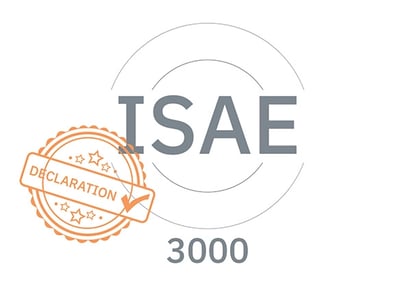 We would love to show you AskCody
Understand how we can help you in your organizational needs