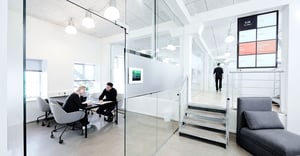 WHY ASKCODY
Read here why decision-makers choose AskCody as their preferred meeting management software tool.
Why meeting management
ONE MEETING TENDS TO PRODUCE A WHOLE SERIES OF TO-DO'S
In an enterprise, this is costly.
Bookings
, reservations, spreadsheets, Sharepoint sites, lists, sticky notes, paper logs. Many manual processes take time away from employees being productive. Research shows that every employee is using multiple hours a week around organizing meetings. Not attending. Just preparing.
Meeting are a necessary part of your business
THE AMOUNT OF TIME SPENT ARRANGING MEETINGS IS NOT
Meeting room management is a minefield of wasted time and tiresome processes. Did you know 40 percent of workers in large organizations say they waste up to 30 minutes a day searching for space to collaborate? On average, professionals spend almost 5 hours arranging up to 15 meetings every week. Most business owners and managers don't even know this since they lack the right tools and insights to tell them.

The AskCody platform is an integrated and comprehensive suite of Add-ins for Microsoft 365 and Outlook. It is an intelligent cloud platform that is fully

integrated and built for Microsoft. It includes visitor management tools and meeting room displays. AskCody is transforming (and reducing time spent on planning) the way people book and manage meetings, and how organizations get the most out of their workplace. All built on top of Microsoft technologies and seamlessly integrated with Outlook and Microsoft 365, providing an authentic Outlook centric experience.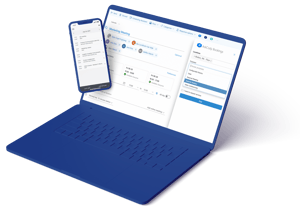 Book you meetings on the go
FIND ROOMS WITH THE RIGHT AMENITIES
Finding the right room with the right equipment and occupancy levels is a hassle. Employees lack insight into which rooms are in use, who is using them, why, and for how long. Interruptions are common. Conference rooms sit empty thanks to no-shows while employees search the hallways for a space to collaborate. People forget to look at the calendar; they see that the room's empty, so they think it's free, and once inside, it can be difficult for anyone else to work out who's next without interruption. Interruptions kill productivity; it wastes time and no clear overview of today's meetings, especially waste space and meeting room resources.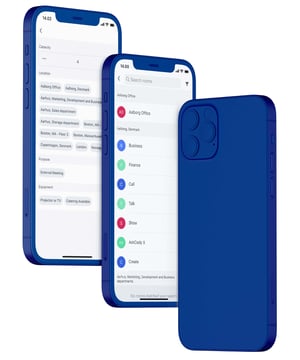 ASKCODY HELPS COMPANIES
Segment your facilities into bookable resources. Making sure that your people book meeting rooms and office desks effectively.
Get a digital visitor management tool and make sure all guests receive information such as wifi password and parking rules.
The AskCody platform makes it easy to automate tax rules for finance, deliver orders to catering personal, helps facility management and reception etc.
Ensure usage of facilities
The displays make sure meetings start at the right time - no more ghost meetings. The insights tool lets you analyze facility usage and optimize your office.
"A Wonderful Upgrade to our Room Reservation System!
I LOVE that AskCody is integrated with Outlook. It makes reserving, editing and canceling reservations so quick and easy. The interface is very easy to use and is so customizable to our needs. I love that we can make it our own and customize our rooms, vendors, and services from the Admin side."
"
Quality room management system with quality people supporting it
I give AskCody 10/10. It is a phenomenal solution. Easy to implement. It's easy to train on, and it is easy to use. We use AskCody to allow our population to easily and confidently book rooms across all our offices, giving them the ability to do it themselves. Kind of removing the middle person"
"Great Meeting Room Booking system for Office365 with great support and uptime
We have been using Askcody's Meeting Room Booking system for Office365 for 4 years now, in that time span we've had one issue which was fixed in a matter of minutes by AskCody support. the apps have been running 24/7 without any downtime. The integration to Office365 ressource mailboxes and calendars works without any issue"
"Excellent and user friendly solution
AskCody is an excellent meeting management platform that is very easy to use, making it very user-friendly. 100% cloud based and therefore absolutely up-to-date. The support is also excellent and very customer-friendly oriented. Very professional."