Here is why you should consider digital Meeting Room Displays for improving productivity, convenience, and happiness and what to look for.
Today more and more companies compete for new employees, not only on salaries or benefits but in the work environment. Great furniture, modern colors, comfort zones, a barista or café to get a cappuccino, look and feel creating a vibrant atmosphere.
In this ebook we give you an easy way you can add to the above and help your employees stay productive. We give you the ultimate guide to why you should implement Meeting Room Displays and "What to look for" implementing it.
Digital Meeting Room Display Solutions Improve Utilization of Meeting Rooms And End The Room Booking Nightmare!
The key to a great overall Meeting Room Display solution is to present the right information at the right time and place - for visitors and employees alike. Especially when visitors have to find the right meeting or employees have to find an empty conference room.
But meeting room displays, meeting room screens or signs, are not all alike. They have to be flexible and provide different benefits depending on the place and context of the information that is provided.
The best meeting room display solutions should be intelligent and integrate seamlessly with your calendar systems like Outlook, Exchange, or Google Calendar, letting meetings and events be displayed automatically, making the solution free of any manual updates.
This will free up resources for front desk employees to do their job rather than helping visitors find their way, and creates a great first impression of the company – displaying an easy-to-read overview of today's activities and helping people find their way to the event they are attending.
With Meeting Room Displays integrated into your calendar system, this also helps employees finding empty meeting rooms, making ad-hoc meeting room bookings easier, and provides a simple and efficient overview of today's events in that particular place. It both save time and resources when booking instant meetings and help optimize utilization on the workplace.
With the right solution, rooms can be released automatically to ensure that "no-shows" are canceled, and the room is free for others to use.
The Ultimate Guide: 15 ways to improve productivity, and meeting room efficiency with Room Displays
Create a Productive Work Environment




Think of ways that make work life easier and people more productive - like helping people to find the right room or make reservations easier by linking meeting room displays directly into your calendar/booking system like Outlook, Office 365 or Google Calendar.

Ditch "Room Sharking"




Ever needed a meeting room right away, and taken one that seemed available? However, you were unaware that it was already booked, and the next group is walking in shortly. Now, they feel awkward about asking your group to wrap up and give them the room.

Room Sharking is not as bad as it sounds, even though it is a catchy term. Most employees are not doing this intentionally. Nevertheless, companies need to find ways to help employees avoid it altogether.

Modern Workplace tools are interconnected, and Meeting Room Displays are, connected to the company scheduling system like Outlook or Google Calendar. Thus, avoiding room sharking and giving employees the information, they need to find an available room instantaneously.

Provide an Instant Overview




Just like the airport shows you arrivals and departures at a glance, consider putting up digital overview displays that shows everyone which meetings are going on in which rooms. It makes it easier to find your meeting and where to go.

Make Sure People Know They Have Made it to The Right Room




Putting up meeting room displays that link into your calendar shows you the schedule of the day for the meeting room and confirms that you've made it to the right room.

Know When a Room is Available or Occupied




Large overview displays can help to show room availability at a glance. Instead of going to Outlook or your Calendar on your workstation or laptop to check availability, only check the large overview screen for an instant overview of all meeting rooms, see which one is available and go! Your meeting can start in seconds - not minutes.

Know When a Room is Available or Occupied




Who really bothers to "find and reserve" a room for a 10minute phone call or a quick 1-on-1? Most people just go to the nearest empty meeting room without checking if the room is available or if somebody has a meeting that starts in five. A Meeting Room Display lets you check instantly if the room is available and for how long.

Show How Long And When a Room is Occupied




It just makes sense to show when a room is booked, and the duration thereof. Your employees need this necessary information so that they avoid frustrating issues.

A plausible scenario is that employees may need the open room for an hour-long meeting, but another group will be using that room in 35 minutes.

Now, the room sharks did not do anything wrong for using an open room. However, a meeting room sign that displays the availability of the room solves this problem.

Book The Room At The door




Did you ever get kicked out of a room that someone else had reserved? Meeting Room Displays let you reserve the room at the door to make sure you can finish your meeting without being interrupted and without someone booking it while you're using it.

Create a Cool Environment




There is no way around it. Digital Meeting Room Displays with your company branding that helps everyone stay productive are just plain cool. It's a statement - You are a cool and premium company! It creates a better environment and makes people happy.

Free Up-Front Desk Resources




Since Meeting Room Displays or digital meeting sign are providing guidance to visitors and others at your facility, front desk resources can now focus on other more important tasks than simply telling people where to go.

Ensure Modularity And Scalability




Now that you have decided to do this ensure that your system is modular and scalable so that it is easy and affordable to upgrade when you make changes or add more functionality. You should go for a solution where updates are included in the SaaS subscription.

Cloud




Ensure that you are covered when it comes to maintenance and upkeep. A cloud-based solution is a low maintenance, and no additional resources are needed to set up the system and keep it running. Ensure easy integration and deployment and go with a cloud-based solution that is hardware-agnostic.

Improve Company Identity




Digital signage designed with company colors and logo improves the company profile and corporate identity, making visitors feel more welcome and projects a professional image.

End, Extend, Cancel and Confirm




You must go a solution where meetings can (or should be!) confirmed to claim the room - Otherwise, the booking will be canceled, and the room is freed up and available for others to use. Ghost meetings are the single biggest reason for the poor utilization of your meeting space, and it is a satisfaction-killer when people are lacking meeting space but can see that coworkers never show up for meetings.

If You Do Not Know, You Cannot Act! Data, Data, And More Data




Your Meeting Room Display solution is a great way to get started collecting data about utilization of your workspace. Therefore, look for a solution where a reporting tool, insights, or workplace analytics tool is included. That way you can maximize workspace usage, efficiency, and collaboration while providing all the intelligence you need to adapt to changing usage patterns to maximize use of your workspace.
AskCody is changing the way meetings, and all associated items and resources are booked and managed across organizations and locations – all inside Microsoft Outlook and Office 365. The product suite streamlines room booking and management and even finding hot desks, all aspects of the business that have long been recognized as hurdles to productivity and a waste of time. AskCody lets people search for and book rooms based on availability, the number of people, purpose of the meeting, and in-room equipment right inside Outlook. AskCody helps you create a happier, more productive and efficient modern workplace while optimizing available resources.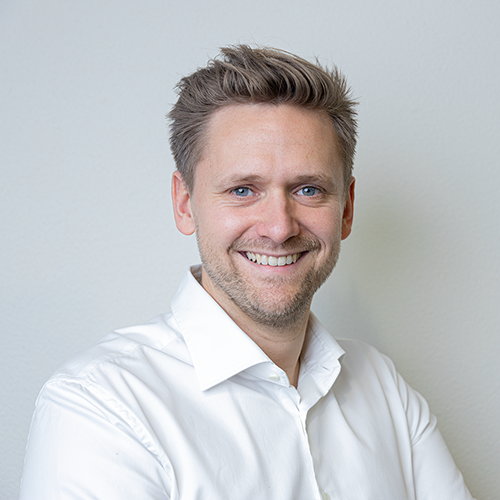 Allan Mørch
CEO & Founder, AskCody. Empowers organizations worldwide in creating better workplace experiences using AskCody.