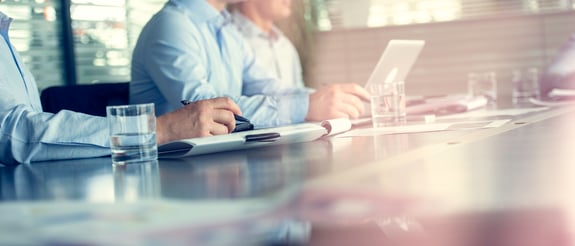 The Meeting Management Platform for Professional Services Companies
Maximize your billable hours and save internal time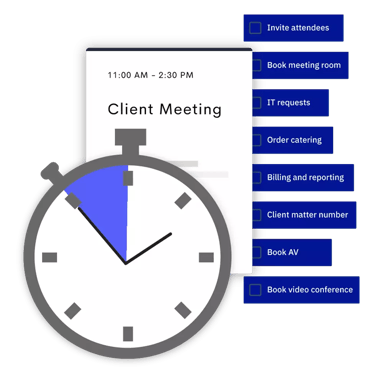 AskCody is the Microsoft Outlook and Exchange centric self-service solution that empowers professional employees to work smarter and take control of the essential parts of meeting management. Empower your colleagues and teams to control their scheduling and ordering of AV equipment, catering, and room setup from one modern platform.
Empower all your colleagues to work smarter
AskCody for Professional Services Meeting Management
With AskCody, your professional services team takes control of all the vital things that make excellent and efficient meetings:
Scheduling
Catering
AV equipment
Room setup
This empowerment happens via one strategic meeting management platform. AskCody is a Microsoft Outlook, Exchange, and Microsoft 365-centric solution that allows for centralized control in the modern and professional workplace.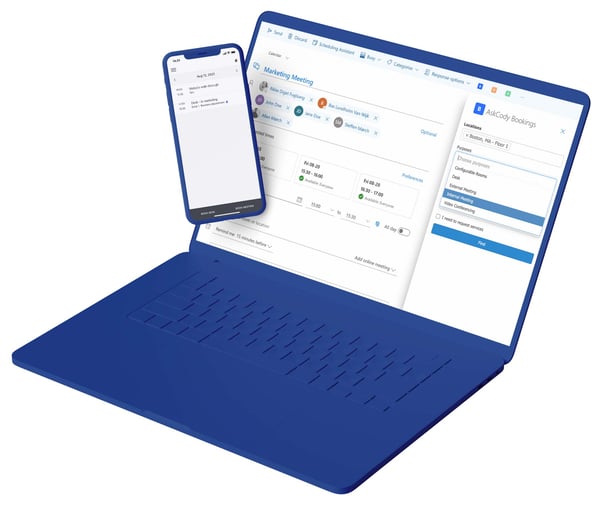 Empower all your colleagues to work smarter
HOW ASKCODY HELPS YOUR ORGANIZATION
Room booking and meeting room management in your professional services company can be a real challenge.
Whether it is one employee booking a room for the next client meeting, excellent internal or external presentation, or the future strategy workshop — it is not easy to keep it all organized. The goal is always the same: Ensure the best possible utilization of the workspace and meeting rooms to get the most out of your real estate investment and the office lease.
Don't spend more time scheduling the meeting than you do at the meeting.
You can now equip your smart office with a modern workplace solution that empowers meeting organizers to manage all of those crucial meeting details centrally. From visitor management and conference room design to reserving AV equipment and ordering catering, your professional services team deserves the best meeting management platform that is tightly integrated with your current Microsoft solution.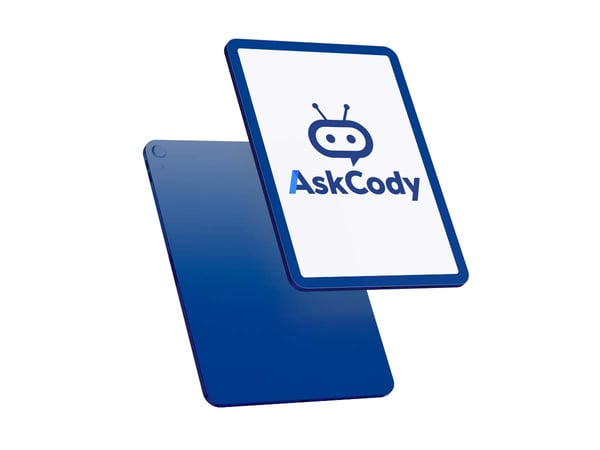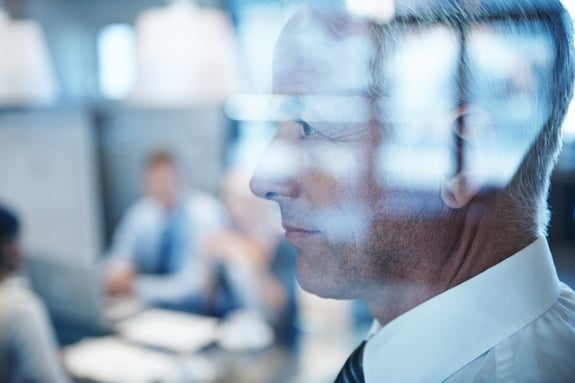 "We also really liked the analytics piece. As our firm grows and moves into new locations, we can use those analytics to make sure we provide what we need when spinning up a new location or office. Highly recommend AskCody in case anyone else is in this same boat we were in."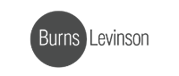 "Having the responsibility back in the hands of the assistants allows reception to provide more of a concierge, white glove experience for clients coming in."
For such a routine activity in professional services companies, meeting management can be both complicated and time-consuming.
Make your meeting booking process and room management more efficient with AskCody. Take away the hassle of finding available meeting rooms and hunting around for ways to add in the needed connected services.

With AskCody, professional services companies can automate these labor-intensive meeting tasks such as scheduling, catering, and AV equipment requests. Deliver a consistent, professional experience for visitors and help your company maximize the number of billable hours while providing a personable, white-glove experience to clients. That is the reason why any Microsoft-based professional services businesses like law firms, accounting firms, architects, and engineering companies should take a fresh look at AskCody.

As professional services companies are making a massive shift from a manual process and point solutions, the AskCody Workplace Platform is your bridge to a more efficient future. We know you're looking to boost productivity, drive operational efficiency, and optimize the way of managing your workplace. A big part of this is how people meet, work, and collaborate. Empower your entire company to make this big transition with ease while keeping your IT infrastructure clean and linking to inherited systems like Microsoft Exchange and Microsoft 365.
Don't get stuck with the products of yesterday. Create a modern workplace of tomorrow.
Related articles for law firms and legal services: