Are you considering a meeting management solution to improve your workplace's overall efficiency? And are you wondering if Microsoft Outlook can solve all your needs? Here you will discover why you could be more prosperous with a tight-knit combination of Outlook and AskCody the Microsoft integrated workplace platform.
Outlook and Microsoft 365 are the standards for emails, and coordinating meetings and productivity in organizations worldwide. It is the go-to-tool for most companies, especially within the financial and professional service industry, like law firms, consulting companies, or insurance. And it is used to book, schedule, and manage a large amount of meetings every day. People use these tools in their daily work, and they love them. But some also see Outlook areas where organizations may need more, for example, functions and services than what Microsoft is currently providing. So, how can you gain all those features and also drive your workspace efficiency and remove excess friction?
A Meeting is Never Just a Meeting
The art of meeting scheduling is so much more than attendees and the place to meet. It is many to-do's, manual micro-processes, and related tasks that are not supported natively by Outlook or Office 365 out of the box. Tasks that involve many parts of the organization - the facilities management, the canteen, the reception, or IT. Therefore, Outlook or Office 365 are often not enough to manage meeting scheduling and workplace bookings as one might want to. But what if you could get Outlook to operate along all dimensions of meetings - bookings, services, visitor management, insights, etc?
How is AskCody Making Outlook Better?
Efficient scheduling

—

Businesses can schedule and plan al

l the aspects of a meeting without investing in a meeting room booking system. Still, it almost definitely requires at least two different tools. Instead, AskCody consolidates all the features any organization would need to plan meetings into a single system effect

ively, providing better meeting management experience in Outlook.

Productivity insights

— The AskCody platform also serves as a dedicated tool for tracking how often and how long spaces and equipment are used. This gives businesses utilization data to leverag

e when making decisions regarding office organization and optimization. Companies would not have a way to collect this type of data without a dedicated system that monitors metrics, like no-show meetings, late starts, etc.

Visual connections to your workspa

ce

– These tools even offer additional functionality that will help manage a physical office space, like providing meeting room displays and productivity analytics.
Аll this is still handled inside Outlook. AskCody – as we are a Microsoft Partner – is tightly integrated with e.g., Outlook and lives inside the Microsoft ecosystem.
See for yourself how you can achieve better meeting management in Outlook by adding AskCody:
Meeting Management Is More than Outlook Can Do for You
It is imperative to have a meeting room booking system to complement Outlook's functionality in a modern office. The booking system will eliminate manual and time-consuming process of room reservations. AskCody's Meeting Management Platform provides you with a comprehensive and cohesive feature set that accommodates all aspects and use cases of meetings. And it is providing organizations with a one-stop-shop for internal and external meetings extending features and functions in Microsoft Outlook, making Outlook work for you in one great user experience for effective meetings. Get the full AskCody introduction in the AskCody overview.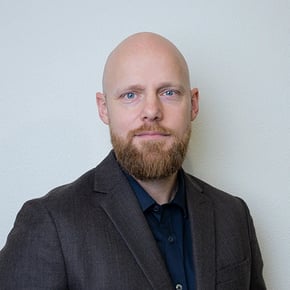 Bas van Wijk
Marketing Director, AskCody. Works with improving workplace experiences and limiting friction for meeting stakeholders. Bas has large experience in inbound marketing, demand generation, and customer relationship management.