The working landscape has evolved and transformed immensely over the past years. So much, that expectations, predictions, and aspirations for what an office should be, or look like, has never been more disparate. However, that is not necessarily a bad thing. Recently, we have gotten so much wiser about what the average worker actually wants, and we have the opportunity to remodel the office into something embellishing employee wellbeing and productivity.
Where the office was once a place designed to be your 'home from 9-5', it has now taken on a completely new identity. Despite many workplaces now seeing less traffic on a daily basis, the office has been through an evolution, and the way we work and how we use the office has been redefined. Even though you might think everyone is downscaling their real estate footprint in order to to have more people working from home, that is not always the case. There is still activeness on the commercial real estate market. During the Pandemic we saw Amazon, Facebook, and Google acquiring office space in the US, as reported by Forbes. So, it is not that everyone is necessarily downscaling, however, they are adapting to workplace design trends that will accommodate new ways of working.
As we keep moving forward and progressing our ways of working, here are some of the key workplace design trend considerations that will define workplaces for companies in the next years to come.
Workplace design trends to fit your office
The rise of hybrid working will dictate how the office looks based on the way we use it. As we adopt work models that encourage work from anywhere, we must consider how best to ensure that employees remain engaged and productive throughout the workday, no matter their location. While the look and feel of the office is not expected to transform drastically, the staff will want their time at work to be more purposeful and productive. Therefore, companies will look to improve work experience by maximizing autonomy and flexibility in their available space to support new types of working. To do so, the office must serve a wider purpose than previously, meaning that the workplace design will have to change.
Current workplace design trends show that companies are moving away from closed office plan, where employees are sitting shielded behind desks next to each other in rows. Meanwhile, the new office plan that is widely adopted is designed to foster transparency and collaboration. Companies are choosing offices built around an open-plan layout, so that the workplace feels like a second home to employees, thus, promoting collaboration, and improving the work atmosphere. The aim of an open office plan is to maximize space utilization and incorporate creative and comfortable design features - like open desks and seats.
The benefits of an open-plan office layout is that employees no longer have to work in tiny, isolated cubicles. By incorporating benching to the design, people can share a single long desk and, thus, easily reach out to their colleagues. The future of workplace design is about a layout that provides flexibility and the option to work in a way that suits the employees' needs. For example you can check out our guide to creating the ideal workplace design for millennials.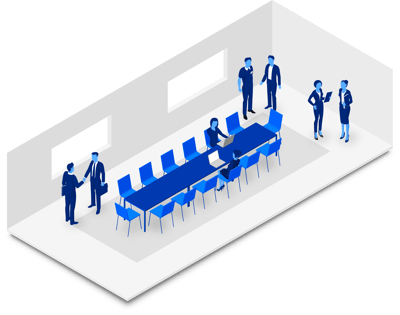 Benching
In general, the workplace layout will also affect the work environment. Making room for the open office spaces like breakout spaces, will encourage easier interactions with colleagues, which will foster belongingness, creativeness, socialization, and more interactions. Nevertheless, you will also need small rooms for focus and concentration on specific tasks. It is all about creating a layout that includes different zones for different purposes, and allowing employees to find
a balance between flexibility and predictability.
There is a growing need to provide sufficient variety in spaces and rooms for privacy and focus. Therefore, we see that huddle spaces are becoming increasingly popular in modern workplaces. These give employees that necessary room to breathe.
Huddle rooms are small meeting rooms intended for informal conversations, presentations, brainstorming sessions, conferences with remote workers, or any number of other collaborations. There is a growing shift in focus away from the conventional large conference rooms and towards smaller, ultra-connected huddle rooms, which some businesses refer to as 'breakout rooms'. They are typically used by smaller groups of two to four people.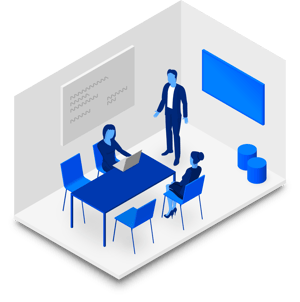 Huddle room
It is also a good idea initiate office wellness by incorporate wellness-focused amenities, such as gyms, meditation spaces, or even capsules to sleep in, that are suitable for relaxing or exercising during the free time. Businesses are realizing that a healthy and comfortable work environment is key for staff productivity and happiness.
Next, the designs of the meeting rooms should also be considered when creating the layout, as meetings are an essential part of the workplace. Meeting rooms come in various shapes and sizes.
When designing your various meeting rooms there are many meeting room setup options to pick from. In order to to choose a design that helps accommodate the workshop, the one-on-ones, the presentations, brainstorming sessions, training sessions, sales calls, etc. you must consider what types of meetings your employees are having, so employees do not end up booking their one-on-one meetings in a 12-person conference room. That will only reflect badly on your investment in real estate, meeting rooms, inflammatory space, etc.
Planning your workplace design
Though many employees choose to work remotely, businesses are making every effort to welcome employees back to the office. To do that, employers can introduce innovative workplace designs and technology to improve workplace safety, productivity, and the general well-being of employees.
Designing a workplace has historically been more about the surface-value appeal. Like rethinking which type of finish is in fashion? What color scheme fits the conference room? What is the most comfortable and good-looking furniture? While all of these factors certainly come into play when designing a workplace, having a well-planned workplace design strategy can also deliver very real benefits for your business. It ensures you are using your working space as a tool to not only freshen up and modernize your office appeal, but to also improve office performance, employee satisfaction and retention, and provide an improved customer experience.
Today's office workers spend on average 37% of their time weekly sitting in meetings. That is why meeting room design that fulfills employees' needs, both creatively and practically, is a critical step in a successful company strategy.
There are three steps to the perfect meeting room design - understand employee needs,
consider room layout and equipment
, and choose your names carefully. With these steps in mind you can completely transform your office meeting culture. To designing your meeting rooms for more effective and creative conferences you can turn typical meeting rooms into creative powerhouse sessions. Shaping a better meeting strategy increases autonomy, creativeness, and entrepreneurship among employees throughout the entire organization. It gives a more positive workplace culture, and it creates spaces that increase collaboration and communication among employees.
The workplace design trends are smart offices rends
Technology, data, and workplace design go hand in hand. Be it technologies like
IoT sensors, smart lighting, intelligent climate control, virtual collaboration or workplace analytics and insights. Data analytics can help office buildings act smart by collecting and sharing data that enables companies better understand when and how different spaces are being used. The smart office design is built around data gathered from meeting room insights in order to help employees work smarter, better, and faster. If you are aware of how your resources are being used and you know what goes on in your meeting rooms, you will have process and productivity knowledge that can help you plan the future of your business, and reduce the cost of meetings. Therefore, data is crucial for understanding the consumption of your workplace and and how to optimize it.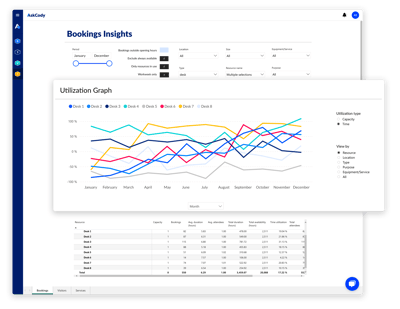 Insights and analytics AskCody
In AskCody we have also inspected how hybrid work has influenced the utilization of the workplace. This observation can be read in this opinion piece which discusses how a company can gain a great advantage by including technology that helps rethink the workplace layout in the company by making it smart.
Our AskCody data shows that, on average, there are three participants in a room meant for ten.
In fact, 40 percent of all the 20,000 meeting rooms registered in AskCody are used less than five times a month. Nevertheless, the same meeting rooms are still warmed up or cooled down every hour of the day. They are also cleaned, although they have not been used. The same applies to the restrooms that are close to those meeting rooms. Therefore, the workplace design trends have to include smart data and technology that facilitate the better use of space. Perhaps the rooms that are not used can be remodeled and the large rooms can be divided to smaller ones.
Which design trends are we foreseeing?
Workplace utilization is important because one of the major workplace design trends we see immensely influencing workplace designs and product designs is sustainability. While utilization data can help in that regard, we see companies looking for multiple ways of making their offices more sustainable and more appealing to staff. More time is being dedicated to creating sustainable environments that align with CSR initiatives. Carbon net zero initiatives and other sustainable goals are all supported through sustainable office designs. While another way to build a workspace with sustainability in mind is by incorporating high-efficiency systems, using LED lighting, taking advantage of natural light and passive ventilation, sticking to low-emission materials, and re-using or re-purposing furniture.
An additional major workplace design trend is designing spaces to make offices more inclusive for all workers on the spectrum. This may include the more theme-based areas such as quiet working zones, areas with sound and light control, or a considered use of colors or fabrics to help create calming spaces. Office design should provide employees with a sliding scale of spaces, offering them the opportunity to conduct their work in places fitting their wellbeing and psychological needs. In the same way that prayer rooms and yoga spaces are being added to offices, the workplace is now becoming better equipped for neurodiverse workers.
Employees spend most of their working time indoors, and hence, their connections with the outside world are often lost. One way to help employees reconnect to nature is by adopting biophilic design. A biophilic design addresses the desire to connect with the natural environment. This can be done by either revamping the entire office or just adding elements of nature. The key areas to consider when adopting this workplace design trend are windows (to bring in sunlight and natural views), greenery (like plants and living walls, which are walls affixed with potted plants), forms and patterns (like honeycombs or leaf-outlined decorations), texture or tones (like wood and concrete furniture and natural colors) and a physical connection (like a small outdoor garden or rooftop patio). The nature-inspired office designs can further encourage creativity and concentration, enhance air quality, and lower stress levels. Combined with wellness areas these spaces improve employee wellbeing.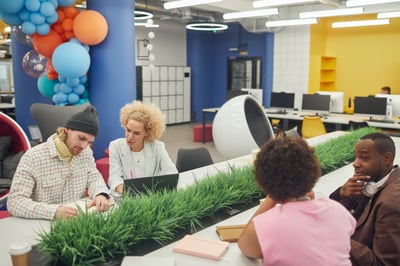 Small touches, like using non-uniform furniture to create an informal and fun mood, can also be added to the trend list as it further brings out the nature and characteristics of the company. Workspaces should be designed to allow for togetherness. By including flex spaces, where settings throughout the office are designed to support specific employee activities and support different work styles, the businesses can provide room for everyone.
We also see
office neighborhoods surfacing in large corporate office designs - organizing the workplace so that people who need to collaborate or have similar needs are able to sit together. Neighborhoods are designated for various employee groups or communities, each one often has between 30 and 60 people.
With an emerging trend like this the office can become very noisy due to all the conversations happening at the same time. It can be irritable for the worker, and it can be hard to concentrate with office white noise. Hence, quiet areas are becoming increasingly important. They can be designed as soundproofed private phone booths, or a lounge area with couches for casual conversation, or office white noise machines.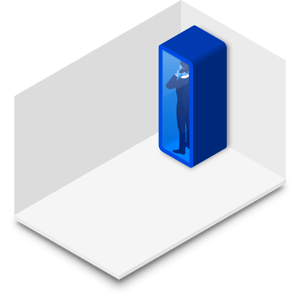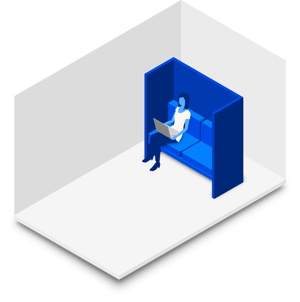 Phonebooth and high back private sofas
Moreover, adding a minimalist touch to the interior design can make the office appear clean and ordered. Hygiene is a big player in the office, and the placement of several hand sanitizer dispensers in strategic locations across the office is equally important. Also, each worker should be assigned personal storage, such as lockers, file drawers or cabinets, to put their belongings, especially for offices that have an open-layout design or hot desks to make the area appear tidy.
There are a lot of things to consider when making your workplace fit your employees' needs, so why not start by asking them what they want? Doing so can only give you a perfect start to create a place where people want to collaborate and be productive.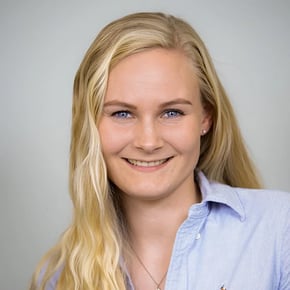 Rikke Diget Fuglsang
Content and Communications Lead, AskCody. Rikke creates content that informs organizations about the latest workplace trends and behavior.