When hiring a new employee, you search carefully for the right candidate who checks all the boxes from a skills, personality, and experience perspective. It is important to find someone with the right tools for the job, who would fit in with the current team, and who will continue to help promote company culture. When you find the right person, it is obvious.
When it comes to fulfilling the company mission, however, it is just as important to create the right environment as it is to find the right employees. Do not waste an ounce of the talent you have cultivated at your organization.
Willing to learn how to empower your employees with the tools they need to work best. Download free eBook.
Today's office workers spend an average of 37% of their time every week sitting in meetings. That is why meeting room design that fulfill employees' needs both creatively and practically is a critical step in a successful company strategy. In today's modern offices, a bland conference room with nothing but a large table, uncomfortable chairs, and white walls is the meeting room equivalent of handing a new employee a No. 2 pencil and spiral notebook on their first day on the job instead of a laptop and Wi-Fi password.
To help, we have put together the three most important steps in designing your meeting rooms for more effective and creative meetings.
Step 1: Understand employee needs
The first rule of thumb of effective meeting room design is that one room does not fit all. Old-fashioned offices used to set aside the same version of a room in various sizes and call it a day. This is no way to equip your employees with what they need to execute great meetings.
The increase in time spent in meetings correlates with the increase in the type of meetings that regularly break out in the offices. From collaborative brainstorming sessions with a single team to large strategy meetings with external clients, from one-on-one phone calls to video conferencing sessions, every type of meeting requires a different type of space.
To handle the many needs of your workspace, we suggest making four types of meeting spaces available to employees: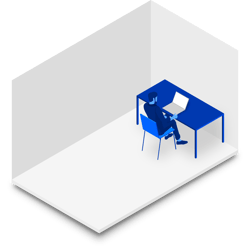 1. Focus rooms for informal phone calls, one-on-ones, and conference calls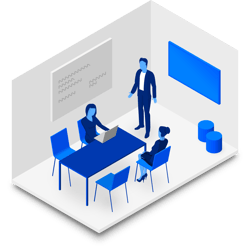 2. Huddle rooms for information meetings and brainstorm sessions for small groups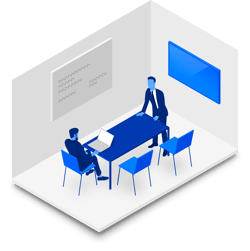 3.Small meeting rooms for official internal meetings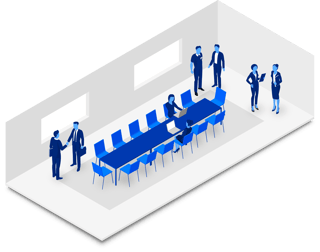 4. Large conference rooms for bigger meetings, most often with clients or external visitors
Each room serves its own purpose and should be reserved accordingly. You can read about the rise of the huddle room and why specific types of rooms are important in this recent blog post: Can I have Some Privacy, Please? Why We Need More Huddle Rooms to Stay Focused and Productive.
Step 2: Consider room layout and equipment
Each type of meeting room mentioned above requires a different amount of space. You do not want employees popping into large conference rooms for a quick one-on-one, just as you do not want meeting planners searching fruitlessly for a room that meets their technical requirements for a big upcoming presentation.
When choosing meeting room design to meet the needs of employees, color is an often-overlooked element. Psychologists and business experts agree that the color of a room has a direct impact on the moods and productivity levels of those within it.
Studies have found that bland colors such as whites, grays, and beiges induce feelings of sadness and depression in workers who are usually stuck inside all day with fluorescent lighting. If you are looking up from your screen right now to your plain white wall, do not worry, you have options.
Calm colors, such as shades of blues and greens, promote productivity, focus, and relaxation. These palettes that are most found in nature promote an overall sense of well-being. Cheerful yellows, considered shades of optimism, are said to trigger creativity and innovation. This is a great choice for the creatives in your office. Other bright colors, such as shades of red, have been shown to increase heart rate and invoke passion. This is a good choice that, used sparingly, can attract attention to important spots in the office.
Now that you have selected a color, it is time to focus on furniture. Select pieces that are versatile enough to be used for informal creative lounging and comfortable enough for long stretches of sitting for important meetings and negotiations. When your guests start squirming in their seats in discomfort, you know you are running up against the clock and focus is elsewhere.
Lastly, in-room AV and office equipment must be considered for purposes such as digital presentations, video conferences, and whiteboard sessions. Do you need screens, projectors, or video capabilities? Not every room needs every device, so outfit your meeting rooms strategically but they do need to be designed to fit current workplace design trends and employee needs.
Pick up our eBook to find more tools necessary to hold an effective meeting. Download PDF here.
Step 3: Choose your names carefully
As we have written about before, conference room names are a surprisingly important piece of your company brand. "Companies that name their conference and meeting rooms according to themes are doing so to communicate their values and organizational culture to their employees, customers, clients, and all who enter," says Sarah Brazaitis, an organizational psychologist and senior lecturer at Columbia's Teachers College.
Creativity begets creativity. That is why it is important to foster an environment of originality and inventiveness. And it is not just the experts who believe this. Some of the biggest names in the business world have spread the seeds of creativity throughout their offices with creative conference room names.
You can see our favorites and read our tips to picking the perfect conference room names for your company in this post: Creative Conference Room Names for a More Creative Workforce.
With these three steps in mind, you can completely transform your office meeting culture. Turn typical meeting doldrums into creative powerhouse sessions. Shaping a better meeting strategy increases autonomy and entrepreneurship among employees throughout the entire organization. It strengthens your brand and emits a more positive workplace culture. And it creates spaces that increase collaboration and communication among employees.
Moreover, by adding in the right tools and technology to streamline the entire meeting room management process, you free employees from any of the tedious tasks associated with planning and booking meetings. A meeting management suite like AskCody enables employees to find and book rooms and equipment, order catering and refreshments, and mange guest registration and check-in all with a few clicks from their Microsoft Office or Outlook.
An improved process and spaces that are more creative will pay for themselves in dividends with an overall improved culture of meetings. There is no telling where your company can go from there.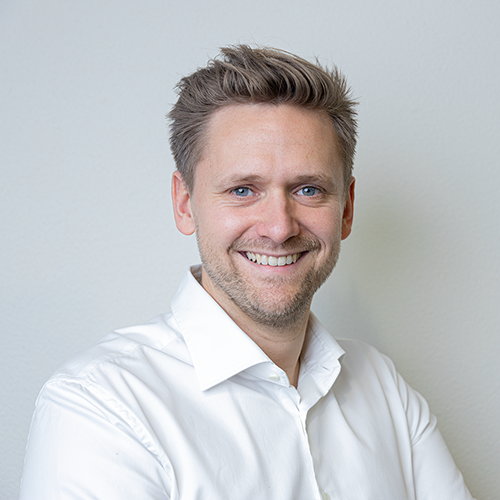 Allan Mørch
CEO & Founder, AskCody. Empowers organizations worldwide in creating better workplace experiences using AskCody.