The office is where we connect with people – where we meet. But do your Meeting Room Setups fit your employees' meetings?
Meeting room setups and changing needs
We want you to think about how you design the various meeting rooms, so they support the different types of meetings your employees are having. Because a meeting room is never just a meeting room – they come in so many shapes and sizes. This list illustrates the different types of rooms that are out there to help you understand what they look like, what you can pick from, and what typical settings there are.
It will also help you avoid not being able to accommodate a workshop or your employees thinking: "This room is not very good..", or "There is no suitable room for my one-on-one". Only with diverse meeting room types can you inspire your employees in your workplace, and accommodate all those different meeting purposes we see in the hybrid workplace. So, if you want to redesign your office to fit current workplace trends, and have the complete list of options to choose from you can find it here.
Not a fan of lengthy blog posts? No worries.
This article is based on the E-BOOK:
This list further helps you define the rooms you have, so you make sure you do not end up naming all your resources 'default meeting room'. Because when you do, your employees can end up booking their one-on-one meeting in a 12-person conference room and that will reflect badly on your investment in real estate, in meeting rooms, inflammatory space etc. In this e-book you will be ensured new ideas for your next meeting room, because we have listed every form of meeting room we could think of, from small one-person rooms to large auditoriums.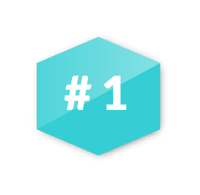 Smaller rooms and spaces
We start off with the smaller rooms and spaces, those rooms purely meant for just one person or maximum two people. The purpose of these types of rooms are often focus work, so the setup should help shield the individual/s from distractions. Thus, rooms like these allow your employees to concentrate in a quiet environment. Often you do not necessarily have to make all of these types bookable, but it should be considered if you want booking analytics to validate.
In this category you will find everything from the regular bookable desk, to phone booths, to the more relaxed high back private sofas.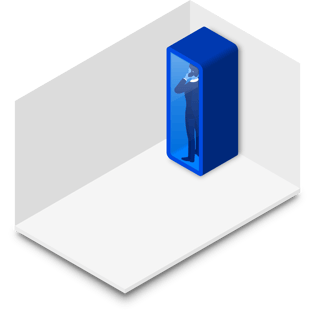 PHONE BOOTH/VIDEO BOOTH
What is the purpose?
For when an individual needs to take a call without being disturbed. Video booth would have a fixed screen in the room.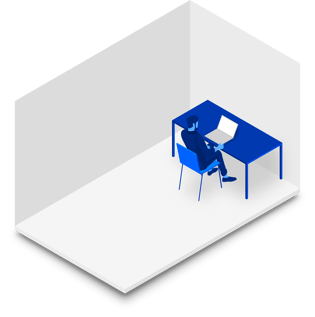 REGULAR DESK/WORKPLACE
What is the purpose?
Regular, bookable desk with fixed monitors.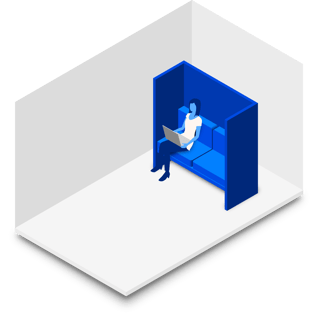 HIGH BACK PRIVATE SOFAS AND CHAIRS
ENCLOSING'S /FOCUS SPACE
What is the purpose?
Private space; an option to focus time away from the desk for a more relaxed work style or a quick call.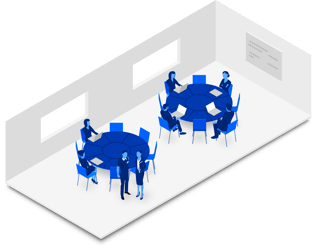 CIRCULAR TOUCH DOWN DESK
What is the purpose?
A different type of work setting for those not needing a fixed desk or 2x fixed monitors, and a great way to break up the linear space.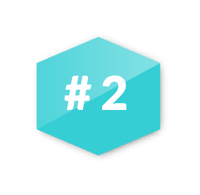 Medium rooms and spaces
Next, you have, the more standard meeting rooms, with room for one to four people. This meeting room setup category includes options such as the standard default meeting room, internal meeting rooms, or video meeting rooms for smaller and possibly hybrid meetings that include video technology.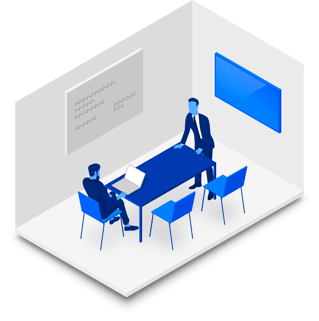 THE DEFAULT MEETING ROOM, INTERNAL MEETING ROOM AND VIDEO MEETING ROOM
What is the purpose?
Standard/default rooms could be used for internal/private meetings, small video meetings with video technology, or as rooms that are not accessible to visitors and guests.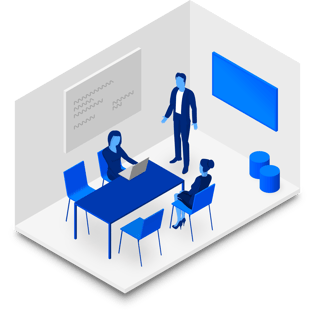 HUDDLE ROOMS/HUDDLE ZONES/HUDDLE SPACES
What is the purpose?
A room for smaller groups that does not need to be booked in advance, but is instead used dynamically. These meeting rooms typically accommodate up to five people and typically feature a set of multi-media audio-visual system and/or a white board.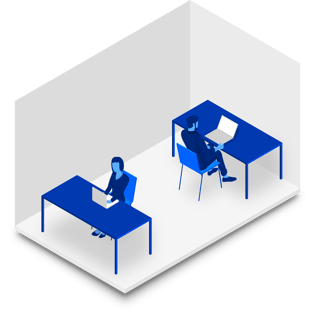 FOCUS ROOM/QUIET ROOM
What is the purpose?
A meeting room to focused work or to shield yourself from distraction. A room which is secluded and allows for an employee to concentrate in a quiet environment. This is typically set up to accommodate one person at a time and has high quality sound and light isolation.

Larger rooms and spaces
Then there are the medium-sized rooms, which can accommodate five to 10 people. Employees from various departments and levels are required to attend some meetings. A large space is required for these meetings. Tools that make collaboration as simple as possible should be included in a functional room. These tools can be low-tech, like markers and a whiteboard for outlining, or high-tech, like videoconferencing software and technology that makes booking rooms easier.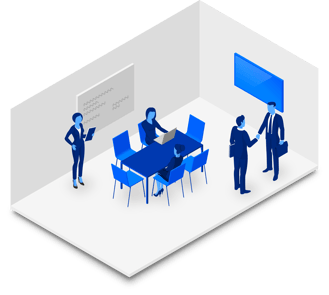 EXTERNAL MEETING ROOM
What is the purpose?
Medium sized meeting room for external guests, clients, and visitors, often located close to the reception, lobby or show room.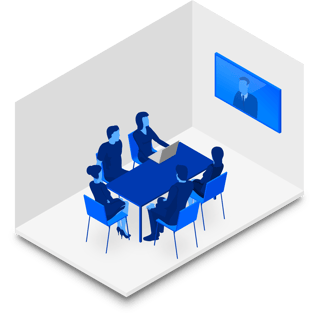 VIDEO CONFERENCE ROOM
What is the purpose?
For larger video conferences with video meeting tech.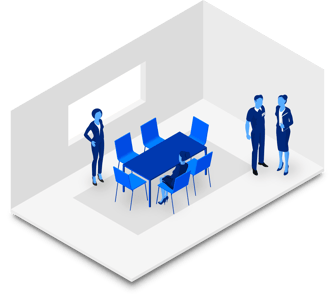 C-LEVEL ROOM
What is the purpose?
A room only meant for meeting among c-level attendees, such as chief executive officer, chief operations officer, and chief financial officer. Often placed privately and not exposed to others in the organization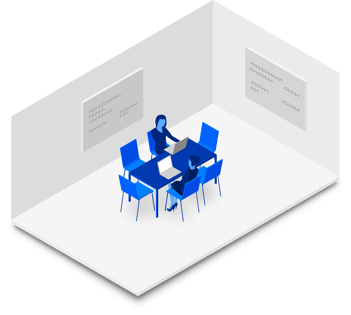 GROUP STUDY ROOM
What is the purpose?
A room for group work and collaboration among teammates. These rooms typically have one seating arrangement for up to six people, but do not necessarily contain video or audio equipment.
Extra-large rooms and spaces
Finally, we have rooms and areas that can accommodate up to +10 people. It could be a workshop or collaborative working environment with a flexible setup that includes high and low tables as well as a variety of tools to encourage communication, brainstorming, focus group workshops, roleplaying, and expressing ideas on written walls or flip boards. For presentations, it might alternatively be the conference room or the auditorium.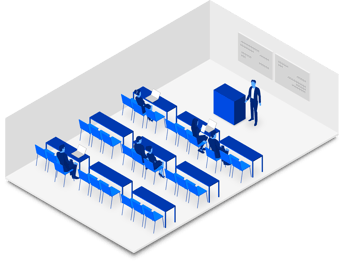 LECTURE ROOM
What is the purpose?
A room for teaching groups of people or giving presentations. These rooms have multiple seating arrangements oriented towards the front of the room where the lecturer is positioned to be.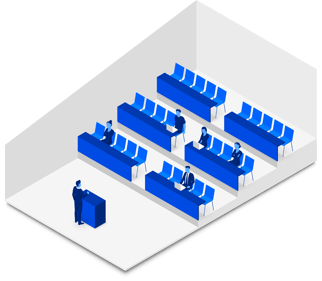 AUDITORIUM
What is the purpose?
It has the same purpose as the lecture room, but with a fixed seating.
WORKSHOP SPACE/COLLABORATIVE WORKING
What is the purpose?
Various settings of high and low tables to support ad-hoc meetings and break-away from the desk to quickly pitch and share ideas. Includes bar chairs and tables, writable walls.
A larger room which has space for facilitating collaboration or idea sharing in larger groups. Workshop rooms usually contain a variety of tools to facilitate communication, brainstorming, arranging focus group workshops, roleplaying, and expressing ideas. The tools can be anything from flip boards, sticky notes, and markers to building blocks.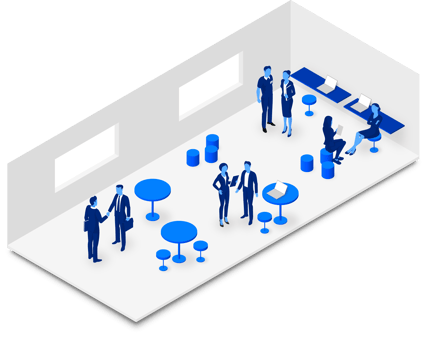 With this list there is no more need for the default meeting room, now you have the ideas to a variety of meeting facilities that can accommodate all the different types of meetings your employees' are having, and no one will search in vain for the perfect fit. When you have figured out what types of meeting rooms you should have, you are ready to inspire your employees! Next up, we can help you with what you should call the new meeting room setup in our 160+ ideas for meeting room names free e-book.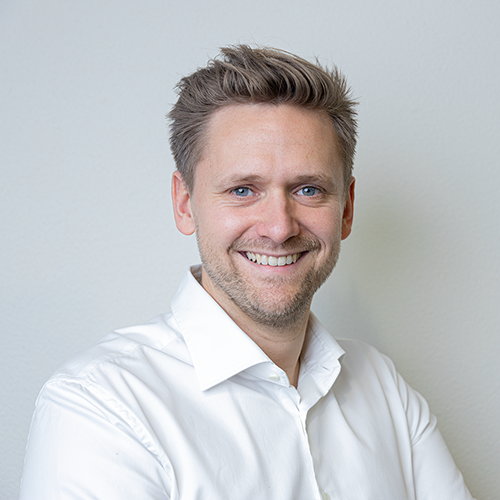 Allan Mørch
CEO & Founder, AskCody. Empowers organizations worldwide in creating better workplace experiences using AskCody.