Meeting Room Displays and Meeting Dashboards deliver the information you need about your meetings
AskCody Conference Room Displays and Meeting Dashboards delivers a better overview of your conference rooms, room status, and daily meeting activities.
Everyone has access to one complete overview of the day's meeting activities, improving your meeting room efficiency instantly.
Key features
A complete overview of daily activities
View if the room is free or occupied
Display daily activities and schedule events
Make and confirm your reservation
Integrate with Outlook, Microsoft Exchange and Microsoft 365

See in-room equipment and error-report faulty equipment with notifications for Facilities Management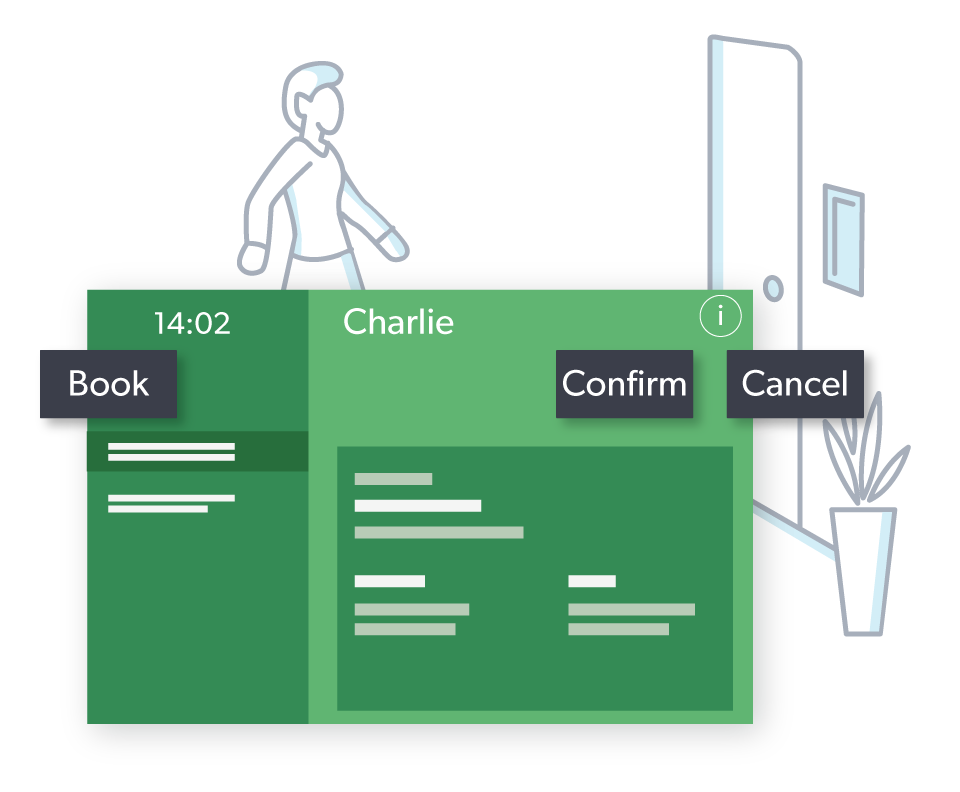 Meeting Room Displays for the single meeting room
Get more out of your meeting rooms instantly! Free rooms when not being used and provide a detailed overview of today's activities for everyone right at the meeting room door!
Make a reservation, find out if the room is free or occupied, confirm your reservation, improve meeting room utilization, change the face of your office space, and create a premium environment with beautiful Meeting Room displays from AskCody.
Learn more about Meeting Room Displays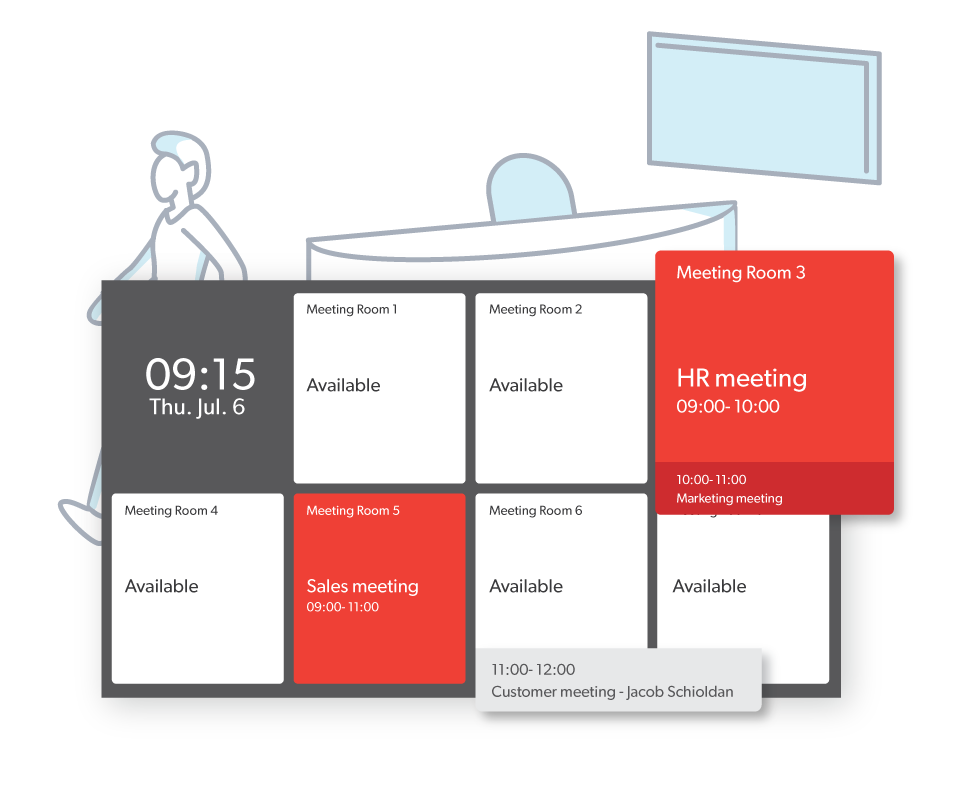 Meeting Dashboards on large Office Displays
AskCody Meeting Dashboards makes it easy for daily users and visitors to get an overview of the day's events and meeting activities and find the event they are attending. Instantly add visibility anywhere in the office. Busy employees with their hands full or visitors coming in for a meeting can identify the right room in seconds with a quick glance at the digital display.
Meeting Dashboards is the solution for meeting rooms and offices spaces, so people can see which meetings or activities are taking place currently as well as for the rest of the day and easily guide them there.
Learn more about Meeting Dashboards
More about Rooms Displays and Meeting Dashboards for Office Displays
Can Meeting Room Displays reflect your company profile and brand?
+
–
The design of AskCody Meeting Room Displays can be designed to reflect your company profile. Displays can be mounted in both portrait and landscape mode.
Which features are available on the Room Displays?
+
–
Ready? Here we go:
List of today's events, time, and date
Meeting subject and host of the meeting
Attendees and meeting description
Free/busy
Private meeting
Book from screen/ad-hoc bookings/fast lane bookings
Pending mode, confirm, or cancel meeting
Extend or end meeting from screen
What about hardware compatibility; what hardware is supported?
+
–
Our platform is web-based and its contents can be displayed in a wide range of devices.
You can use iPads or iPad Minis, professional screens with PoE from Crestron, Samsung, LG, Philips, Qbic and more.
Please note that AskCody is only responsible for maintaining the AskCody software, and not the hardware used to display it.
For more information and for a full list of the devices in which the AskCody software has been tested, please visit our Help Center.
How are Room Displays integrated with Outlook and Microsoft Exchange?
+
–
AskCody provides a solution with direct integration for Microsoft Outlook, Microsoft 365, and Microsoft Exchange through Exchange Web Services.
When booking and scheduling meeting activities in Exchange and Outlook, the meetings and events are always visible and updated across all the solutions from AskCody.
Similarly, when meetings are booked directly on the Room Display, the activities are created and updated in Exchange. This includes current meeting information, attendees, description, the status of the room, and upcoming events resulting in more efficient utilization of your resources. On the digital signage solutions, current meeting information, the status of the room, and forthcoming events are displayed and always visible, which instantly improves your meeting room efficiency.
Our integrations for calendar systems from Microsoft are available for Exchange 2010, 2013, 2016, 2019 and Microsoft 365.
For more information visit the AskCody Help Center
Which view options or templates are available?
+
–
Meeting Dashboards can be designed to reflect your company profile, and the content can be displayed in both portrait and landscape mode. It can display all event details including start time and location. This makes it easy for your daily users and visitors to get an overview of all of the today's activities and meeting room availability in a single glance and makes it easy to find the event or meeting they are attending.
Meeting Dashboards can be configured to a room, tile, and list view:
- Room view provides instant overview and availability of up to six meeting rooms in landscape mode or 12 rooms in portrait mode (two meetings in each room).
Availability is color-coded: green for vacant and red for occupied.
- Tile view delivers a list of up to eight tiles, providing you with information about availability and events. This works great for larger areas more two or more screens since more rooms can then be displayed.
- List view displays all meeting room activities in a dynamic list which is updated instantly. Think of it as the displays with departures at the airport.
Can it be used for Personal Calendars, too?
+
–
Yes. You can use Room Displays and Dashboards for a personal calendar, too. With Dashboards for personal calendars, you can take control of your time and easily let co-workers know if you're free or busy. Hereby avoiding daily distractions and unwanted interruptions.
Dashboards for personal calendars will let your colleagues know when you're in a meeting, busy with a deadline, out of office or free to chat. With this, you can effectively manage the time you need to complete tasks and collaborate with others. Let your co-workers know what you're working on right now so that they can easily see if/when you are available.
What languages do AskCody support?
+
–
The AskCody Workplace Platform is available in major languages of your choice.
English

German

French

Spanish

Norwegian

Swedish

Danish

Finnish
Don't miss your dose of meeting management knowledge
A better office life awaits you. One tool, happier employees.
Find the ultimate guide to why you should implement Meeting Room Displays
This eBook will help your organization optimize resources, both in term of meeting rooms in your office and your employees.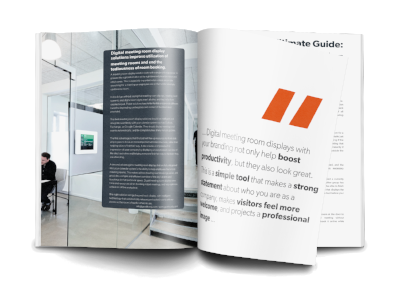 "All our meeting rooms are connected to the solution, and our main meeting rooms have meeting room displays installed showing the room status and easily let our employees book directly on the fly."

Hundreds of satisfied AskCody customers, including: