When Olympus started building their new European headquarters in Hamburg, DE they needed a meeting management solution to cover their needs for room booking, meeting services, as well as visitor management for front desk receptionists and the medical training center. Then, they turned to AskCody and Olympus has now been a customer since March, 2021.
Learn how Olympus, the global medtech enterprise, incorporates modern AskCody technology into their new future-oriented office design to help support them with complex meetings and visitor management tasks. What is better than to hear from the organization themselves?
Customer: Olympus Europa

Location: Hamburg, DE

VERTICAL: Medtech Company
Customer Challenges
When we first approached Olympus they highlighted the following challenges:
Former solution did not fit the technology expectations for their new modern HQ
No intuitive way for admins and users to book the right room fitting their needs
Inconvenient coordination due to the complexity of meetings
No standardized solution making it possible to scale to other regions
Laborious processes for receptionists who handled visitors
After a five-year planning and construction phase, Olympus moved into the new headquarters for the Europe, Middle East, and Africa (EMEA) region and Olympus Deutschland in July 2021. With the co-called Olympus Campus being one of the largest and most modern office buildings in Hamburg, it is also on the cutting edge of technology for increased hybrid collaboration.
The goal was to create an intuitive and seamless one-stop-shop platform to cover their room booking, meeting services, visitor management, and IT management. For Olympus it was also a prerequisite for their meeting management solution to be fully integrated to Microsoft Outlook, to fit their global digital workplace strategy based on Office 365. Because AskCody is built into Exchange and Azure Ad, Olympus could leverage their own Microsoft environment as the backbone for the solution. AskCody fitted very well into this scope, as the solution provides Outlook add-ins that give users the capabilities to easily book rooms, request services, and manage visitors from Outlook, while linking them with the Outlook calendar invitation.Additionally, the standardized solution from AskCody meets the requirements for the EMEA region, and has potential to be adopted by the US and Japan locations in the future.
As the Olympus Campus is also home to the new Olympus Medical Training and Education Center. The reception needed a white glove experience for guests. Hence, a visitor management system connected to the room bookings was a perfect fit, because as soon as the user schedules a meeting and books a room, the receptionists are notified and have a full visual of the guests arriving, whom they are visiting, and where they are going. Guests are also automatically notified with a welcoming message 30 minutes before their arrival.
"The main benefit for our employees is that AskCody will make their life easier. By using AskCody our employees will be able to manage the end-to-end process of organizing their own meetings in Microsoft Outlook, and easily find a workplace that will perfectly fit their needs. The user pathway was our main concern to address. The easy and simple process to find the needed meeting room, book it, request services, and manage visitors has been our main success criteria."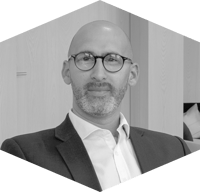 - Nabil Zerdazi, IT Project Manager, Olympus
Partner Solution
Resources: +200 bookable resources
Users: +2900 active users (EMEA)
AskCody plan: advanced licences
Displays: +200 room displays
When walking down the halls of the headquarters you will find that the future of work has moved in. The headquarter is able to offer employees modern and high-quality equipped offices, co-working spaces, meeting rooms, theme-based areas for exchange, capsules to relax in, and conference rooms. Some are bookable, while others, such as the more open spaces, are non-bookable, which allows employees to occupy them spontaneously. Employees can, in the AskCody add-in, choose from +200 bookable rooms in the 11-story building. Bookable rooms have a Crestron display located by the door, where the AskCody software runs, and you can book, extend, or end your meeting directly from the screen.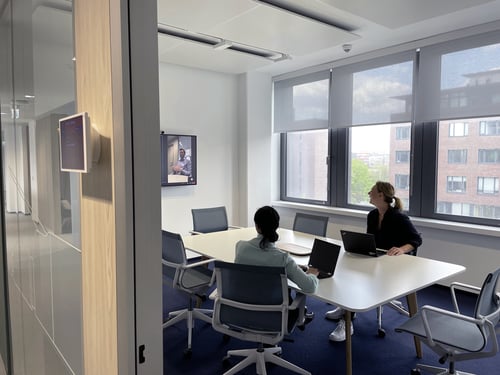 Meeting room display at Olympus' office in Hamburg, DE
Nabil Zerdazi further explains that the AskCody
implementation process and strategy, was a really good experience, and at the end, a success. The AskCody project team is mentioned as being highly supportive to find the best configuration based on their requirements and ensuring a smooth rollout together with the Olympus project team. An implementation explained as a real benefit, since the Olympus team got knowledge about the software capabilities, and how to find the configuration fitting them best in union.
"Our goal was to find a partner, who can hear our concerns, understand our requirements, support us in our project, and then provide a solution that best fits Olympus. AskCody has covered many of them. Working with AskCody means working with an actual familiar team that gives you great support. It is not only a business arrangement it is a partnership."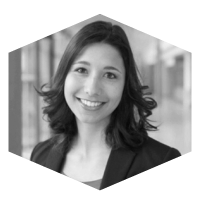 - Nora Furchner, Project Manager, Facility Management, Olympus
Conclusion
Olympus has realized the vision of a future-oriented and digitally modern work environment with their new European headquarters in Hamburg. The office move-in has had a slight delay due to the pandemic, however by 2022 employees return to office and benefit from the flexibility of working on site or remotely. Furthermore, the connected AskCody visitor management and bookings system have been expanded to seven receptions in the EMEA region.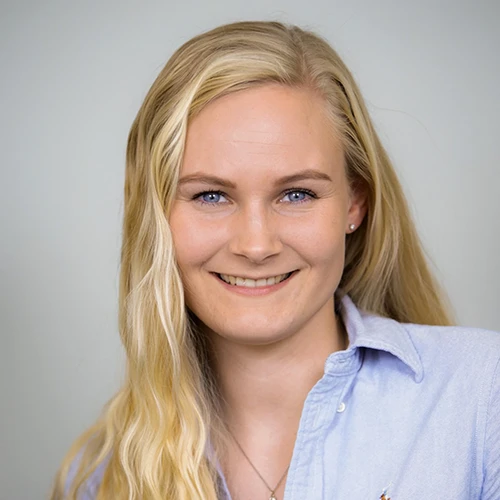 Rikke Fuglsang
Content and Communications Lead, AskCody, AskCody. Rikke oversees all AskCodys media presence and event management, sharing company news, case studies, and press releases. If you are attending an event with AskCody, you are likely to see Rikke there.