When one of Boston's top law firms needed a technological solution to meeting management and client services, they turned to AskCody. Now, Burns &Levinson has been a customer since May, 2017.
What's better than to hear from the customers themselves? Let them tell you an honest story about how they automated labor-intensive meeting tasks such as scheduling, catering, and AV equipment requests to offer a consistent, professional experience for their clients.
Customer: Levinson LLP

Location: Boston, US

Vertical: Law firm

Size: + 500 Employees

Partner since: May 2017
Customer Challenges
When we first approached Burns & Levinson, they highlighted the following challenges:
Ghosting meetings are a problem
Coordination is troublesome due to the complexity of meetings
Current manual processes are time-consuming
Tech solutions are considered difficult
Lawyers have billable hours; thus, efficacy is key
With an existing infrastructure consisting of pen and paper, and an Excel spreadsheet system with centralized individual(s) to coordinate meetings, Burns & Levinson were looking for a smarter solution where every legal assistant could take ownership of their own meetings and orders. The top requirement for the system was something easy to use and which could decentralize the process. To address these concerns, they sought a partner that could understand their business thoroughly and convince even those skeptical of a tech solution.
"We strive to support our users in every conceivable way. With AskCody we have a system based on Outlook which everyone is already familiar with, so training of the end user is painless. The system can be explained in a clear, logical, and relevant way, and assist even computer-phobic partners in feeling comfortable with handling meeting bookings. All workflows are now managed through one central system which makes it much easier".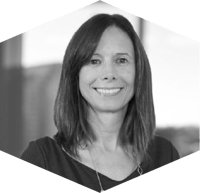 - Jennie DePhillips, Training Manager, Burns & Levinson
Partner Solution
Resources: 41 bookable resources
Users: 276 active users
Bookings: 12,000 per year
AskCody plan: 41 advanced licenses
Displays: 24 room displays
Service: Premium services
With a smooth and fast integration with Microsoft Exchange, Burns & Levinson quickly realized all of its goals for refining internal and client meeting processes. 276 users utilize AskCody bookings as part of their daily work routine and make coordinating meetings pain-free.
Burns & Levinson have continuously added resources to the system, but have by 2021 added 41 bookable resources. AskCody provides easy access to customizable meeting room displays to show the real-time view of these resources by visualizing the room's calendar in order to prevent meeting interruptions and booking misunderstandings. By adding 24 displays around the location there is no more 'oh I thought I told you I didn't need the room anymore,' as there is always an overview showing the availability of the room. Resulting in higher utilization of rooms and lowers costs on unnecessary service orders with frictionless meeting services reservation.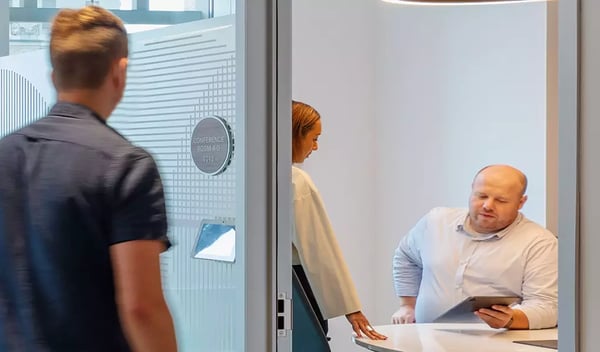 Meeting room display at Burns&Levinson's office in Boston, US
It is also easy to add or deduct services like catering, and AV equipment to the meeting booking and e.g. the canteen will instantly receive the order or see the changes done in the meeting, while also being able to easily accept or reject incoming orders. Features that they have diligently utilized as illustrated in the figure below.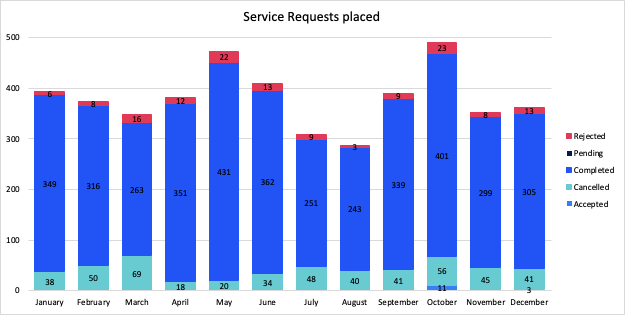 While there are no more bottlenecks in the bookings system, the reception is now also free to provide more of a white glove experience for the clients coming in, rather than spending all their time on scheduling conference rooms. Leaving them to give clients a better first impression.
"When you come up with an internal process that works, the cost of time-savings are often hidden. There was not a cost to the budget, so in terms of dollars, it seemed 'free'. AskCody quickly showed us through various calculations and analyses with our team that this was not the case. The pilot helped us understand just how much time we could give back to the attorneys and assistants and the price of that time. The POC helped us actively compare the cost of the solution, and the ease it was bringing to the cumbersome process we had before. My best advice is to try it. You will see quickly that the ease of use, ease of management, and overall time savings are worth it."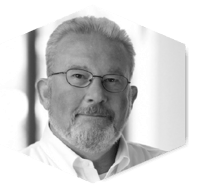 - Henry Chace, CIO, Burns & Levinson
Conclusion
Burn & Levinson has adopted a digital transformation and are eager to use the new technology to help meet its business needs. The users book around a 1,000 meetings per month through the AskCody add-in. They have a high usage of the platform and spend significantly less time on the meeting booking process.
They are currently looking into a hybrid working solution that will make the in-person meetings even more important for them, and it is crucial that those are planned down to the last detail. They fully rely on the system that AskCody has equipped them with to take on the task and support their vision for a flexible work environment.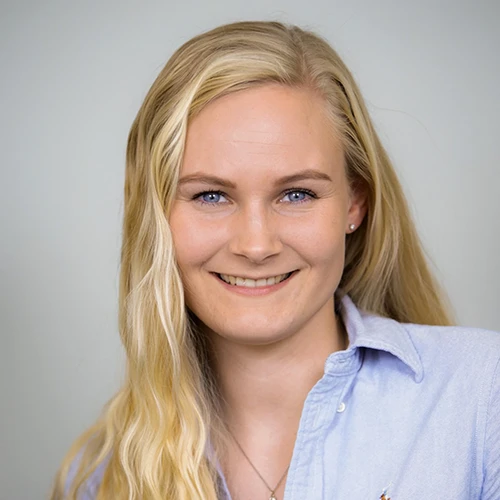 Rikke Fuglsang
Content and Communications Lead, AskCody, AskCody. Rikke oversees all AskCodys media presence and event management, sharing company news, case studies, and press releases. If you are attending an event with AskCody, you are likely to see Rikke there.