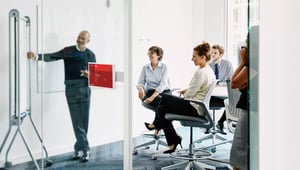 Crestron Room Display
Meeting management feels perfect with Crestron Meeting Room Displays and Room Indicators and the AskCody Meeting Management Platform
CRESTRON DISPLAYS
The genuine alliance of Crestron and AskCody assists your employees in effortlessly discovering a 'book meeting rooms function' in a very visual way. At the same time, this is the backbone for meeting room analytics to meet room space's best utilization.

Crestron displays are known for their enterprise-grade reliability. Crestron and AskCody work closely together to establish a premium bond between the AskCody software platform and Crestron hardware. AskCody is running inside the Crestron device.

The Crestron Meeting Room Display comes pre-installed with the needed AskCody software. This plug & play cooperation makes for a straight forward deployment of even hundreds of devices in the workspace.

The touch screens can be installed at the entrance to each meeting room, and they integrate seamlessly with the AskCody platform to provide a clear indication of room availability and a view of its schedule.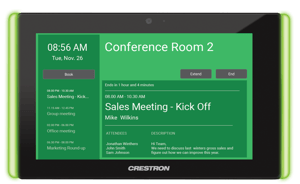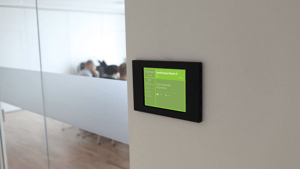 What value does AskCody add to Crestron devices?
When attending a meeting, you can with ease just tap on the display to check in to the meeting room

The AskCody software can control the display's built-in LED light to make it easy and convenient to identify the available meeting rooms in the physical workspace

The Crestron Room Availability Status Indicators can be controlled by the AskCody Meeting Room Platform for a convenient overview of free and booked meeting rooms from long distances
Things to consider, if you look at Crestron devices
Crestron is enterprise-grade hardware, which means that the devices do not run warm or often need reboots compared to what you can call consumer-grade equipment. This differentiation is all back to everyday reliability.
Crestron conference room displays run on a basic version of Android to make them stable. They are built to run 24/7/365.
Crestron has an MDM (Mobile Device Manager), meaning you can do multi-device deployments with ease.
Here is a list of suggested topics when you consider the hardware for your workspace setting:
The number of needed devices

The ease of setting up the equipment (MDM or no MDM solution)

The expected lifetime of the devices

The warranty period for the device

The required daily/weekly/monthly maintenance
All these subjects should be taken into consideration when selecting the hardware platform.
Please remember that AskCody is what we usually call "hardware agnostic." This position means that we do not have any preference for what type of hardware you use or should use for the AskCody platform. That can be on iPads, Phillips devices, Glorystar devices, Crestron devices, etc. We execute on this, as the choice of hardware depends on your specific setup and budgets. Still, we will gladly help you arrive at a perfect combined solution between software and hardware together with you and the hardware supplier, like Crestron or a Crestron reseller in your location. We are happy to consult you on this critical matter.