In 2019, Jorge Masvidal floored Ben Askren in the fastest takedown in UFC history. A flying knee took Ben down in less than two seconds, ending the fight before it really even began. Most fights, however, aren't a one-hit takedown. There is sparring, fighting, a few takedown attempts before a winner emerges victorious.
What does this have to do with choosing a meeting management tool, you might wonder?
Just like in UFC, there is rarely a clear winner in the first two seconds. The right tool for your company might depend on your industry, the size of your company, and a variety of other factors unique to your business.
This can get complicated and overwhelming — especially when you are trying to take care of clients and get actual work done.
We decided to make it easy for you.
This guide will help you compare Robin with the best Robin alternative, AskCody. We'll look at features, support, integrations, and a few pros and cons. By the end, you'll have a clear idea of which software will best suit your needs.
Robin review
Robin is a cloud-based meeting room scheduling and desk management app that's designed to help businesses make better use of the resources they already have.
For example, using Robin, a worker can request a desk assignment or schedule a meeting room online — even requesting a room with specific tools like a smartboard or projector.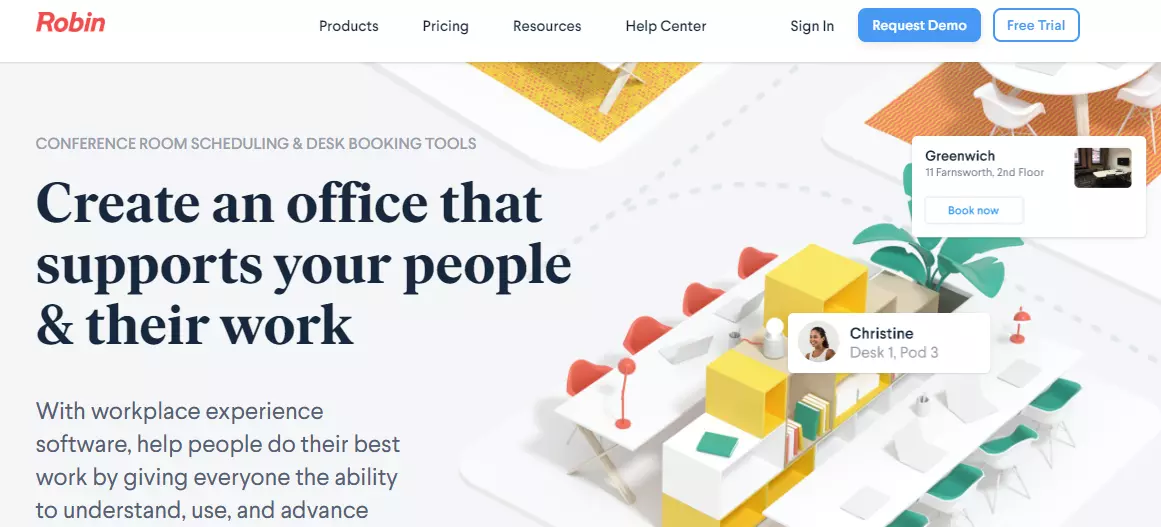 Robin also offers office and floor mapping tools, which makes it easy for workers or visitors to find their assigned room or desk so they can get to work faster.
But, is it the right tool for you? Below, we dig into all the features this tool has to offer as well as its pros and cons so you have all the information you need to make an informed decision.
Robin features
It is a powerful tool, but does Robin have the features your company needs, like real-time reservations and meeting room displays? Here's what you can expect from Robin.
Online booking for rooms and desks
Robin offers real-time scheduling for meeting rooms and conference rooms. Users can log in via computer or app, select a room based on location or features, and reserve their room at the click of a button.
As flexible floor plans become more common, many companies struggle to find a desk assignment tool in addition to a conference room scheduling tool. Robin offers both meeting room and desk assignments all in one platform.
Visitor management
Robin does not currently offer visitor management features which would make it easier for visiting attendees to sign in, get WiFi information, and get directions to the meeting location.
Integrations
Robin integrates with many of your favorite office tools and email platforms, including Gmail, Microsoft 365, and Exchange. Meetings and desks can be scheduled via email or mobile app.
Support
Robin offers support via phone and online. Most reviews indicate their support is friendly and helpful.
On the training side, Robin offers thorough documentation and live online training. They do not appear to offer in-person training or webinars.
Other key features
What else do you need to know about Robin? There are a few other features you might find useful, including their room displays and analytics tools, which give business insight into how often meeting rooms are used. This is especially helpful for companies that are unsure if their current space meets their needs.
Robin also has a "calendar clean-up" feature, which cancels recurring meetings that don't always happen. This helps reduce "ghost meetings" (learn more about these spooky meetings here) and ensures that rooms are available to groups that actually need them.
Pros and cons of Robin
Is Robin the right tool for your company? Before you decide, take a look at these pros and cons.
Pros
Integrates with most major email and calendar tools. When you´re on G-suite, Robin is the tool for you.
Works well for companies that use flexible seating, due to interactive floor maps.
Reservations are updated in real-time, so users can see what rooms are available right now


Cons
No visitor sign-in, security, or guidance features
Failing to check-in for a meeting releases the room quickly, which can be a hassle if the host is running late
It does not integrate with older email systems
Reporting tools are limited compared to the solution we're going to explore next: AskCody


AskCody review
AskCody is a cloud-based meeting room management and visitor management tool. It helps organizations in the public sector, financial services, law, and beyond make better use of their current resources and optimize workplace utilization.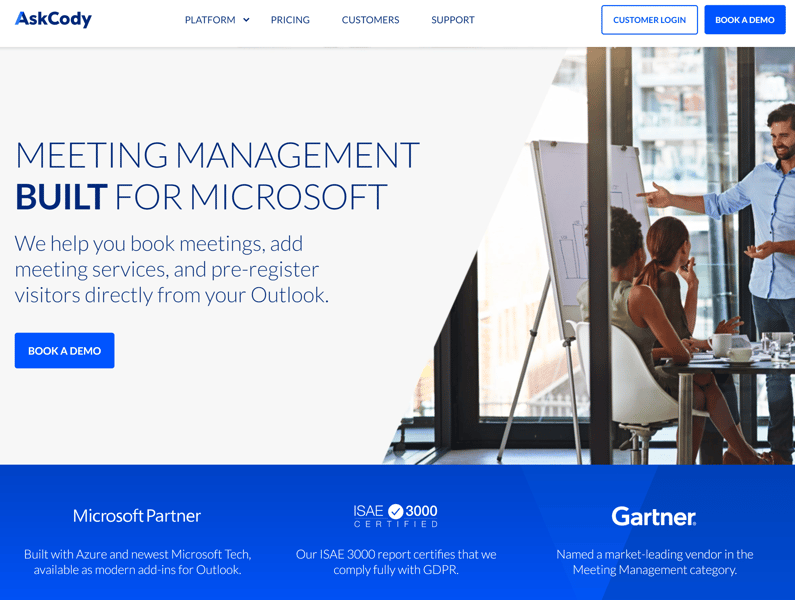 AskCody is more than just a meeting room scheduling tool — it is designed to help businesses better use current resources and position themselves for long-term growth.
Features such as detailed reporting, automated meeting reminders, and visitor management make day-to-day scheduling a breeze. In-depth reporting and insights provide quantifiable data your business can use to make informed decisions.
AskCody features
Is AskCody the right scheduling tool for your business? It depends on how you work! AskCody is best suited for service-based businesses like those in the law and financial space.
What all does AskCody have to offer? Let's take a look at a few of the most useful features.
Online meeting space booking and management
AskCody offers real-time scheduling for conference rooms, meeting locations, and even desks.
Even more importantly, users can sort rooms based on specific features, order catering, and even create AV requests right in the platform.
Visitor management
If your firm is serviced-based, there is a good chance you waste hours of time sending out meeting invites, directions, and ensuring visitors have the information they need to sign in and find your meeting location. AskCody streamlines this process with visitor management capabilities that allow you to pre-register visitors, add sign-in questions, and even share the WiFi password.
Integrations
AskCody integrates fully with Outlook, Exchange 2010+, Microsoft 365, Microsoft Teams, and Microsoft Bookings.
Support
AskCody offers support via support ticket, phone, and email. Their robust knowledge base also provides a wide range of training tools to help you get started, including online documentation, webinars, online presentations, and in-person training.
Other key features
What else does AskCody have to offer? This is a full-fledged tool designed to make managing meetings — and the resources surrounding them — easier. Other features that can help with this process include automated meeting reminders, meeting room displays, additional security features, meeting analytics and insights, and a cloud management portal.
AskCody pros and cons
Is AskCody right for your company? Here's the good, the bad, and the ugly.
Pros
Intuitive to use
Features like visitor management make AskCody an ideal option for professional service firms that need more than just a scheduling tool
Fully integrates with Microsoft 365 and Outlook for seamless scheduling and reminders
Detailed reporting and analytics to ensure resources are easy to access and position your firm for growth


Cons
Does not integrate with Gmail
Cost may not be justified for smaller companies who just need a scheduling tool


AskCody vs Robin: Who comes out on top?
Too many companies waste valuable time and resources manually scheduling and organizing meetings. Are you ready for a change? AskCody was created to help your business spend less time on menial tasks so you can focus more time on what really matters — taking care of your clients.
Robin offers fewer sophisticated features, less detailed reports, and lacks visitor management features. For smaller companies that do not host visitors, this solution might suffice. Service-based firms that need a clear understanding of how their resources are used will be impressed with the features and insights offered by AskCody.
If your company needs a full-fledged meeting resource management and scheduling solution; AskCody is an ideal solution.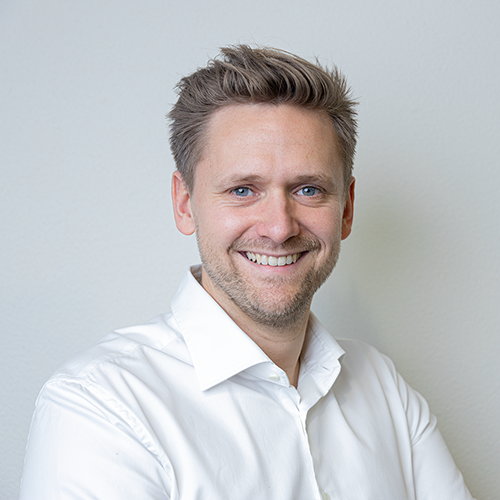 Allan Mørch
CEO & Founder, AskCody. Empowers organizations worldwide in creating better workplace experiences using AskCody.