Have you ever wished for more hours in the day? More time to spend focusing on deep work rather than running around to meetings? (That could have been an email, Susan!)
We've all been there.
The rise of technology has given us access to a vast amount of data about how we work — but many companies don't have the tools to turn that data into real insights.
Luckily, there are several software solutions aimed at doing just that. Today, we are comparing two of the most popular workplace analytics software — Microsoft's add on and AskCody's built-in workplace analytics solution.
Which comes out on top when it comes to pricing and features? Is one solution a better fit for your company? Let's find out.
What is workplace analytics software?
Workplace Analytics is a method and toolset that can recognize and classify collaboration patterns and utilization of the workplace resources that influence productivity, workforce effectiveness, and employee engagement.
Workplace analytics in Microsoft 365
Much of the office world functions within the Microsoft 365 universe. From writing reports and giving presentations to chatting with co-workers and file-sharing —- you can do all that and more within Microsoft 365.
Those features also provide access to a considerable amount of data about how we work and, more importantly, how we could work more efficiently.
Microsoft Workplace Analytics uses data from everyday work to identify patterns, look for inefficiencies, and improve overall productivity.
Features of Microsoft workplace analytics software
The core goal of Workplace Analytics Software is to provide organizations with research-based insights into how the organization works by analyzing data related to meetings, calendars, employee engagement, and collaboration.
Here are a few features included in the subscription:
Home
The Home feature provides high-level insights about how your company works as a whole. Essentially, this functions as a dashboard for the entire company. Admins can analyze data to explore trends and answer specific questions, as outlined in the chart below.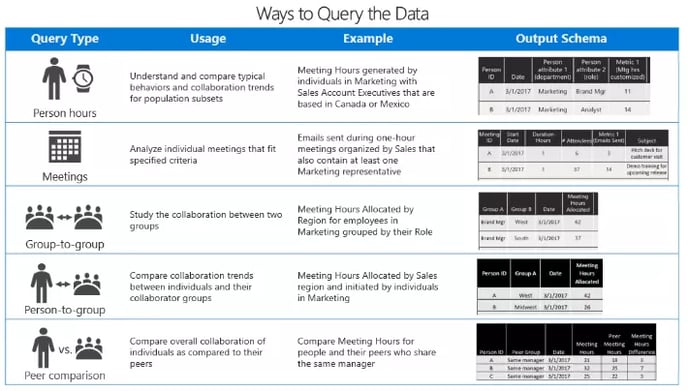 MyAnalytics dashboard
This individual dashboard helps workers better understand how they spend their time and how they could work more efficiently. The dashboard shows a variety of highlights including how much time was spend on focused work, networking, collaboration, and overall well being
Other features include educational tips, productivity insights, time spent in meetings, and several other trends and observations about individual time management.
Plans feature
This feature provides a teamwork improvement plan to help teams collaborate more efficiently by combining Workplace analytics with MyAnalytics data from team members.
Pricing
Plans for Workplace Analytics Software start at $2 per seat/per month for Microsoft 365 Enterprise E5 subscriptions and $6 per seat/per month for all other subscription services.
They also suggest that the data is most useful when several hundred employees are measured.
This means a company of 300 with a standard subscription can expect to pay an additional $1,800 per month/$21,600 per year to access Microsoft's Workplace Analytics.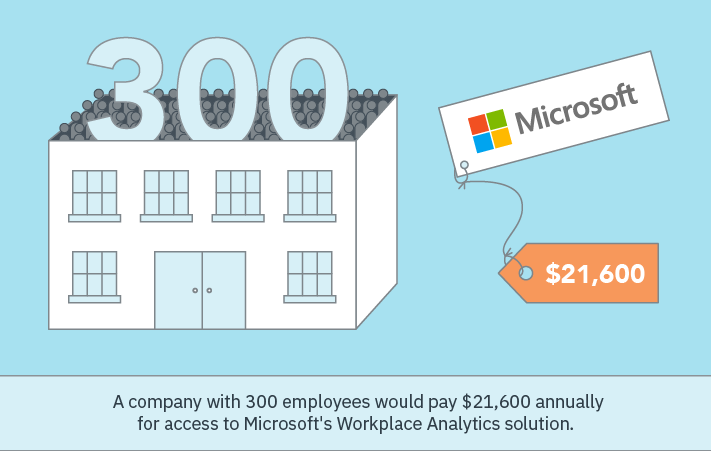 The same-size company with an Enterprise E5 subscription can expect to pay $600 per month/$7,200 a year for the Enterprise E5
This cost is in addition to your current Microsoft 365 subscription service.
Workplace analytics with AskCody Insights
AskCody Insights is a feature within AskCody that gives workplaces access to real-time data to help them enhance productivity and meeting room utilization. Because these features are baked in, you get access to critical data alongside other essential workplace and meeting room management features at no extra cost.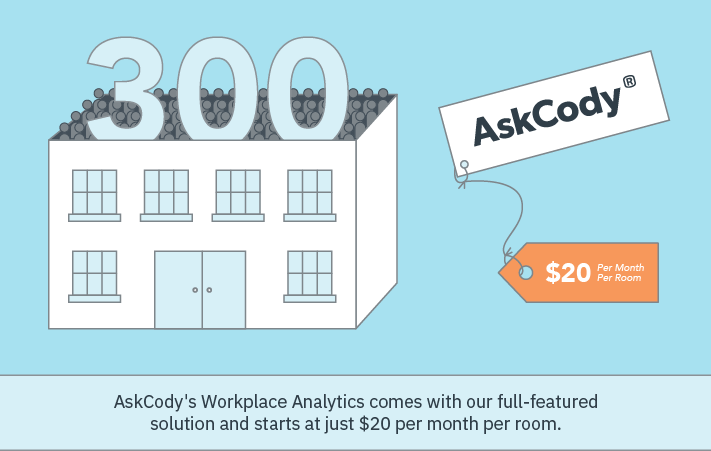 For example, you can view daily reports about how many rooms are utilized, the number of ghost meetings that occur, how long meetings last, and how many hot desks are available at a given time.
This data can be sorted based on the date, department, resource, location, or workspace.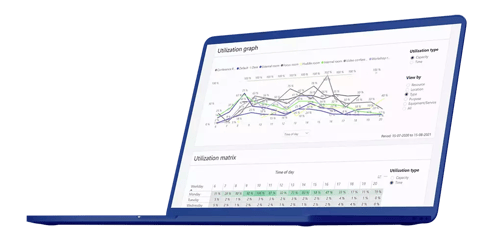 Features of AskCody workplace analytics & Insights
AskCody offers quantifiable data — this means your company can make decisions based on real statistics, not just gut instinct. If you want to ensure you are making the most out of your current workplace resources, AskCody is here to help.
Features include:

Workplace dashboard
The dashboard provides a complete overview of how meeting rooms are used, when meetings occur, when visitors arrive, and so much more. This provides a clear snapshot of how your workplace manages resources as a whole.
Detailed Insights for rooms, hot desks, and other workstations
Want to understand how — and where— your employees work? Analysis for each resource allows you to see which hot desks are most popular, determine if you have enough work stations, and drill down to see data about each room or workstation.
All of AskCody's other features
In addition to all the analytics and dashboards, AskCody customers also gain access to all our other meeting room management features, including;
Visitor management check-in software
Meeting room displays
Advanced security features
Real-time meeting scheduling and room reservation
AskCody works within Microsoft Office suite, allowing you to send email reminders, meeting directions, Outlook meeting requests, and much more. It works with the tools you already have to help your team work more effectively.
AskCody's workplace analytics pricing
AskCody's insights are a built-in feature within our meeting room management platform, which means AskCody customers gain access to this critical data at no additional cost. Pricing for our paid plans starts at $20 per room per month. We also offer a free plan for smaller firms.
This pricing structure makes AskCody far more accessible for small to mid-sized businesses and firms that cannot justify spending upwards of $21,000 per year for access to their own data.
Which workplace analytics solution fits your needs?
When it comes to comparing workplace analytics software solutions, businesses need to consider more than just cost and features — you must also consider the value of the data and whether the solution fits your long term goals.
For most smaller firms, the $20K annual price tag of Microsoft's workplace analytics solution is out of reach. The reality is, individual reminders to "schedule deep work time" are not worth the cost for most firms.
AskCody's built-in insights provide small to medium-sized firms with access to critical data they need alongside tools designed to maximize space and meeting room utilization. And, it works with the Microsoft tools you already use.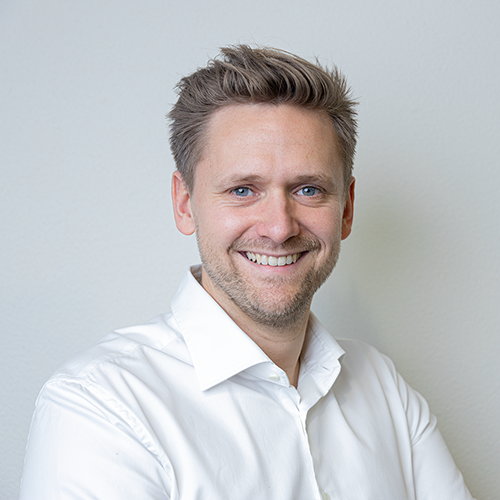 Allan Mørch
CEO & Founder, AskCody. Empowers organizations worldwide in creating better workplace experiences using AskCody.