Have you ever considered how many more crucial tasks your front desk staff could be working on instead of keeping track of every visitor all day long? Read this visitor management ebook to learn how you can optimize front desk resources and visitor satisfaction, and the 11 ways your office life will improve when you do.
Picture this: The office administrator looks at the calendar and notices that dozens of meetings are scheduled for the day. This is a typical day in your office.
The thing is though, the administrator has no insight into who's coming, when they're coming, where they need to go, who they will be meeting with, and for how long they will be in the office.
11 Ways to enhance front desk resources and get a better check-in experience visiting your company
1. Make the right first impression
Being on time matters. So do first impressions!
Welcome visitors with an elegant touchscreen experience, making them feel even more welcome and well-informed as they arrive at your office, and create a professional first impression.
2. Allow self-registration and instant employee notification
Allow your guests to self-register and automatically and instantly inform hosts of their arrival in a text message or via email. It saves time for the visitor and frees up resources for front desk employees, who will not have to look up and call meeting hosts "manually".
3. Improve initial visitor/employee communication
When visitors register in the reception area, an employee is notified automatically of their guest's arrival by text message or by email making it easy to communicate with the visitor while they wait to enter or get picked up.
Employee notification creates a more relaxed and personal experience and optimizes time at the front desk. With employee notification, employees have a much better chance of being ready in the meeting room when the visitor arrives.
4. Share valuable information with visitors upon arrival
Customize the welcome message and include valuable information like guest Wi-Fi login information, opening hours, directions to the meeting room, and more. Improve the check-out experience.
5. Let check-out be handled by the visitor
When finishing the meeting the visitor or the employee can check out the visitor on their smartphone and instantly update the Visitor Log and visitor status. No need to get back in line to check out or skip it.
6. Consider a cloud-based solution
Collect all check-ins and store data in the cloud. Logs are available from anywhere, which makes managing access for numerous guests much easier.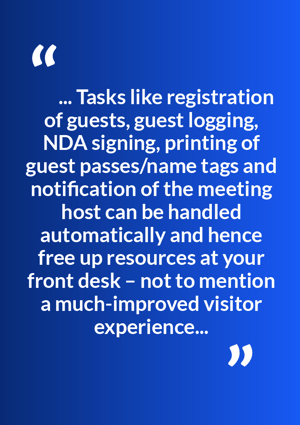 7. Improve security with a digital solution
For security, it is important to have a full overview of which guests are in the building at any given time. Also, evacuation reports can be compiled and printed out at any time.
8. Ditch 3rd party applications and use tools integrated into your outlook calendar
Manage guest and visitors from inside your Outlook or Office 365 calendar, and reception or front desk instantly knows exactly what, when, and where meetings are happening and who are attending these meetings. No need for any other application. Just use your Outlook Calendar to register guests.
9. Improve the first impression with expected guests' pre-registration right from Outlook
Let visitors check in on their smartphones as they arrive. When added as expected guests check-ins can be done by users' smartphones. It saves time upon arrival and creates great first impressions.
10. Save a tree and say bye to the old paper log
Did you ever consider which other visitors may look at your name in an open logbook?
With a virtual visitor registration system, you improve visitors' privacy as they sign in electronically and for admin's eyes only - and you avoid that unreadable handwriting too.
11. Ditch the manual processes
No more paper-based guest registration methods, spreadsheets, and other outdated tools that add significantly to the workload of busy administrative staff.
Ditch the manual processes for arranging meetings and announcing guests, such as phone calls, emails, and post-it notes, leading to a lot of back-and-forth communication.
AskCody is changing the way meetings, and all associated items and resources are booked and managed across organizations and locations – all inside Microsoft Outlook and Office 365. The product suite streamlines room booking and management and even finding hot desks, all aspects of the business that have long been recognized as hurdles to productivity and a waste of time. AskCody lets people search for and book rooms based on availability, the number of people, the purpose of the meeting, and in-room equipment right inside Outlook. AskCody helps you create a happier, more productive, and more efficient modern workplace while optimizing available resources.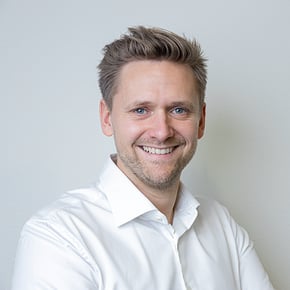 Allan Mørch
CEO & Founder, AskCody. Empowers organizations worldwide in creating better workplace experiences using AskCody.