We Strive to Be Experts in Workplace Utilization and We Love to Share What We Know
Everything you need to know to improve productivity in the modern workplace.
AskCody Case Study
Download our free case studies and learn more about successful implementation of AskCody solutions.
How do you stand out from other law firms?
When one of Boston's top law firms needed a solution for managing meetings and client services, they turned to AskCody.
With AskCody, Burns & Levinson has automated labor-intensive meeting tasks such as scheduling, catering, and AV equipment requests to offer a consistent, professional experience for their clients.
Download Case study now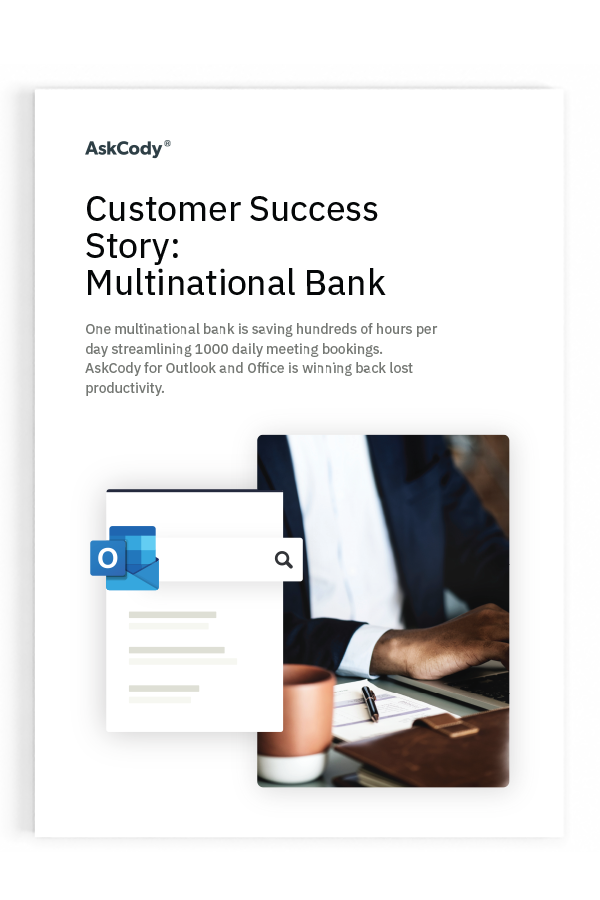 Customer Success Story: Multinational Bank
AskCody is a crucial solution to book and manage meetings with ease.
The bank chose AskCody as a partner to drive digital transformation together with Microsoft 365, using select productivity extensions like AskCody.
Now it is saving hundreds of hours per day streamlining 1000 daily meeting bookings.
Download case study now
Implementation Study: A provider of Investment Management Services
As part of an expansion of the HQ and a top-down audit of business processes, a very large Investment Management Provider upgraded their HQ using AskCody to power meetings, hot desking and interactive mapping.
Most of the AskCody platform was put to work as a resource management stack in a brand new headquarter with four times the meeting space as in the old HQ.
download case study now
Partner Resources
Resources for AskCody partners