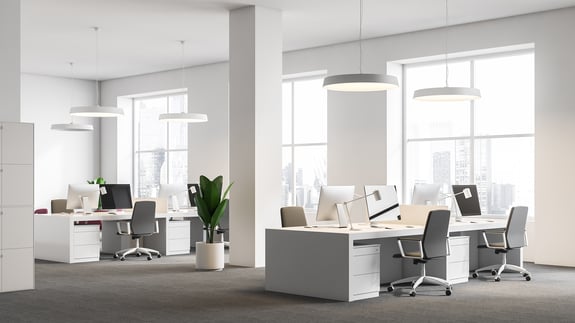 Hot Desking 101
Your guide to understanding hot desking, desk booking, and hoteling.
Your hot desking A,B,C
In the boxes below you can find all the different topics and questions we are processing on this page
Introduction
WHAT IS HOT DESKING?
Hot desking is a modern office arrangement that eliminates needing fixed, personalized workstations.
Because of remote work, some companies have experienced their office buildings being left half or completely empty. To ensure that expensive office space is utilized effectively, some organizations opt-in for a desk booking solution either by hot desking or desk hoteling.
Hot desks or desk hoteling removes personal desks and makes workspaces bookable. This is smart because organizations can gather data on workplace utilization and make informed decisions to improve their offices. Another benefit is that companies can cut down on desk space if some of their employees prefer to work partly or entirely remotely.
One of the most intelligent aspects of these desk booking solutions is the ability to collect valuable data. Organizations can gather insights on workplace utilization, tracking which spaces are most used, at what times, and by whom. Such data provides a wealth of information, allowing businesses to make informed decisions about office design, spatial arrangements, and even lease agreements. This is pivotal in creating environments that foster both productivity and well-being.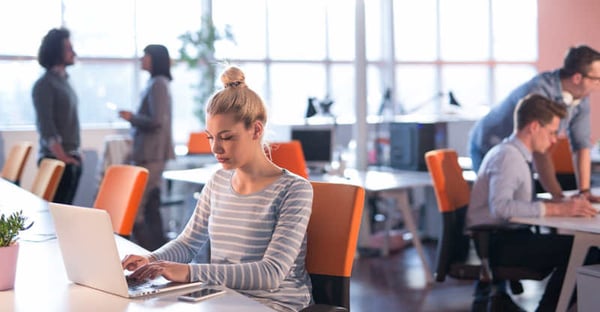 Background
WHY IS HOT DESKING RELEVANT?
With many employees now working from home, the need for dedicated desk spaces has diminished, leading to an increase in the popularity of hot desking. Especially past COVID-19 we could see new efforts by employers providing pandemic compliant work environments where the principle of flexible working gained a lot of attention.
As companies begin to consider returning to the office (RTO) or a hybrid model of remote and in-person work, hot desking has become an attractive solution for several reasons. Firstly, it allows for greater flexibility and agility in the workplace. By having a shared pool of desks, employees can choose where to work based on their needs and preferences, whether they need a quiet space to focus or a collaborative area to brainstorm with colleagues. This has also led to a change of mind for the workforce with top talents having remote or hybrid work as a requirement for a potential job. According to Zappia 66% of Americans work at least part-time remotely which is why hot desking and desk booking gains a lot of attention.
Hot desking
Benefits and challenges
The following section will provide you with the most substantial outcome from all the information below.
The process
HOW DOES HOT DESKING WORK?
Hot desking can be managed in several ways. Some companies use a first-come, first-served approach, also known as the ad-hoc approach where employees can choose any available workstation upon arrival. This can happen through a QR code or a small display attached to the desired desk that lets you book it instantly.
Most companies prefer a reservation system or desk booking software, where your employees can book a workstation in advance, online or through a dedicated mobile app. This approach is influenced by hotel bookings where you book accommodation for the day which is why it is commonly known as desk hoteling or office hoteling.
It is important to choose a desk booking solution integrated into your enterprise software: Microsoft or Google. This will allow you to gather advanced analytics on desk bookings, as well as meeting room utilization.
How to get most of all the aspects
CHOOSE A DESK BOOKING SOFTWARE
If you're looking to implement a desk booking software in your workplace for a hassle free hot desk management, there are a few things to consider. A good desk booking software should be user-friendly, customizable, and have robust reporting capabilities.
Here are some key features to look for:
User-friendly interface
Easy to navigate and understand
Simple and straightforward reservation process


Seamless integration
Integration to software such as Microsoft 365
Synchronization between applications
Robust reporting capabilities
Tracks usage and identifies trends over time
Create workplace utilization reports


Flexible and customizable
Able to handle multiple users and locations
Customizable to fit your specific needs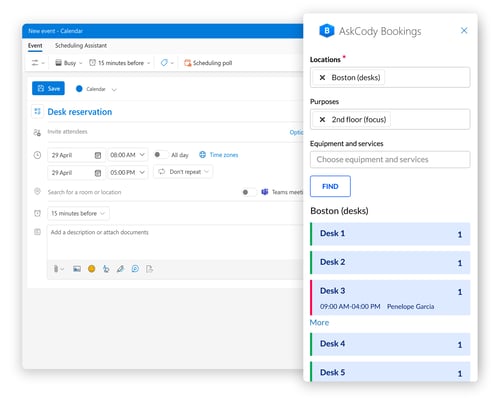 In addition to these features, a good desk booking software should be intuitive, flexible, and reliable. It should provide users with the tools they need to manage their workspace reservations easily, while also providing managers with the data they need to make data-driven decisions about their workspace utilization.
Overall, desk booking software can be a great way to automate processes and optimize workspace usage. By finding a software solution that meets your organization's needs, you can streamline your booking process and make your workplace more efficient.
What else?
Potential drawbacks for hot desking
When considering the implementation of hot desking in your organization, it's important to be aware of potential drawbacks. Some major drawbacks of hot desking may include:
More planning for employees
Hot desking requires employees to plan ahead and book their workspace in advance, which can add an extra layer of complexity to their daily routine. With desk scheduling software this might get handier but it requires better management of the individuals workday.
Discomfort with different workspaces
Some employees may not be comfortable with the idea of having different desks or workspaces each time they come to the office. Also the idea of collaborating more with other teams might be stressing for them as some employees might rather stick to the same environment and people day by day. This can lead to discomfort and reduce their productivity.
Decreased collaboration
Hot desking can potentially kill collaboration if adaptability is not given within your team. If employees are constantly changing their workspaces, it can be difficult for them to build relationships with their colleagues and work together effectively. Especially in teams where a frequent exchange is necessary this might lead to communication challenges.
Lack of proper hardware
If the right hardware is not provided, employees may spend their workdays searching for the right tools or may not be able to work at all. Designers for instance might need special screens for editing and if they can't find those at work it could lead to frustration and decreased productivity.
Implementation
HOW TO IMPLEMENT HOT DESKING
If you're planning to incorporate hot desking into your hybrid work setup, there are a few things to keep in mind. Taking a broader approach to the topic can be beneficial because it provides you with the opportunity to implement it and have success with it.
Essential office equipment for hybrid work
To ensure that your workplace is ready for hybrid work, there are a few things you should consider. Firstly, it's essential to make sure your employees have access to the necessary technical tools and software solutions to work from anywhere. This could include cloud-based services, collaboration tools like Microsoft Teams or Skype for Business, and other productivity tools specific to each department. For your workplace, you might need a reliable internet connection, comfortable office chairs or standing desks, and docking stations or smart hubs with ports to connect a laptop to a workstation. Furthermore, storage lockers can be useful for employees who need to store their belongings while working in the office.
Making the transition to hot desk a success
Once you've set up the necessary infrastructure, it's crucial to run pilots to see how everything works in practice. It's important to gather feedback from your employees during this process and make changes as necessary to ensure that everyone has the resources they need to be productive. It's especially essential to listen to the younger generations like Gen Z and Millennials who may have more vocal needs and preferences. By including them in the process, you can create a sense of ownership and engagement that will make the transition to hybrid work smoother and more successful.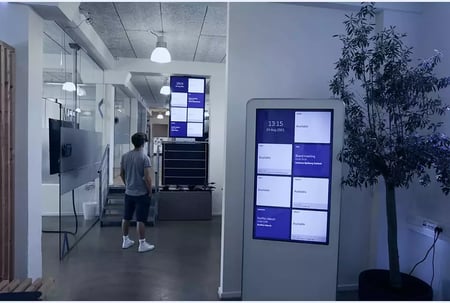 Optimization
HOW TO OPTIMIZE HOT DESKING
Implement desk hoteling
One way to optimize a similar approach to hot desking is to implement desk hoteling. It allows employees to reserve a desk in advance, ensuring that they have a workspace when they arrive at the office. This eliminates the issue of overcrowding and wasted time looking for an available workspace.
Dedicated neighborhoods
Another way to optimize hot desking is to create dedicated neighborhoods for teams, such as marketing, sales, or development teams.
Conclusion
A MODERN SOLUTION FOR EFFICIENT WORKPLACES
Hot desking is a modern office arrangement that eliminates the need for fixed, personalized workstations. This approach provides several benefits, such as saving real estate costs, promoting collaboration, and fostering flexibility and mobility among employees.
Due to the pandemic, there has been a shift towards remote work and hybrid work models. As a result, hot desking has become even more relevant since most employees are not in the office at the same time. However, there are some challenges to consider before implementing, such as discomfort with frequent changes in workspaces, employee collaboration, and motivation issues.
To avoid these challenges, companies can provide the necessary hardware at the desks and use specific neighborhoods for departments or teams. It's also important to involve employees in the process, run pilots, and gather feedback to make sure you get the best out of it for your organization.
Despite these challenges, hot desking is an attractive solution for companies looking to optimize their use of office space and attract top talent with a flexible and modern workplace. To make the transition easier, organizations should invest in the right technology and be aware of important considerations when choosing a hot desking setup. Desk booking software, seamlessly integrated into systems like Microsoft 365, can help substantially. It should have robust reporting features, a user-friendly interface, wayfinding features, and be customizable to fit your organization's specific needs.
We would love to show you AskCody
Understand how we can help you in your organizational needs