Q4 presents an exciting time for all AskCody customers. In this video, we will share what we have been working on lately and give insights into our product roadmap.
We released major updates this year including the ability to request services for recurring meetings and empowered rescheduling with drag and drop in Workplace Central.
Along with these updates, we can unveil great improvements coming to AskCody:
App provisioning - improved user management in Microsoft Entra ID (former Azure AD).
Location-based access -

empowering IT Admins to delegate user access based on locations.

Item-specific buffer time - The ability to customize buffer time for different types of services.

Meeting changelog - making it easy to track all changes made to meetings.
In this Q4 Product Update, we are presenting all the latest releases, improvements, and work-items making AskCody even more powerful. Watch the video here or keep reading the article.
Watch the video here:
Latest improvements
In this section, you can read about the latest improvements which are already available in the AskCody Portal.
Services for recurring meetings in Outlook - available now
The most requested feature in AskCody history has been launched, which is the ability to natively support and manage service requests for recurring meetings made in Outlook or Microsoft 365.
For many organizations, scheduling meetings as recurring events is how they prefer to operate instead of booking individual instances. Users want a seamless way to book, schedule, and manage recurring meetings with service orders.
We have now updated our Outlook add-ins, giving users the ability to add service requests to every instance of a recurring meeting series. Moreover, if a single meeting in the series is rescheduled, moved, or canceled, the service request will automatically update.
This will be a massive time-saver for meeting schedulers who book a lot of weekly, bi-weekly, or monthly recurring meetings. It will significantly reduce the time spent on booking recurring meetings while minimizing errors, and boosting productivity.
Upgrades to Workplace Central
This year, we unveiled Workplace Central. Central is the command center for managing all meetings giving a complete overview of all meeting activity, service requests, and participants. With its user-friendly interface, you can easily manage bookings and services such as catering and AV needs.
Office Admins and Conference Services Managers now have the tool at their fingertips to preemptively tackle quick meeting changes and have a complete workplace overview.
To make Workplace Central even more powerful, we added these upgrades:
Q4 improvements
In this section, you can read about the improvements we are currently working on to make AskCody even more powerful.
App provisioning - improved user management in Microsoft Entra ID
In Q4, we will update how we integrate with Microsoft Entra ID (formerly known as Azure AD).
We already support Microsoft Single Sign-on
. Now, we will provide an Enterprise Application for Entra ID, which will follow Microsoft's now recommended method for synchronizing users with third-party applications. This method is called App Provisioning, and it will bring a superior performance boost in user synchronization into AskCody.
Location-based access - control user access based on location
We understand the importance of having granular control when delegating platform access to employees. This is why we will be empowering IT admins with the ability to control user access based on their specific locations. We call this feature: Location Scoping. This will facilitate more effective delegation of configurations and setups for various products across the AskCody Platform, offering more detailed control over who can access what.


Item-specific Buffer time - customize buffer time for different services
It has always been possible to add buffer time to your meetings so that Service teams have time to set up rooms and deliver everything necessary for meetings. We will be improving upon that functionality by allowing to set item-specific customization of buffer time, ensuring it accurately reflects the specific needs of different service providers, helping customers optimize scheduling, and improving service efficiency.


Meeting Changelog - track meeting changes easily
We will add a meeting changelog to AskCody, allowing you to easily track all the changes made to a meeting including who rescheduled it in Central. This update aims to bring greater transparency and accountability to meeting adjustments, ensuring you always know who moved a meeting and what changes were made.
Let us know what you think!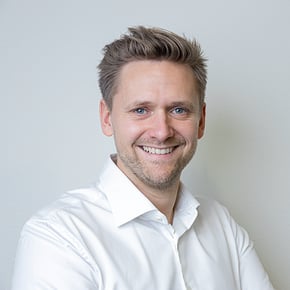 Allan Mørch
CEO & Founder, AskCody. Empowers organizations worldwide in creating better workplace experiences using AskCody.