Get ready to elevate your horizon of what you can do with AskCody - We can now proudly present requesting catering and additional services for recurring meetings in Outlook!
It is finally here and fully functional. Let us show you how seamlessly it works and integrates with your Outlook ...and the best part of it - it has the same "follow the meeting logic" as the rest of the platform.
Understanding Recurring Meetings
By understanding the complexity of recurring meetings, we can unlock the true potential of the feature.
Recurring meetings are a series of meetings occurring at a specific frequency, whether it is daily, weekly, monthly, or a custom recurrence pattern. They are used to streamline scheduling for ongoing collaborations, but they come with some complexities.
Coordinating recurring meetings can be like solving a puzzle with constantly shifting pieces. Finding timeslots that fit multiple attendees in multiple time zones and meeting rooms, with catering and additional services requested for each instance of a meeting, is difficult to manage. But top that with constantly changing schedules!
Adjusting only the frequency of the recurring meetings involves a lot of additional processes, like making sure all the attendees are available at this new frequency and time. The same goes for the meeting room not only this one time but for all the occurrences of the recurring meeting. And the catering or additional services need to be adjusted and sometimes requested upon new.
Juggling with adjustments for such complex recurring meetings is not only time-consuming but also difficult to manage. That is why we know that if we can just make that process a little easier for all our superheroes behind the scenes, who manage other people's calendars and ensure seamless meeting experiences, it is worth it!

How to request catering and additional services for recurring meetings with AskCody
It is finally possible to request catering and additional services for recurring meetings directly from the Services Add-in in Outlook. You can create a request for one instance of the recurring meeting series at a time, and have the same "follow the meeting logic" as the rest of the platform.
Please read this article about requirements before use.


Follow these three steps to request services for a recurring meeting:
Create a recurring meeting in Outlook

if not already added.
Open the meeting instance

of the recurring meeting in Outlook for which you wish to request catering or additional services.
Open the Services Add-in and create a request as usual (Learn how to use the Services Add-in here).
Click "Place Request"
You have now requested services for that one instance of your recurring meeting.
If you wish to add services for other instances of your recurring meeting, you simply repeat the steps above.


What is "follow the meeting logic"?
Every time you change the time. date, or otherwise make adjustments to your meeting in Outlook, every addition you have made for your meeting with AskCody follows along without you having to do anything.
So when you have requested catering or IT equipment via the Services Add-in for your recurring meeting and added attendees to the reception in the Visitors Add-in, adjustments to one instance of the recurring meeting need to be made. The AskCody Platform makes sure to move everything seamlessly so it follows your meeting in Outlook, simply because AskCody is built for Outlook and on a Microsoft foundation.
This is what we call "follow the meeting logic".


With this new feature for Services, you no longer have to make "workarounds" or navigate outside the AskCody Platform to handle your complex recurring meetings.



... and It of course also show in Workplace Central.
If you are using Workplace Central to keep an overview of all meetings in your organization, a small recurring icon will appear on the meeting card to indicate it is a recurring meeting, as you might know from Outlook.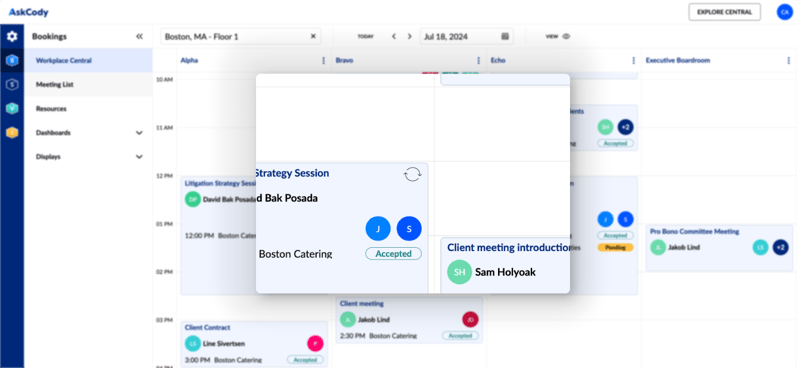 Maybe you can hear our excitement about this feature, though it may seem like a small thing, simply adding catering and additional services for recurring meetings - but trust us, it is not!
We have been planning and working on this feature for years, and don't worry; we will not bore you with the details. We just want to let you know that this is a milestone for AskCody, and we are thrilled to share it with you.


Let us know what you think!
/Cecilie