Shook, Hardy, & Bacon L.L.P. is an American law firm considered one of the best in several legal practices including litigation, intellectual property, commercial, government enforcement, compliance, etc. They are recognized as one of the top law firms in the USA.
Shook became an AskCody customer in 2019 as their business had grown to a size where they needed to standardize their meeting processes and wanted a solution integrated natively with Microsoft 365 and Outlook.
Hear from Luke Schnoebelen (Director of Professional Development) why they chose AskCody.
Customer: Shook, Hardy & Bacon

Location: Kansas City

Vertical: Law Practice

Size: +1700 Employees

Partner since: December 2019
What the customer wanted
When we first got approached by Shook, they already had a clear vision of what they wanted. Ideally, they wanted a solution that could:
Be simple to manage and placed directly into Microsoft 365.

Reduce space costs by finding new ways to utilize office space.

Fit a large and complex organization with many locations.

Be easy to use, help save time, and increase visibility.

Reduce meeting management bottlenecks by empowering users.
Their wishes for a new solution were luckily a great fit with AskCody. This is one of the reasons why we have received great feedback on G2 from employees like Shaley.


"I LOVE that AskCody is integrated with Outlook. It makes reserving, editing and canceling reservations so quick and easy. The interface is very easy to use and is so customizable to our needs. I love that we can make it our own and customize our rooms, vendors, and services from the Admin side".
- Shaley M, Training Coordinator at Shook, Hardy, & Bacon
A new solution based on Microsoft
Before shifting to the AskCody Platform, Shook had for years used another meeting room booking tool called RoomTracker.
A few years ago, Luke and his manager initiated a process to look for a new solution. Based on the needs defined by HR, one of the most critical requirements was that the new solution should integrate closely with Microsoft Outlook. This was defined as the main issue in their past system for booking meetings and conference rooms.
Lucas (Luke) Schnoebelen was tasked with finding a better meeting management solution. A crucial task as a law firm revolves around client meetings, both in and out of court. Luke is today director of a team responsible for end-user training and implementing hardware/software that supports a modern law firm's many processes.
Luke is in his daily work focused on "what is new" inside the legal market and is very much involved in ILTA (the International Legal Technology Association). This is also where we first met each other. During the first conversations, it became clear, what drove Luke and Shook.
"We shouldn't have to go to a different solution than Microsoft Outlook to book a conference room, and the two systems never talked to each other. You went to this booking tool, and then you'd also have to go to the Outlook calendar invite and key in the room information. There was no real integration. So that was kind of one of the drivers for us saying: Let us find a new tool!"
- Luke Schnoebelen, Director of Professional Development at Shook, Hardy, & Bacon
Luke gives AskCody 10 out of 10
We are so lucky to have a great partnership with Shook and Luke.

Luke is so content with AskCody that he decided to create a video review on G2 explaining why he enjoys the product. Here he addresses that he would give AskCody a 10 out of 10 score and especially appreciate the people behind our solution.
You can watch his review here.
Implementing during Covid-19
Shook became an AskCody customer just as the Covid-19 pandemic was beginning to spread. As a result, they faced new challenges every day.
While the Covid-19 pandemic intensified, Shook discovered that the AskCody Platform allowed them to make changes and adjustments easily, even as the situation continued to evolve. The Platform's ability to quickly adapt to changes in conference room usage was particularly valuable to Shook, as they needed to update their conference room presence to accommodate the new remote courtroom setting.
Hear the experiences Shook made during Covid from a webinar held/hosted by us.
During implementation Shook redesigned their main conference room floor because of the new needs brought up by the pandemic. The conference room now functions as an integral part of a court setting, and it is crucial to perform well in that context. Being able to book and make necessary arrangements for the conference room quickly and easily was essential for Shook.
The benefits of AskCody
With AskCody, Shook met their most important criteria: getting a meeting management system integrated natively into Microsoft 365 and Outlook.
The Platform simplified the booking process and put the power back in the hands of the users. All necessary booking requirements are today managed in Outlook, allowing catering, audio/visual, and facility teams to be informed on the meeting's requirements. This gave Shook visibility into all available resources and helped reduce bottlenecks.
To let Luke explain it:
"AskCody simplifies the booking process.

It gave the power back to the user rather than a "wait and see scenario": "Oh, that room is not open" or, "Hey, our Senior Executive Partner needs this room, so you got to move because her client is critical for the business." AskCody gave us visibility into all the available resources, and that's great.

That was at the core of what we needed."
- Luke Schnoebelen, Director of Professional Development at Shook, Hardy, & Bacon
A main driver for Shook was to ease the process of managing meetings for everyone. With an intuitive Platform, AskCody has allowed legal administrative assistants and attorneys alike to make quick decisions and book conference rooms and services by themselves. This change freed up valuable time for employees to focus on client work.
AskCody's intuitive design was a significant factor in its success at Shook. With many employees having been with the company for years, changes can be hard to implement. However, the ease of use meant that changes were readily accepted.
How we became 'we'
Shook and AskCody have established a partnership that began when Luke met a group of AskCody representatives at the ILTA conference in 2018. Shook has had discussions with other companies but found that AskCody provided a very personalized experience that addressed their needs, rather than just trying to make a sale. This positive experience has continued even after the sale, with phenomenal support.
At the conference, we got a dialogue and a demo on how the platform could work in our specific environment. It was much more dialogue about our processes and our environment than a product presentation."
- Luke Schnoebelen, Director of Professional Development, Shook, Hardy, & Bacon
The partnership between Shook and AskCody comes to fluidity in a couple of ways.
We have heard from Shook that they appreciate our project team has prioritized them and helped to bring in more senior technical people (even if it's just to answer one question) because it has kept momentum to move the project along on time.
Our project manager has facilitated open discussions and provided examples of how other companies have successfully implemented the platform. We also helped connect Shook with other organizations using AskCody within the legal field to help inspire and guide on how to manage meetings in the Platform.
We heard from Luke, that he appreciated our flexibility and open approach to setting up options that best suit Shook's needs, rather than dictating a single approach. The implementation of the AskCody platform was completed in a few days, with Shook testing the platform for several weeks afterward to ensure that it could handle all possible scenarios.
This is what Luke said:
"AskCody makes themselves available to us. With people all over the United States and across the globe, it can be a hassle to be met with "Sorry, but I'm busy" or "I have ten other calls today." But that is not the case with our AskCody project manager. She makes herself available, and everyone at AskCody is made available. The more senior technical people have been in some of our meetings as well. Even though they don't need to be, they might be there to answer one question. And that's nice to have because you can get many questions answered quickly. You then know what to expect, and you keep the project moving along and on time."
- Luke Schnoebelen, Director of Professional Development at Shook, Hardy, & Bacon
A partner solution
Shook was attracted to AskCody because the initial interactions were not just a typical sales pitch. Instead, the conversation revolved around understanding Shook's needs and how AskCody could work specifically for their environment.
Shook had already done the groundwork of identifying their needs for a new room reservation solution and had consulted with their leadership and IT department. The timing was perfect for AskCody to demonstrate how their platform could meet Shook's specific requirements.
During the meeting between Shook and AskCody, representatives from various locations and departments participated. AskCody was able to address all the scenarios presented to them without the need for expensive customizations or add-ons, thanks to their tight integration with Microsoft platforms.
Conclusion
Shook faced the challenge that their previous meeting management tool lacked integration with Microsoft Outlook, flexibility, and the ability to improve space utilization.
The AskCody Platform solved these challenges by integrating closely with Microsoft 365 allowing employees to book conference rooms and services inside the familiar interface of Outlook. Furthermore, AskCody gave Shook improved visibility into all available rooms and meeting processes, reducing bottlenecks, and freeing up valuable time for employees to focus on client work.
The partnership between AskCody and Shook became a success because the project manager invested time and resources to understand and address Shook's specific needs. And the Platform was tightly integrated with Microsoft giving power back to the users to book resources themself. As a result, AskCody has earned glowing reviews from satisfied users.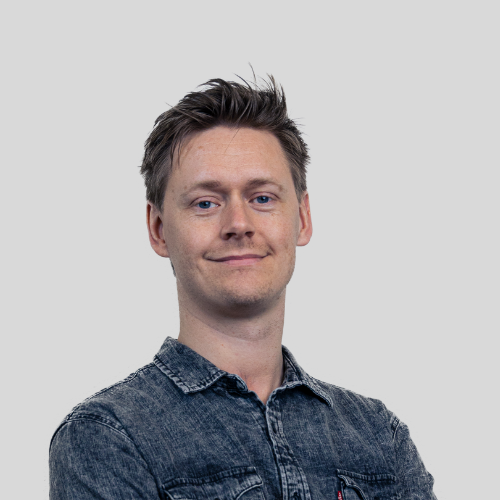 Steffen Mørch
CSO and Co-Founder, AskCody. Steffen helps organizations improve their meeting procedures towards scalable and cloud-based solutions.