Meetings are a necessary part of a business. You meet to share ideas, make progress, gain results, move forward, collaborate, learn, improve, and grow. This is the reason people end up in a ton of meetings every week.
But scheduling and executing meetings can be a minefield filled with anarchy - just ask your poor receptionist or office manager. Statistics shows us that 40 percent of workers in large organizations waste up to 30 minutes a day searching for spaces to collaborate. Likewise, business professionals spend 4.75 hours of a typical workweek arranging an average of 15 meetings per week. But why is managing meetings such a problem? We will introduce to you how a meeting management system can solve the biggest pains/problems with meeting management.
Avoid meeting interruptions with meeting confirmation
People forget to look at the calendar. They see that a room is empty, so they assume it is free and once inside, it can be difficult for anyone else to figure out who booked the room, and when they are done without interrupting the meeting. This scenario could easily happen when booking recurring meetings in Outlook, as the system often allows for another party to book the room at the same time, which can create a huge headache for both groups. There are ways to avoid double booking in Microsoft but Meeting management software created specifically to work with Outlook and Microsoft 365 can solve the dreaded double book without limiting functionality or reducing efficiency.
To add additional visibility and limit the risks of meeting interruptions many companies choose to install meeting room displays outside their meeting room, so you can enhance room utilization with meeting confirmation. You simply tap the screen to confirm that the room belongs to you. If the meeting finishes early, end it with one tap and the room is released and free for others to use. If no confirmation is received within a set window by default 15 min before and after the meeting is started, the room is released for others to use, allowing new users to book directly from the screen or from their mail client. That will fix the problems with meeting interruptions. They are not only annoying. They kill productivity and waste time.
Video about AskCody room displays
Avoid confusion and get an overview of your workplace
What goes on in the building and where? Where should the normal user or facility manager get an overview? Office/facility managers need to know what goes on in the building and when. A big problem is often miscommunication and a lack of overview which results in a lot of wasted time. Office managers need to be enabled to make quick decisions to make sure the workspace preforms as planned and to be given the tools to retrieve data about office utilization.
One way to ensure you can stay in control is with a meeting management portal. It makes it possible to have a live overview of the activities inside the organization through a single tool. It provides meeting owners and office managers with real-time data, enabling better data-driven decision-making on the fly. It further allows you to understand how bookable resources are being utilized in your organization.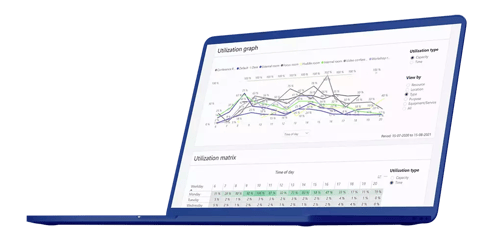 AskCody Workplace Insights
Another way to ensure everyone has an overview of what is happening and when, is by providing an overview of all meeting related activities on dashboards. Meeting Dashboards provides everyone with one complete overview of the day's meeting activities and improves your meeting room efficiency instantly.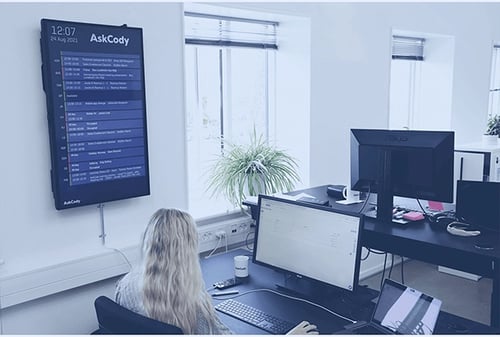 AskCody Meeting dashboard
Meeting arrangement can really be a struggle, but you do not want to miss them — thus the main feature of meeting room booking systems is meeting coordination. This includes providing schedules for meeting participants and showing available rooms. As a user you will always have meeting and service information available in your familiar environment of Microsoft 365 with AskCody. No need for external third-party applications.
Avoid struggling with adoption and stay in Outlook
Some people have an easier time accepting changes while others repel it. For the latter group it can be very difficult to convince them that change is for the good of business growth and overall success. But coming face to face with major adjustments are scary for some, so why not make sure that your adoption of meeting management is only a minor change? Your solution will never generate the return of investment that your organization hoped for if you do not make sure your meeting management software is properly adopted.
Adoption is less complicated if you make sure to include something that is familiar and simple to learn. If you can make sure everyone can stay inside their familiar Microsoft Outlook when booking a meeting and everything to go with it in the same booking your bookers and office administrators will be grateful. Too many tools is a struggle for everyone so why not keep the whole booking experience inside the already familiar interface of Outlook?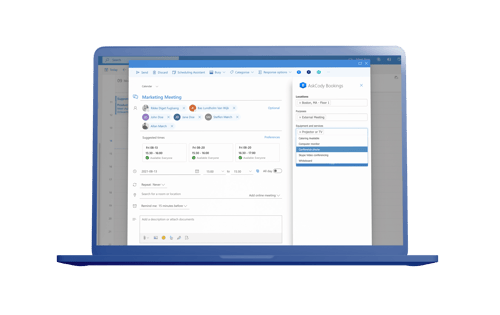 Staying in the same tool also makes it much easier to create training material for all employees. In that way Meeting management is just your scheduling experience taken to the next level. As Outlook does not provide you with overview of resource metrics and monitoring you can easily also explain who the current booking in Outlook is not enough.
Or as Luke Schnoebelen, Manager of Learning and Development at Shook says about AskCody:
"We needed something that we can turn on and where we can say: "Here's this new thing and everybody is now moving from the old system, but don't worry because AskCody is very easy to use, because it is placed directly in your Outlook."
Avoid that your tickets skyrocket and go for reliability
Nothing is more annoying than picking a solution, roll it out and then. It does not work. Downtime is more than expected and support is unreliable. Just think about how that affects your IT department.
With AskCody you are ensured a reliable SaaS provider, and you do not have to always be afraid of breaking something when updating. AskCody's Cloud provider Microsoft Azure guarantee at lease 99.9% availability, and so does AskCody for its Premium support customers. With on-prem solutions many are afraid to upgrade, and it becomes a roadblock to stay up to date with newest features and editions. While, many companies are still moving from on-prem to cloud, AskCody does support the hybrid solution. However, because everything can be moved to Cloud, maintenance will be nice and quick. The uptime of the platform can also always be closely monitored by customer on the status page.
Booking and managing meetings really should not be very hard.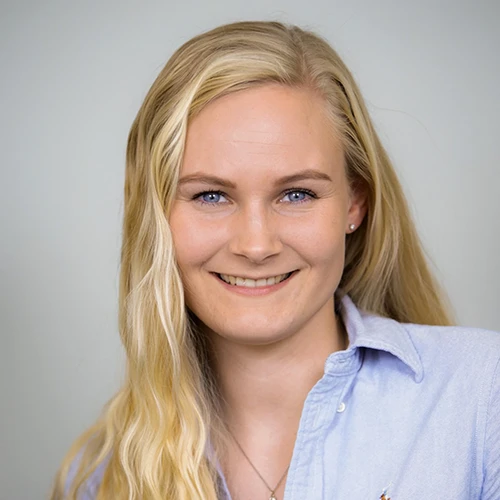 Rikke Diget Fuglsang
Content and Communications Lead, AskCody. Rikke creates content that informs organizations about the latest workplace trends and behavior.