At their best, meetings can help your company progress, learn, grow, and collaborate better. At their worst, they are an inefficient waste of time and a drain on company resources. So how can you make sure meeting culture veers towards the more positive possibilities while side-stepping the all-too-common pitfalls? The solution to better meetings can change depending on the size, culture, and type of company in question, but there are some simple ways to figure out what your company needs to move forward with meetings. Here are some tips to get conference room management under control.
Conference room management - what do you need to succeed?
If you are looking to improve the culture around meetings in your office, a good place to start is to take a look at what resources are currently available, and how they are used on a daily basis. There are a number of ways to do this. To gain more control of your conference rooms try have a look at.
Budget for your meetings
Whether you are moving to a new office space or just refreshing an existing one, budget is always the main consideration when making any major changes. Pinning down your budget first and foremost focuses and clarifies the scope of a project. Focus on the most needs you have for conference room management within your budget.
Available space
The next thing to consider after the budget is the physical space you have to work with. Square footage, office layout, and placement of existing offices and meeting rooms can have a big impact on how you accomplish your goals. If you are working with a small space, multi-functional rooms, and features like collapsible walls may transform how your offices use meeting space. A large, open layout may instead use furniture placement and informal barriers like screens, plants, and corners to create functional workspaces and give more privacy.
Utilize meeting room analytics
Conference room analytics are an integral part of a meeting room overhaul process. Meeting management software can track occupancy, time score, utilization rates, as well as preferred meeting room type. Gathering this kind of data can help you hone in on any issues you are having with meeting room usage, as well as help you figure out what gaps need to be filled. It can also help you determine what kinds of meetings are taking place most frequently. Meeting room analytics is often overlooked but should be an integral part of your conference room management setup.
Engage employees
Another way to gather data about what your office needs is to turn to your fellow employees. Reworking your meeting rooms is a great opportunity to engage the staff, and as office manager, you are uniquely well-positioned to collect employee input and organize participation. Even something as simple as a survey or an office-wide competition to name new conference rooms can get everyone to buy into new processes and conference room management procedures.
The kinds of meetings to plan for
Once you have determined your budget, scope, and wish-list, the next step is to consider the kinds of meetings taking place in your office, and what each one requires. There are many meeting purposes but here we have outlined six very common types of meetings:
Status update meetings
Information Sharing Meetings
Decision-Making Meetings
Problem-Solving Meetings
Innovation Meetings
Team Building Meetings
Each of these meetings has different objectives and requires a different setting and meeting room setup. By thinking specifically about the types of meetings happening in your office, you can identify not just meeting space needs, but technology, time, and personnel needs as well. Rather than have employees fight for a few scarce resources, providing a variety of meeting rooms and collaborative spaces ensures that everything from high-profile client meetings to brainstorming sessions has a place. Here are some things you might want to consider:
Phone booths
As open floor plans grow in popularity and more and more employees work with remote teammates, privacy for phone calls has become both increasingly necessary and increasingly scarce in the modern office. Small, single-person phone booths can provide a much-needed sanctuary for phone calls and avoid conference rooms being booked for one person.

Huddle rooms and collaborative spaces
Casual spaces equipped with whiteboards and makers, often in open space, can open up meeting room space as well. These kinds of spaces can serve a multitude of functions and usually, work on a first-come-first-served basis. Areas designated specifically for impromptu sessions can also encourage a more collaborative atmosphere and help get employees up and away from their desks.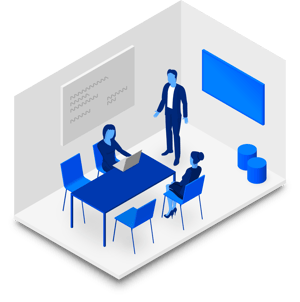 A place to hang out
Creating spaces for social interaction is crucial for fostering employee productivity and overall well-being in the workplace. In addition to providing amenities like coffee and strong Wi-Fi, companies should consider incorporating lounge spaces, open café areas, or well-equipped kitchens into their office design. These spaces serve as inviting environments where employees can unwind, take a break from their work, and connect with their colleagues.
Lounge spaces can be designed with comfortable seating, cozy lighting, and relaxed ambiance, offering a welcoming atmosphere for staff to relax and recharge. Open café areas provide a communal space for employees to grab a quick snack or enjoy a cup of coffee. These areas can be designed with comfortable seating arrangements, allowing individuals to have impromptu discussions or informal meetings. A well-equipped kitchen can also serve as a social hub within the office.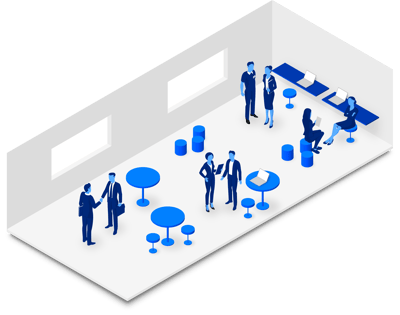 A space for presentations
This kind of space is typically used for information-sharing meetings: keynotes, lectures, seminars, staff-wide meetings, etc. Having a large space where all or most of your staff can get together can be a vital resource for professional development, team building, and potential income by renting it out to community groups and small businesses. Larger meeting rooms like this should be equipped with a projector and screen, video conferencing ability, and stackable chairs.
These larger meeting rooms serve as a versatile space for various types of gatherings, allowing for effective communication and collaboration among employees.
Investing in larger meeting rooms with the necessary equipment and seating arrangements is essential for facilitating effective information-sharing meetings. This space provides a platform for employees to learn, share ideas, and connect with one another, fostering professional growth and team cohesion.
Videoconferencing ability
Having up-to-date video conferencing technology in all of your conference rooms is no longer a luxury but a necessity. In today's fast-paced business environment, a bad connection or missing equipment can significantly slow down a meeting and hamper productivity. Investing in good technology is the game-changer you need to take your conference room management to the next level.
Reliable video conferencing technology eliminates the need for unnecessary travel, reducing expenses and minimizing the environmental impact of your business operations. Whether it's conducting virtual team meetings, hosting webinars, or delivering presentations to a global audience, video conferencing enables you to connect and collaborate effortlessly.
To ensure that your conference rooms are equipped with the right video conferencing technology, consider factors such as video and audio quality, ease of use, compatibility with existing systems, and scalability.

Control conference rooms with meeting management software
There are many ways to improve the efficiency of meetings. One way is getting a Meeting Management Software Platform. This technology is often a significant financial investment for a company, it is important to be clear on data and unique needs of your office in order to choose the right meeting management software. Here are the major things to consider:
Essential features for your conference room system
The essential features will depend on how your company uses meeting rooms, but a good meeting room management software should have features that allow all users to view, find and book conference rooms effectively. On top of room booking, you might add meeting services functionality to easily requests service orders like IT equipment or catering. Many organization also choose to add Visitor Management functionality to easily register guests. This gives visitors a white-glove experience when visiting your facilities. Software that enables employees to order catering or book tech equipment in advance through the same interface is also a major plus.
High user adoption
When selecting meeting management software, the user interface is a crucial aspect to consider. A user-friendly interface that seamlessly integrates with your existing systems is essential for a smooth and efficient experience. It should be intuitive and easy to navigate, ensuring that employees can quickly adapt to the software without any major hurdles.
A well-designed user interface not only enhances the user experience but also improves productivity and efficiency. When employees find the software easy to use and navigate, they are more likely to embrace it and fully utilize its features. This, in turn, leads to better utilization of conference rooms, streamlined booking processes, and improved overall conference room management.
In addition, a user-friendly interface reduces the learning curve for new employees, allowing them to quickly adapt to the software and start utilizing it effectively. This saves time and resources that would otherwise be spent on extensive training sessions or support.
Integration with current tech
Having a system that integrates seamlessly with your existing technology is a must. Being able to book rooms, send meeting invites, or join a Skype call through a familiar interface like Outlook makes planning ahead for a meeting a one-stop shop. Not only does it make for a much smoother roll-out, but it also simplifies onboarding and increases efficiency long term.
Data and analytics
To get the most out of your meeting management software you need access to data and analytics. While shifting and expanding your existing meeting space is a great place to start, meeting room management is an ongoing process, especially if it involves a culture change. Software on the market today can give you insights into metrics like meeting types, occupancy, no-shows and ghost meetings, duration, attendees, and more.
Having the right spaces, technology, and resources available to your staff, as well as choosing the right meeting management software upgrade, are vital components to a functional and collaborative workspace. Although taking on changes in the physical and cultural space around meetings in your office can feel like a tall order, taking stronger control over meeting rooms and resources can have a lasting impact on productivity and efficiency.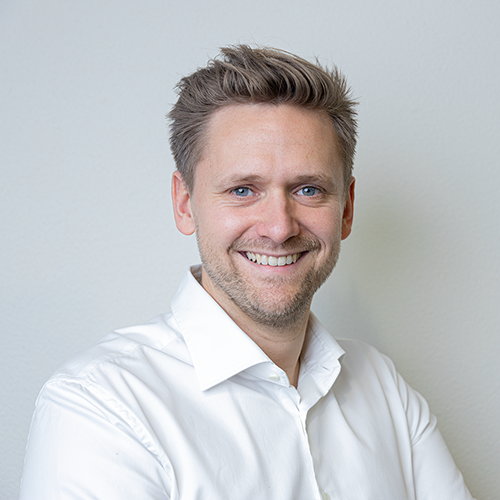 Allan Mørch
CEO & Founder, AskCody. Empowers organizations worldwide in creating better workplace experiences using AskCody.