If you have spent resources (time and money) on the right meeting management software tool for your organization, you would want your employees to adopt the new system. If your solution is not taken into use by employees, it will never generate the return of investment that your organization hoped for. Read our 4 tips to better adoption of meeting management software.
If you want your money's worth change management and user adoption is a vital part of implementing meeting management solutions. Thus, we have outlined 4 steps to help you create better user adoption.
This article is based on the webinar:
Hosted by:
Cecilie, Solution Enablement Specialist

Want to watch this or other webinars on-demand?
Step 1: Go from centralized to decentralized
Creating a meeting is followed by an extensive list of tasks, which can be time-consuming for every meeting stakeholder in your organization. To visualize just how time-consuming, we suggest that you try and map out the activities associated with creating meetings.
Examples of meeting activities could be:
Contacting visitors. Establishing time and date
Checking with Facility for available rooms on the date
Ordering catering from the canteen
Calling the reception to let them know about arriving visitors
Fixing in-room equipment if broken
Letting finance know about the spending during the meeting
Meeting stakeholders could include:
Office Managers, Facilities Managers, Space manager, Concierge Services, Receptionists, Kitchen Staff, Service Providers, IT, Finance, etc.
Many of our customers become aware of, just how complex creating a meeting is when executed in a centralized way. In most organizations, you have multiple touchpoints with facility managers, receptionists, catering, finance, or hospitality teams.
It takes approximately 15-20 minutes to coordinate meetings with external visitors and catering, when done in a centralized way – excluding the time it takes to re-arrange if the meeting is moved or canceled.
That is a lot of time if you think about how many meetings are executed in your organization daily. Your solution? Decentralize meetings. This means instead of each person having to contact the canteen, reception, finance, facility, service etc. they can book directly from their own system. Let every employee book meetings, order catering, and handle visitor management from their own Outlook calendar. This is a crucial step towards better meeting management. You can set up your own organizational restriction for employees to follow.
Switch from centralized and manual meeting processes into automated workflows and save time for every meeting.
Step 2: Be aware of different adoption types
When you have successfully communicated the meeting management transition, it is valuable to segment your employees into different adoption types with varying strategies. We suggest you take inspiration from the book Crossing the Chasm by Geoffrey A. More.
In his model, employees are placed into five different adoption types: Innovators, early adopters, early majority, late majority, and laggards.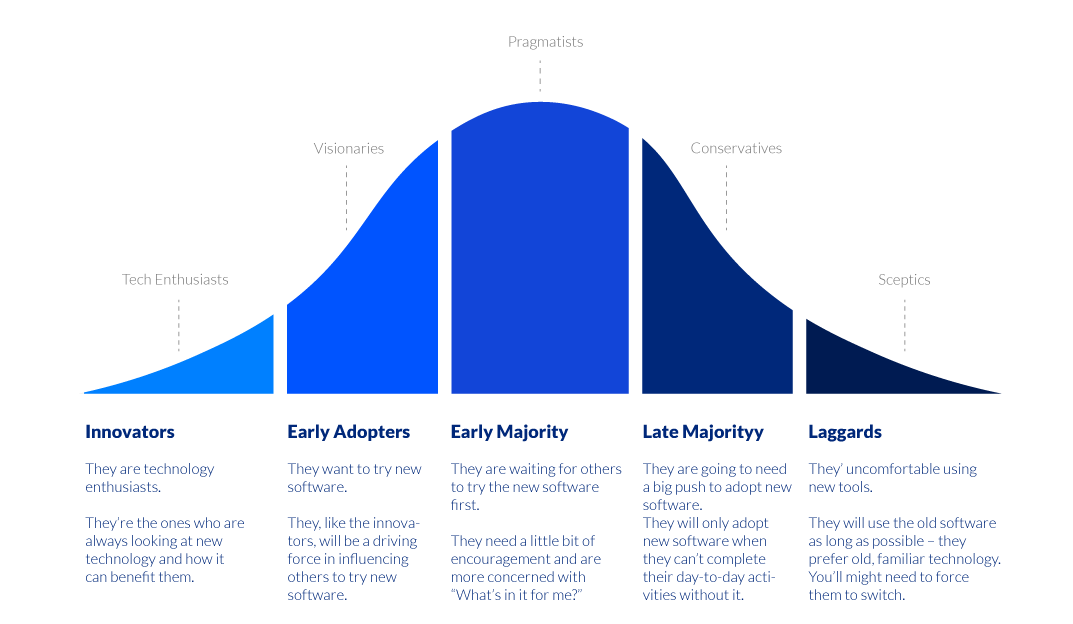 How to approach the different adoption types
It is important to understand these different adoption types because they play a significant role when creating an adoption program that works.
Firstly, it is important to quickly approach and get the innovators + early adopters on board with the new system, because they are a crucial part of enabling the majority of users. If you don't have many innovators in your organization, you shouldn't worry. You can still be successful in implementing software. However, it will probably take a bit more time and effort before the transition happens.
Prepare for end-user training and adoption.
Step 3: Follow the 5 tips for meeting management adoption
We have gathered 5 tips for meeting management based on our experiences from customers when adopting users. 5 tips to adopt the AskCody platform.
Start early – adoption takes time, and the most common mistake is that organizations start the adoption process too late
Identify key users – take time to identify your innovators and early adopters (step 2). Your key users should help you implement and adopt the software
Communication – You need to communicate, but also listen to your employees. Involve them in the process in a way, where they feel heard and understood
Let them know why – Make the reason behind the change clear and focus on the: "What is in it for me?" aspect
Product training – Keep the training relevant, engaging, and accessible
Step 4: Create content for adoption and training
When you are adopting changes in larger organizations, you should create relevant content pieces for training and adoption. Online videos are easy to distribute and e.g. screencasting does not take a lot of effort to create.
At AskCody we have free available adoption and training material for our clients.
This article was based on the webinar "How to adopt AskCody Add-ins". If you want to watch the webinar or any of our other webinars, press here: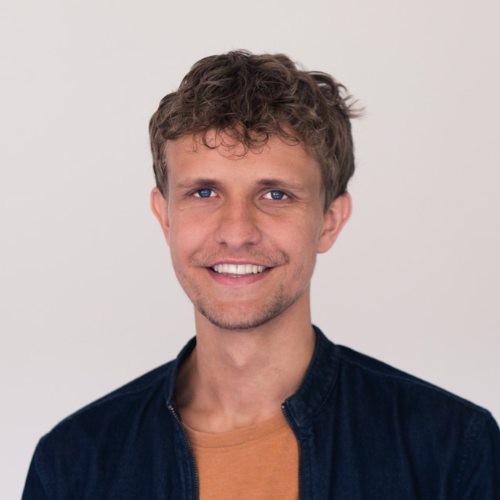 Andreas Sjelborg Rahbek
Product Marketing Specialist, AskCody. Andreas shares news about AskCody product improvements and features.