What are employees' expectations and preferences, and what to consider as employers plan to return to the office?
With the global pandemic forcing countries to lockdown and companies to enforce work from home policies, companies realize that the way we work will drastically change long term. The corporate mindset was already shifting, but the pandemic has hastened the realization that work is not somewhere we go but something we do. The crisis accelerates the transformation of work at an incredible pace toward a hybrid work ecosystem, shifting expectations of a liquid workforce who want to continue working from home regularly post-crisis.
Furthermore, the pandemic has accelerated the office's natural evolution away from a productivity space to something else — both a learning space and a space to solve complex problems. As a result, we are at an inflection point where companies are figuring out how to adapt their operating models to the "new normal" and enable their workforce and the workplace to foster collaboration, innovation, productivity, and employee health safety in a post-pandemic world.
What Working Environments Do Employees Prefer?
But what are employees' expectations and preferences for the workplace and how to carry out work as the roll-out of vaccines globally is happening, and companies can start to generate the back-to-office plan?
In recent research by one of the leading American commercial real estate services companies, JLL, they analyzed employee sentiments of more than 2.000 office workers across ten countries about workforce preferences after COVID-19. The research showed that hybrid work is becoming the new normal and now the preferred way of working. Employees prefer remote work to double from 1.2 days pre-pandemic to 2.4 days post-pandemic, and 26% of employees prefer to work exclusively outside of the office.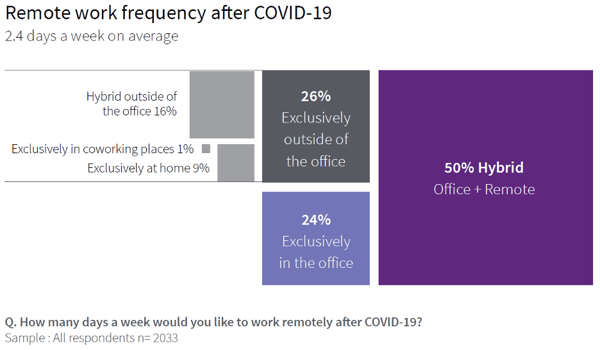 Source: JLL
Work from Home Is Not the Complete Solution
Work from home is not the panacea for satisfying all operational needs and workstyles. 3 out of 4 employees still want the ability to come into an office, and 70% of employees find that the office environment is more conducive to solve work-related issues, collaborate and run meetings, and manage or be supported by management. Hence, the office's new purpose has emerged, and the office is evolving into a destination for in depth-collaboration, problem-solving, and career development.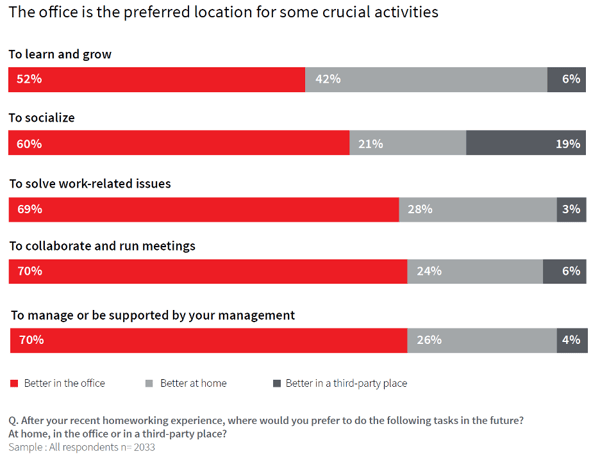 Source: JLL
There is also a need for new spaces dedicated to focused individual work. With tomorrow's workspaces becoming social hubs, they will also have to accommodate hybrid working patterns and remote collaboration by offering private spaces and technologies to support meetings with colleagues working remotely.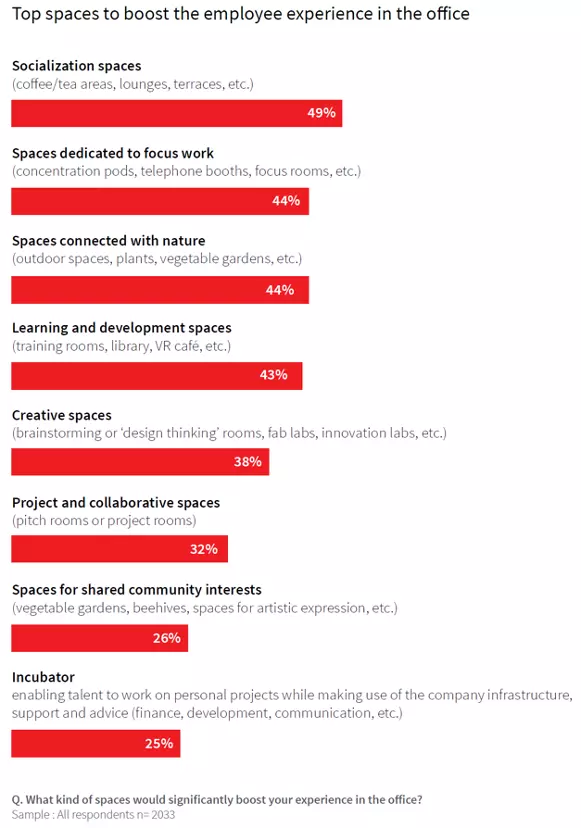 Source: JLL
Space as a Service Will Thrive
To cope with changing employee preferences in a post-pandemic office and world, companies need to rethink space allocation in-depth and promote "Space as a Service" workplace models. To meet new workforce expectations, employers will have to accelerate the switch from providing spaces to support individual work to offer various on-demand areas dedicated to collective needs. Employees are conscious that a 'new deal' needs to be sealed with their employers: more freedom and choice, and more remote work and diversity in the office in exchange for their individual desk. Today this is becoming a fair and rewarding agreement. 67% of employees would be prepared to switch to a hot-desk environment in exchange for a broader diversity of office spaces and increased access to work-from-home. This trend is even stronger among managers (77%) and young professionals (75%).

Source: JLL
Hybrid Solutions That Connect the Physical and the Virtual Office
The insights from JLL's research reveal growing complexity in the workplace with the need for various on-demand spaces to support different workstyles and boost employee experience in the office. The workspace of the future demands growing connectivity between physical and digital environments. Employers must reimagine the dynamic between the physical and virtual workplaces to meet employees' needs and foster easy and efficient collaboration. Thus, human-centric technology will be a key enabler of new working models. Models that will impact companies' ability to attract and retain top talent, collaborate, innovate, and get the most out of companies' most essential and most expensive assets, employees, and real estate.
What are key things to consider as employers are planning a safe and productive return to the office?
As the research in this article revealed, the office location is still the employees' preferred location for crucial activities such as running meetings, collaborating, and managing or supporting or supporting management. Furthermore, employees are "demanding" additional workplace spaces for focus work, learning and development, pitch, and project work to boost the office's employee experience. Combining this with limited capacity in coworking spaces due to social distancing needs demands efficient booking and management of the available collaboration spaces. Therefore, a meeting management and resource scheduling solution that allows companies to manage and book collaboration spaces smoothly will be critical.

The need for structured self-service will rise across many functions since we cannot limit ourselves to rely on the "office team" in the workplace. Consequently, companies need to make sure meeting space management is not dependent on a few individuals in the organization but on a system that is easy to access and available for everyone.

Hot desking with flexible seating is not sought for anymore due to the risk of infection. Desk hoteling and structured desk booking with full transparency and traceability will be wanted and required for flexible workplaces.

Companies must consider taking a cloud-first, people-first approach to solving workplace challenges as we advance. These considerations mean choosing cloud-based solutions that support a mobile and fragmented workforce with the most user-friendly end-user experience to ensure easy and frictionless adoption in the organization.
In this recent blog post, we have shared additional tips for desk and meeting room booking.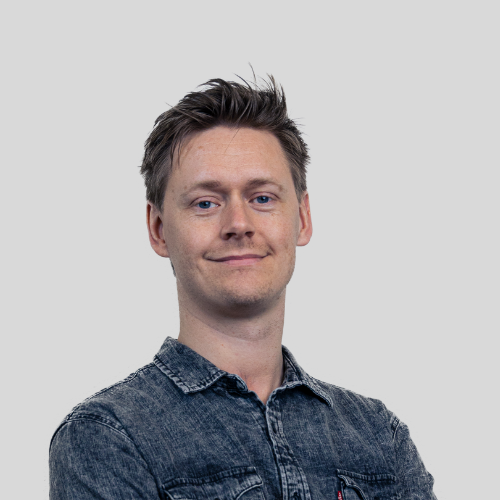 Steffen Mørch
CSO and Co-Founder, AskCody. Steffen helps organizations improve their meeting management process towards scalable and cloud-based solutions. He focuses on developing AskCody's commercial activities globally. And has knowledge of supply chain management, business development, and sales planning.