As a CIO, CTO, or an IT project manager, balancing your company's immediate needs with its long-term growth is paramount to success. But it is also one of your business's most significant challenges. Complicated questions arise, such as whether you should invest aggressively in long-term initiatives or take a less expensive and more conservative approach.
The dilemma of "build vs. buy software"
A standard piece of this puzzle is the "build versus buy" question that many companies face when addressing their software needs. Does a cloud-based solution address your company's unique needs, or do you need a customized solution designed for your organization?
We often see IT decision-makers wrestle with this choice in finding a solution for managing their workplace. A solution that takes care of meeting room bookings or understands workplace utilization. They consider the pros and cons as they attempt to determine which route is most cost-effective and presents the best solution for the business. It is difficult to estimate the long-term consequences of this decision, leaving employees struggling to deal with the original choices.
Technological innovation is accelerating exponentially, making it difficult for the internal IT group to cope with this pace of constant change. Just look at the velocity of new features launched in, e.g., Microsoft Azure, Microsoft 365, and the different Microsoft APIs. All that is used to connect everything into a solution that meets the needs. Companies who choose the road of customized software creation must also maintain and upgrade it indefinitely in the future. This constant upgrading cycle can lead to a considerable drain into internal resources.
Despite all of this, building the software yourself has frequently won out in this past debate. Still, with the introduction of standardized software as a service solution, the tables have turned. Even global enterprises that have historically invested millions of dollars in internal IT projects migrate to SaaS applications for many types of IT operations.
Should you build or buy meeting management software?
The fact is that meeting room booking needs do not differ dramatically between companies. This is important to remember when establishing a successful meeting management project. Employees' needs almost always include:
finding an available time slot
finding a room that fits their needs
inviting guests and booking them in
We often have the feeling that large organizations consider building their meeting management system project to meet specific criteria are doing so out of habit. That is understandable but not always wise. So, why try to build your own solution, when meeting management specialists have already spent innumerable hours refining, optimizing, and perfecting?
When deciding to buy SaaS or build your own software,
you must consider three key points:
What is the scope of the problem you are addressing, and how complex does your solution need to be?
Do your organization currently have (or can you hire) experts capable of building, maintaining, and supporting the solution? Not only now, but also as you advance?
Is using the software critical to your business operations and mission?
Our best assumption is that you will come to the same conclusion after considering these three questions: No, you shouldn't build your own solution. Instead, it is much wiser to invest in a standardized Software as a Service (SaaS) solution. By doing so, you can avoid the struggle of finding the necessary resources to develop your own in-house, disconnected, and disjointed solution.
When it comes to meeting management software, it is crucial to consider the long-term implications of your decision. Building your own solution may seem like a viable option at first, but it often leads to additional costs, maintenance headaches, and compatibility issues. On the other hand, opting for a standardized SaaS solution offers numerous benefits that can greatly enhance your meeting management experience.
Here is 5 reasons why you should buy a meeting management solution for the Microsoft 365 environment
1. You value managed service solutions
There is great value in moving away from running Exchange and other critical solutions on-premise in your environment and migrating into the cloud. Using a managed service solution, such as AskCody, to meet meeting management system project needs, will be consistent with your decision to move away from on-premise restrictions.
Perhaps you have already moved to Microsoft 365 or Azure AD and are using other cloud services to optimize the time spent on essential things. Continue down that road with a meeting management solution that works seamlessly together with the rest of your cloud solutions.
2. You have a limited budget
Building your own custom software can be a costly endeavor for businesses, and this is often the first deterrent for choosing this option. In contrast, SaaS solutions are typically more affordable and can be a financially sound choice, particularly for companies operating on a smaller budget. When considering the lifetime of a solution, it's crucial to factor in the ongoing maintenance and compatibility costs, which can significantly increase the overall expenses of a custom-built software.
By opting for a SaaS solution, businesses can benefit from predictable and manageable costs. These solutions often offer subscription-based pricing models, allowing companies to pay for the services they require without incurring additional expenses for maintenance, upgrades, or compatibility issues. This cost structure provides businesses with greater flexibility and control over their budget, ensuring that they can allocate resources to other critical areas of their operations.
3. Avoid wasting resources on maintenance of your home-built solution
Your team has invested meaningful hours in coding the SharePoint solution, a web-based portal, or even a mobile app. The completed specification was probably state-of-the-art at the time. Now, when your team is using 11 different versions of an Android device, not so much.
There will always be regular updates and maintenance required any time changes occur to your network. Or one of your users has an issue when looking to the future. Your team will have to step away from real, mission-critical tasks and to update your home-built solution. Even more complications and frustrations arise when those responsible for that solution switch positions or leave the company.
4. You have a lack of technical proficiency and time
If you do not have a software team with the skills to build this custom software, it is wise to pass on the opportunity. At least until you do have such a team in place. If you cannot keep your software developers accountable for such a project, it will be impossible to create a state-of-the-art product.
Building proprietary software takes a great deal of time to complete successfully. Businesses that do not have the time or resources available should not immediately pursue it. We have seen this end with disastrous results.
5. AskCody's Outlook Add-In eliminates the disjointed experience of home-built or third-party solutions
AskCody's complete meeting management add-in would provide full room finding capabilities for end-users directly within Outlook and Microsoft 365. The experience is seamless. This stands in opposition to end-users forced to navigate to a third-party solution outside of their mailbox every time they book a meeting. Forget about thinking about updates, maintenance, or compatibility ever again.
Conclusion: Choose SaaS - and AskCody!
When it comes to the decision of "Build versus Buy," we at AskCody firmly believe that it shouldn't be a decision at all. With our expertise in meeting management systems, we have perfected the process and have carefully considered the needs of your employees.
By choosing AskCody, you can trust us to handle all aspects of meeting management, ensuring that every day is a great day for meetings. We have already anticipated the challenges and complexities that arise in managing meeting room bookings and workplace utilization. Our solution is designed to seamlessly integrate with your Microsoft 365 environment, providing a cohesive and efficient experience for your employees.
So, why spend time and resources on building your own solution when AskCody offers a comprehensive and reliable meeting management system? Trust in our expertise and let us handle the complexities of meeting management, so you can focus on what matters most – the success of your business. With AskCody, every day will be a great day for meetings.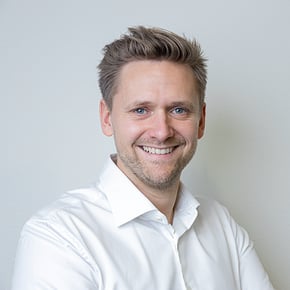 Allan Mørch
CEO & Founder, AskCody. Empowers organizations worldwide in creating better workplace experiences using AskCody.