Meetings are taking over our workday. A recent study found that most workers attend around of 62 meetings every month — which is an average of 3.1 meetings a day. At the end of the month, we spend an average of 31 hours in unproductive meetings. It is a waste of time and money. In fact, U.S. businesses waste a total of $37 billion annually for unproductive or unnecessary meetings.
What could workers do with an extra 31 hours of time a month? How much could you grow your company with just a sliver of the $37 billion spent on unproductive meetings? Discover how to win back the lost hours, and improve time-management and productivity with effective corporate meeting management programs and software.
In addition to the actual time wasted in meetings, the average worker wastes around 4 hours and 15 minutes planning for meetings a week.
Do you need corporate meeting management program software?
It already feels like there are not enough hours in the day. Quite frankly, it does not make sense to waste hours planning and sitting in meetings when you could be focusing on work. Luckily, there is a solution to all these wasted resources — and it starts with revamping your meeting culture to focus on the quality of meetings instead of quantity.
Here is how to make planning more effective and reduce unnecessary meetings across the board:
Ask "Do I really need to hold this meeting?" Use the flowchart below from the Harvard Business Review to reduce meetings. Fewer meetings = more productive work time.
Use corporate meeting management programs for planning: Meeting management and visitor management software can streamline and even automate the planning and visitor sign-in. This can save you hours every week — and ensure your business makes the most of current resources.
Create an agenda: Every meeting should have a plan, including the purpose of the meeting, priorities, and an ideal outcome.
Follow up: Immediately after the meeting, assign tasks to ensure actions are taken based on decisions made in the meeting.
Meeting management software is just one step in reducing the amount of time we waste on meetings. But, implementation can feel overwhelming — how do you prepare for the shift? How will it impact your current workflow? What documentation will you need to change? Will anyone even use it?
Here is what you need to know to take back hours of your workweek with corporate meeting management program.
6 tips to implement corporate meeting management programs
Meeting management software reduces frustration by helping planners locate and reserve meeting rooms, sending out reminders and directions, reserving equipment, and handling associated service requests. Depending on the software you choose, your tool might offer additional tools like agenda creators, task management, visitor management, meeting displays, and the ability to add catering orders. Does this sound like a big deal? It is — meeting management software can truly revolutionize the meeting planning process. It can also feel a bit overwhelming to find and implement the right tool company-wide.
Here is how to implement corporate meeting management programs, from start to finish:
1. List your meeting pain points
Meetings can be a double-edged sword, providing opportunities for collaboration but often accompanied by various pain points. These include ghost meetings, location challenges, equipment hassles, visitor sign-ins, cancellations, and last-minute updates. To tackle these issues effectively, it's crucial to identify and address them strategically.

One approach is to conduct a feedback survey among your employees to uncover their specific meeting-related challenges. This feedback will provide valuable insights into your organization's most common meeting pain points, allowing you to tailor solutions accordingly. By targeting the issues that matter most to your team, you can streamline your meeting management processes and enhance overall productivity and satisfaction.
2. Set your goals
What is the one thing executives want to know when implementing any new process? "What's the ROI?", right? The ROI of meeting management software is not just about dollars; it mostly about how much time you will save.
To effectively measure the ROI of meeting management software, it's crucial to establish well-defined, measurable objectives from the outset. These goals should directly align with the specific issues your organization intends to resolve. Focus on quantifying the software's potential to save time within your operations.

Consider setting targets related to time efficiency gains, adoption rates, and resource optimization. Calculate the potential time savings achieved by streamlining meeting processes. Monitor how various teams and departments embrace the software to ensure widespread adoption. Keep an eye on resource utilization, ensuring that meeting rooms, equipment, and facilities are used optimally.
Setting goals, based on the problems you know you need to solve, will give you quantifiable results to show how the software is working. Create goals based on how much time the company can save, adoption rates, and resource usage. Then, track these goals as you implement the software.
3. Review vendor options
Which platform is the right fit for your company? There are several tools on the market, and some do meeting management better than others. Here is the thing — each company has their own unique needs and pain points. Take the time to consider what you need and which solution offers the tools you need to overcome those challenges. Start by looking at a platform like G2, which aggregates reviews and features for a variety of software solutions.
As you compare visitor management software options, keep these features in mind:
Pricing: How much does it cost, including user/seat fees and additional feature costs?
Ease of use: Is it easy to use, for example, does it integrate with your current email system?
Support options: Do they offer support by phone, email, or ticket? Are they available during your business hours?
Security: Do they offer cloud-based storage and is your information secure?
Features: Does the platform offer solutions to your biggest pain points?
Reporting tools: Does it offer analytics and reporting tools to help your company prove ROI and look for other Opportunities?
4. Provide training
Once you have selected a meeting management tool that meets your needs, it is time to make sure your employees know how to use the program —- and understand all the benefits. Benefits are the key here. Employees are more likely to use a tool when they understand how it will make their jobs easier.Then, implement a training system that fits the way your company works. Some platforms may offer in-person training or online resources.
For example, AskCody offers a robust knowledge base that is searchable and features a range of how-to guides.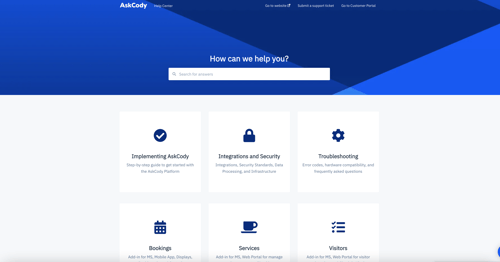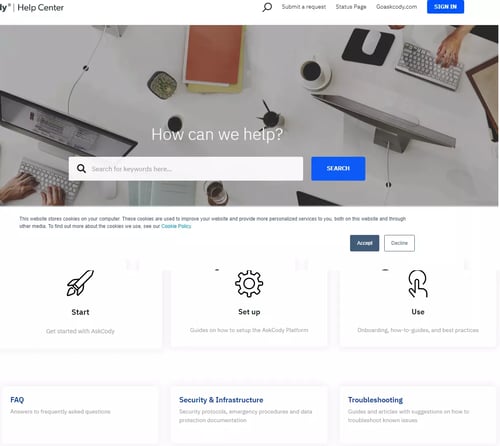 Source
It's important to recognize that employees within your organization may have varying learning preferences and needs. While some individuals thrive with self-directed training, others may prefer a more structured, classroom-style approach. When selecting a meeting management system, it's crucial to strike a balance that caters to these diverse learning styles.
By accommodating different learning styles and ensuring ease of use, you can enhance user adoption rates and overall satisfaction with the chosen system. This approach fosters a more inclusive and efficient workspace, where employees can confidently engage with the technology.
5. Implement your corporate meeting management program
Now you are ready to launch your shiny new corporate meeting management program. It's your new shiny meeting tool! But how can you make sure it goes smoothly? Here are a few tips to ensure a smooth launch.
Establish a point of contact: Have one person in charge of fielding questions and reporting any issues. (In larger companies, you may need to select a team as the point of contact.)
Provide documentation for workflow changes: Make sure employees understand what the software does and how it works with tools and processes already in use.
Make sure tracking is enabled: Workflow management tools can provide access to a wealth of information about how long meetings last, how many people attend, and much more. Make sure you are tracking that data to make reporting easier.
Document challenges: Are some employees struggling to install the software? Are there issues with your current technology? Make sure to document any challenges — even if they are easily solved.
6. Review the changes
While you hope that the meeting management software you've chosen will seamlessly integrate with your existing tools and workflows, it's essential to conduct periodic reviews to gauge its effectiveness. Think of it as creating a highlight reel for your newfound efficiency. Consider conducting reviews at one week, one month, and six months after implementation.

During these evaluations, gather feedback from users to gain insights into their experiences and any suggestions for improvement. However, don't stop there. It's equally crucial to compile concrete data on the software's impact. Measure the time saved by employees, improvements in the visitor sign-in process, and any other positive changes that have occurred.

This data serves as tangible evidence of the software's value, providing quantifiable metrics to demonstrate its impact. When year-end review time rolls around, having these numbers at your disposal will not only showcase your role in saving both time and money for the company but also strengthen your position as a valuable contributor to its success.
Final thoughts
When it comes to business, implementing a major change can feel overwhelming. But, it will not take long for the right corporate meeting management program to make your work life easier. In just a few days, you could go from dreading the meeting planning process to having more time to focus on the work that actually earns you revenue — instead of sitting through another useless meeting.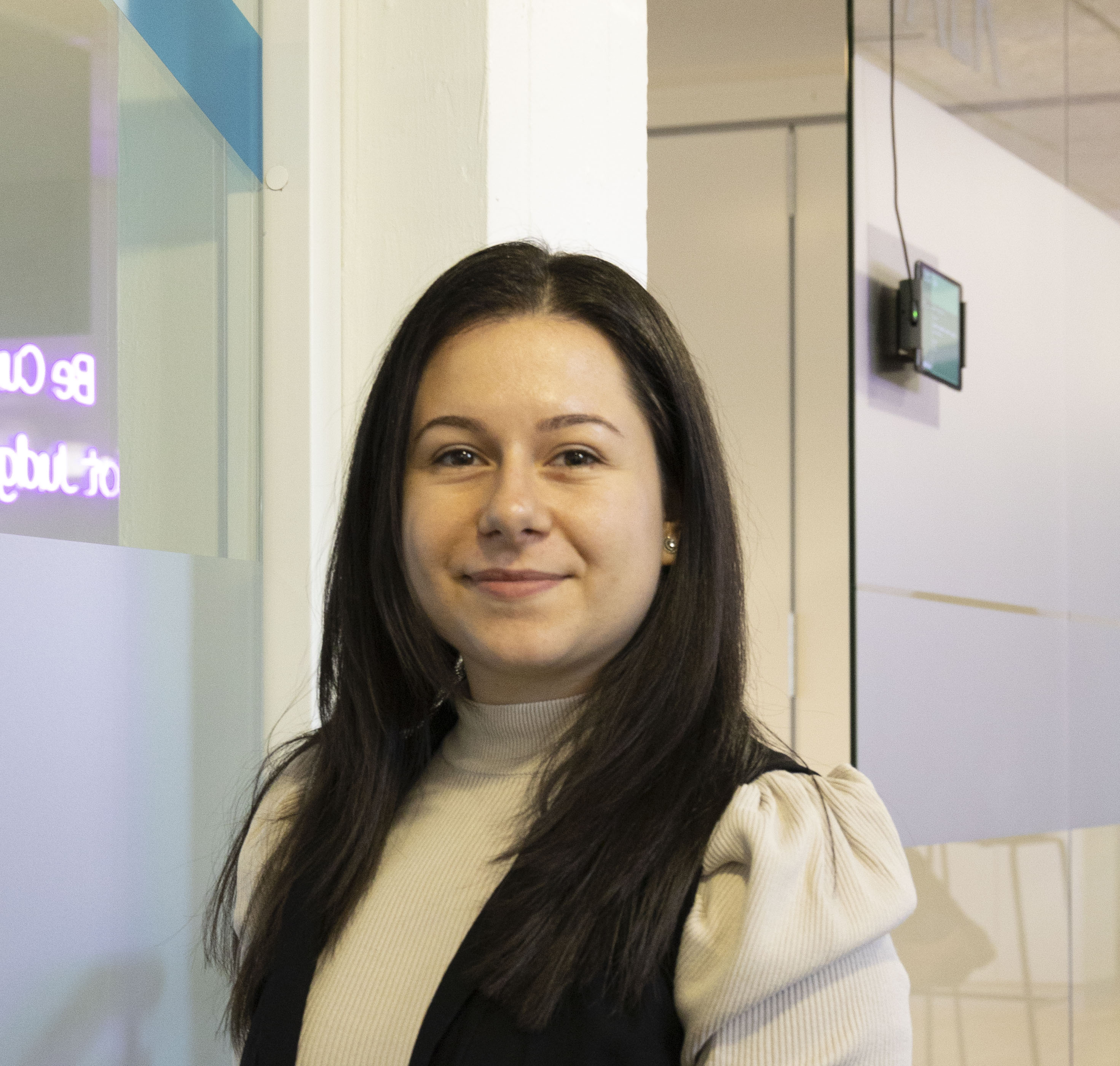 Ralitsa Aleksandrova
Digital Marketing Assistant, AskCody. Ralitsa writes content that inspires businesses to effectively manage their meetings. This includes writing about the latest trends and behavior, deep diving into meeting management, or highlighting valuable processes.