Have you seen the latest improvements for AskCody in October? Here's an overview of the features launched this month, and what you can look forward to in November and early 2023.
Available in October
Available in November
Available early 2023
This blog may include plans, predictions, estimates, or other information that might be considered forward-looking. All forward-looking statements are subject to risks and uncertainties that could cause actual results to differ materially.
1. AVAILABLE IN OCTOBER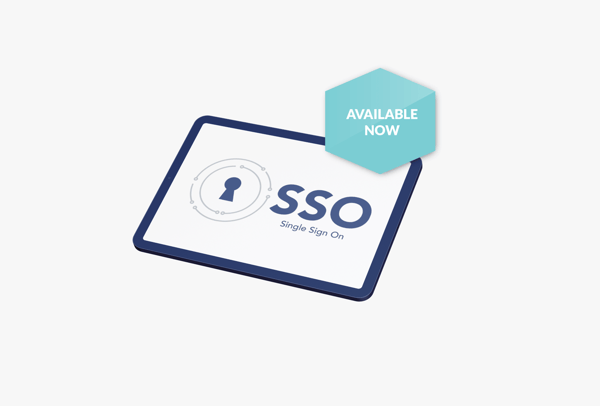 1.1 Secure & user-friendly login with Single Sign-On
You can now enable Microsoft Azure SSO for AskCody, creating a secure and seamless login experience for all users. With this, you can also apply multifactor authentication. For IT, this means secure access management within Azure AD. For end-users, SSO means faster login with fewer clicks.
Read here to learn more about SSO for AskCody, how to enable it, and how to set it up.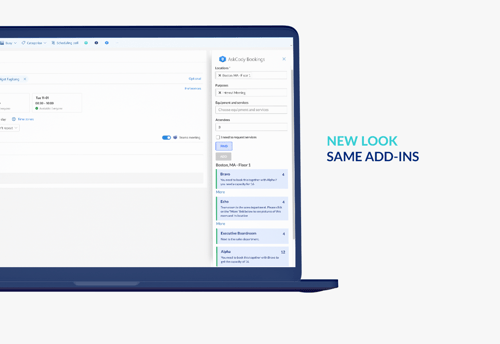 1.2 New intuitive interface for AskCody
We gave AskCody a facelift creating a unified look and feel across our Platform. This means updating colors and text to:
The Management Portal
Outlook Add-ins
Check-in screens, Displays, and Dashboards (default theme)
AskCody's visual makeover enhances usability making it easy for end-users to use our Platform. As a result, making onboarding faster and giving you a faster way to perform critical tasks for your users.
2. Available in November
You can look forward to these features and improvements coming out in November.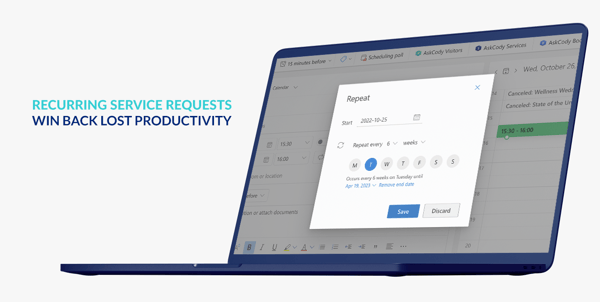 2.1 Better handling of recurring service requests
We know adding services for recurring meetings can be time-consuming and error-prone. And we are going to change that.
In November it will be easier to handle recurring service requests. We are giving office admins access to add service requests for recurring meetings and the ability to clone requests making it easy to quickly add multiple similar service orders. Furthermore, we are giving meeting planners limited access to add and see service requests from service providers.
This is great news for companies with a lot of internal weekly and monthly recurring meetings. Because we are removing the daunting and error-prone process of having meeting planners book individual meetings one-by-one, and instead making it straightforward to mass add similar requests for recurring meetings at once helping meeting planners and office admins to win back lost time.
2.2 Deeper Insights & reporting for service providers and receptions
We will empower business support teams to easily manage services and visitors. We are working on a new reporting capability to improve the efficiency of your service providers and reception. This will arm you with data to:
Help save receptionists' time
Provide a better visitor experience
Understand how much time services staff spend on ad hoc requests
2.3 Easier management of room and desk licenses with In-App Purchases
Want to add more rooms, desks, or lobbies?
With In-App Purchases, your organization will be able to easily purchase additional licenses to the AskCody Platform and see when all the included rights in your subscription have been used.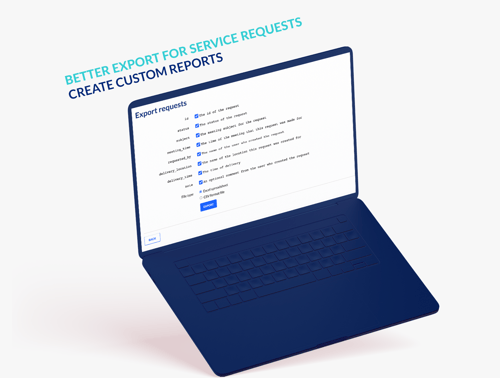 2.4 Improved reporting & export functionality to stay ahead of service requests
You can soon download service request lists to excel making it easy to create custom reports. With better export options for service deliveries, we want to provide office admins and facilities teams with more tools to make day-to-day preparations a breeze.
3. Available early 2023
​
Early 2023 you can look forward to this improvement.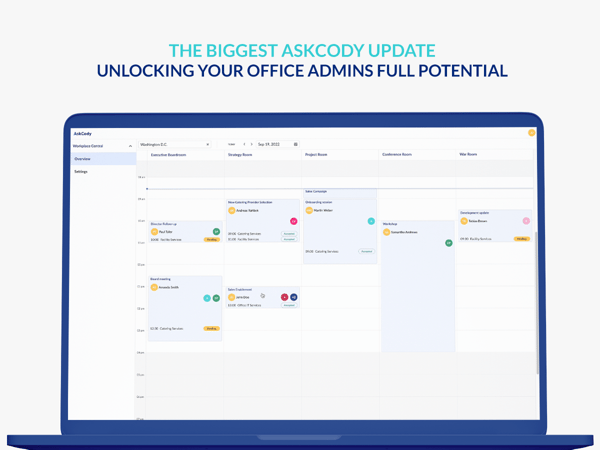 3.1 The biggest & most important AskCody update since launch - unlocking your Office Admins & Conference Service Managers' full potential
At the beginning of 2023, we will provide the biggest and most important AskCody improvement to date. Be prepared to unlock the full potential of your Office Admins and Conference Service Managers.
We are delivering a completely new interface to the AskCody Portal (like the one you know from your calendar) showing relevant meeting information in a new designed grid-like overview of all room and desk bookings, giving Office Admins the system to operate their workplace with ease and staying in control.
All relevant meeting information and reservation can be viewed from a single booking grid. From room status to scheduling and delivery of associated services - everyone can be on top of who, what, where, and when. This includes associated services and shared meeting notes empowering facility teams and booking coordinators to collaborate more efficiently, stay ahead of the workday, and have certainty and confidence that everything is in order.
Office Admins and Conference Service Managers will shine by quickly and effectively solving meeting challenges before they turn into serious issues and last-minute conflicts. Stay tuned for invites to early access already in late 2022.
Completing our summer roll-out
In the early summer, we rolled out a completely redesigned infrastructure and architecture with the promise to leverage this as the springboard to "elevate our product, taking the first step into a new era of how Meeting Management should be enabling organizations to Manage Meetings Smarter." These many improvements are the fruits and benefits of these extensive investments. We hope you like it.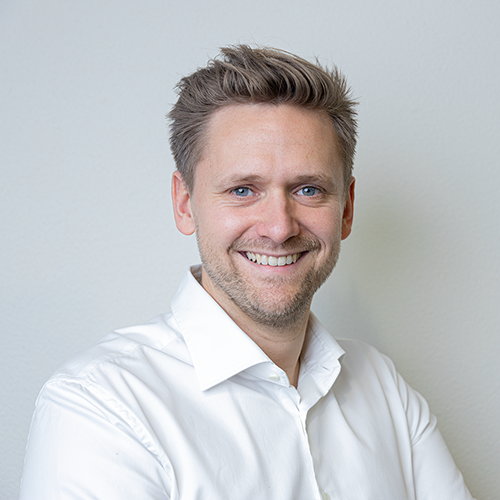 Allan Mørch
CEO & Founder, AskCody. Empowers organizations worldwide in creating better workplace experiences using AskCody.