Today's companies must think beyond just competitive salaries and generous benefits packages to attract top talent. The modern office environment has become the de facto face of the companies that workers are competing to enter. But businesses need more than modern furniture, open concepts, and cappuccino-slinging baristas to ensure the face of the modern company isn't just a facade.
In this post, I'll discuss an  easy way you can foster a vibrant, competitive modern office environment to help your employees improve productivity, take advantage of modern conveniences, and boost happiness and morale. I'm talking about simple digital meeting room displays.
Digital meeting room display solutions  improve utilization of meeting rooms and eliminate much of the tediousness of booking meeting rooms.
Digital meeting room displays aren't all created equal
The key to a great overall meeting room display solution is one that presents the right information at the right time and place, for visitors and employees alike. This is especially important when visitors who are on-site for meetings have to find the right conference room and when employees are looking for an empty conference room to book an ad-hoc meeting.
It should go without saying that meeting room displays, meeting room screens, and digital room signs aren't all alike, and they're far from created equal. These solutions have to be flexible and provide different benefits depending on the place and context of the information provided.
The best meeting room display solutions should be intelligent and integrate seamlessly with your calendar systems such as Outlook or Exchange. They should display meetings and events automatically, and be completely free of any manual updates.
The first advantage is that this tool will free up resources for front desk employees to focus on more important administrative tasks. It also creates an impressive first impression of your company by displaying an easy-to-read overview of the day's activities and helping everyone find their way to the event they are attending.
A second advantage to meeting room displays that are fully integrated into your calendar system is the ability to help employees find empty meeting rooms. This makes ad-hoc meeting room bookings easier, and provides a simple and efficient overview of the day's events and bookings in that particular space. Digital meeting room displays save time and resources when booking instant meetings, and help optimize utilization of the workplace.
The right solution will go beyond basic display, with intelligent technology that automatically releases pre-booked rooms with no-shows so the room is free for others to use.
But there's so much more to meeting room displays than first meets the eye. So without further ado, I give you …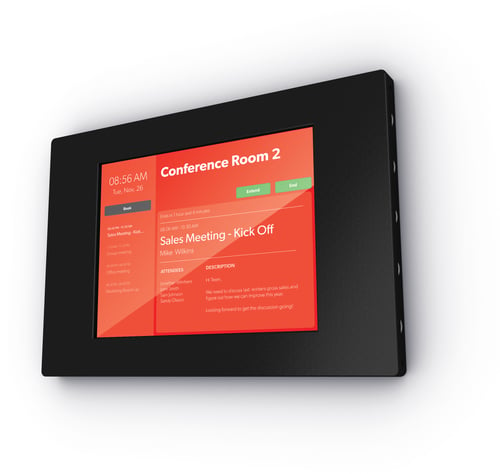 15 ways meeting room displays improve productivity, employee happiness, and meeting room efficiency (and what to look for).
1. Foster a more productive work environment
Consider ways that make work life easier and people more productive. Meeting room displays help people find the right room and make reservations easier by linking meeting room displays directly into your calendar/booking system such as Outlook or Microsoft 365.
2. Hunt and destroy "room sharking"
Does this scenario sound familiar: You need a meeting room right away and plop yourself down in a currently empty conference room. Moments later a group that had already booked the room walks in to find you "room sharking." There's an awkward dance between them having to ask you to leave and your group having to stop your own meeting, gathering your things, and get out.
Room sharking certainly isn't malicious, or even the result of poor planning. Ad-hoc meetings happen. Nevertheless, companies need to find ways to help employees avoid it altogether for the sake of all office workers.
Modern workplace tools are interconnected and meeting room displays are integrated directly into the company scheduling system of Outlook. This eliminates room sharking by providing employees with the information they need to find an available room instantaneously without accidentally taking one that isn't.
3. Provide an instant overview
Just as display screens at the airport that show flight arrivals and departures at a glance, digital meeting room displays show everyone in the office which meetings are going on in which rooms. It makes it easier to find your meeting how to get there.
4. Assure people they've made it to the right room
Meeting room displays that hang outside of conference and meeting rooms and link directly into employees' calendars show the schedule of the day for each meeting room and confirm to employees that they've made it to the right room.
5. Know instantly when  a  room is occupied
Large overview displays show room availability at a glance. Instead of going to Outlook or your calendar on your workstation or laptop to check availability, employees need only check the large overview screen for an instant overview of all meeting rooms, see which are available, and go. Your meeting can start in seconds, not minutes.
6. Check availability on the go
Sometimes it's just not practical to find and reserve a room for a 10-minute phone call or a quick one-on-one. Most people just go to the nearest empty meeting room without checking if the room is actually available or if somebody has a meeting that starts soon. A meeting room display lets you check instantly if the room is available and for how long from right outside the door.
7. Show for how long a room is occupied
It is good sense to show when a room is booked, and the duration thereof. Your employees need this necessary information so that they avoid frustrating issues.
A plausible scenario is that employees may need a currently open room for an hour-long meeting, but another group has booked that room in 35 minutes. You'll never be able to finish your meeting in time. But a meeting room sign that displays the availability of the room nips this problem in the bud before your meeting even begins.
8. Book a room at the door
Meeting room displays let you reserve a room at the door to make sure you can complete your meeting without interruptions from someone who may book it online while you're already inside using it.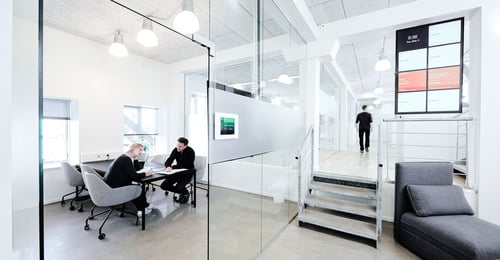 9. Foster the modern office environment
Digital meeting room displays with your company branding not only help boost employee productivity, but they also look great. This is a simple tool that makes a strong statement about who you are as a company, makes visitors feel more welcome, and projects a professional image.
10. Improve company identity
Digital signage designed with company colors and logo isn't just impressive for guests. It's just as important to boost the company profile and corporate identity for internal employees. Employees who perceive themselves to be working at an innovative company are proven to enjoy their workday more and report higher morale.
11. Free up front desk resources
Meeting room displays take the work out of providing guidance to visitors for front desk resources. This frees up the front desk to focus on other more important tasks than simply telling people where to go. It also shows that their time is valued. And there's no question that employees who feel valued experience higher morale and are happier overall.
12. Ensure modularity and scalability
A meeting room display solution that is modular and scalable makes it easy and affordable to upgrade when you make changes or are ready to add more functionality. Find the solution that includes updates in the SaaS subscription for ultimate ease.
13. Enjoy the security of cloud-based assurance
Make sure you're covered when it comes to digital meeting room display maintenance and upkeep. A cloud-based solution is low maintenance, and no additional resources are needed to set up the system and keep it running. Cloud based tools also usually mean easy integration and deployment. Do be sure the cloud-based solution you choose is hardware-agnostic.
14. Eliminate ghost meetings
Ghost meetings are the single biggest reason for the poor utilization of meeting spaces and conference rooms, and one of the most annoying aspects of booking meeting rooms for employees. I'm sure you've experienced how frustrating it can be when you can't find adequate meeting space, and no one shows up for the pre-booked room that would have been perfect for your purposes.
Go with the solution that allows for one-touch meeting check-in. If a meeting organizer doesn't check in within a pre-defined window of the meeting time, the booking will be canceled and the room freed up and available for others to use. The right display screen will let users end, extend, cancel, and confirm meeting reservations with ease.
15. If you don't know, you can't act; it's all about that data
A modern meeting room display solution is a great way to get started collecting data about utilization of your workspace. Therefore, look for a solution that includes a reporting, insights, or workplace analytics tool. Insights into usage data will help you maximize workspace usage, efficiency, and collaboration while providing all the intelligence you need to adapt to changing usage patterns to maximize use of your workspace.
Whether you are looking for a simple large display with meeting events, directions, and meeting room status or you want to improve productivity and meeting room efficiency with meeting room signage integrated into your calendar system, AskCody can help.  See what our meeting room displays can do for you.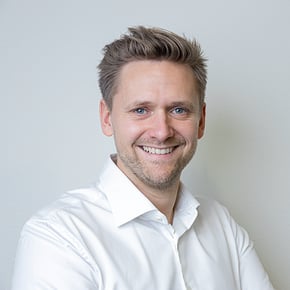 Allan Mørch
CEO & Founder, AskCody. Empowers organizations worldwide in creating better workplace experiences using AskCody.