Workplace Central is the biggest AskCody update since its launch. And we are so excited to welcome our users to try it.
Workplace Central gives you a single grid overview of meetings, associated services, and shared meeting notes allowing you to operate your workplace with ease and stay in control of what goes on, where, and when.
It will make your office admins and conference service managers shine by quickly and effectively solving meeting challenges before they turn into serious issues and last-minute conflicts.
Workplace Central is currently available in early access. You can get access by contacting your Customer Experience Manager.
Check our updated web page or read more below about the benefits of Workplace Central.

One view of all meetings and services
Our customers love that AskCody is tightly integrated with Microsoft providing an intelligent layer on top of the familiar interface from Office 365 and Outlook. To keep this position, we are delivering a completely new interface to the AskCody Portal (like the one you know from your calendar) showing relevant meeting information in a grid-like overview of all room and desk bookings, services, and attendees, giving office admins the system to operate their workplace with ease.
By speaking with meeting organizers in modern offices, it became clear that they lack the tools to keep track of meetings, desks, catering arrangements, and other services. This is simply not possible to do effectively inside Outlook. As a result, office admins often have to rely on gathering information from various tabs and systems to make informed decisions.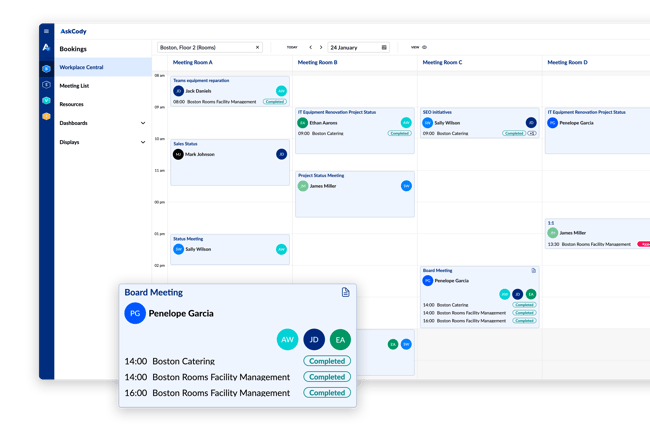 We have now gathered meeting information including service orders, attendees, and meeting notes in a simple overview. We call it Workplace Central.

We are proud to introduce Workplace Central, a solution designed to make your life easier. It is the hub where your service providers, office admins, and facility teams can communicate the needs for each individual meeting and get a complete overview of all workplace activities.
What is Workplace Central?
Workplace Central gives you information about your rooms and meeting services including delivery time, service provider, order status, and attendees in one convenient grid view. This is your office admins' new central hub to quickly make informed workplace decisions and ensure that nothing falls through the cracks. With a user-friendly interface, it has never been easier to stay in control of meetings, from room bookings to catering arrangements.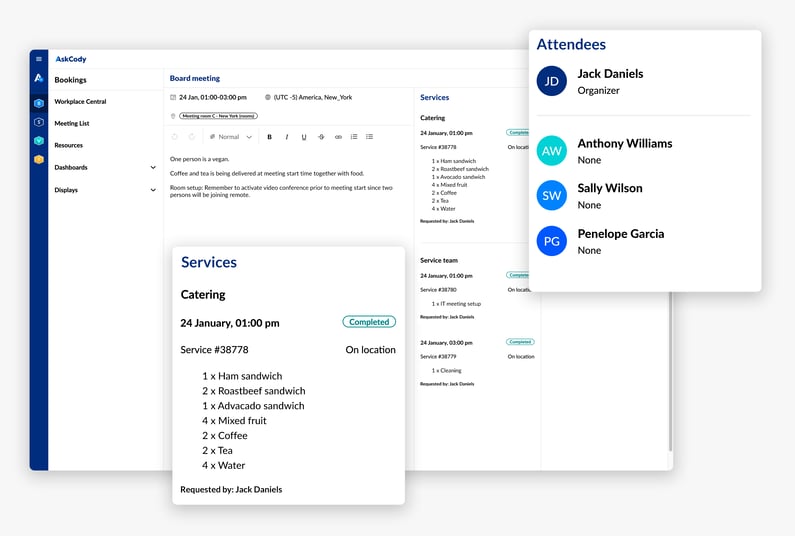 You can expand individual meetings to get a complete overview of the attendees, associated services, and meeting notes. This will make it a breeze for your service staff to manage workplace activities.
Learn more about the features of Workplace Central
Customize your view - how you want
If you work in a large organization with multiple offices, meeting rooms, and workspaces to take care of, it can be challenging to get a clear overview of the resources that are relevant to you. Luckily with the new Workplace Central you can easily switch between locations and customize your view, so you can focus on the rooms, desks, car spaces, or other resources relevant to you.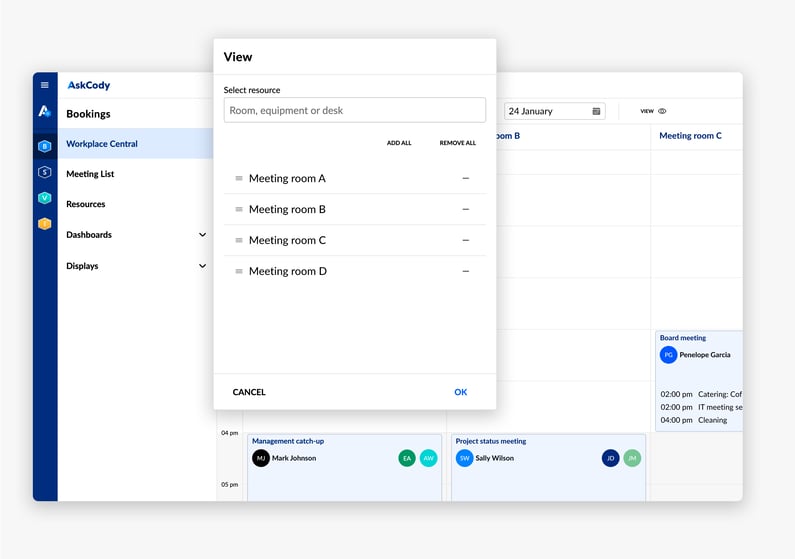 Notes field to share meeting notes
With Workplace Central, you can utilize the notes field to share quick information and provide context to a unique meeting. This feature helps ensure that nothing falls through the cracks. This might be used for cases with special requests, or to describe your needs in detail. All changes made are automatically saved.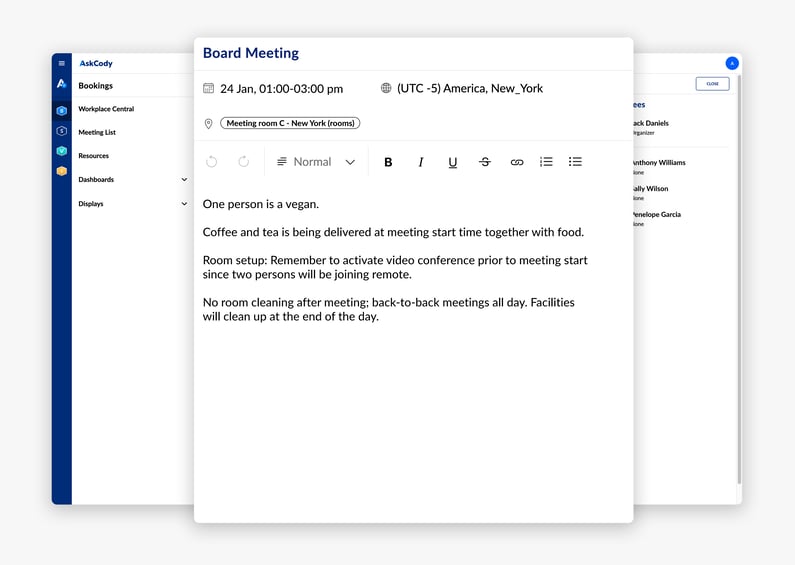 The current "Central" will become the "Meeting List"
We want to clarify that we are not replacing our current Central page. Instead, we have renamed it Meeting List to better reflect the purpose of the page. The Meeting List will continue to serve as a great resource for all upcoming meetings, events, and visitors.
We hope this change will make it easier for everyone to find what they're looking for and stay informed about the latest happenings.
Built on future-proof technology
Workplace Central is built on Microsoft Graph technology, being the new standard for accessing Microsoft 365.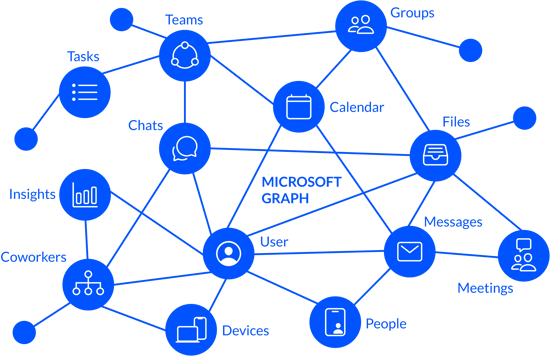 By leveraging the power of Graph, Workplace Central can tap into the intelligence and insights of the Microsoft Cloud, including data from Office 365. This means that office administrators can access a wealth of valuable information about their workplace activities.
Being built into Microsoft Graph comes with a few requirements to access Workplace Central.
Requirements to access Workplace Central
To enable Workplace Central, there are a few prerequisites that must be met.
First, your organization needs to be using Exchange Online.
Second, you need to have an Azure AD integration in place. Azure Active Directory (Azure AD) is Microsoft's cloud-based identity and access management service. Workplace Central requires an Azure AD integration to enable access to user data and permissions management. This is necessary to ensure that Workplace Central can securely and efficiently manage your workplace activities.
Finally, you need to enable Microsoft Azure Single Sign-On (SSO) for AskCody. SSO is a mechanism that allows users to log in once and gain access to multiple systems using their Microsoft account without needing to log in separately to each system.
How do you get access?
If you are a current customer, you can get access to Workplace Central by contacting your Customer Experience Manager. They will be happy to help you get started and provide you with any additional information you may need.
For those who are new to AskCody, we encourage you to set up a demo presentation with our great sales representatives. Our team will walk you through the features of Workplace Central and show you how it can help you streamline your workflows in the office.
We listen to your feedback
If you have any questions about Workplace Central or other products, please don't hesitate to contact us. Our customer service team is here to answer any questions you may have and provide you with the information you need.
You are always welcome to give your feedback. Whether it's a suggestion for improvement or a concern, we value your input and take it seriously. Your feedback helps us to continue to improve our products and services and better meet your needs.
So please, feel free to reach out to us with any questions or feedback you may have. We're always happy to hear from our customers and are committed to providing you with the best possible experience.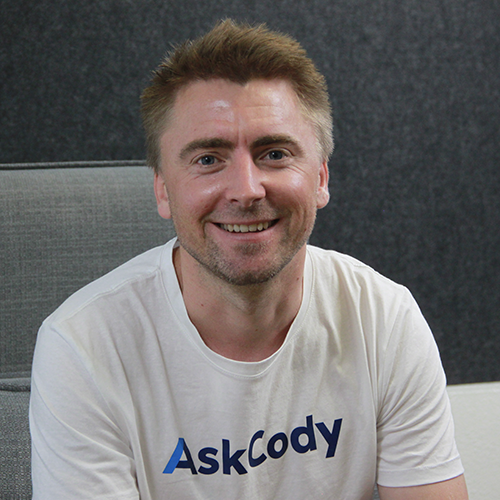 Ebbe Skøtt Andersen
Product Manager, AskCody. Writes about product integration, IT infrastructure, data processing, and security.