Workplace Central is now available.
We are so excited to give you access to a game-changing update. By utilizing Workplace Central, you can:
Combine all meetings and related details in a simple and customizable overview, that clearly visualizes notes, catering, and services with AskCody.
Focus on the most important meeting rooms and build your own view. Ensuring quick access to information without shifting through irrelevant details.
Add notes to meetings directly in your overview, so you don't have to search through multiple sticky notes and documents to find a specific detail.

Workplace Central is accessible from AskCody Bookings (B) and comes with a helpful in-app guide giving you a head start to utilize your new workplace calendar overview.


Try Workplace Central for yourself:

Workplace Central is now accessible to all eligible users, however (at the time of writing) it is still in "early access". This indicates that the product is ready for use, but we are still working in a tight feedback loop with customers to finish the last details, making it completely enterprise ready.
Read the article below or check our website to learn more about Workplace Central.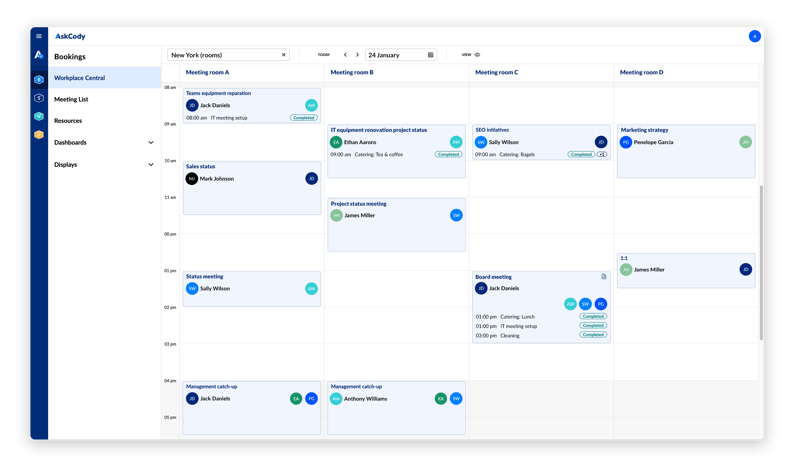 What is Workplace Central?
Workplace Central is a completely new interface to the AskCody Portal showing relevant meeting information in a grid-like overview of all room and desk bookings, services, and attendees.
With Workplace Central, we have expanded the intelligence between AskCody and Microsoft 365 to provide even more value to your organization. Giving your office teams a real-time overview of their workplace.
This is your office admins' new central hub to quickly make informed workplace decisions and ensure that nothing falls through the cracks. With a user-friendly interface, it has never been easier to stay in control of meetings, from room bookings to catering arrangements.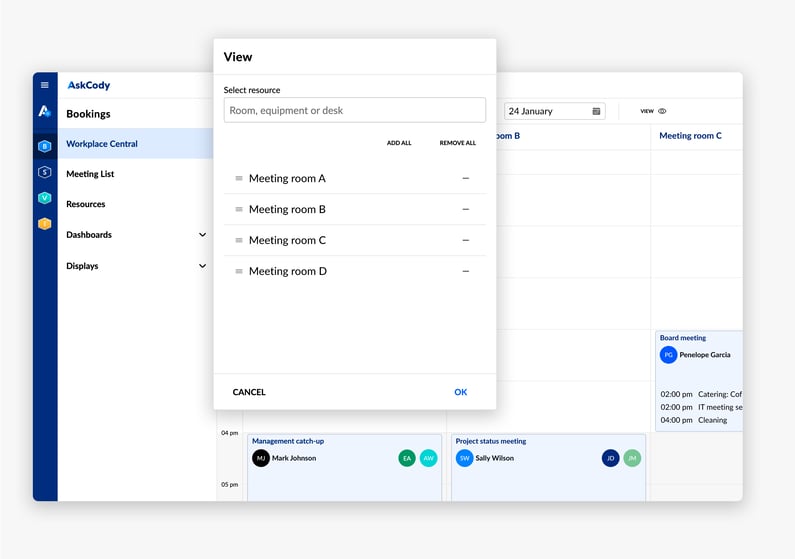 Customize your views
Customize your Workplace Central to fit your needs.
If you work in a large organization with multiple offices, meeting rooms, and workspaces to take care of, it might be challenging to get a clear overview of the resources that are relevant to you.
With the new Workplace Central, you can easily switch between locations and customize your view, so you can focus on the rooms, desks, or other resources that matter to you.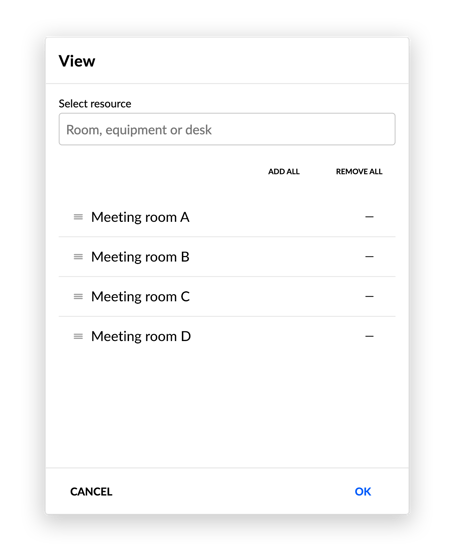 Notesfield for sharing meeting notes
The meeting notesfield gives you context around your meetings.
You can utilize it to share quick information, ensuring that nothing falls through the cracks. This might be used for cases with specific requests, or to describe your needs in detail.
All changes made are automatically saved, so you never have to worry about losing important information.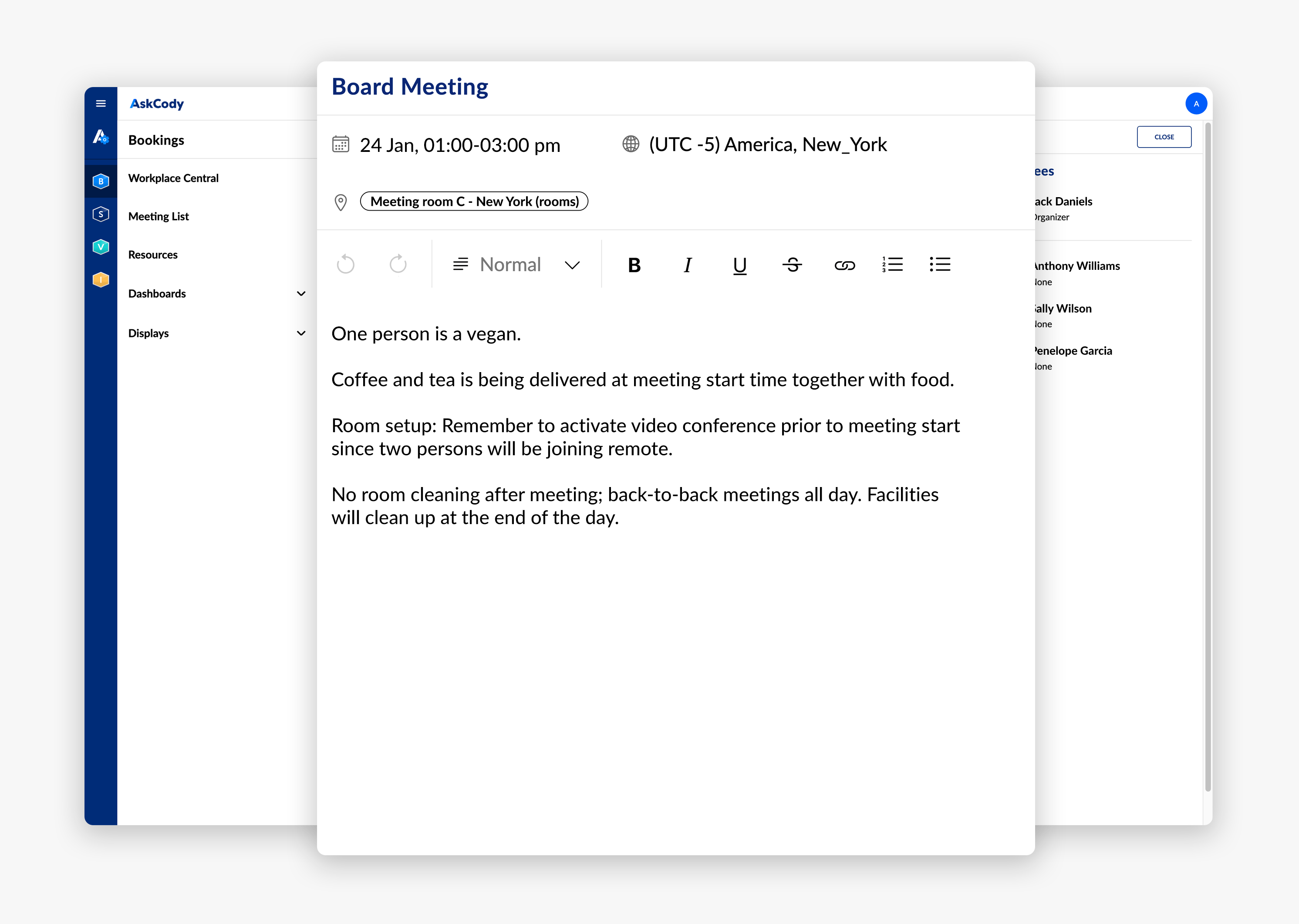 Built for the future on Microsoft Graph technology
Workplace Central utilizes the latest Microsoft Graph technology. As a result, we can harness the intelligence and insights provided by the Microsoft Cloud, including data from Office 365, Windows 11, and Enterprise Mobility + Security.
Furthermore, it has been built with a high level of security, utilizing Microsoft Azure Single Sign-On as the default authentication method.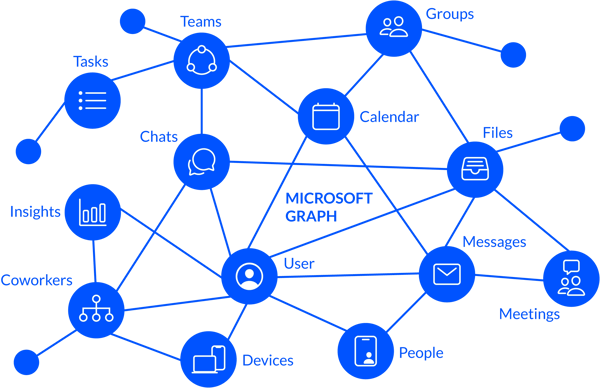 Requirements to use Workplace Central
To successfully use Workplace Central as part of the AskCody Platform, certain requirements must be met due to its Microsoft Graph-based nature. These requirements include:
Your Microsoft Exchange room resources must be on Exchange Online, as Workplace Central is not compatible with Exchange Server.
Azure AD must be used for user and identity management.
Microsoft Single Sign-On must be enabled for AskCody.
Got any feedback?
We value your feedback, so please don't hesitate to contact us if you have any questions or comments about Workplace Central or any of our other products. Our customer service team is always here to help.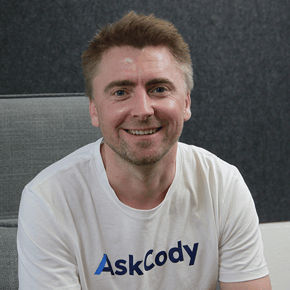 Ebbe Skøtt Andersen
Product Manager, AskCody. Writes about product integration, IT infrastructure, data processing, and security.