We have an exciting time ahead of us.
In this video, we will share what we have been working on lately, and what to expect in the coming months.
A little sneak-peak... we are giving you the possibility to:
Reschedule (drag and drop) already planned meetings in Workplace Central

Request catering services for every single instance of a recurring meeting.
These are just some of the valuable features we will be rolling out in Q2 that will make the AskCody platform even more powerful and turn Office and Conference Service Managers into superheroes.
The launch of Workplace Central + First rollout of updates
In Q1, we launched the new Workplace Central finalizing the major redesign of the AskCody Portal.
In its essence, Workplace Central is the flight Control, the command center for your workspaces, providing Certainty, Confidence, and Control to the Office Team in charge of managing meetings in the workplace.
Workplace Central is your new hub for meeting administration, providing a complete overview of meetings across all rooms and locations. It is your overview for meetings, associated services, and attendees, empowering your Service, Facility, and Hospitality Team to control what goes on, where, and when.
With a complete workplace overview of meetings, rooms, services, and attendees from a single grid view and a familiar calendar-like interface, Workplace Centrals empowers you to stay on top of your workplace, turning Conference Service Managers into Superheroes. Just like the ones you can read about here.
Services like catering, room layout, and audio-visual equipment are now better integrated into every booking. With AskCody, we're making delivering the right services on time, every time, easy and straightforward.
Workplace Central makes Office Admins and Conference Service Managers shine by quickly and effectively solving challenges before they become significant issues and last-minute meeting conflicts.
With the new feature of shared meeting notes, there's no need for post-its, emails, and back-and-forth communication between Facilities Teams and meeting organizers. Workplace Central provides shared meeting notes for quick information, links, and context around the meeting. This gives peace of mind to help ensure that nothing falls through the cracks - and all changes are automatically saved.
Now, in Q2, we are going to roll out the first of many new updates, making Workplace Central even better:
First, we will make all supported languages in AskCody available in Workplace Central and the broader Platform.

Secondly, we will make opening time or work time adjustable for each specific location, making it easy to identify the opening time of locations across time zones.

Then, we will link the service request on the Meeting Cards so that service requests are related and can be edited faster, with fewer clicks on no switching between modules.

We will introduce a compact view, showing more rooms and providing a better overview when managing larger locations. And we're making the menu a bit smaller and easier to collapse. Also, we're introducing a toolbar for quick access to features.

And finally, one of the most requested features: we will introduce the ability to move and reschedule meetings from the grid-view interface. We will provide admin users the ability to change the time and place of the meeting by simply dragging and dropping the meeting in the Calendar, allowing time and room to be updated on the meeting, and instantly updating the Outlook invite. And, of course, with the built-in "follow the meeting logic" in AskCody, all requested services follow the meeting, complying with the rules, policies, and deadlines applied.
Planned for Q3 or Q4:
Following this, we will add images of rooms (or desks) and menu items, allowing users to quickly and easily identify the right room or menu item and improve familiarity and recognition.

And lastly, we will add an expanded view, allowing you to see more details of a room while allowing you to add a service request right in Workplace Central, complementing our Outlook add-ins for managing service requests.
We are super excited about this! Check out the video to see the first glimpse of it.
Updates to ad-hoc requests (soon to be renamed "work requests")
One of the things we have been adding recently to the AskCody Platform is the ability to clone and copy service requests as an Admin. Today, we call them ad-hoc requests. This will be changed and renamed to work requests, covering all types of requests that aren't meeting requests. Work requests can then be all types of requests, like facility requests, issues, workplace-related requests, etc. – a request for something that's more like creating and managing a ticket.
Meeting requests are, of course, requests to meetings made in Outlook using the AskCody Services Add-in, where all services requested follow the meetings, powered by AskCody's unique follow-the-meeting intelligence.
Now, we are improving work requests, allowing you to create types, change the location and place, and easily identify in the request overview if requests are meetings or work requests.


Updates to integration with Azure AD
In Q2, we will update how we integrate with Microsoft Azure AD. We already support Microsoft Single Sign-on. Now, we will provide an Enterprise Application for Azure AD, which will follow Microsoft's now recommended method for synchronizing users between Azure AD and third-party applications. This method, called App Provisioning, will bring a superior performance boost in user synchronization into AskCody, making it a more robust solution that IT managers can trust in managing users at a vast scale.


Supporting Recurring Meetings
The single most requested feature in AskCody has been the ability to support truly and natively request and manage services for recurring meetings made in Outlook or Microsoft 365.
Now, with our new integration with Microsoft Graph, for customers on Microsoft 365, this will soon be possible and made available.
The pain is simple: Users want to book, schedule, and manage recurring meetings with the same service request for every meeting instance in the meeting series to minimize time spent on meeting bookings, prevent errors, and improve productivity.
We are going to update our Add-in for Outlook to allow users to add a service request to a recurring meeting for every meeting instance of that meeting series so that services can now be requested every instance of the meeting series, including being updated if the single meeting is rescheduled, moved, or canceled.
This will be a huge productivity gain and a feature we are excited to launch.
The direction and roadmap are set, and we are already working tirelessly on these features and will roll them out continuously as they are ready for launch.
We're super excited and eager to launch these updates.
Let us know what you think!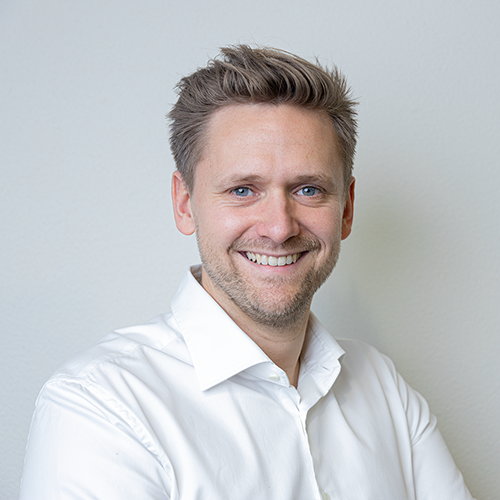 Allan Mørch
CEO & Founder, AskCody. Empowers organizations worldwide in creating better workplace experiences using AskCody.