If you ever have visitors or guests coming into your office, you need a visitor management system. But what if you are not sure how to choose one that is right for your office needs? These systems can come with a lot of features and functionalities. Read on to learn about all the options, and to see how you can choose a system that has the right features for your needs.
Guests and visitors who come to your office have expectations, and it is up to you to meet them. The easiest way to do that is with a visitor management system that handles the entire experience from when your guest steps off the elevator to when they head back out the door, plus everything in between - check-in, security, and navigation.
You know that old saying, "You only get one chance to make a first impression?" That is true with everyone you meet—and it is also true with visitors entering to your office.
Want to improve your front desk resources even further? Here is a free ebook you can download.
Fundamental visitor management system requirements
When beginning to wade through all the features a good place to start is with the basics. And when we say "basics," we mean these are the most basic requirements for a visitor management system to be worth your consideration at all. These are the must-haves—if you are looking at a system and it can not do even one of these things, move on.
Ease of Use
First and foremost, can you figure out how to use it? A visitor management system should be so user-friendly that your staff and visitors are able to navigate it with little-to-no training or assistance.
That means the system needs a clear interface that is not cluttered with text or icons. And the workflow as visitors go through the check-in process should be extremely clear, so anyone who visits your office can sign in quickly and easily and you make the first impression you want.
Customizable Notifications
In our increasingly tech-heavy work environments, everyone has different preferences about notifications. Some people prefer email. Others prefer a phone call. Some would like a text message. Some people are constantly connected while working, and others like to put their heads down and get distraction from incoming notifications.
That is why any quality visitor management system should be able to notify employees of expected visitors in whatever way the employees prefer. And keep in mind that many people will likely want smartphone notifications when their visitors arrive, so you should look for a system that offers unlimited text notifications.
Cloud-Based Software
Installed solutions generally come with a hefty up-front price tag. That is why the visitor management systems that you should be considering are cloud-based SaaS products.
Cloud-based software is simple to install. You are not required to perform any extra maintenance because software updates can happen automatically. And, with a cloud-based system, you can access your data from anywhere, not just inside the office. Just make sure your cloud-based system is GDPR compliant so all your data stays secure.
Scalable Technology
Most businesses make it a goal to grow over time. And your visitor management system will not be a good fit if it can not grow with you—all the way up to becoming a large enterprise. That is why it is important to find a system that is scalable and can handle large-scale data. You will also want to look for a system that can work in multiple locations, so if your business spreads, you will still be able to have safe and secure visitor tracking across the entire organization, not just by location.
Report Generation
The last absolute must-have in your visitor management system is the ability to generate the reports you need to learn about your visitors. Those reports should be filterable by date and time, including real-time data, and be exportable in CSV or PDF formats so they can be distributed and analyzed by stakeholders across the organization.
While these are the absolute must-have features for a visitor management system, there are so many other features you should be considering.
Visitor management system requirements
Some features are so common in the highest quality visitor management systems, they have become essential to businesses investing in visitor management. At the end of the day, this software should be eliminating pain points and make life at your office easier, which is why you should consider all these essential features when looking for the right system.
Ability to pre-book visitors
To keep the check-in process as streamlined as possible, it's great to be able to pre-book visitors prior to their arrival at your office. It is even better if your visitor management system integrates with Outlook so you can autofill guest contact information.
Customizable check-in workflows
Not all check-in processes are the same for all guests. A great visitor management system should increase office security and help automate the check-in process by providing necessary documents (like NDAs) as needed, and by printing guest badges automatically.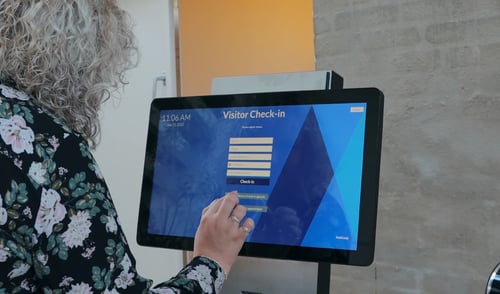 Instant notification for hosts
When visitors check in at your office, their hosts should be immediately notified, no matter where they are. A good visitor management system will have the capability to send a variety of different kinds of notifications: SMS, email, push notification, Slack DM, or even a phone call. And remember from the must-haves: Hosts need to be able to choose the type of notification that's best for them and customize the system to reach them that way.
Reporting that can offer valuable insights
A visitor management system must be able to generate visitor reports, but it's even better if those reports can be used to gain insights about your office's visitors.
Being able to search dynamic reports by criteria like Visitor Type, Entry Time, Departure Time, and Access Authorization can help create a clear picture of things like peak visitor hours when your office might need increased security measures.
Visitor photo capture
Taking photos of visitors during their check-in process makes them instantly recognizable to their host and others within the office. This also increases security for the office, so photo capture is a great feature for the best visitor management systems to have.
If your visitor management system has all the features we have listed so far, you are in good shape. But there are still more benefits to get, so you might want to consider some of the more deluxe features as you're looking for the right system to fit your office's needs.
Deluxe features for visitor management systems
The best of the best in visitor management software will come with some deluxe features that are not strictly necessary but will certainly improve the experience of using the system. Here are a couple of visitor management system requirements to look for, if you want a premium solution for your front desk staff.
Integration with other software
Does your visitor management system integrate with software like Outlook and Microsoft 365. What about Azure AD. Slack. Operate. OfficeRnD.
Visitor management systems should increase your office productivity, which means that if you already have systems and software in place. Your preferred system should accommodate the software you have invested in, not the other way around. Look for a system that is designed to integrate with all the systems you already use and save yourself (and everyone else in the office) the headache of having to change things up to accommodate a new system.
Cost-effective hardware options
When purchasing SaaS software, there are usually ongoing monthly costs for leasing the system. The last thing you want to add to that is expensive hardware to run the system.
Look for a visitor management system that can be run on low-cost, common hardware, like any touchscreen devices and computers you already have in your office. Avoid systems that require expensive proprietary software that will be costly to purchase and maintain.
Unlimited usage
Having your visitor management system stop working because you have reached a usage cap would be the opposite of productive. Even if you know exactly how much you'll be using your system, you should still look for one with unlimited usage at a fair, flat price so your system can scale with your business as it grows.
More features than just visitor management
What if your visitor management system could offer your office so much more than just visitor management?
AskCody Visitor Management offers all the features above, plus a suite of other office solutions like meeting room management, meeting room displays and activity view, workplace central, and insights and analytics. AskCody integrates seamlessly with Outlook and Microsoft 365, is fully GDPR compliant so all your data stays as secure as your office, and all solutions are supported in eight major languages.
How to choose the right visitor management system
Finding a visitor management system with all the above-listed features is ideal. But at the end of the day, the right system for your office is one that meets all of your office's needs, and those won't be the same for every customer.
To determine which features your office needs, there are a few steps you can take.
First, think about your visitors and your reception area. Consider what pain points currently exist. Put yourself in a visitor's shoes and think about how you would perceive your office if you were a guest.
From there, assess your visitor management system requirements. What can you offer visitors to make the check-in process more comprehensive and seamless? Is that possible by using check-in screens at the front desks for automated check-in, or by equipping your receptionists with a more intuitive tool. How can you improve the impression your office gives to guests when they arrive? How can you keep track of guests and keep the office secure?
Once you have a clear picture of the challenges your office faces and what you need in a visitor management system, it is time to start researching solutions. Refer back to the features list above to help evaluate systems as you consider them.
Choosing the right visitor management system is not easy but ending up with a system that is missing essential features will make life harder for your office, not easier. Using this checklist will make it easier for you to find the right system that meets the needs of most offices should be a breeze.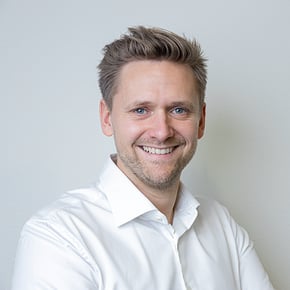 Allan Mørch
CEO & Founder, AskCody. Empowers organizations worldwide in creating better workplace experiences using AskCody.