We are all still challenged by the current coronavirus pandemic status. Most business offices are still closed, but we are now starting to see more and more companies getting into preparation mode for the re-opening of all the physical facilities and return to work. So, it is getting time to move from a situation where everybody is working remotely and prepare for the "Post COVID-19" workplace and basically get into the health and safety mindset on how to secure the office space and make all your employees and visitors feel safe in your environment.
We also see that both by re-opening some of our own offices after corona, but even more in our dialogue with our current customer base whom we help to increase operational efficiency for room scheduling and service/sanitation team operations. Our customers have come to us to ensure they will hit the operational output they need when they return to the office by implementing the needed security measures.
This blog post contains a list of ideas that have surfaced via these dialogues to get to maximum physical security in your office spaces.
Use software to make it easy to run your office
By using meeting management software, you can set up scheduling rules and policies to nudge and drive the right behavior of your workplace. Reopening the post-COVID-19 office, a lot of new regulations will be implemented for you to comply with safety and health regulations. The rules can be like:
restrictions on meeting attendees

how many are allowed in each room

grace periods between meetings for cleaning

no ad-hoc impromptu meetings

no food service for meeting rooms
Do you at your office have many meeting rooms available for multiple purposes already (like huddle rooms, conference rooms, private rooms, video conference rooms) and many needed meeting workflows and processes? Then don't make it harder by asking your employees to remember all these new rules, policies, and guidelines. And don't waste time on onboarding people on new standard procedures that are hard to remember. All people want now is to get back into the office and get back to work – together. Let meeting room management software (like AskCody) do the heavy lifting, and adapt your scheduling rules and workflows to fit the new normal. Meeting management software can make it easy for your employees to learn, follow and comply with the new regulations of how to use your office since the software is supporting and guiding the employee to do it right.
How can AskCody help in the "Post COVID-19" office?
Here is a comprehensive list of areas where you can utilize the AskCody Meeting Management platform to ensure you handle the re-opening of your office spaces in the best way possible.
1. Non-contact visitor management
Using the Visitor Management module of AskCody, this can help you to a safe visitor management experience, and is an important start point on how to make your office corona compliant. This is done by setting up a self-service kiosk for all visitors coming to your office. This reduces the need for human interaction with the front desk and receptionist. You can further extend this by handling the guest check-in on their mobile phones through SMS link leading to no physical contact needed at all in the registration process and avoid close contact.
2. Ensure secure and safe sanitation and service delivery
Via the Service Management module of AskCody, you can allow/disallow users to order additional chairs, change space configurations, table alignments, specific self-delivery catering, extra cleaning services to comply with newly defined distancing needs. In this way, you can ensure full compliance with all your existing and new rules and regulation in the re-opening of your office spaces.
3. Conference room compliance
You can further ensure compliance by reserving rooms directly from Outlook by removing walk up ad hoc bookings as a possibility. You can do this via customizable searches based on service needs, chair distancing setups, and room occupancy size. As this is a completely customizable tool it can fit your specific meeting rooms configuration.
4. Ensure proper sanitization with buffer time between meetings
AskCody allows you to set buffer time intervals both before and after meetings. especially the high-risk larger meetings. This allows the need time for cleaning and sanitation teams to get in to clean before and after meetings, without running the risk of meeting overlaps and a bad meeting experience for both your employees and visitors. By enabling buffer time as default between meetings, you also prevent attendees for an upcoming meeting, standing in a hall way waiting for the current meeting to end, then having too many people jammed together getting in and out of meeting rooms.
5. Book rooms via the Mobile App – not on the room display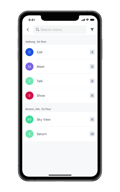 We are finding that some offices for extra office security will have mandates to completely remove the possibility to book meetings directly on the meeting room displays for health reasons in the coming period. Here the AskCody Mobile App can be used by employees from their own phone for the needed room bookings even when they are away from their desktop or laptop computer.
6. Easy scheduling for the service teams
The service and sanitization teams are maybe some of the most important employees in your company in the coming time as they will ensure the safety and health of both your employees, visitors, and customers. Via the AskCody Management Portal your service teams have a complete overview for both all service teams, visitors, and what requests the services and sanitation teams are required to handle.
7. Book catering, beverages or service for employees own desks and offices
Many customers report that they are considering closing down the company canteen or kitchen. These areas are high-traffic, shared spaces, with many people, gathered at once and with many contact surfaces. Meaning it's a high-risk area for spreading infections. Instead of having employees going to the kitchen for food, coffee, and beverages, companies can allow employees to request services, food, and drinks (or even cleaning) with the AskCody Service Request features for their individual desk and office inside their Outlook Calendar. This method allows organizations to have the same level of convenience and service to ensure employee happiness while preventing the spread of infection.
8. Use office information displays instead of doing the office walk-around
In the times to come, many offices will find that it's essential that people are not moving around too much and getting into unnecessary contact with each other. We will have to respect social distancing and stay 6 feet apart. Therefore, many of our customers find it convenient to have office displays with meeting and event information put up on each conjunction point in the workplace, or they are putting displays up in open offices to provide an accessible overview of what happens in the workplace. People then don't need to have to go to each meeting room to find an available space, but can from their desk see the availability of the workplace without getting in unnecessary contact with others.
9. Using insights and analytics when re-opening and ensure the reduction of the capacity of meeting rooms and meeting spaces
We are in the coming period forced to investigate that the maximum capacity of meeting rooms based on square feet needs to be reduced in many settings. Via the operational overview of your office in the AskCody platform, you can see how rooms are being used and whether they accommodate your new requirements of capacity. It is also here you can act on multi-location real estate data and analytics for firms looking to open only some offices and not others. Here you can also get an important overview of how to handle employees that may be coming in waves or all at once.
There are many observations and opinion pieces currently on how the physical offices will work after the Corona-period is over. We here at AskCody obviously believe that the AskCody Meeting Room Management platform is a tool to secure your use of the office space going forward is in accordance with new best return to the office practices and health regulations in terms of cleaning, buffer time, social distancing, room/desk scheduling, etc. But I also hope this has given you some inspiration even if you are not an AskCody customer today.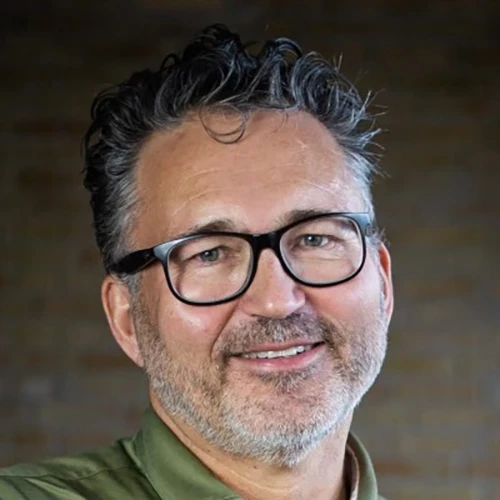 Lars Ørhøj Lauridsen
Hubspot CRM and Inbound Marketing Expert. Works with optimizing businesses' inbound revenue processes. He has experience in the areas of marketing and sales in SaaS companies and in agencies. And has engaged in team development and change management with a focus on fair process principles.